These super easy cheese dumplings with dill are the easiest way to make creamy and cheesy dumplings in record time. From start to finish, you can have dinner on the table in less than 30 minutes!
EASY CHEESE DUMPLINGS – WHY THEY'RE AWESOME
These Easy Cheese Dumplings are not your traditional dumpling recipe. You know I'm about simplicity, so that's why we are going the simple route here and using wonton wrappers in place of traditional dumpling/pierogi dough.
They're quick, delicious and make these dumplings under 30 minutes to make.

The cheese we use in these dumplings is ricotta cheese. Traditionally, perogy-type dumplings have dry curd (cottage) cheese, sometimes mixed with salt and dill. But we're trying to get dinner on the table in record time, so we need to use what's convenient for us, right?
Make your cheesy dumplings in less than 30 minutes!
INGREDIENTS
Wonton Wrappers – Most wonton wrappers contain egg, but if you prefer to use wrappers that have no egg – this recipe is one you can follow to make your own and contains no egg. Of course, though, then the recipe is no longer a 30-minute recipe! (Unless you're a hard-working machine, then maybe. LOL)
Ricotta Cheese – Creamy and yummy, store-bought ricotta cheese really helps the process along in order to make this recipe in 30 minutes.
Parmesan Cheese – This is optional but I highly recommend it. The parm cheese adds a bit of salty nuttiness to the cheese dumplings – it's definitely worth it.
Egg – Egg is the binder in this pasta recipe, as it is in most dishes with filling.
Dill Weed – If you have fresh dill weed on hand, use that. If not, dried dill weed will work as well. Honestly, a lot of times I use dry because I can't always get fresh, and sometimes dry dill incorporates so much nicer into a recipe than fresh dill.
Seasonings – Salt and Pep!
MAKING THE WONTON DUMPLINGS
In a bowl, mix together the egg, parmesan cheese, ricotta cheese, dill, salt and pepper. Set aside.
Get a large pot on the stove filled with a good amount of water. Salt the water and start it to boil.
Place a bit of water in a small bowl. Open your wontons and place about 4 in front of you. Place about 1 tablespoon of cheese mixture into the center of the wonton.
Dip your clean finger into the bowl of water and trace the outer edge of the wonton. Place another wonton on top of the first one and press lightly. Do your best to remove any air pockets trapped in between the wrappers. Press until they seal together.
Place them on a large plate or baking sheet, ready to go in the water to boil. When you have them made, and the water is boiling, place the yummy dumpling into the water, one by one.
Let them boil but keep an eye on them. This process is REALLY fast so you might want to work in small batches. Boil the wonton in the water for approximately 2-3 minutes. Take them out with a slotted spoon, leaving behind as much water as possible.
Drizzle a little melted butter over the boiled dumplings so they don't stick together.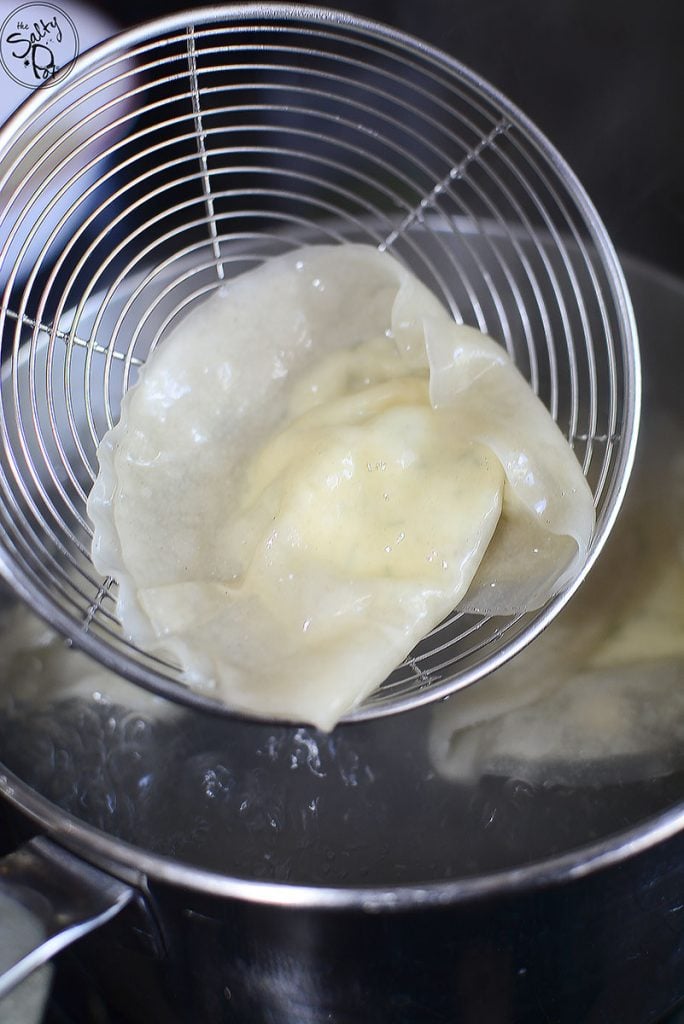 Can I Make these Dumplings Ahead of Time?
I recommend making these cheese perogy-type dumplings only a few hours ahead of time. The longer they sit, the wrappers may dry out and the dumpling won't be as tender.
After assembly, keep them on a baking sheet and lay a slightly damp clean tea towel over them so they don't dry out. Store them refrigerated for up to 6 hours before you're going to boil and serve them.
Want to freeze these dumplings ahead of time? Not a problem.
Place them assembled, and uncooked, on a parchment-lined baking sheet. Freeze them individually and then gather them into a large freezer-safe container to keep for up to 3 months.
To cook them from frozen, simply follow the same instructions as above, and add an extra minute or two to the boiling time.
SERVING SUGGESTIONS
To serve these deliciously cheesy dumplings, you can drizzle a little melted butter over the top. Another idea is drizzling some fresh cream or creme fraiche over the top of these dumplings.
Some of the perfect ideas to serve alongside these easy cheese dumplings would be pretty much any protein. However, Lazy Cabbage Rolls would be divine as well as these Pomegranate Porkchops. Also, these dumplings would fit right in nicely with these Sausage and Potato Patties, or really, with any sausages that are your favorite.
Easy Cheese Dumplings Recipe For Printing:
Easy Cheese Dumplings
These light and delicious cheese dumplings are the perfect side to so many different dishes. The cheese filling is savory, the wonton wrapper is light, and the cream drizzle makes these dumplings perfectly decadent.
Ingredients
1c ricotta cheese
1 package of wonton wrappers (round)
1 egg
1-2 oz of parmesan cheese, shredded
as desired, salt and pepper
1 tbsp dried dill weed
1 tbsp butter, melted
2 tbsp water
Instructions
In a bowl, combine the ricotta, parmesan, egg, dill, salt and pepper. Mix well and set aside.
Fill a large pot with salted water and set on the stove to boil.
Unwrap the wonton wrappers. Fill a small bowl with the water.
Place one wrapper in front of you. Place a tablespoon of the filling into the center of the wrapper.
Dip your finger or a pastry brush into the water and line the outer edges of the wrapper.
After all your cheese has run out (you should have about 20 - 22 dumplings), drop the dumplings, a few at a time, into the boiling water.
Let them boil for about 3 minutes. This does not take long. Sometimes they're done before the 3 minute mark so be careful to watch them. The wrapper will be soft and very pliable.
Remove them from the water and place into a bowl. Drizzle the melted butter over them so they do not stick.
Continue boiling them in batches until they're all cooked.
For serving, drizzle fresh heavy cream with salt, creme fraiche or sour cream over the top. Enjoy!
Notes
The biggest thing here is to watch the dumplings as they boil. Too long and they may fall apart. Taken out too early and the texture of the wonton may not be soft enough.
Garnish with a drizzle of fresh cream, creme fraiche, or sour cream.

Make more than you think you will need. These are light and it's easy to eat a fair number of them!
Nutrition Information:
Yield:

4
Serving Size:

5
Amount Per Serving:
Calories:

255
Total Fat:

19g
Saturated Fat:

12g
Trans Fat:

0g
Unsaturated Fat:

6g
Cholesterol:

103mg
Sodium:

443mg
Carbohydrates:

6g
Fiber:

0g
Sugar:

1g
Protein:

15g
All nutritional information is based on third party calculations and is only an estimate. Each recipe and nutritional value will vary depending on the brands you use, measuring methods and portion sizes per household.