Bacon Wrapped Chicken Thighs are one of the best ways I know how to cook chicken thighs easily. With the juicy chicken, the crispy bacon, the bbq sauce, oh my goodness, who knew such an easy recipe would taste SO bloomin' delicious!!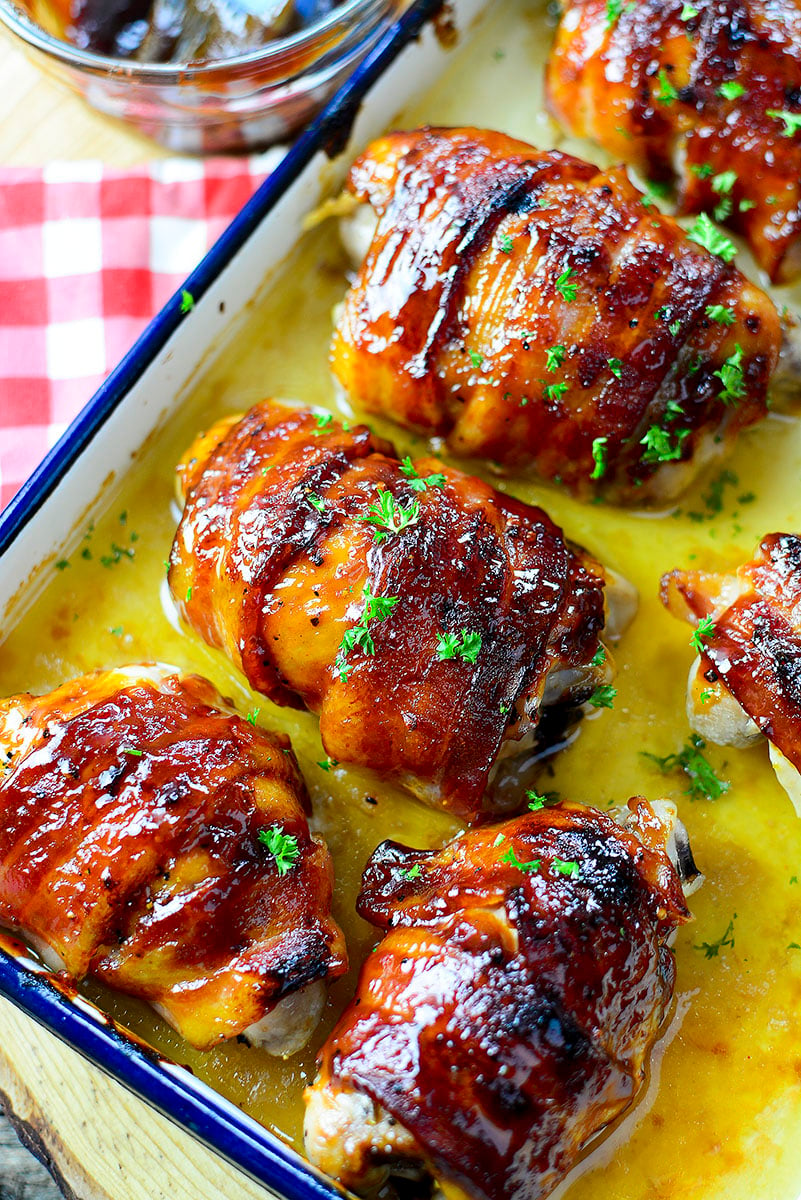 Bacon Wrapped Chicken Thighs – the PERFECT main, if you ask me!
Bacon Roasted Chicken Thighs
So you see chicken thighs on sale this week or you might have some in your freezer and you're wondering – what the heck should I do with these things?? Listen, these chicken thighs are SO easy to make it's kinda laughable – but the level of deliciousness is no laughing matter.
Why are they the perfect main dish, you ask???
Chicken thighs are super juicy and hard to overcook
The contrast of the crunchy bacon with the soft tender chicken is excellent
The saltiness from the bacon with a sweet/smokiness from the bbq sauce is the perfect combo on this chicken!
They are incredibly easy to make and it's something a bit different from your normal chicken thigh recipe.
Ingredients List
This is the best thing – these little packages of yumminess take nothing out of the ordinary to make. No crazy, hard to get ingredients – I'll be you have everything you need right now:
Chicken thighs
Bacon
BBQ Sauce
Spices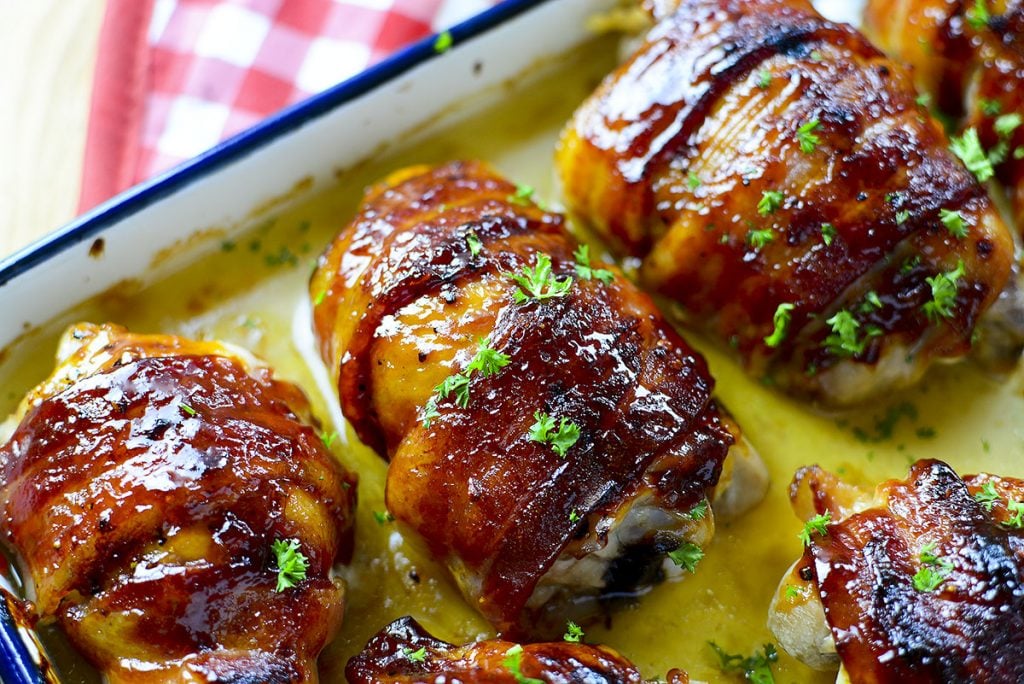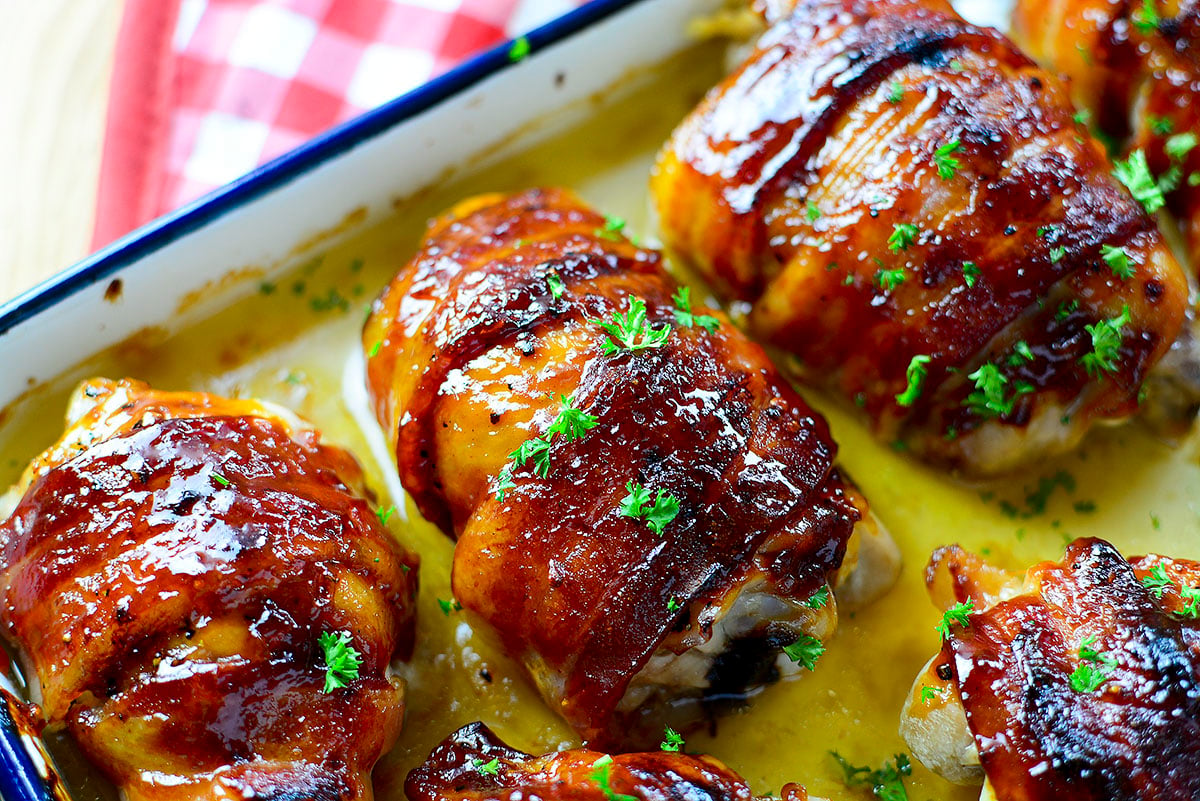 Questions about this bacon and chicken recipe:
What kind of chicken thigh should I use? Boneless or Bone-in?
~Personally, I prefer to use bone-in chicken thighs. The reason is that usually cooking meat with the bone makes for far tastier meat. (Plus bone-in chicken pieces are usually cheaper than boneless chicken) It might take a little longer to roast than boneless, but I think it's well worth the little bit of extra time. However, that being said, if you have boneless already, or boneless are cheaper than bone-in, on sale, go for it!
2. What kind of bacon should I use?
~Ok, so you can use any kind of bacon you'd prefer here. My preference is thicker sliced bacon because I find it gives it more flavor. I also prefer not to use the maple-flavored bacon, BUT, if you like a hint of maple mixed with a bbq sauce on chicken, it might really hit the flavor bell for you!
3. I want to take the skin off the chicken – will it dry out if I do?
~It's not a problem to take the skin off and I recommend that you do, actually. With the bacon wrapped around the thighs, the chicken skin may not crisp up. But don't worry about them drying out, chicken thighs are higher in fat so it's really difficult to dry them out, even if you overcook them a bit.
4. Can I make these Bacon wrapped chicken thighs in the pressure cooker to save time?
~Sure, I suppose you can. I've never done it and it's something I might give a go just to see if the flavor differs from oven roasting. If you were going to use a pressure cooker like the Instant Pot, you'll have to remove the thighs from the pot after cooking and then broil in the oven to get the bacon crispy and to caramelize the sauce.
5. Can I make this bacon wrapped chicken with breasts instead of thighs?
~Absolutely! Just remember the cooking time will be a bit different because the breasts are typically larger and will have no bones. But that recipe would be similar to my Chicken & Pancetta Cheddar Bake – so the roasting time would be very close. Probably around 20 – 25 minutes or until the internal temp comes to 165F.
What Can I Serve With This Bacon & Chicken Thigh Recipe?
Oh my dear reader, so many ideas come to mind. So you could make 3 Minutes Maple Cinnamon Carrots, or Instant Pot Maple Mashed Sweet Potatoes, especially if you are partial to maple flavors.
Also, you could try:
Mediterranean Vine Tomatoes – they are easy and you can roast them at the same time the chicken is, in a different pan.
Ninja Foodi Perfect Buttery Rice – If you don't have a ninja foodi, this recipe works exactly the same in an Instant pot!
Orange Pecan Roasted Broccoli
Crock Pot Baked Potatoes
Creamy Garlic Shells from Iowa Girl Eats
Well, that's it for today my lovelies! When you give this yummy bacon and chicken thighs recipe a try, please let me know what you thought about it! Shoot me an email at joanne@thesaltypot.com or you can comment below. I'm interested to hear what you thought about it, or how you might have switched it up!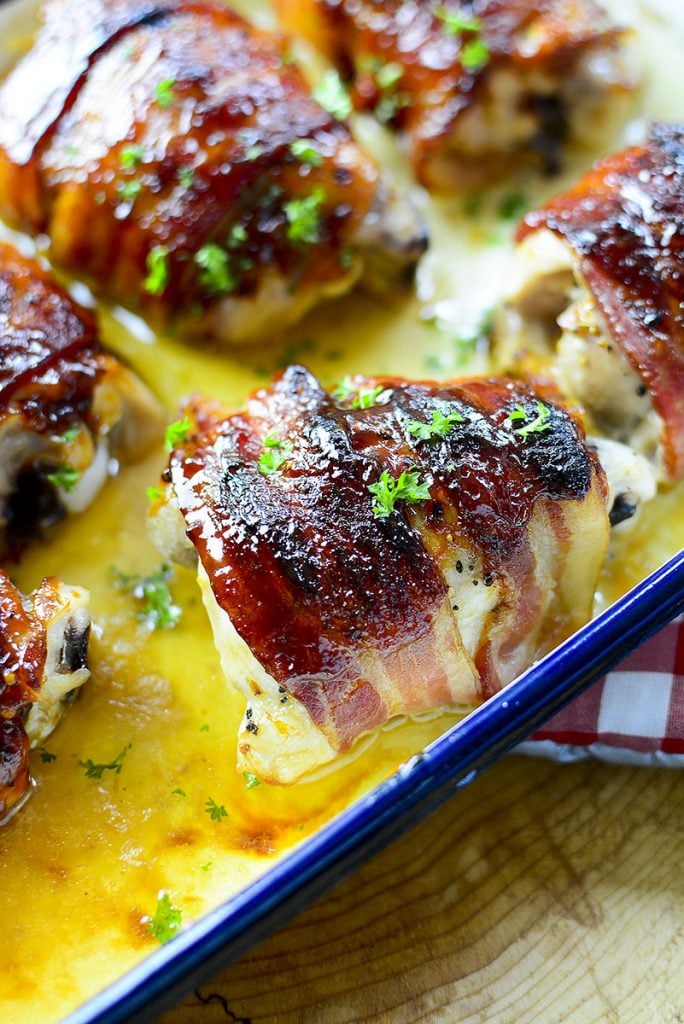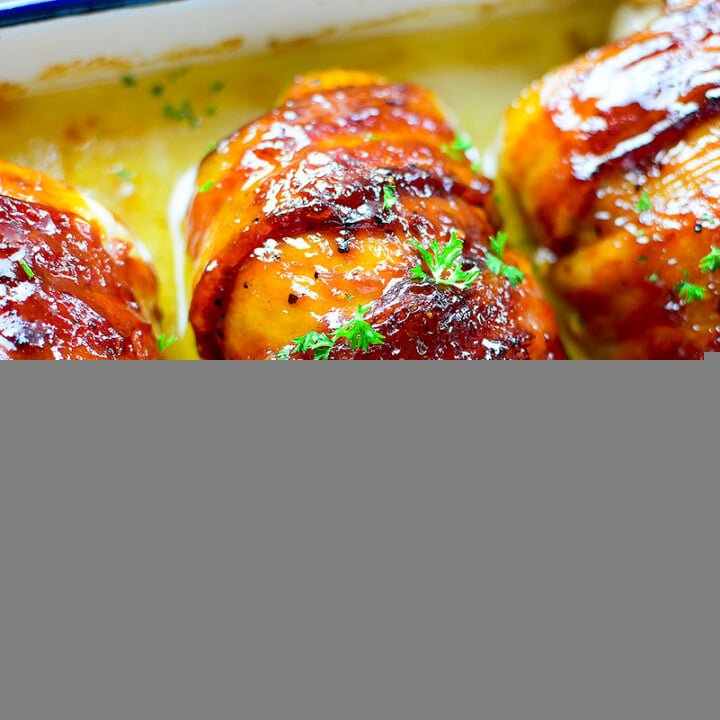 Bacon Wrapped BBQ Chicken Thighs
Juicy, delicious chicken thighs, wrapped up in crispy, salty bacon with a smoky sticky bbq sauce. PERFECTION!
Ingredients
8 Chicken thighs, skinless, bone in (see notes)
8 strips of thick bacon
1c bbq sauce (see notes)
(as desired) garlic powder
(as desired) onion powder
(as desired) salt and pepper
Instructions
Preheat the oven to 375
1. Pat dry and season the chicken thighs with garlic & onion powder, salt, and pepper.
2. Take one strip of bacon and starting from below the thigh, begin to wrap the bacon around the thigh as many times so the end of the bacon ends underneath the thigh. Place the thigh with the ends of the bacon facing down in a shallow roasting tray
3. After repeating this on all 8 thighs, place in the oven and roast the thighs for 40 - 45 minutes or until the internal temp of the chicken comes to 165F
4. About 10 minutes before cooking time ends, baste the chicken with the bbq sauce. Flip the thighs over first and baste, then flip them back, right side up, and baste again.
5. Two minutes before cooking time ends, baste any remaining sauce over the thighs.
6. Remove the chicken thighs from the oven and let rest for 5 minutes.
7. Plate and enjoy!
Notes
1. Use bone-in or boneless chicken thighs. Refer to the body of the post as to the reasons I prefer to use bone-in thighs.
2. Use whatever bbq sauce you prefer. I used Sweet Baby Rays original.
3. I prefer to use thicker bacon as it adds more flavor.
Nutrition Information:
Yield:

4
Serving Size:

1
Amount Per Serving:
Calories:

599
Total Fat:

26g
Saturated Fat:

8g
Trans Fat:

0g
Unsaturated Fat:

17g
Cholesterol:

296mg
Sodium:

1570mg
Carbohydrates:

30g
Fiber:

1g
Sugar:

23g
Protein:

63g