Now, if I was to be honest, (which I am), I'm pretty sure that I'm not the first person to ever invent Ravioli Soup. But one thing I CAN tell you is that it should be the most popular Italian type dishes out there because…… . IT'S. JUST. THAT. GOOD.
The other day I was craving something Italian, and seeing that I lost Fabio Viviani's (google him, you'll see how I mean..lol) phone number, I knew he was out of the question…………….. Haha!…… I wish. Anywayyyyyyyyy, back to reality, I took a quick peek in the fridge and what did I have? Ravioli! Sausage! Tomatoes! Cheese! What more could better, right? I'll tell you what could be better ….. a mixture… a … Ménage à quatre of sorts…….. ahem. Yes… and it shall be called:
SLOW COOKER Ravioli Soup.
So, there you have it. My honesty compels me to admit that out of sheer laziness, hunger and strong cravings, this tasty amazingness called The Ravioli Soup was born. And I feel no shame to say that it's utterly BRILLIANT!
It's really easy to put together, to boot. LET'S ME SHOW YOU!
Fry up the sausage, onions and garlic.
Throw it in the cooker along with a can of italian seasoned stewed tomatoes and some tomato sauce. Add the seasonings, and cook on high for 2 hours. Add the package of ravioli and continue to cook for another 30 – 45 minutes or so. Dish it up and sprinkle with grated cheddar or mozzarella.
PERFEZIONE!
(that means Perfect in Italian.) (I had to look it up.)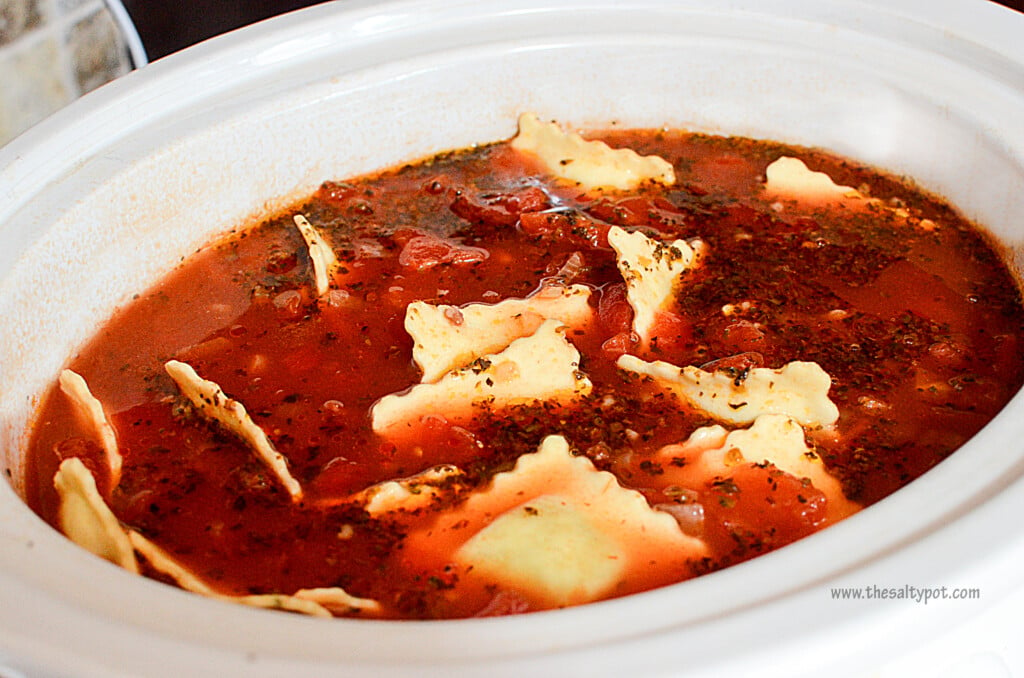 I used ricotta and spinach ravioli with this recipe, but you could of course use any of your favorite ravioli flavors. Note: If the ravioli is frozen when you add it to the soup, allow for a little more cooking time. However, if it's fresh, don't cook it much past the 30 – 45 minute range or .. well.. mushy pasta is just a gummy gross no go.
This creation is what would happen if a comforting soothing soup and a rich, tomato-ey, cheesey ravioli dish had a baby.
I even gave my hard to please mom some of this ravioli soup amazingness to take home. She called me the next day to tell me it was excellent. And trust me, if SHE thinks it's excellent, then it pretty much is. (She's been known to do "jazz hands" in a restaurant when something is EXCEPTIONAL ).
 How do you prepare your ravioli ? I'd love to hear what you've done, let me know below!
Slow Cooker Ravioli Soup
Cook Time:
3 hours
30 minutes
Total Time:
3 hours
35 minutes
This ravioli soup is a snap to make and has all the yummy flavors of a ravioli pasta dish (yummy ravioli, beautiful tomato flavors, and of course cheesy cheese!), but in soup form! Plus, the fact that it's made in a slow cooker makes this recipe a winner!
Ingredients
1 package pre-made ravioli
½ lb mild Italian Sausage
1 c cheddar or mozzarella, shredded
½ onion, diced
1 c tomato sauce
1 can stewed tomatoes with Italian spices
2 c chicken broth
1 tablespoon basil
1 tablespoon oregano
2 teaspoon garlic, minced
salt and pepper to taste
Instructions
Saute the sausage and onions together until soft
Add the sausage to the slow cooker along with the tomato sauce, tomatoes, chicken broth, and spices.
Cook on high for approximately 3 hours
Add the package of ravioli and cook for another 30 - 40 minutes.
When serving, plate into bowls and sprinkle with shredded cheese.
Enjoy!
Nutrition Information:
Yield:

12
Serving Size:

1 cup
Amount Per Serving:
Calories:

149
Total Fat:

10g
Saturated Fat:

5g
Trans Fat:

0g
Unsaturated Fat:

6g
Cholesterol:

27mg
Sodium:

584mg
Carbohydrates:

6g
Fiber:

1g
Sugar:

2g
Protein:

9g
All nutritional information is based on third-party calculations and is only an estimate. Each recipe and nutritional value will vary depending on the brands you use, measuring methods, and portion sizes per household.