Tart Cherry Gummies are as delicious as they are healthy. They're great because you know exactly what's gone into them, they are inexpensive to make, and taste incredibly better than the store-bought versions of gummy bears!
Sour Cherry Gummie Bears Make The Best DIY Healthy Candy!
DIY Sour Cherry Gummie Bears 'Candy'
As you know, I have made a few different things with the tart cherries that I collect off the two trees I have in my yard. I've made a Tart Cherry Chia Seed Parfait, a Summertime Sour Cherry Crisp that was phenomenal! And of course, I've made Sour Cherry Pie Filling.
As far as homemade gummy bears, I've made Elderberry Gummie Bears and Orange Mango Gummies which are so delicious, your kiddo's will have NO idea they're super healthy for them!
Tart Cherry Gummies
So, just as a little disclaimer, throughout this post you'll see me refer to sour cherries as tart cherries, and vice versa. The term is interchangeable and means the same thing but I switch it up because someone might know them as sour cherries, and other people might refer to them as tart cherries.
Ok, so besides making all those amazing things that I have so far with the my tart cherries, let's go beyond the basics this time and try something a bit different shall we?
These gummies can be the perfect way to get all the healthy goodness tart cherries provide (more on that later) without needing to put in a lot of effort. Sounds ideal, right??
Benefits of Tart Cherries
Besides being delicious, tart cherries have been known to offer many health benefits. They help improve cardiovascular health by reducing the levels of cholesterol and triglycerides and also reducing inflammation.
Yay for anti-inflammatories!
Some experts also believe that the extracts of sour cherries can considerably reduce pain, muscle soreness and other symptoms associated with conditions like arthritis and gout.
They provide over half of your daily requirement of Vitamin A, and almost have of your daily requirement of Vitamin C. They also contain lots of fiber as well!
Starting the Process
If you are making juice from the actual cherries to make the gummies, the process for making the juice would be as follows:
Remove the cherry pits from the cherries. Either use a cherry pitter, or the 'chopstick method'.
Place the cherries into a large pot (about a pound) and pour in enough filtered water to cover the cherries by about an inch. (You should have at least 2 cups of finished juice when you're done.)
Boil the cherries in the water until the cherries break down and release their juice and pulp into the water.
Remove off the heat and carefully mash (using a potato masher!) the cherries to extract as much flavor as possible.
Carefully strain the solids from the cherry juice. Squeeze as much juice as possible out of the cherries while in the strainer.
Don't remember to compost the cherry solids!
***If you do not have tart cherries available, simply use purchased, organic sour cherry juice. (Even regular sweet cherry juice can be used, but please adjust the sugar amounts when sweetening the juice).
Making Tart Cherry Gummies
Place the cherry juice in a heavy-bottomed pot and bring it to a simmer. Add your sweetener. You can use:
cane sugar
honey
agave nectar
date syrup
coconut sugar
maple syrup
artificial sweeteners (see below)
Add your sweetener and mix to dissolve. I personally used Monkfruit. I haven't tried using a Splenda or stevia so I can't really speak to how that will taste or affect the gelatin.
And of course, gelatin comes next. For this recipe, I used unflavored beef gelatin from Great Lakes which I found on Amazon, but you can use any other brand that you prefer as well.
***Remember that you need to use gelatin and not collagen, since collagen will not 'set up' to give that jelly-like texture.
If you're looking for a vegetarian version of gelatin, agar agar can be a good choice. Just know that the quantity you'll need to use will not be the same as gelatin- so using this handy dandy conversion chart would be a good idea if you're planning to make the swap. 
After you add the gelatin, you need to work quickly and pour the mixture into molds. I use these molds that come with a stopper that is pretty handy. Having said that, you don't need to use those, you can simply pour the mixture into a sprayed glass baking dish, let it set up, and then slice them into the sizes you want.
How Do I Store The Gummies?
Storing homemade gummies is super easy. Just place them in an airtight container and you can pop them in the refrigerator or even keep them out (still covered) if the temperature is cool enough- they should stay good for several weeks.
If you find that your gummies tend to stick to each other even after you've kept them in an airtight container, this quick tip might help.
Remove them from the refrigerator and then place them on a baking sheet and let them sit for 12 hours to dry up a bit. You can also toss them in a bit of cornstarch- this will help absorb all the moisture on the surface without affecting the taste of the gummies. Side note, if you toss them in a tiny bit of granulated sugar and citric acid, you'll have sour gummies now!
What About Freezing Them?
If you're planning to freeze them, you'll need to first place them on a parchment-lined baking sheet, making sure they don't touch each other and let them freeze for 2 hours, after which you can place them all in an airtight container and freeze them for later.
When you want to eat them, take a few out, let them thaw at room temperature. It doesn't take long because they're small and they thaw quickly.
Okily Dokily my beautiful reader! I hope I've convinced you just how easy (and crazy delicious) these tart cherry gummies are to make. The wonderful thing is, once you make your own gummy candy, you'll see just how large the possibilities are to make tons and tons of different varieties!!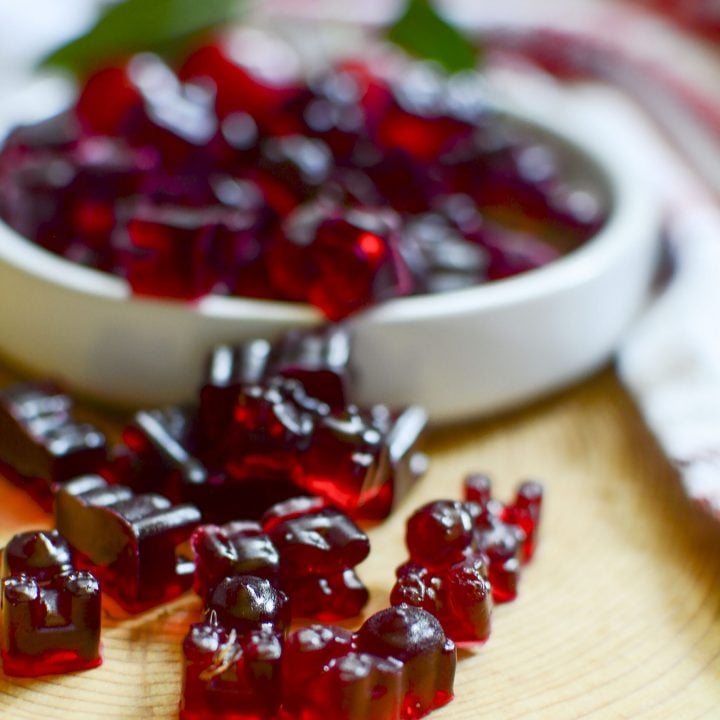 Tart Cherry Gummies
Additional Time:
15 minutes
These homemade tart cherry gummies are the perfect healthy treat! The juice is packed with healthy goodness and the kids will love them because they're like candy! Win win!
Ingredients
1c tart cherry juice
3 tablespoon monk fruit sweetener (or sugar of your choice) **see notes!
6 tablespoon powdered gelatin
Instructions
1. Begin by heating up the cherry juice in a heavy-bottomed pot.
2. When the juice boils, turn down the heat to a simmer and add the sweetener. Be sure to taste the juice after it's added to adjust to the level of sweetness you'd prefer. Make sure the sweetener dissolves and is still simmering.
3. Add the gelatin. Mix well so that it completely dissolves. A whisk works well here.
4. Take the mixture off the heat and working quickly, dropper out the liquid into the sprayed molds or pour it into your sprayed glass baking dish.
5. Let the gummies set up completely. Remove them from the molds/glass dish and place them into an airtight container for storage.
Notes
1. Do not let the juice scorch on the bottom of the pot.
2. After you add the sweetener and gelatin, you may find bubbles/foam form on the top of the juice. If this bothers you, working quickly, use a spoon to remove as much as you can. It didn't bother me as a lot of it died down, and it doesn't affect the taste of the gummy.
3. I used Monk fruit sweetener for these gummies, and I cannot say how other artificial sweeteners will work with this recipe. If you try it, please shoot me an email to joanne@thesaltypot and let me know how it works out! I will make notes in the blog post and give you credit 🙂
***IMPORTANT: Remember that you need to use gelatin and not collagen, since collagen will not 'set up' to give that jelly-like texture.

Nutrition Information:
Yield:

212
Serving Size:

2
Amount Per Serving:
Calories:

1
Total Fat:

0g
Saturated Fat:

0g
Trans Fat:

0g
Unsaturated Fat:

0g
Cholesterol:

0mg
Sodium:

1mg
Carbohydrates:

0g
Fiber:

0g
Sugar:

0g
Protein:

0g