Grilling corn on the cob is one of the best things about summer. It fits in with every single meal… well, maybe not breakfast, but hey, if you love it that much, get your breakfast corn on! No judgement here 🙂  It's even better when it's grilled with 4 different flavours!! So if you need a really cool flavor of grilled corn to wow your friends, to impress your relatives, or even if you're the only one home and your HANGRY for some grilled corn – check these flavours out!
GRILLING CORN ON THE COB 4 DIFFERENT WAYS
The days of lightly rubbing a pat of butter over the corn with a tiny sprinkle of salt ARE GONE. Flavour your corn people! Grill or no grill, spice/season and flavour that corn! While I admit that sometimes, once in a blue moon, a simple good cob of corn must be appreciated for what mother nature created, but there's nothing wrong with enhancing her efforts.
Look at grilling corn on the cob almost like painting an incredible painting. The corn is your canvas and the paints are your flavors!! The combinations are endless, and I hope that the ones I've listed below get your imagination flowing!
So for grilling the corn, the basics are the same. Simply use medium heat, and let the corn naturally caramelize on all sides and then start basting with your flavors. (The only one that you won't be basting is the Mexican corn.) 
Ok, let's get grilling corn on the cob!
The first flavor on the list is one you might have seen around for a little bit. It's called MEXICAN GRILLED CORN ON THE COB. It's so good! You grill first, then remove from the heat, add the mayo and put then your cheese and greens on. Simple Dimple! The sweetness of the corn with the creamy-ness of the mayo and the salty-ness of the cheese…. this corn hits all the spots!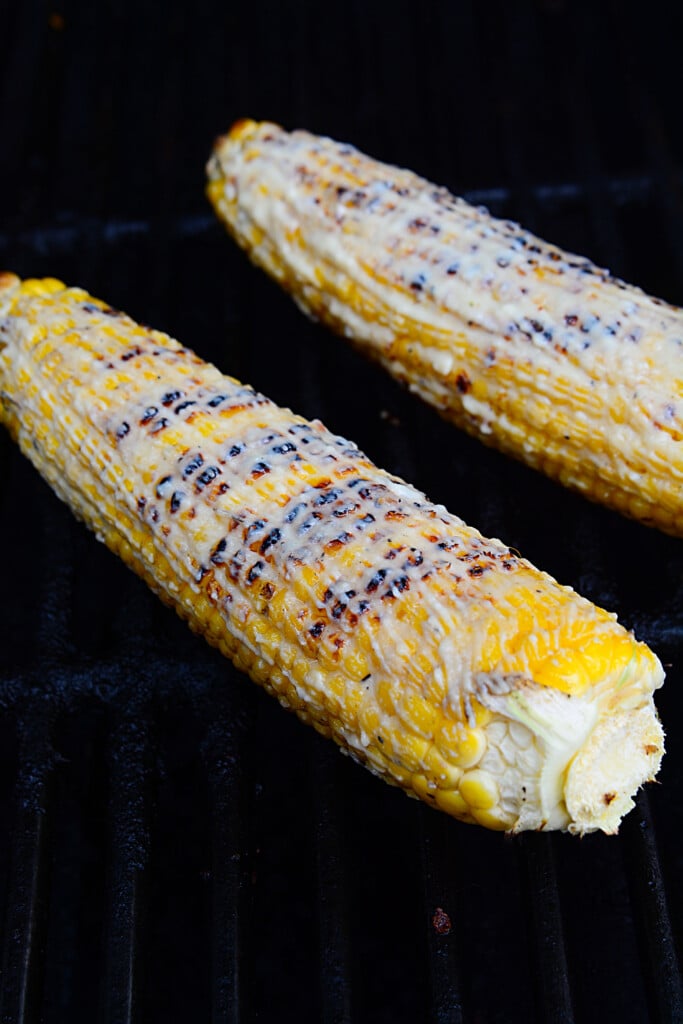 Ok, next is the GARLIC BUTTER AND PARSLEY GRILLED CORN ON THE COB.  My mouth is watering right now just thinking about how good it was!
Again, perfectly grill the corn and baste with the rich garlic butter sauce! When we were eating it, my friend had to keep wiping their mouth because the corn was so juicy and when mixed with garlic butter, – it was simply delectable!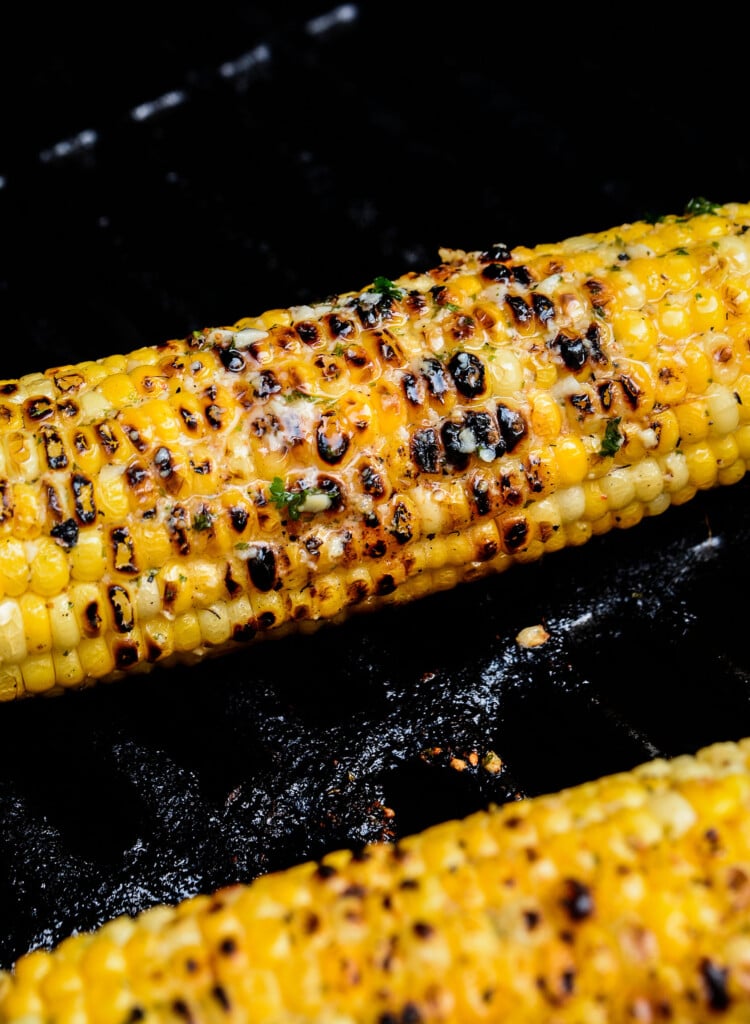 Third, we have BACON PARMESAN GRILLED CORN ON THE COB. Yes my lovelies, you heard me right. BACON. Don't give me the side eye.. trust me on this one. It was like nothing I'd eaten before, and it was a huge hit with everyone who tried it! Trust me, grilling this corn on the cob and adding the bacon flavors will be a favourite on your cookout menu!!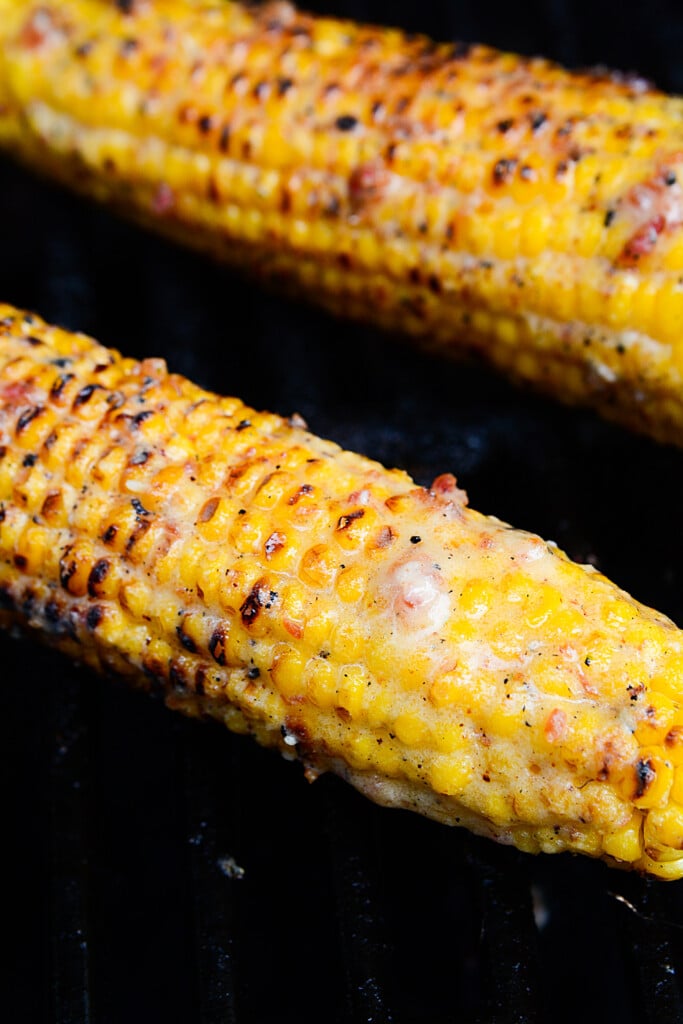 I've saved the best for last!
I stinkin' LOVE this flavour! Ok, ready for this?
SPICY CINNAMON BROWN SUGAR GRILLED CORN ON THE COB!!!!!!!
OHHHHHHHHHH LORD LOVE A DUCK! It was one of the best things I've eaten in a very long time!! Sweet, a tiny bit spicy, a tiny bit salty… it was pure bliss. BLISS!!!!
Have you heard of a sweet/spicy grilled corn before? I hadn't and just thought about it one day, wondered how it might taste. So I tried it and it's so unique and different, and at the same time, omg, INCREDIBLY good. If you only had one choice out of the four, PICK THIS ONE 🙂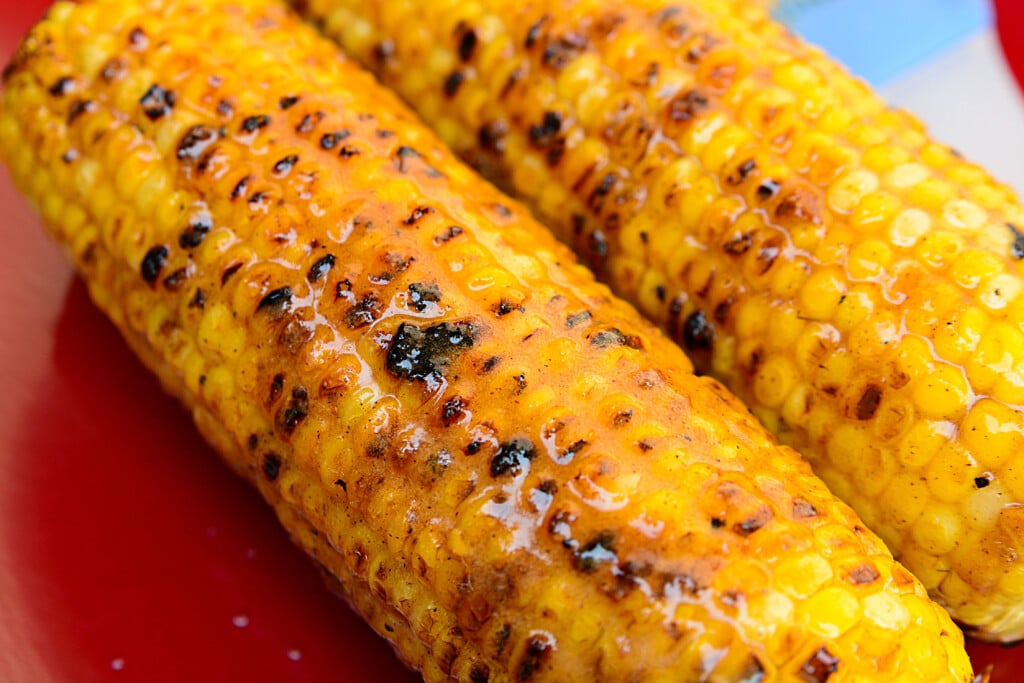 So to grill the corn, the basic instructions are as follows, and then the flavor recipes will come after that.
– Preheat grill to 350/medium heat
– grill the corn for 3 – 4 minutes or until you begin to see caramelization marks.
– turn the corn ½ way and begin basting the it with the flavors you've created (except if your making the Mexican Corn! see below)
– continue this every few minutes until you've gone complete turns with the corn or until the corn is fully cooked and basted.
Serve immediately & enjoy!
---
TOPPING RECIPES:

GARLIC BUTTER AND PARSLEY: 1 cup butter, 1 GENEROUS tablespoon minced garlic, 1 teaspoon parsley
Directions: Mix the room temperature butter with the garlic and parsley. Mix well and use for basting the corn. 
BACON PARMESAN: 1 cup butter, 1 – 2 cooked pieces of bacon FINELY MINCED, ½ teaspoon grated parmesan, 2 teaspoon onion, also FINELY MINCED. 
Directions: Mix the room temperature butter with the minced bacon, parmesan and minced onion. Mix well and use for basting the corn. 
SPICY CINNAMON SUGAR:  1 cup butter, a dash of dried chili flakes (or a ⅛ – ¼ teaspoon of your favorite hot sauce), dash cinnamon, 3 tablespoon brown sugar
Directions: Mix the room temperature butter with the chili flakes, cinnamon, and brown sugar. Mix well and use for basting the corn.
MEXICAN CORN: 1 c Grated parmesan cheese, 1 c mayonnaise, ¼c cilantro, pepper
Directions: Grill the corn as instructed but do not baste until it comes off the grill when it's cooked. Remove cooked corn from grill. Spread on mayonnaise, sprinkle grated cheese and cilantro. Sprinkle with pepper and lime juice if desired.
If you're looking for more summer fun foods to include at parties and get-togethers, try this ideal Buffalo Chicken Mini Pepper Appetizer (click here), and this Sweet and Spicy Skewered Chicken Wings (click here)!!!
So my lovelies, make the most of summer! I hope you try grilling corn on the cob with some of these flavors that I've talked about!! One big word of caution though. If you're going to make a huge mess of corn for ANY occasion, stop by the store and buy a few packs of tooth floss. With these flavors, EVERYONE at the party is going to need it!!!