So what would you think if I told you that there is a healthy gummie candy out there?? YESSSS… I know, crazy right? But there is, and they're called Healthy Elderberry Syrup Gummies!
This post may contain affiliate links. If you make a purchase after clicking a link, I may earn a small commission AT NO COST TO YOU. As an Amazon Affiliate, I earn from qualifying purchases.
HEALTHY ELDERBERRY SYRUP GUMMIES
So you've heard all about how elderberry syrup is one of the best immune-boosting tonics you could rely on during the winters, and you may have even tried it too! (BTW, I have a recipe for  a Honey Elderberry Syrup on the blog!)
But it's not always convenient to take the liquid by spoon two to three times a day if you're not feeling well, right?!
And let's get real- that stuff gets even more tricky with growing kids, who actually need all the immunity-boosting power they could get. 
So here's helping you work your way around just that. With a little bit of trial and error, I've finally perfected a quick and easy way for you (and your kids) to get all the goodness out of the elderberry syrup minus the hassle- in the form of gummies. You're welcome! lol
Gummies? Really?
Elderberry syrup can be an excellent everyday tonic during the winter season, as a preventive measure to protect you from the seasonal flu, colds, and coughs. While you can always take the syrup as is, transforming it into gummies makes it easier for you to actually have it on the regular.
And trust me, when your little ones discover they get to eat one or two every day, THEY'LL remind you!! lol
You can start off by making the syrup first.  It is super simple and easy to make, and you can whip it up on a lazy weekend.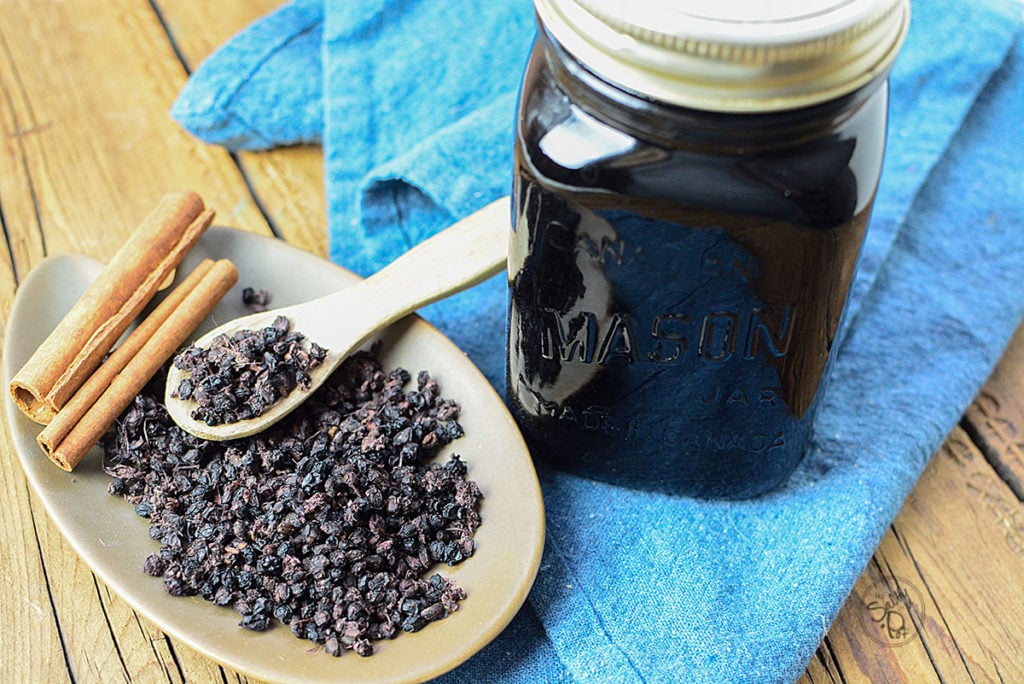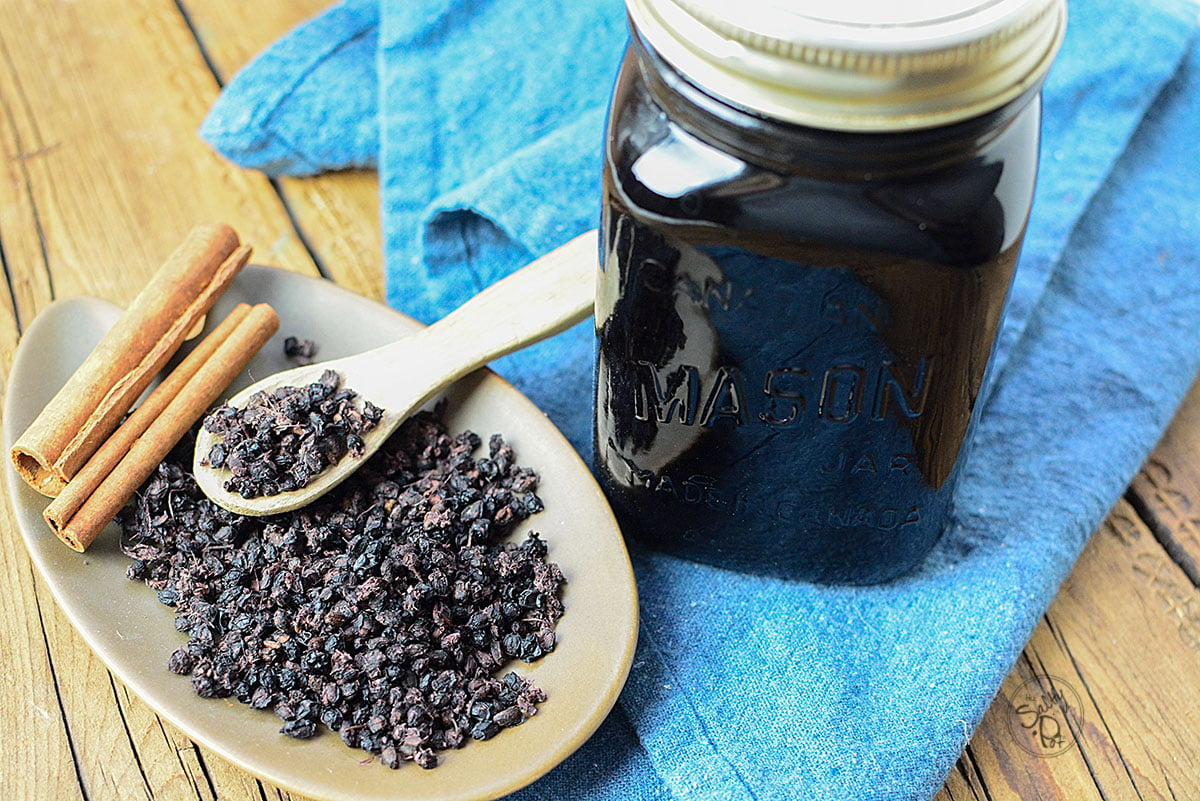 Getting Them Ready
Making elderberry syrup gummies at home is surprisingly easy, and if you haven't given them a shot yet, now's the perfect time to! 
All you really need (apart from the elderberry syrup of course) is just one single ingredient- gelatin.
Start by dissolving the gelatin in warm water (as per the instructions on the pack) and once completely dissolved, combine it with the elderberry syrup. Transfer this mixture into gummy bear silicone molds and allow it to cool down completely. Pop the gummies out and store them in a glass jar, preferably in the refrigerator. 
The first time I used the molds, I sprayed some coconut oil in them just to be sure they released well, but the second time I made them, I didn't have to and they just popped out, no problem.
What is Gelatin?
Ok, so gelatin is made from the skin and bones of beef (usually). Chicken also provides a lot of good healthy gelatin, as does fish bones.
Have you ever made chicken stock (broth) and when you cool it in the fridge, it gets all jiggly like jello? That's the gelatin you've extracted from the bones in the stock!
It's very healthy for you, and if you add it to your diet on a regular basis, it can help with osteoporosis.
Having said that, the quality of the gelatin will be dependent on the quality of the source, you know? You can stick to the commercially available gelatin if that's what you prefer, but in my opinion, it is best to go for grass-fed gelatin as it's a better source.

Health Benefits of Gelatin
There's some great information out there on the benefits of adding gelatin to your diet.  Some of these benefits include:
Healthy skin, nails, and hair
Eases joint pain and aids in better digestion
Helps you sleep better
It can aid in weight loss and blood sugar regulation.
If you want a bit more information on the health benefits of gelatin, take a look at the article from Medical News Today, where I got some of this information about gelatin.
Storing The Healthy Gummies Properly
A good way to prevent the gummies from getting all watery and sticking to each other in the bottle is to first line the top of the bottle with paper towel and then closing the lid. That way, the paper towel absorbs all the moisture and your gummies will be separate. 
Make sure the container you're storing them in is airtight. This can help prevent mold growth and increase their shelf life. 
What About Freezing The Elderberry Gummies?
If you ended up making a huge batch of gummies, you can also freeze and store them. They can last in the freezer for up to 12 months. All you need to do is store them in batches of a couple of week's worth of gummies, and get them out and thaw them when you've run out of them in the fridge. 

How Many Gummies Can I Eat A Day?
For your younger ones (only give them these gummies if they can chew thoroughly!), I would say two or three tiny gummy bears daily. For adults, you can double that amount.
How Long Will They Be Good In The Fridge?
I'd say the homemade gummy bears will last a good three weeks in the fridge. Just be sure they are in an airtight container. However, common sense prevails here when they might smell funky or have mold on them – of course, do not eat them, and just pitch the gummies.
Having said that, I have yet to see that happen as they don't last long in this house!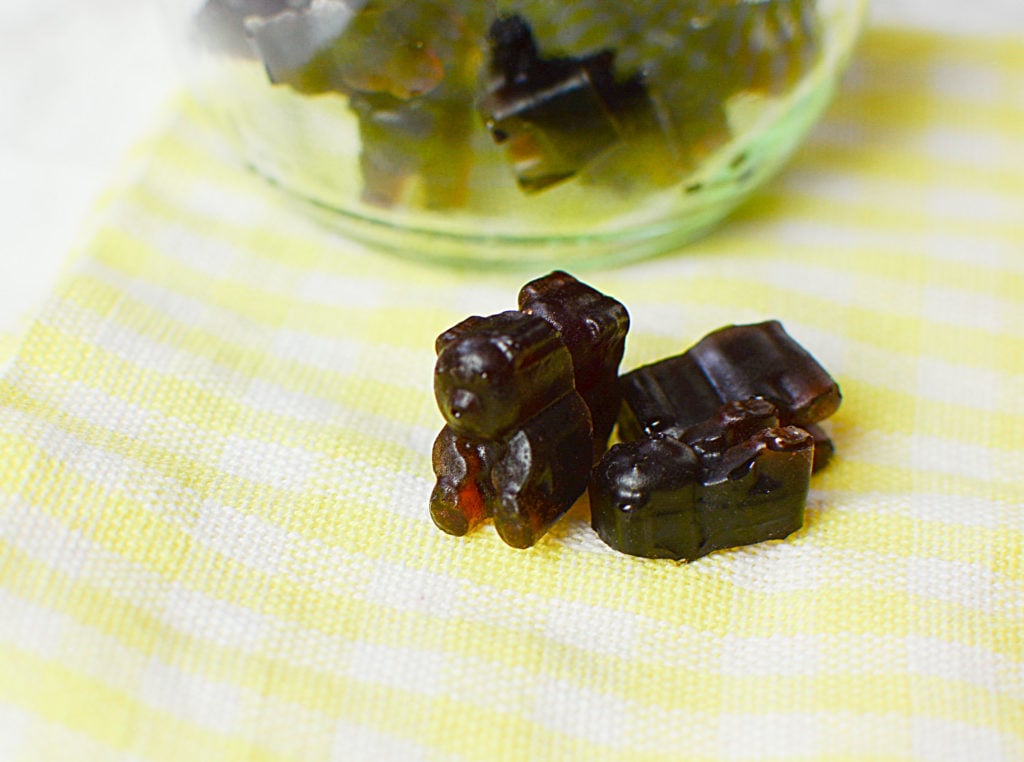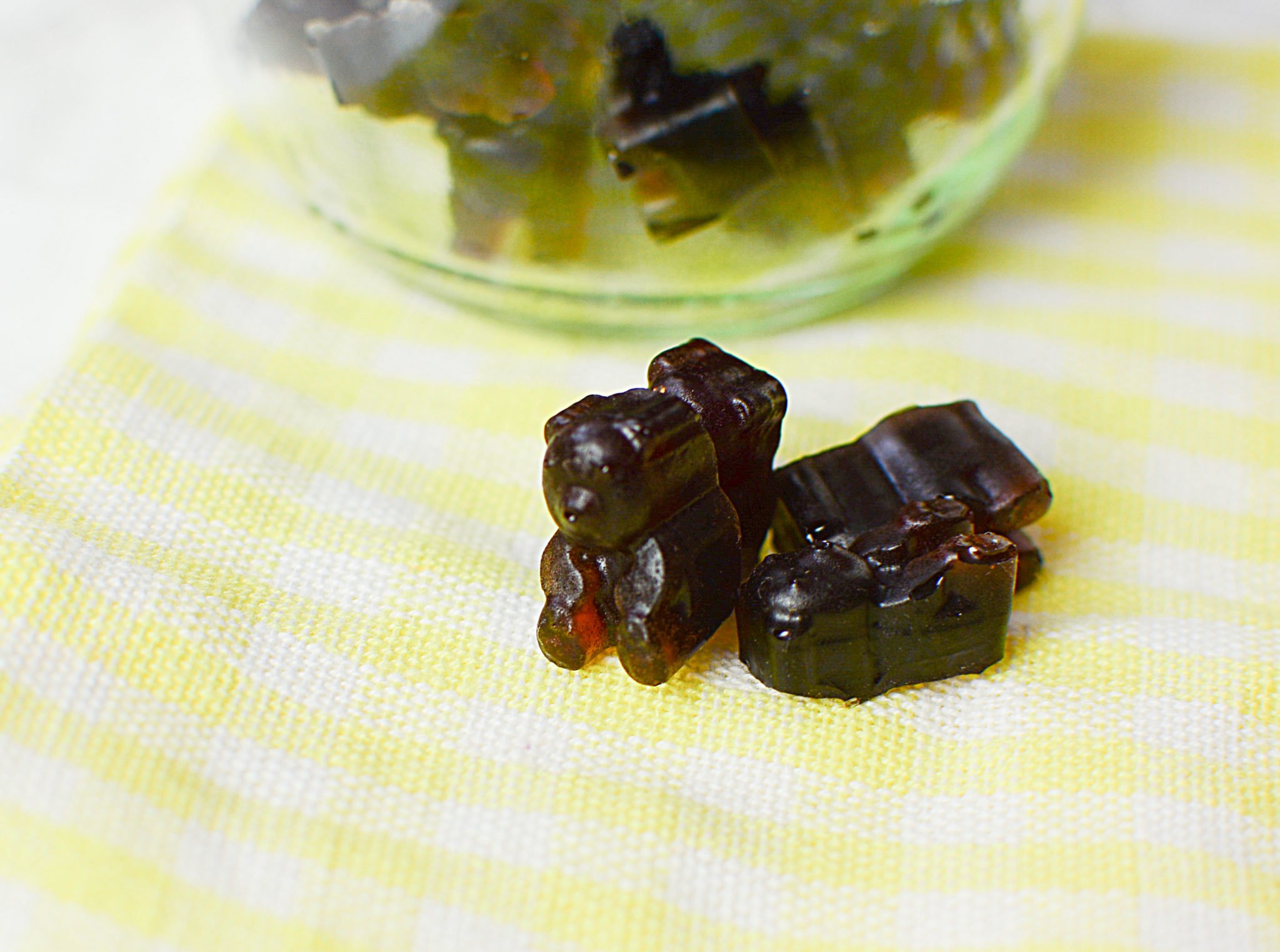 What If I Don't Have Those Molds To Make The Gummie Bears? 
You can purchase the gummie bear molds that I used on Amazon.  The molds I bought also come with the droppers which is super convenient.
If you can't get them, then simply use a glass baking dish that you have coated with coconut oil for easy removal. Pour the liquid in, let it set up, and then cut into squares the size you prefer.  So you don't need the molds, but they're super cute!!
So there you have it my lovelies!! Healthy Elderberry Syrup Gummies are fun to make, fun to eat, and they're good for you! How many 'candies' can claim that!!!
When you make these adorable little yummy gummies, let me know what you think below! Did you change up the recipe at all? Add other things?
If you have any questions, ask below, or shoot me an email at joanne@thesaltypot and as always, thank you so much for stopping by The Salty Pot today and I truly hope you have a wonderful, healthy, fun day!!
Healthy Elderberry Syrup Gummies
Making these healthy elderberry syrup gummies is a breeze! After you see how easy (and how healthy!) they are, you'll make them for your kids and family all the time. Skip the candy aisle, make these!
Ingredients
½ c Elderberry syrup
3 Tablespoons Gelatin
⅓ c Hot Water
Instructions
Pour the syrup into a small pot. Begin to heat the syrup to very hot, but not boiling.
Add the hot water, mix, and then sprinkle the gelatin over the syrup and whisk continuously until the gelatin has dissolved.
Working quickly, fill the gummy bear molds. Alternatively, you can pour the mixture into a greased container and then when the mixture sets, cut into tiny squares.
Notes
To make the elderberry syrup, check out this recipe I have on the blog.

Do not boil the syrup, just heat it to very hot to help dissolve the gelatin.
You'll want to move fast when filling the molds as it tends to set up fairly quickly.
Nutrition Information:
Yield:

52
Serving Size:

2 gummies
Amount Per Serving:
Calories:

9
Total Fat:

0g
Saturated Fat:

0g
Trans Fat:

0g
Unsaturated Fat:

0g
Cholesterol:

0mg
Sodium:

3mg
Carbohydrates:

2g
Fiber:

0g
Sugar:

1g
Protein:

0g
***DON'T FORGET TO SAVE THIS HEALTHY ELDERBERRY SYRUP GUMMIES RECIPE TO YOUR FAVORITE PINTEREST BOARD TO USE FOR LATER!!!***