You'll love this recipe because air fryer bone-in chicken breasts are super juicy, cooking the meat on the bone adds incredible flavor, and the outside gets incredibly crispy.
Oh, and it's all done from the kitchen to the table in about 30 minutes.
This post may contain affiliate links. If you make a purchase after clicking a link, I may earn a small commission AT NO COST TO YOU. As an Amazon Affiliate, I earn from qualifying purchases.
This air fryer chicken recipe makes a scrumptious dinner!
I love juicy and flavorful chicken breasts, don't you? This air fryer chicken breast is one of my favorite ways to cook weeknight dinners or even for meal prep because they are easy to make and always come out perfectly.
You can add your favorite side dishes like mashed potatoes or roasted acorn squash or creamy pasta to make this meal the best part of your day.
Air fryer bone-in chicken breast is an easy option that can give you a juicy chicken breast with crispy skin and deep-fried flavor without the extra calories, making it a healthy way to enjoy your favorite comfort foods.
Why should you buy chicken with the bones?
A lot of people go for the boneless skinless chicken breast in the grocery store because they don't know what to do with the boned version. Bone-in chicken breast is usually cheaper than the boneless skinless chicken breast at the grocery store.
Bone-in chicken also gives you way more flavor because the bones help retain that built-in broth per se, which helps leave your chicken juicy and flavorful plus the skin is usually left on, adding superior flavor to the meat than cooking it without.
Cook these chicken breasts in the air fryer and you'll get that perfect crispy skin that is oh… so satisfying.
Ingredients Needed
Bone-in, skin-on chicken breasts – chicken that's still on the bone is super juicy and has incredible flavor compared to chicken that is boneless.
Montreal steak seasoning – your one-stop shop for a seasoning blend.
Cornstarch – this helps make the chicken super duper crispy!
Smoked paprika – gets that grilled flavor without using the grill.
How to air fry bone in chicken breast
Start by preparing your air fryer. You should always preheat your air fryer for the perfect crispy skin, plus it helps with overall even cooking.
To help make clean-up easy, I use these parchment paper liners for the bottom of the air fryer basket when I'm air frying recipes in my Ninja Foodi. This is one of the best tricks for helping to make your life easier when you use your air fryer for things that are likely to leave a mess inside.
When seasoning the chicken breast for your air fryer you can use any of your favorite seasonings you usually like to cook chicken. You can also choose to spray the chicken very lightly with some olive oil or avocado oil to help the seasonings stick if you need to.
For myself, I love to add Montreal steak seasoning for just about anything. It turns out that this is really a great option for seasoning most meats because they have a lot of ingredients in the blend that you'd normally have to add yourself. If I didn't use the seasoning blend, I would probably use garlic powder, onion powder, and maybe some Italian seasoning.
I added regular paprika and then just a pinch of smoked paprika that gives a strong smoked flavor. If you have never tried smoked paprika is a good spice you should keep on hand to intensify the flavor of your favorite foods from stew to macaroni and cheese.
For best results, air fry chicken breast in a single layer and until a safe temperature is reached. You can use a digital meat thermometer to ensure that your chicken is fully cooked.
This is important because the size of your chicken breasts will affect the cooking time. To be sure that your chicken breast is done the internal temperature should be 165 degrees f .
Remember to let the chicken breast rest before digging in!
The complete printable recipe with added notes is listed below.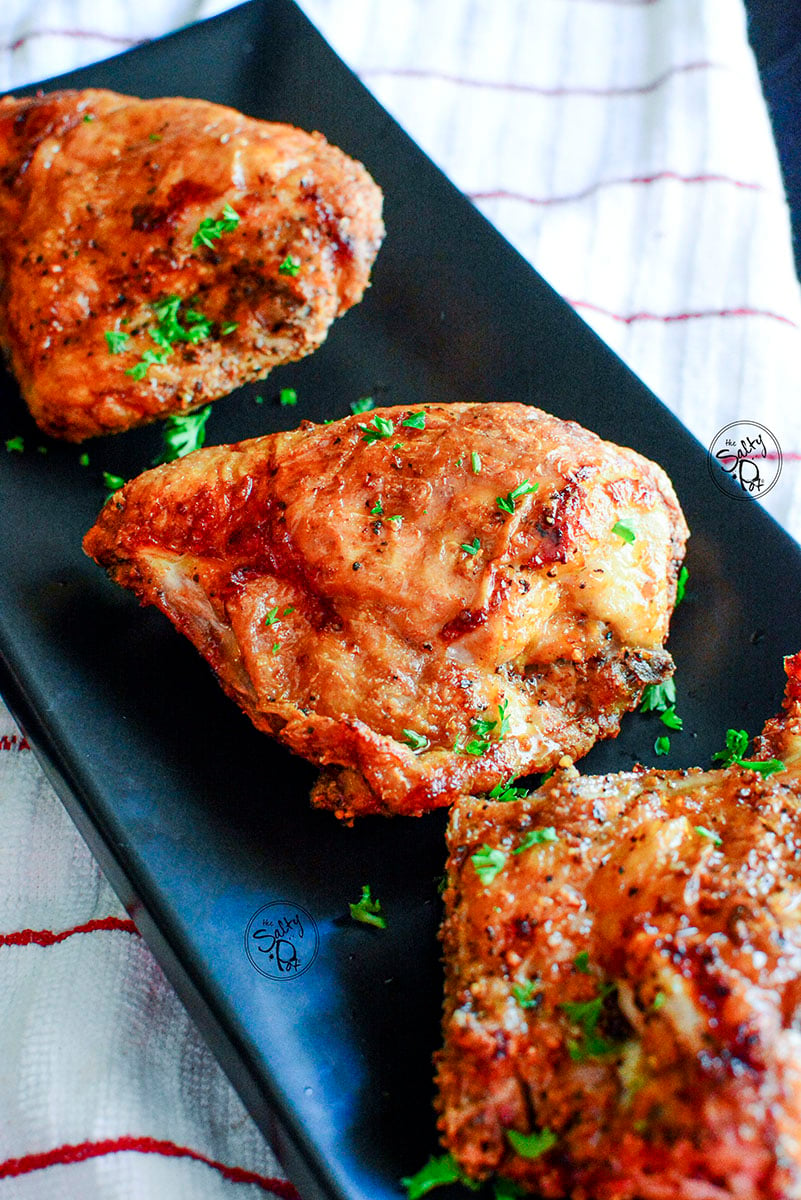 Can you bread your air fryer bone-in chicken breast?
Yes, you can bread rather than just season your air fryer chicken breast but this will increase the calories and the cooking time. I would also spray the breasts with olive or avocado oil and cook at a lower temp for a longer period of time so the batter doesn't burn before the chicken is cooked.
As always when using the air fryer for breaded recipes use a 2 step dry breading rather than a wet batter. This will allow you to get a crispy result without having the breading misshape and even come off as the hot air circulates.
Storing leftovers
IF there are leftovers, they can be stored in an airtight container in the fridge for up to 5 days, no longer. You could freeze them for up to 3 months and the flavor would be intact, but the crispiness of the skin would no longer be there.
Thaw overnight in the fridge or for a few minutes in the microwave, and then I'd remove the skin and serve after thoroughly heating through.
I hope that you give this recipe a try and when you do, please let me know what you think by leaving a STAR RATING and comment below, or shoot me an email at Joanne@thesaltypot.com. Thank you for stopping by today!
Air Fryer Bone in Chicken Breast
Yield:
3 bone-in chicken breasts
Crispy and delicious, these juicy air fryer bone-in chicken breasts are simple to make and air fry. The seasonings make them so delicious, and the air frying method leaves them super juicy with a crispy coating, every single time.
Ingredients
3-4 chicken breasts, bone in, skin still attached
1 tablespoon Montreal steak spice
1 teaspoon Smoked paprika
2 Tablespoons of cornstarch
Instructions
Preheat the air fryer to 400 for 5 minutes.
Pat dry the chicken breasts with kitchen towel.
Combine the spices and the cornstarch together and place them into a plastic sandwich bag or a Tupperware container with a lid.
Place the chicken breasts into the bag, one by one, and shake them to distribute the cornstarch and seasonings all over the chicken breasts.
Add the chicken breasts to the air fryer basket, skin side down, reduce the heat to 370 and cook for 20 minutes.
After the 20 minutes is up, open the air fryer basket and carefully flip the chicken breasts, skin side up, and continue to cook another 10 minutes for further crisping.
Total air fry time should be about 30 minutes or until a meat thermometer reads 165F. **see notes
Let the chicken rest before serving. Enjoy!
Notes
Patting the chicken dry with paper towel helps the seasonings stick to the chicken. You can use a spritz of oil if you prefer, but I find the chicken skin adds enough fat to make it crispy and the seasonings stick quite well without it.
You might want to start checking the temperature of the chicken at the 20 minute mark. You can turn the air fryer off when the internal temperature reaches 160F and let the chicken rest inside the basket for 10 minutes. It will continue to cook from the residual heat to reach 165. Some people prefer to cook the chicken right to the proper temperature, and then let it rest, (still cook), and that's totally fine.

The true cooking time will depend on the size of your air fryer, as well as the sizes of the chicken breasts. I could only fit 3 breasts into the basket, and I cooked the last one while we ate dinner.
Nutrition Information:
Yield:

4
Serving Size:

1 chicken breast
Amount Per Serving:
Calories:

225
Total Fat:

5g
Saturated Fat:

1g
Trans Fat:

0g
Unsaturated Fat:

3g
Cholesterol:

105mg
Sodium:

91mg
Carbohydrates:

4g
Fiber:

0g
Sugar:

0g
Protein:

38g
All nutritional information is based on third-party calculations and is only an estimate. Each recipe and nutritional value will vary depending on the brands you use, measuring methods, and portion sizes per household.