Here's a really easy recipe on how to preserve your candied jalapenos for the year to come. These delicious sweet and spicy treats are a flavor bomb for any appetizer or charcuterie board!
Preserved Candied Jalapenos – bringing on the sweet and the heat!
Jarred Candied Jalapenos
So if you're not familiar with what this recipe is about, let me tell you. It's brining sliced jalapenos in liquid that's sweet and tangy. So after it sits for a bit of time, the flavor of the jalapenos, the sweetness, and the tanginess from the brine all combine into a really yummy condiment!!
Why Is It Candied Jalapenos Though?
It's the addition of sugar to these spicy vegetables that makes them candied. The sugar helps tame the spiciness of the peppers, and the good news is that you can also control the amount of heat through some pretty easy methods.
How Do You Serve Them?
Well, I use it as a condiment. Serve it on a cracker lined with cream cheese and it's fantastic! The creaminess from the cheese helps cool down the spiciness from the sweet jalapenos, and the cracker helps add a bit of crunch as well!
You could also serve some on tacos, as a fantastic topping for some brats, or add a bit of kick to some salads (imagine chicken salad with a few of those chopped up in the mix?? YUM!).
This recipe has leftover brine so you could use that to brine up some hard-boiled eggs!! So delicious! If you like pickled eggs – just drop a few hard-boiled eggs in the brine, leave them for about a week in the fridge, and voila!
You could also use it to top some slow cooker beef roasts. Adding a sweet heat to the slow-cooking juices of the beef would be absolutely outstanding. Or if you were making beef jerky, brining the meat beforehand would really level up those flavors, as Living Simple Alaska did with their cowboy candy brine. They have a YouTube channel that I am completely addicted to, and I highly recommend you go take a look at some of their videos!!
Incidentally, my recipe is adapted from Rebecca's recipe at Foodie With Family. I made my recipe quite basic compared to hers, as that's the way I prefer it, but check out her recipe as well!! It's a great one to try as well plus I would encourage you to check out her site and look around!
Jalapenos though? TOO SPICY!
Ok, so yes, jalapenos can be pretty spicy to those who aren't used to eating a lot of them. However, there are a few things that you can do to reduce the amount of heat in the recipe.
Remove the inside ribs of the jalapeno when cutting them up as well. This also will help cool down the spice factor.
Instead of making the entire recipe using jalapenos, you add in other peppers. According to forknplate.com, anaheim and banana peppers clock in with lower heat levels so those would be good choices to add.
Why Can It (put it in jars)??
Well, this stuff is so delicious that you'll want to have it time and time again. Sure you can just keep it in the fridge for a few months but they'd make great Christmas gifts.
And honestly, if you're like me, having a few jars of candied peppers in the fridge would take up valuable real estate – so making them preserved in jars and having it shelf stable just makes more sense.
I'm Scared Of Canning!
Don't be. This recipe uses simple water bath canning. It's easy peasy once you're informed of safe canning procedures. If you're wondering about water bath canning I have an easy basic article about water bath canning to take a peek at.

That being said, you don't have to water bath your jars. You can just leave them in the fridge for up to 2 months in an air-tight jar or container. Of course, please use your discretion when consuming the candied jalapenos. If they smell funky or look moldy, then throw it in the bin.
Canning your sweet and spicy peppers will keep them shelf-stable for up to a year as long as all jars have been sealed properly.
Can I Freeze Candied Jalapenos?
If you don't want to can the candied peppers, yes, you can freeze it. In fact, you can freeze it right in the jars (no need to sterilize them), or use a freezer-friendly container. If you use the jars just remember to leave a little bit of room for expansion when they freeze (especially if you're freezing just the brine!). They should remain freezer-friendly for up to 6 months or so.
Let them thaw to room temp and then keep them in the fridge so they don't spoil.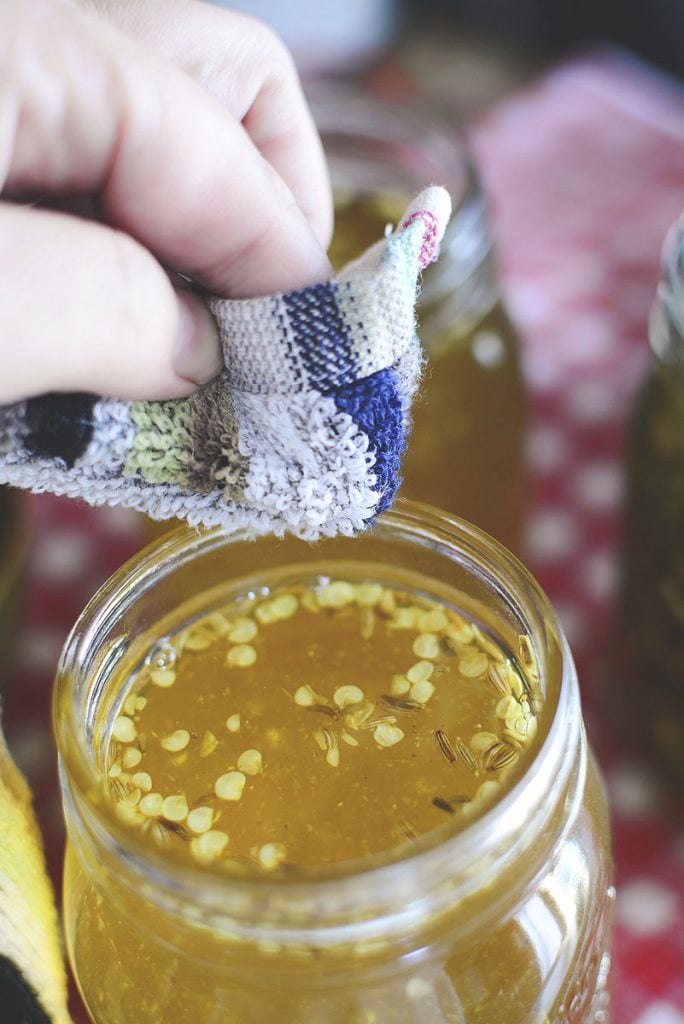 What's Your Biggest Piece Of Advice When Making This Candied Jalapenos Recipe?
1 – WEAR GLOVES WHEN CHOPPING THE PEPPERS………. PLEASE WEAR GLOVES WHEN CHOPPING THE PEPPERS. I'm not tough like a cowboy, so the jalapeno juice can leave your hands (and other parts you touch!) burning for quite a while.
2. Wear gloves when chopping the peppers!!!!!!!!!!! Did I mention that already?
3. Taste the brine as you make it to adjust for sweet/tang preferences.
So I know that while talking about recipes with jalapenos is a spicy conversation (haha – see what I did there?? ), I think if you know your personal spice tolerance, it's easy to adapt the recipe to suit your preferences.
You'll want to let this candied peppers recipe rest for at least two weeks before eating it, and if can, a month would be perfect. The brine needs a chance to really get into the peppers and do its sweet/tangy thing!
Keep this timeline in mind when making gifts!!
Have you canned candied jalapenos before? Have you made it but not preserved it? Maybe you haven't tried it before, and if that's the case, I'd like to invite you to give it a go. Candied peppers are a unique product to make but worth the time!
Looking for condiment-type recipes? Why not check out my No Added Sugar Lychee Freezer Jam and my Crock Pot Ketchup! I also have a Peach Freezer Jam that is DEEELICIOUS as well as a recipe for an Instant Pot Maple Banana Butter!
Thank you for stopping by The Salty Pot today, and I hope you have a fantastic day! If you'd like to share a story or a comment with me, please leave it below or feel free to email me at Joanne@thesaltypot.com !
Preserved Candied Jalapenos
Additional Time:
2 minutes
A sweet, tangy and spicy condiment made with jalapenos. These are fantastic used in so many different ways, and also make great gifts!
Ingredients
2lbs jalapenos
3c vinegar
5c sugar
½ teaspoon celery seed
Instructions
Begin by heating cleaned jars in simmering water in your canner until you are ready to use them.
Removing the stem end of the pepper, cut either rounds or smaller chunks of jalapeno for canning. (See notes!). Set aside.
In a heavy bottomed pot, add the vinegar and sugar. Heat to a boil, add the celery seed. Be sure the sugar in the brine is dissolved.
Carefully add the peppers into the brine and stir. Let the mixture come back to a boil and boil hard for 5 minutes, stirring occasionally.
Meanwhile, get your jars ready. Take your jars from the water canner. (keep this water simmering!) Set your lids and rings aside.
When the 5 minutes are up, carefully transfer the peppers into the jars. Turn the heat up again on the brine left in the pot and boil for another 5 minutes. Carefully ladle the boiling brine over the peppers in the jars, leaving a ½" headspace at the top. (See notes!!!!)
Wipe the rims of the jars with a vinegar dampened cloth or towel to remove any particles that might prevent a good seal.
Place the lid and the ring on the jar and tighten finger tight.
Place the jars into the water canner. Bring the water up to a boil and then start timing for 15 minutes, adjusting for your altitude. When 15 minutes are up, turn off the heat and leave the jars in the water for another 5 minutes.
Carefully remove the jars with a jar lifter and set them on a towel lined counter to catch water droplets. Leave them to cool for 24 hours without disturbing the jars.
As the jars are cooling, it's perfectly normal to hear the lids 'ping' to indicate they are sealing. Sometimes they won't ping, and that's ok. As long as there is no give in the lid when you press down on it after the jar has cooled for 24 hours, you're good to go!
In the event that a jar did not seal, place it in the fridge to use first. Let the cowboy candy rest for at LEAST two weeks before consuming, and a month would be even better. Keep this timeline in mind when making gifts!!
Notes
This recipe makes extra brine so have extra jars available to can that liquid gold!
If you want to reduce the heat of the final product, remove the ribs when chopping the jalapenos.

You may want to use a slotted spoon to first fill the jars with the peppers and the follow up with a ladle to fill the jars with the brine. Also, using a canning funnel as I did in the photos makes the job a million times easier! These accessories are not necessary to make this recipe, they are only just really nice to have on hand.
Nutrition Information:
Yield:

64
Serving Size:

1 tbsp
Amount Per Serving:
Calories:

67
Total Fat:

0g
Saturated Fat:

0g
Trans Fat:

0g
Unsaturated Fat:

0g
Cholesterol:

0mg
Sodium:

1mg
Carbohydrates:

17g
Fiber:

0g
Sugar:

16g
Protein:

0g
All nutritional information is based on third party calculations and is only an estimate. Each recipe and nutritional value will vary depending on the brands you use, measuring methods and portion sizes per household.