If you're getting into freezer jams like I am, this sugar free lychee freezer jam is a MUST for your freezer jam line-up!!! Trust me on this one my beautiful readers!
No Sugar Added Lychee Freezer Jam = SO SIMPLE, SO DELICIOUS!
What The Heck Are Lychees????
How about I just say that Lychees are the weirdest looking fruit, but are little bites of heaven. Does that asnwer it? haha.
Ok, while what I said is true, the more accurate answer is that lychees are little walnut-sized fruits that are sweet and juicy and a pure delight to eat. Grown in Asia, they are surrounded by a leathery type shell that peels back to expose an opaque, white-fleshed fruit.
The fruit surrounds a black seed that needs to be discarded and not eaten.
In all honesty, they look like little eyeballs, but I try not to think about that as I devour them! Baking Bites has a much more accurate description of these adorable (and delicious) little nuts perfectly!
Lychee Nutrition
Lychees are high in antioxidants, vitamin C and B, and are loaded with different minerals like copper, magnesium, iron, and folate that help create our red blood cells.

Because they are sweet, they are high in sugar so if you're diabetic, they're something you want in moderation. Thus…….. this NO SUGAR ADDED Lychee Freezer Jam!
Why A Freezer Jam Though?
Ok, well you don't have to make a FREEZER jam, but personally, I find them just as good as regular jams and I'd even say better – because you don't use all the sugar that's required for regular jams.
The only difference between freezer jams and regular jams is that regular jam is made so that it's shelf-stable and doesn't have to be frozen (or refrigerated). While it's handy, they usually contain SO. MUCH. SUGAR to preserve them. There's nothing wrong with it, but when you want to watch your sugar intake, jams like this Lychee jam and my No Sugar Added Peach Freezer Jam are the way to go!
What Do I Need To Make This Lychee Jam?
Two things: Lychee nuts and a sugar-free freezer jam pectin. This is the brand I used: (but I know there are other brands out there as well)
There is also the SURE JELL brand. I haven't tried it so I can't vouch for how well it works.
You would also need the containers that you plan on freezing the jam in. If you plan on using jars, be sure to leave some headspace at the top (an inch or so) to allow for expansion as it freezes.
How Long Will The Lychee Freezer Jam Last In The Freezer?
This Lychee Freezer Jam should last about three months in the freezer.
Do I Have To Sterilize My Jars?
No, you don't. But you'll want to be sure the jars are very clean, along with the lids as well. Personally, I sterilized my jars because I just feel better doing so, but it's not a requirement.
How Do I Serve This Lychee Jam?
There are a number of ways you can serve this jam. My most favorite way (don't judge me!! Lol) would be to heat up some milk and then pour it on top of shredded wheat. Then, dollop the lychee freezer jam over the top of the shredded wheat and eat it like that! YUUMMMM.. it's sort of a childhood favorite for me!
But if you're not into that.. (lol), here are some other great ideas:
On toast (of course)
On top of ice cream!
Peanut butter and lychee jam sandwich!!!
Try it on top of some fried pork chops – that would be OUTSTANDING!
You could dollop some in a trifle along with other jams
On top of crackers that have been spread with a spicy cream cheese mixture
What If My Lychee Freezer Jam Doesn't Set?
I've used this freezer jam pectin quite a few times and haven't had any issues with it. However, if you find your jam isn't thick enough, there's a few things you can do try doing.
Add Chia Seeds: So I would remove all the jelly from the jars, and heat them up. Once hot, I would add one tablespoon of chia seeds per cup of jam. Stir it well and the chia seeds will thicken the jam as it cools. You'll want to stir it a few times as it's cooling and then put it back into the jars.
Inkatrinaskitchen has a great tutorial on how to fix your freezer jam if it didn't set up.
You can always forgo the idea of a jam, and instead, use the mixture as a sauce to put on different things like hot cereal, ice cream, yogurt, parfaits, etc.
Well my lovelies, that's a wrap for now! This no sugar added lychee freezer jam is something I absolutely adore, and I hope that when you make it, it's the same for you as well!!
If you have any questions or comments, please leave them below or shoot me an email at Joanne@thesaltypot.com , and as always, thank you so much for stopping by The Salty Pot today!!
~Joanne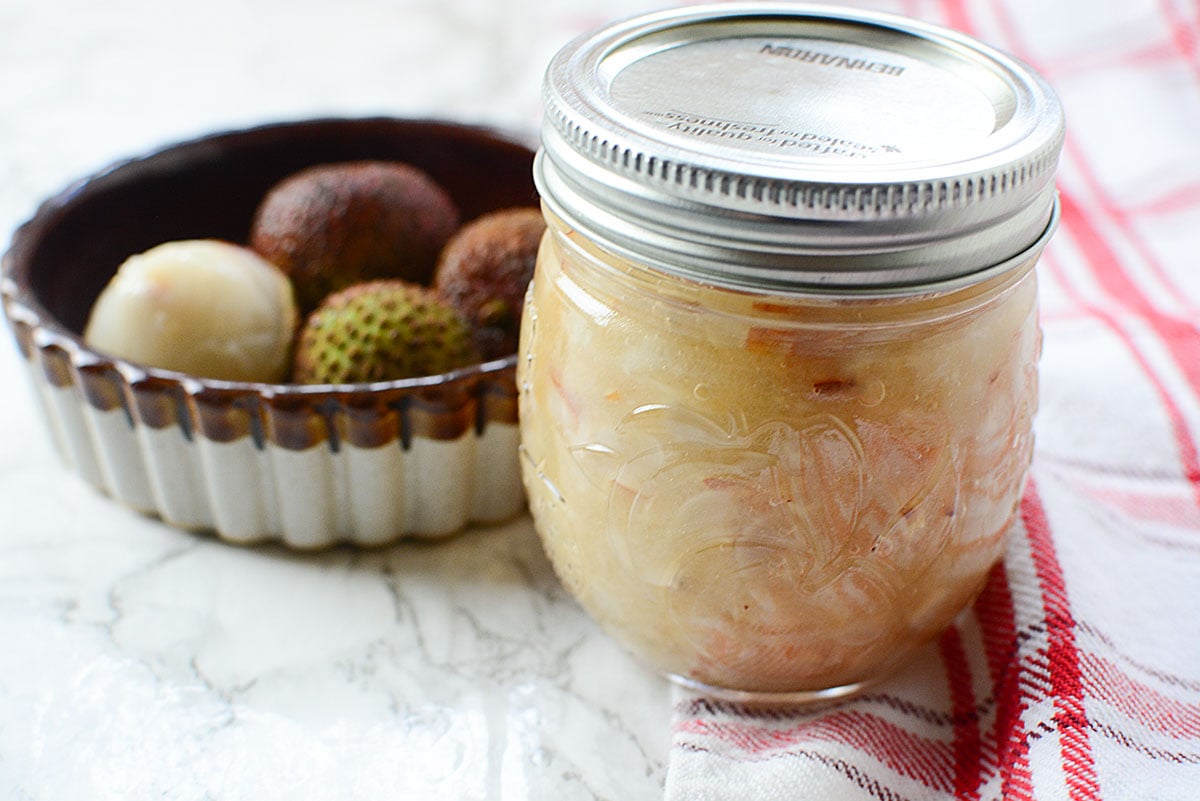 Sugar Free Lychee Freezer Jam
This Sugar-free lychee jam is so delicious. If you love lychee nuts, you know how sweet they are. This method makes this jam delicious and not over the top sweet.
Ingredients
4 c lychee nuts, peeled, de-seeded, and chopped (see notes)
1 packet of Bernardin sugar free freezer jam pectin
Instructions
The freezer jam I used requires no cooking, but you should read the package instructions for the brand you use in case the directions differ.
. I boiled my jars for ten minutes in hot boiling water. This step is not necessary, but I'm freaky about it, so I wanted them to be ultra clean. (the lids can be held in warm water. Again, not necessary, but it's a step I like to take. )
In a large bowl, add the pectin and the chopped lychee nuts together. Stir constantly for three minutes. You'll see the mixture begin to thicken.
After the three minutes, you can spoon the jam into the jars or containers. Remember to leave room for expansion when the jam freezes.
To serve, thaw the container of jam overnight in the fridge. It should stay good in the fridge for approximately 2 weeks.
Notes
1. Use only fruit that is ripe with no blemishes or mold. It should smell sweet and not fermented.
2. I would imagine you could use canned lychee nuts for the jam, but I think fresh lychee would make a much nicer freezer jam. However, if that's all you have, that would be totally fine!
3. Be sure your containers are squeaky clean and dry.

4. Do not any jam that smells funny, is discolored or has mold growing on it.
Nutrition Information:
Yield:

32 servings
Serving Size:

2 tbsp
Amount Per Serving:
Calories:

28
Total Fat:

1g
Saturated Fat:

0g
Trans Fat:

0g
Unsaturated Fat:

0g
Cholesterol:

0mg
Sodium:

6mg
Carbohydrates:

6g
Fiber:

1g
Sugar:

4g
Protein:

0g
These calculations are approximate and are based on the entire recipes of 4 cups.
**DON'T FORGET TO PIN THIS NO SUGAR ADDED LYCHEE FREEZER JAM RECIPE TO YOUR FAVORITE PINTEREST BOARD TO USE LATER**