Banana butter, have you heard of it? Neither had I … until I made it… and if you make it too, you won't be sorry!

INSTANT POT MAPLE BANANA BUTTER
Seriously now, this instant pot banana butter is really a jam but can be used in every sweet way butter is used. Spread it on toast, scones, muffins, or even dollop a bit over some apple crisp, steel-cut oats or granola.  
The thing that's so awesome about this fruit butter is that doesn't have copious amounts of sugar that jams and jellies usually contain. 

What Is A Banana Butter
Banana butter is a fruit butter. It's a term that falls under the umbrella of preserves. It's a spread that doesn't have a lot of additives like pectin and such. 
In fruit butter, you don't use pectin because you boil down the fruit and evaporate a lot of its natural juices so that it thickens and becomes spread-like. 
Hence, the name banana butter, .. haha

Isn't This Just A Banana Jam?
Well, sort of. See, the difference between jams and jellies is what you use to make the spread. So, jellies are made with the juice of the fruit, (and no pulp), whereas jams are made with juice and the pulp of the fruit. 
Either one is great as a spread until you add the HUGE amounts of sugar that have to be added to them in order to make them 'preserved' and jelled. The reason all the sugar has to be added is that when you use pectin (to help the jam thicken and set up) it needs the sugar to help the process.
Seeing that this is not made with pectin, and technically, banana 'jam' is too dense to safely and properly preserve in jars, I made this as a fresh fruit 'butter'. 

Why Make The Banana Butter In The Instant Pot?
You could certainly make this butter on the stove-top, but making a fruit butter in the pressure cooker cuts down the time significantly and is a great way to make this delicious fruit spread! The process is carried out under high heat and pressure, but it doesn't affect the taste at all. 
It's not necessary to only use the Instant Pot to make the banana jam. Pressure cookers are great appliances and definitely help the home cook produce some incredibly tasty dishes that make them the hero of the family. 
I'm serious. lol.
THE HERO. 
If you have an Instant Pot and you're slightly afraid to use it, take a peek at my Instant Pot Guide For Beginners post that may make you feel a lot more comfortable about using it. 
You can also make this process in the slow cooker. I would slow cook the bananas on low for at least 8 – 10 hours so they break down and get very soft.
You might even have to cook it a bit longer in order to evaporate some of the liquids. 

What Other Fruit Butters Can I Make?
You could make really any sort you'd like. How about: 
Apple butter
Peach butter
Mango butter
Berry butter, 
etc. 
Each of the processes of the individual fruit butter might be a bit different because of the moisture content and the seeds involved in the fruit, but the concept would be the same. 
Anyway, back to the banana butter recipe. 
Making Banana Butter
You'll want to start off with bananas that have turned yellow all the way up to a nice spotty (perfectly ripe) banana. Don't use bananas that have green shades to them as they aren't ripe enough at that point yet for this fruit spread. 
You simply put them in the Instant Pot bowl insert, add the water (or juice), sugar, mix, and pressure cook them!
See how crazy easy it is??
Once the cooking part is up, I like to add the maple extract. 
Now, the alternative to using brown sugar and maple extract is simply using maple syrup. I didn't have maple syrup on hand (I had used what was left for my chia seed pudding!), but there's nothing wrong with using this method either. 
Use what you got! – It's my motto. Haha! 
Adding The Pecans To This Banana Butter Spread
I sprinkled the pecans over the top of whatever I was going to use the banana butter on. That was just my preference, but you can certainly mix the pecans inside the fruit spread if you wanted. 
That being said, I wouldn't mix ALL the pecans in the entire amount of preserves as the pecans might soften over time and get kinda gross. Just mix in the amount of pecans that you wish to use for the serving at hand.
If you don't have pecans on hand, you could use walnuts or even coconut shreds and go for a 'tropical' sort of flavor profile! Yum!! 
How Long Will The Banana Butter Keep? 
I would keep it in refrigerated for up to a week to 10 days. I haven't tried freezing it so I can't really say how it would hold up. 
Freezing the banana spread might change the texture a bit and make it a bit more watery. 
I hope that when you make this Instant Pot Maple Banana Butter, you let me know what you thought of the recipe! Did you change it up? How did you put your own twist on it? 
Let me know down in the comments, I read them all and I'd love to hear from you! Thanks for stopping by The Salty Pot today and I hope you have a fantastic day!!
**DON'T FORGET TO PIN THIS INSTANT POT BANANA BUTTER TO YOUR FAVORITE PINTEREST BOARD TO USE FOR LATER!!**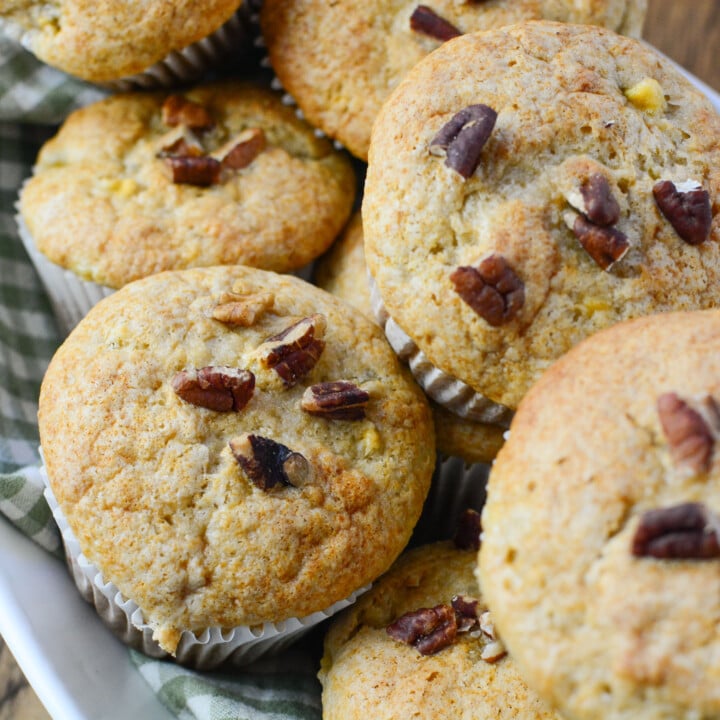 INSTANT POT MAPLE BANANA BUTTER WITH PECANS
This instant pot banana butter has beautiful maple and pecan flavors infused into the banana butter. This fruit spread is simple to make, but SO incredibly flavorful and goes with any piece of toast, scones, muffins, a bowl of cereal, ..etc, etc
Ingredients
6 - 7 bananas, ripe, peeled and sliced
2 teaspoon lemon juice
¼ c brown sugar (see notes)
2 teaspoon maple extract
pecans
1c water
Instructions
Add the banana pieces to the bottom of the instant pot bowl insert
Add the water and lemon juice.
Cover and seal
Cook on 'manual', high pressure for 5 minutes
Do a quick release and remove the lid when the pressure is expelled.
Mash the bananas. Add the maple extract and sugar. Mix well.
Store in an airtight container for up to 10 days.
Enjoy!
Notes
If you have maple syrup, omit using the maple extract and brown sugar. You can replace the ¼ cup of brown sugar with a ¼c of maple syrup.

Use bananas that have just turned yellow - up to when they have some spots. Do not use bananas with shades of green, meaning they are still unripe.


Nutrition Information:
Yield:

16
Serving Size:

1 tbsp
Amount Per Serving:
Calories:

57
Total Fat:

0g
Saturated Fat:

0g
Trans Fat:

0g
Unsaturated Fat:

0g
Cholesterol:

0mg
Sodium:

2mg
Carbohydrates:

15g
Fiber:

1g
Sugar:

9g
Protein:

1g