Brown sugar honey-glazed carrots are sweet and make a vegetable side dish that everyone loves (especially those picky eaters!). This recipe is easy to make in less than half-hour, economical, and pairs with almost any protein.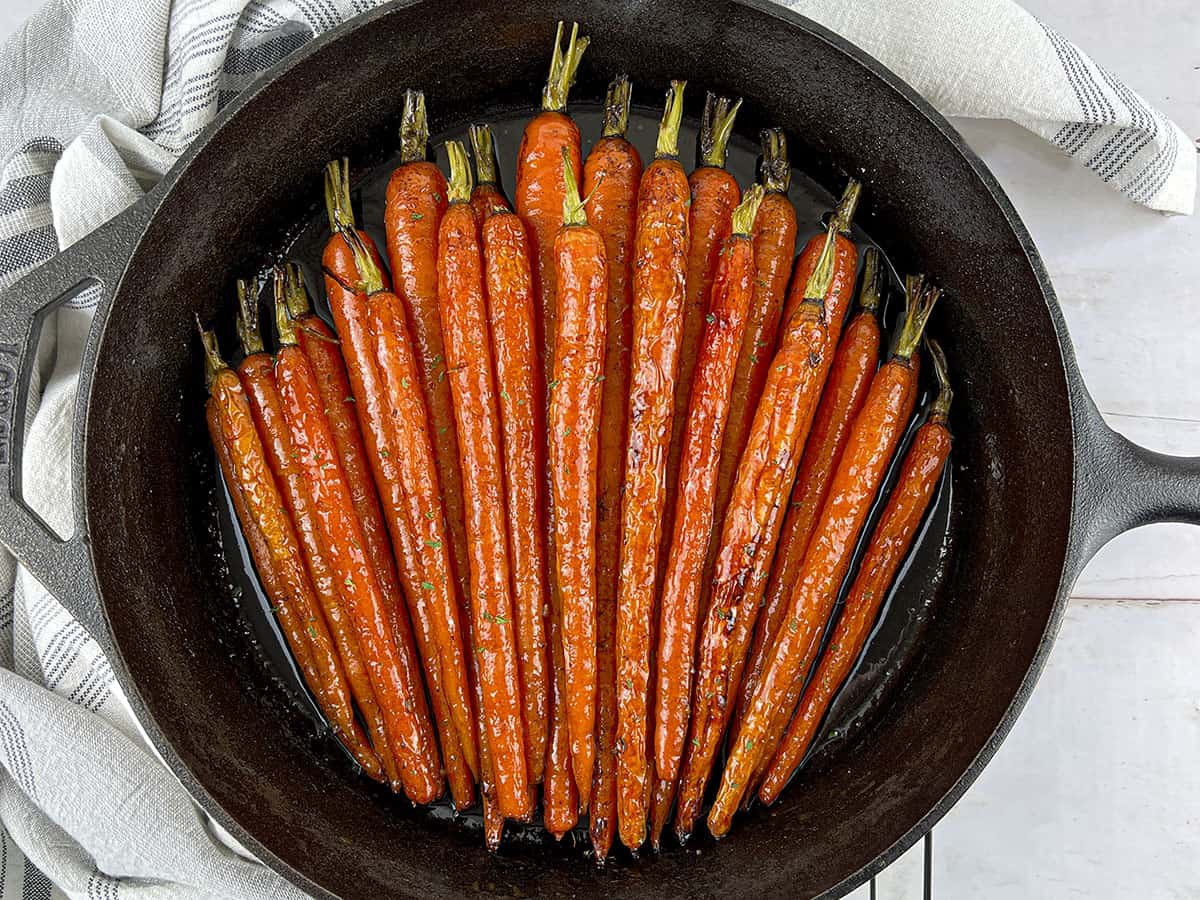 Why You'll Love These Brown Sugar Honey Glazed Carrots
This roasted carrots recipe is easy enough to make for a busy weeknight or for a part of your holiday sides. Its versatility means you can make it differently by putting your own spin on it with just a few changes.
Carrots should always be celebrated when they're in season in summer if you can!
Nutritious and delicious at the same time. Picky eaters will have no problems with this dish.
Lastly, four main ingredients (plus seasonings) turn simple raw carrots into a superstar side dish!
Groceries You'll Need
Carrots (with tops trimmed)– Freshest, newest carrots are the best as they're the star of the show for this vegetable side. If you can pick some up from the farmers market (or you have some in your garden) those tend to be the sweetest as the sugars haven't yet dissipated. If you only have access to the ones at your grocer, those will work fine as well, no worries. (You can also use baby carrots if those are what you prefer.)
Olive oil  – For frying. 
Butter – For flavor!
Brown sugar and Honey – These co-stars help bring out the sweetness in carrots and make them shine. 
Balsamic vinegar – Vinegar is needed to help balance the sweetness and cut a bit of the richness from the butter.
Seasonings- For depth of flavor and to compliment the carrots. I used dry seasonings for this recipe today but if you want to use fresh, double the amount called for in the recipe card below.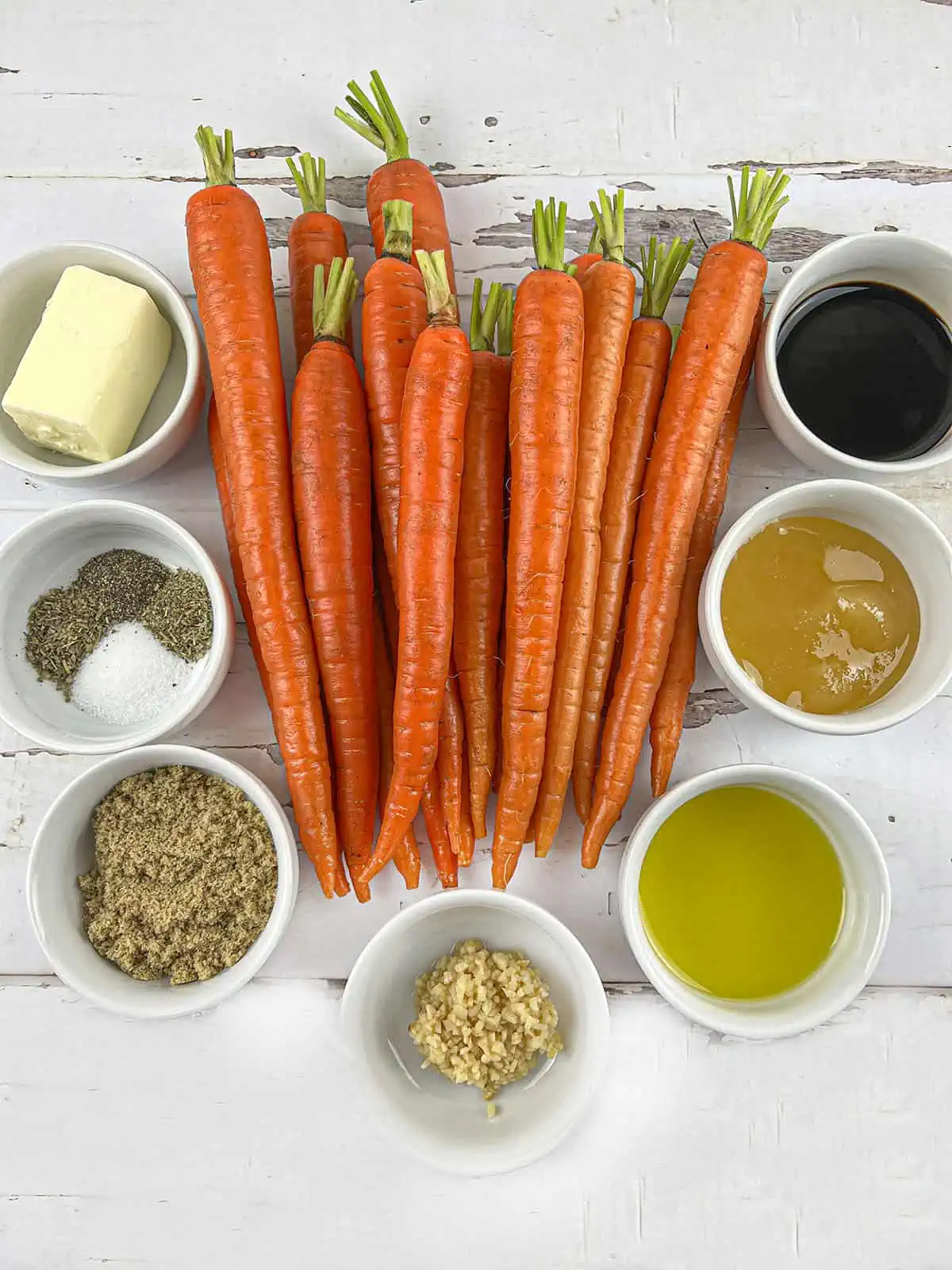 How to Make Honey Brown Sugar Glazed Carrots
Preheat your oven and trim up the carrots. Oil and season them and place them in the pan.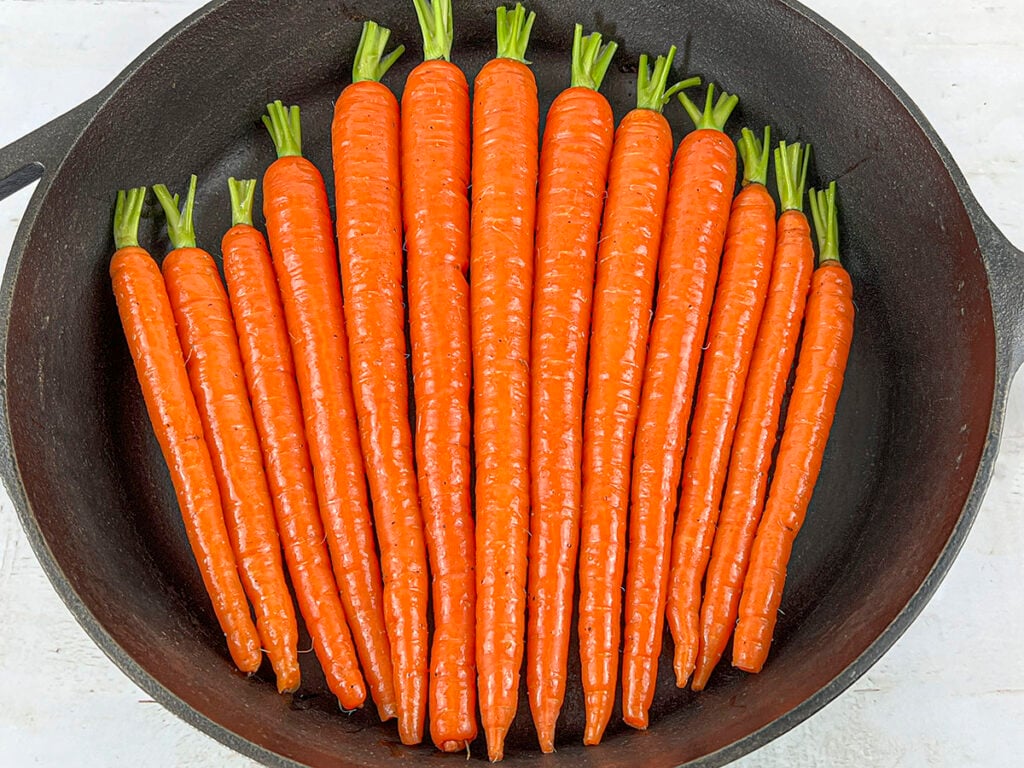 2. Mix up the sweet drizzling sauce.
3. Coat the carrots and roast.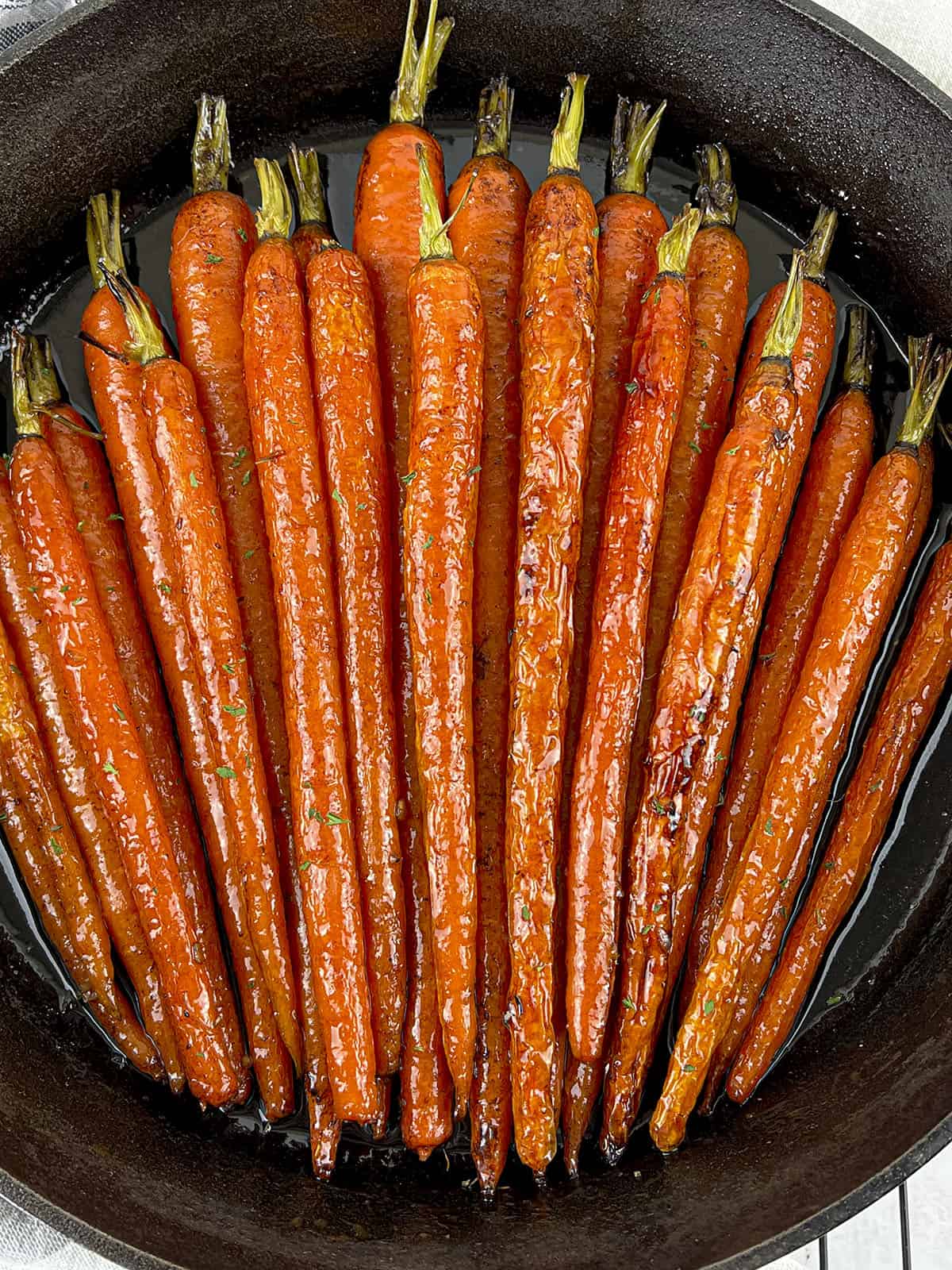 Making This Recipe Your Own
Add a touch of cinnamon to the glaze makes a nice switch-up for your holiday side dish.
If you're wanting to add an element of heat, mix in a pinch (or more if you're up to it!) of red chili flakes.
Another option is to make your own Easy Homemade Hot Honey Recipe and substitute it in place of regular honey. The hot honey is fantastic on other vegetables, ice cream, fried chicken, and so much more!
Adding peeled parsnips with the carrots is a nice flavor mix.
What Can I Serve These Roasted Carrots With?
Serve these mouthwatering balsamic glazed roasted carrots as a delightful side dish to complement your main courses like 3 Ingredient Crockpot Shredded Chicken and Gravy, 3 Ingredient Crockpot Pork Chops, or even a nice Sunday Roast!
What To Do With Leftovers
You have a few options. Try cutting up the longer carrots into coins and add them to a salad with other vegetables. They add such delicious sweetness! If you're making a vegetable soup, these will go well – just add them near the end to just heat through, so they don't get super mushy. I've even added them to a stirfry (again, near the end to heat through and not 'cook').
For storing, they'll stay nice in a tightly lidded container in the fridge for up to 4 days. You can freeze them as well if they're stored n a freezer-friendly container for up to 3 months.
To thaw, leave them in the fridge overnight, or you can reheat them gently in a covered skillet with a bit more butter, or simply reheat them in the microwave which might be the quickest option if you're in a hurry.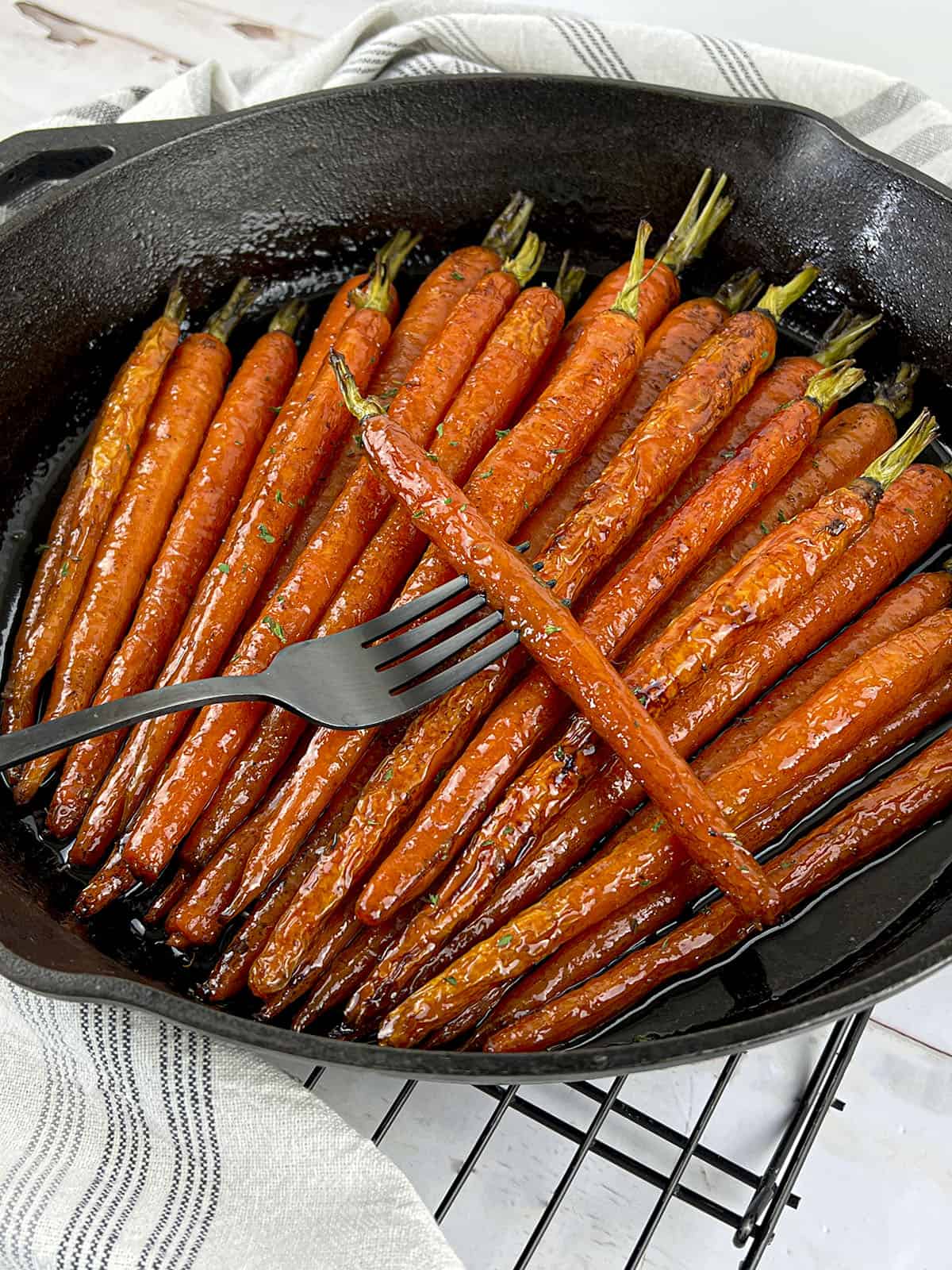 Questions You Might Have
What can you use on carrots instead of honey?
If you don't have any honey on hand, you can easily substitute it for agave syrup, maple syrup or even some date paste.
Can I make the glaze ahead of time?
Absolutely! Go ahead and make up the glaze a day or two before. Keep it in the fridge, tightly covered. When you're ready to use it, reheat it in the microwave for 10 seconds or so to get it pourable. Be careful as the sugars in the glaze will be very hot.
Did you make this Honey Brown Sugar Carrot recipe? If you loved it as much as I do, please consider leaving a ***STAR*** rating in the recipe card below, and if you have any questions about the recipe, leave a comment below so I can help you make these carrots perfectly!
Thanks for stopping by The Salty Pot and I hope to see you next time!
~Joanne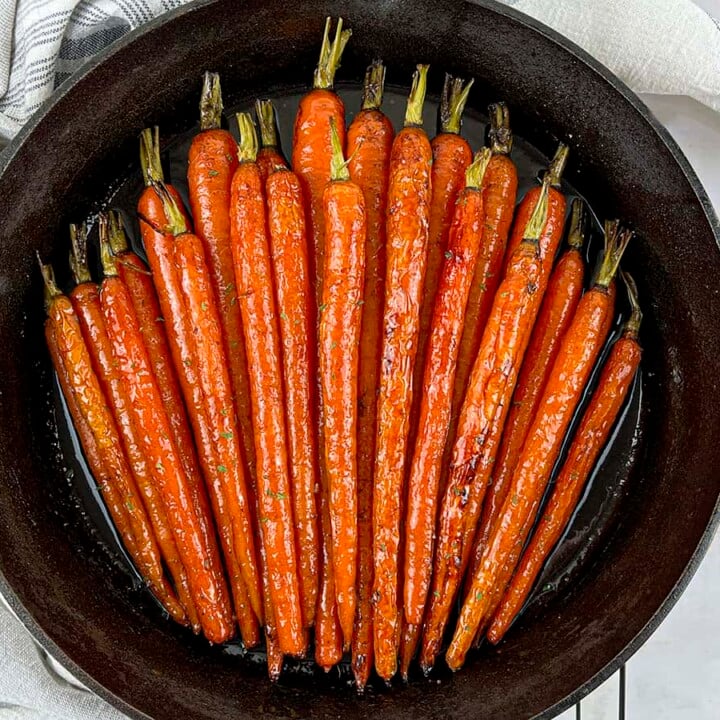 Brown Sugar Honey Glazed Carrots
Brown Sugar Honey Glazed Carrots are not only delicious but super easy to make. Great for picky eaters, this simple side dish converts carrot haters to carrot lovers.
Ingredients
2 lbs thin baby carrots with tops trimmed
2 tablespoons olive oil
Salt & pepper to taste
4 tablespoons butter
2 tablespoons brown sugar
2 tablespoons honey
¼ teaspoon rosemary
¼ teaspoon italian seasoning
1 tablespoon balsamic vinegar
½ teaspoon minced garlic
Instructions
Preheat oven to 400
Take your fresh carrots and wash them thoroughly. Peel the carrots if desired but you don't have to as long as they're relatively clean and unblemished, and then cut off the tops.
In a mixing bowl, drizzle the carrots with a generous amount of olive oil, ensuring they are well-coated. Sprinkle some salt and freshly ground black pepper over the carrots, allowing the flavors to enhance as they roast.
Line a baking sheet with parchment paper or lightly grease a large cast iron skillet. Arrange the seasoned carrots in a single layer, giving each piece enough space to roast evenly. This prevents overcrowding and helps achieve that delicious caramelization.
In a small saucepan, whisk together the brown sugar, honey, rosemary, Italian seasoning, balsamic vinegar, and minced garlic. Whisk the mixture until the brown sugar has dissolved and everything is well combined.
Next, add the butter to the saucepan with the mixture and place it over medium heat. Allow the ingredients to melt together, bringing the glaze to a gentle boil.
Once the glaze has reached a gentle boil, remove the saucepan from the heat. Using a pastry brush or a spoon, generously brush each carrot individually with the balsamic glaze.
After brushing the carrots, spoon any remaining glaze over the top of the carrots on the baking sheet or skillet. This ensures the roasted carrots will be beautifully coated in the delicious glaze during the baking process.
Place the baking sheet or cast iron skillet in the preheated oven and let the carrots roast for 20-30 minutes. The exact roasting time may vary depending on the thickness of your carrots and your desired level of tenderness.
Once the carrots are tender and slightly caramelized, remove them from the oven. Transfer the roasted carrots to a serving platter, and if you have any remaining glaze, you can drizzle a little more over the top for that extra burst of flavor.
Notes
You can use agave nectar in place of honey.
Use fresh whole carrots for this recipe, but if you can't find them, store-bought carrots or baby carrots will also work.
You don't have to peel the carrots. Give them a good scrub and remove any blemishes. Keeping the peel on will offer more nutrition like fiber.
Nutrition Information:
Yield:

6
Serving Size:

1
Amount Per Serving:
Calories:

199
Total Fat:

12g
Saturated Fat:

6g
Trans Fat:

0g
Unsaturated Fat:

6g
Cholesterol:

20mg
Sodium:

230mg
Carbohydrates:

22g
Fiber:

4g
Sugar:

17g
Protein:

1g
All nutritional information is based on third-party calculations and is only an estimate. Each recipe and nutritional value will vary depending on the brands you use, measuring methods, and portion sizes per household.