Cinnamon buns are the kind of food that we want to get all cozy with, right? We want to eat them in our jammies with a big coffee next to us, but OMG they take so looong to make!!  And what about in the summer? All that heating up the kitchen part? Well, I got your back, my pretty readers. I came up with simply the COOLEST (and I might add, EASIEST) idea of a cinnamon bun for breakfast, with fruit, with gooey icing with a bit of a twist…..  AND there's none of that turning the kitchen into a sweatshop at crazy o'clock in the a.m. thing.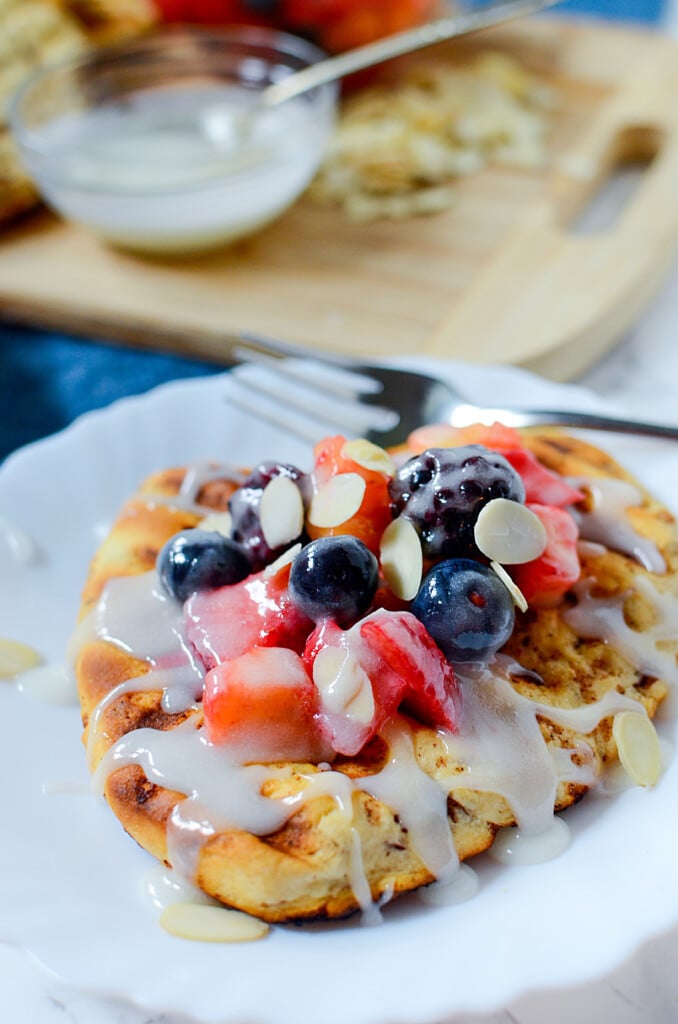 Allow me to present to you, Grilled Cinnamon Bun Flatbread with Fruity Topping. Yes, a long name and every ridiculously long syllable is worth it. Trust me. 
WHY THE CINNAMON BUN FLATBREAD, JO? (You might be asking)
As I write this, I'm coming up with some fantastic reasons for making this dish. One simple reason is that it's grilled! Come on, what a unique way to make breakfast! In fact, maybe you could have hubby grill up breakfast and YOU will get to sleep in. Win Win! Promise him some grill action (which, to some guys is on par with other kind of "action", wink wink), and the payoff will be huge for you! He'll be as happy as a….. well I don't know what, but something REALLY happy, because he gets an excuse to use his grill for something different.  Also, because it's grilled cinnamon bun flatbread, you could pass it off as a hoity toity cheffy gourmet brunch item if you have company. What a great idea right? I mean really.. who's heard of grilled cinnamon bun flatbread? Not many I'm sure, and if you made this, I'm confident you'd be a breakfast/brunch rock star! They'll talk about that grilled cinnamon flatbread dish for YEARS!! Well, maybe not years, but at least a few hours.
So to quickly recap as to why you should make this:
– It's unique
– Hubby might get some grill action
– You get to sleep in
– It's an amazing brunch item
– You'll be a rock star
– Do you need more? I could go on for days with this….. 
TOAST SHMOAST
Ok, so if it turns out you are the one making this dish and not hubby, I ask you, why serve toast at breakfast when you have this flatbread? Toast Shmoast! Pfffft. Please, leave that 'no flavor crappy carb'  in the bread box. You have the glorious CINNAMON BUN FLATBREAD!! And guess what? One of the best things about this is that making it is SO.STINKIN.EASY.
Buy yourself a tube of the store-bought prepared cinnamon bun dough. (The kind that includes the icing). It usually comes with 8 pieces in the tube. Now comes the scary part. Unwrapping it. That little unassuming tube of dough has given many adults incredible amounts of anxiety.  In fact, I saw a comparison once of that tube of biscuit dough and the feeling of winding up a childs' jack in the box toy. I have to agree. I hate opening those rotten things! Anyway, I know you're brave, so go ahead and get your braveness on. ORRRRR… You prime yourself with a little liquid courage with a bit of morning boozy coffee creamer that I made here. That'll do the trick on the braveness 🙂

Ok, back at it. Open the tube, and separate the biscuits. Group two biscuits together and with a rolling-pin, roll them together making one big one. It doesn't have to be pretty. Just roll them together, end to end, making it all the same thickness, like this: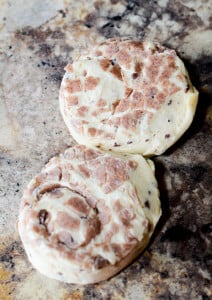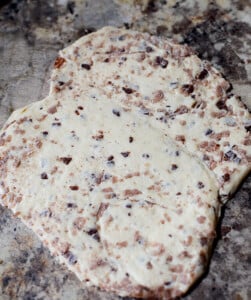 Preheat the grill to medium or 350. While you're waiting, make a small fruit salad with ANY fruit you have available and that you like. I used berries and a bit of pineapple because that's what I had on hand. No fresh fruit? No prob! Use frozen fruit. Simply thaw it in the microwave.  Only one kind of fruit? It's all good, use what you have on hand. Chop it up, add a teaspoon or so of sugar, (optional) and set aside.
Place the flatbread on the grill. Now, this is NOT the time to ponder your grass cutting job, or just how much dog poop there is to clean up in the yard. This is also not the time to wonder why Frank, your neighbour, insists on using his leaf blower twice a day on his already leafless driveway. Nope. Now now.
Right now, you want to stand right by your grill and watch the cinnamon bun flatbread as it browns. You want those super gorgeous grill marks on the bread, but just watch that it doesn't go from brown to burnt.
When you have the grill marks on one side, flip it to do the other side. Remove them when they're golden brown and gorgeous.
Now all that's left to do is assemble the breakfast!
THE EASY SHMEASY ASSEMBLY PART
Plate one of the pieces of flatbread on a the plate and top with the fruit. Remember the container of icing? Place this in a small bowl and literally microwave it for 5 seconds. You simply want it warm enough to drizzle over everything in all it's glory.
Drizzle the icing over the fruit and then the final step is to garnish with some nuts. I used almonds in this case because it went well with the berries. But if you used bananas, then try garnishing with walnuts or if you used pears, why not some pecans? Again, use what you have on hand. Just don't use the spicy beer nuts. They won't go as well as the other nut choices.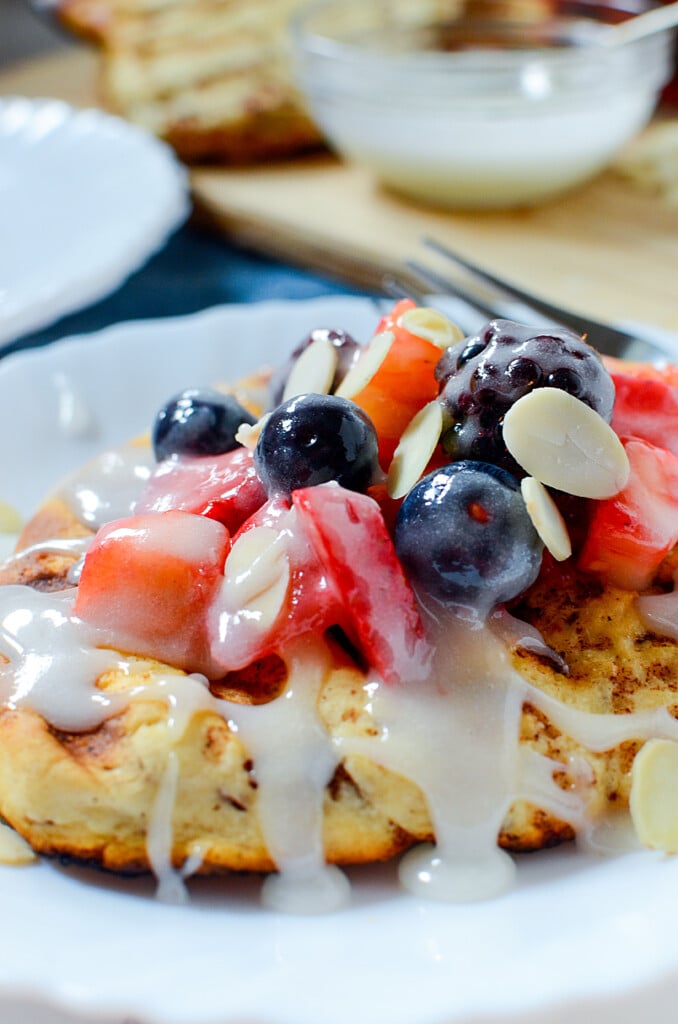 And that's it for the most part folks! Amazing breakfast right? And you know.. it doesn't have to be breakfast. It could be a dessert! Who wouldn't want a grilled cinnamon flatbread for dessert?? You know, lunch wouldn't be a bad idea either for those days you're tired of eating yet another salad and you're ready to be super sexy to yourself and indulge in some afternoon delight. Not THAT kind of afternoon delight. I'm talking about a sweet, cinnamony, fruity lunch that's drizzled with icing and dotted with nuts kind of delight.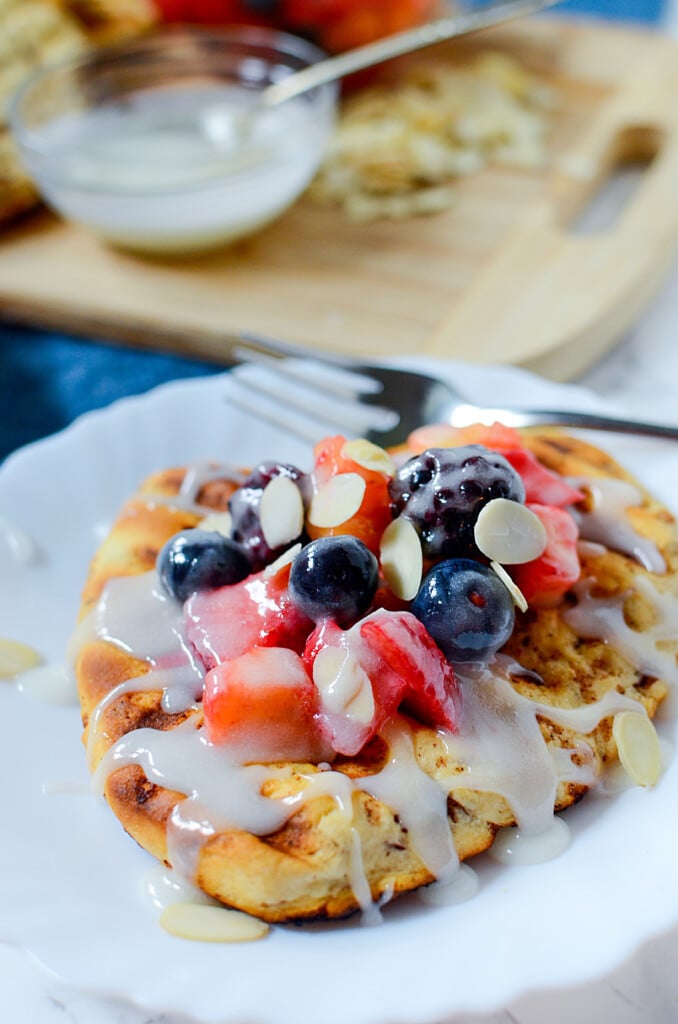 Enjoy this grilled cinnamon bun flatbread with fruity topping dish for breakfast, dessert, brunch or lunch with great fervor! High five your company after they've eaten and let them rejoice in how you are an amazing cook! Pour them another boozy coffee while they shower you with accolades of your cinnamon bun flatbread genius. Why? Because you have to pick up dog poop later in the afternoon and you could use some "you're awesome" boosts. Ok.. it's just me that has to pick up the dog poop, but wow, this breakfast makes everything better in the world – even for a little while.