Marshmallow cereal bars are delicious, perfect for lunches, and the best part is, that you can use those last little bits of cereal so they're not wasted!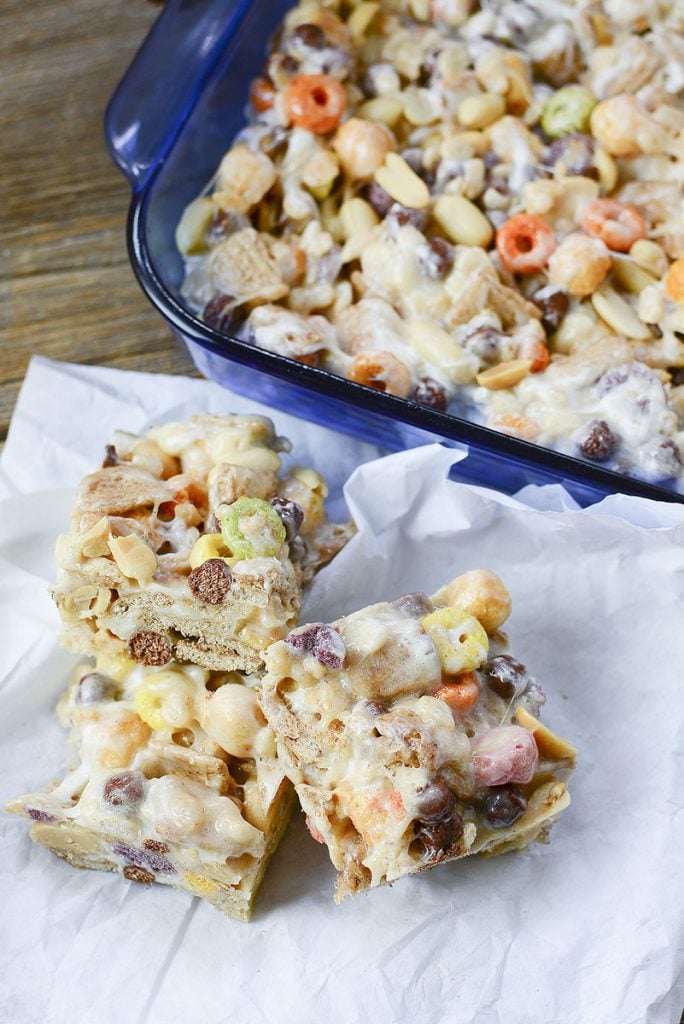 These cereal bars are an easy, no-bake treat!
Marshmallow Cereal Bars
How many times do you find those last handfuls of cereal lying in the boxes, just about to be thrown away?
I hate wasting food and try to use up every last bit of food that I have (like my delicious Strawberry Fruit Strips recipe)- after all, food waste is a thing that costs us hundreds of dollars per year.
And if you've got kids, and have a little bits of different kinds of cereal lying around, here's a genius idea to put it all to use.
I recently tried making these marshmallow cereal bars, and they turned out super ooey and gooey, and absolutely delicious. Plus, they were so easy to make, I made a pan of them to store them for later. These are actually similar to Rice Krispie treats but in my opinion, better!
If you have kids, these can be a great snack option to have on hand for a midday hunger pang and they make perfect additions to school lunches, just like my Raspberry Lime Scone Sticks recipe.
Ready to go ahead and give it a shot? Here's what you need to know beforehand!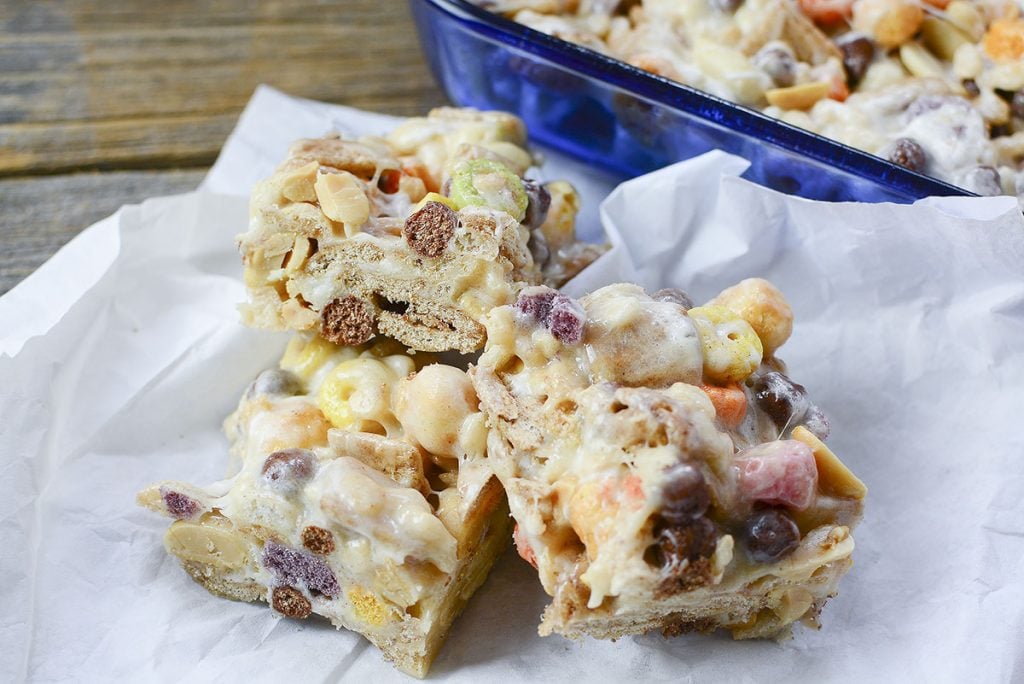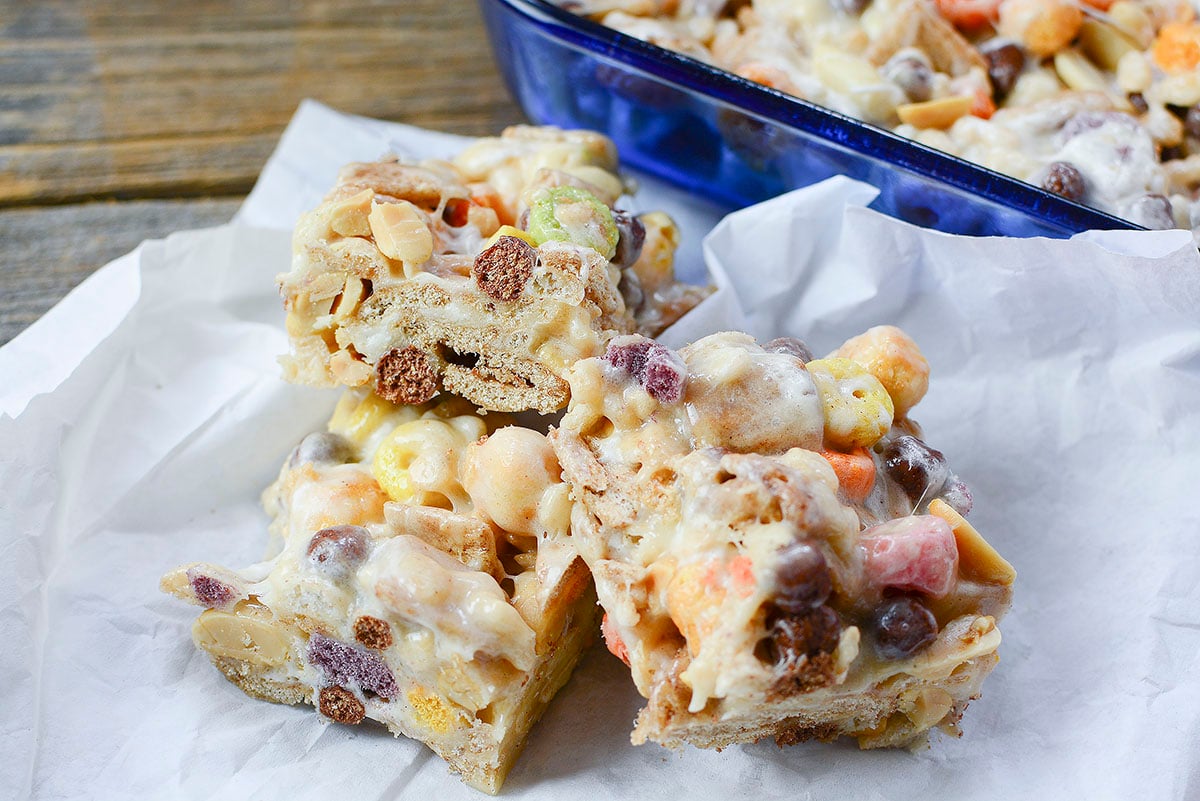 Ingredients Needed
You'll need just a few basic food items you probably already have in your pantry. Cereal of course- you can choose to work with a single kind of cereal or a mix of many different kinds- whatever floats your boat.
I personally used a mix of
Corn Pops
Coco Puffs
Fruit Loops (did you know that all fruit loops' colors taste the same?!?)
Cheerios
and a variety of Cinnamon Toast Crunch.
You'll also need some marshmallows (you can use mini or regular size), butter (salted please!), and of course, some nuts for that added crunch factor. For this recipe, I used peanuts, because that's what I had on hand, but you can choose to add anything you have on hand like
pecans
macadamia nuts
walnuts
almonds, etc.
And of course, you can also mix up different types of nuts that you have.
How Do I Make These Cereal Bars?
These scrumptious marshmallow bars are simple dimple to make!
Grease the baking dish beforehand so it's ready to go. You can also line it with parchment paper if that's what you'd prefer.
The basic steps are:
Melt the butter.
Add the marshmallows and allow them to melt.
Add the cereals and begin to mix together.
Add the nuts.
Transfer the mixture to the greased baking dish, level out, and let set up!
Just remember that you'll need to work quickly to make sure the mixture goes into the pan easily- but also be careful not to work with the mixture while it is too hot, or you'll end up burning yourself. Use a spatula or wet/grease your hands with some butter so that the mixture settles down into the pan easily.
Can I Make These Bars in the Microwave?
Yes, you sure can. I'll give the directions in the recipe card below. I prefer to do it stove top so I can use one of my biggest pots to have enough room to mix everything. However, give it a go in the microwave if you have a big enough bowl!
Can I Freeze Them?
The beauty of this recipe is that you can actually make these in batches and pop them in the freezer for later. Use an air-tight container or you can risk the bars drying out and becoming rock hard.
Another option (and probably the best one) is to first cut it into bars, wrap them individually in plastic wrap really tightly, and then freeze them. They should last in the freezer for up to 3 months.
Did you make this Marshmallow Cereal Bars recipe? If you did, please comment below on which types of cereal you used, I'd love to hear about it! Also, please leave a ***STAR*** rating below in the printable recipe card when you get a chance!
Thanks so much for stopping by The Salty Pot and I hope you have a fantastic day!
~Joanne
MARSHMALLOW CEREAL BARS
Ooey-gooey marshmallow cereal bars are a wonderful treat that can be served as a snack, an addition for school lunches, or a yummy dessert!
Ingredients
6c Cereal, any varieties you have on hand **See notes
1c Nuts, salted **See notes
¼ Stick Butter, salted
14 oz Marshmallows, original
Instructions
Grease a 9 x 7 pan generously with butter or cooking spray. You can also line the dish with parchment paper as well.
In a large, heavy-bottomed pot, melt the butter.
Add the marshmallows, and slowly melt them over medium heat. Stir them frequently so they don't burn.
Have your dry cereal and nuts measured and ready to go. When the marshmallows have melted, remove the pot from the heat and pour in the cereals and nuts.
Stir quickly and thoroughly, and then transfer the entire mixture to your prepared dish.
With a spatula or wet/greased hands, carefully push down the mixture into the pan so it's level.
Let cool and then cut into bars.
Notes
I like to save the last bits of cereal from the boxes that are left behind. As long as it adds up to 6 cups, you're good to go. You can also use all one type of cereal, or a mix of your favorite two, the world's your oyster! 🙂

Similar to above, use any nuts you have on hand. Try and use nuts that are the same size as the cereal so that it suspends well in the bar. I don't recommend using large nuts like brazil nuts, or whole pecans unless you chop them up.
Nutrition Information:
Yield:

12
Serving Size:

1 bar
Amount Per Serving:
Calories:

242
Total Fat:

9g
Saturated Fat:

2g
Trans Fat:

0g
Unsaturated Fat:

6g
Cholesterol:

5mg
Sodium:

142mg
Carbohydrates:

39g
Fiber:

2g
Sugar:

20g
Protein:

5g