Brats are a summer staple for a lot of people and adding different toppings for brats can make them even more interesting. From baseball game eats to firing up the backyard grill, eating brats with not only your favorite toppings but with new ones too, make these staples a winner.
Brats are delicious in any way you choose to cook them. But, regardless of how they're done, be it on the grill, stovetop, marinated and cooked in beer, in the oven, or even tossing the brats in the air fryer, adding a variety of toppings makes them even more delicious!
This post may contain affiliate links. If you make a purchase after clicking a link, I may earn a small commission AT NO COST TO YOU. As an Amazon Affiliate, I earn from qualifying purchases.
Toppings for Brats on Buns
Brats are most traditionally eaten on a bun with common condiments like ketchup, mustard, and
relish in a similar way to a hot dog but it doesn't have to end there. For the best brats on buns,
you will want to heat your bun.
Try adding a bit of butter and then tossing the buns into the air fryer to give them the perfect crunch.
Adding fun toppings like cheese, chili, or your favorite salsa can make for the perfect brat. Similar to my Instant Pot BBQ Sausage on Buns recipe, adding your favorite barbeque sauce is always a hit.
Then, to spice things up try adding hot peppers or go with sauerkraut for an interesting topper.
Breakfast Brat Toppings
While most people do not think of breakfast when they think of Brats, these sausages make a
great addition to your breakfast menu. Some brats are even designed for breakfast with bacon
and cheese right inside but you can make any brat perfect for breakfast with the right toppings.
A whole or chopped-up brat is perfect with some country-fried or shredded potatoes, eggs, and bacon for a hearty, filling option, or reverse things and make your brats the topping and use them to dress up your favorite omelets or breakfast casseroles.
If you want to use your leftover brats for breakfast on a traditional bun try heating your brats up
in the air fryer and toasting the bun. Then top your brats for breakfast with a fried egg, some
cheese, and a slice of bacon for an on-the-go alternative.
Toppings for Your Favorite Casseroles with Brats
Casseroles are a great way to use up leftovers and make them into something new for a quick
and easy meal. If you have brats left over from the night before you can chop them up and whip together an easy casserole by adding other ingredients like potatoes, peppers, and onions.
To top a brat casserole, go all out with plenty of cheese, some sauerkraut, and a drizzle of your
favorite savory condiments!
Enhance the Flavor of Your Brats with Premium Toppings
The toppings you use for your brats can really bring out the flavor of these delicious sausages. These toppings are a bit different than the basic toppings we use on a regular basis but can really bring out the flavor of your brats in a new way.
Caramelized Onions – While many people put chopped onions on brats, caramelized onions add much more flavor to classic brats. Either make them ahead of time for rich, buttery caramelized onions, or do a quick method to cook them. If you are pan cooking your brats on the stovetop you can caramelize your onions first, in the same pan, to add even more flavor.
Alternatively, you might like the tang of Pickled Pink Onions on top of your brats. Give them a shot for a huge flavor bomb!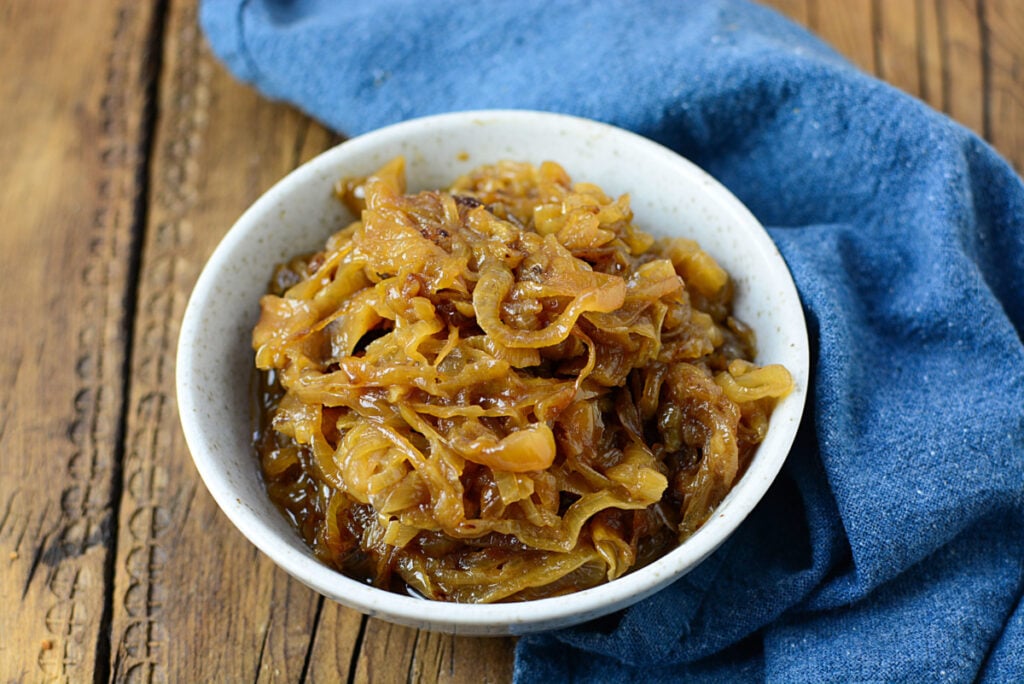 Stone ground mustard – This is not the classic yellow mustard most people have in the
refrigerator. Stone ground mustard is rich and flavorful. A good quality Stone-ground mustard has a richer and deeper flavor with a great texture that compliments the meat.


Grilled Peppers – The flavor from fresh grilled papers is unique and a great way to give your
brats a wonderful flavor boost. Grill your favorite bell peppers or take it up a notch with spicy peppers to make a wonderful topping for your brats.
Baked Beans – Oh what a combination this is! The savory flavors from the brats are mixed perfectly with the sweet and smoky flavors of baked beans. This recipe for Pineapple Baked Beans would be ideal dolloped on top of a bun with a brat or even simply air fry some brat medallions and top them with beans after they're cooked!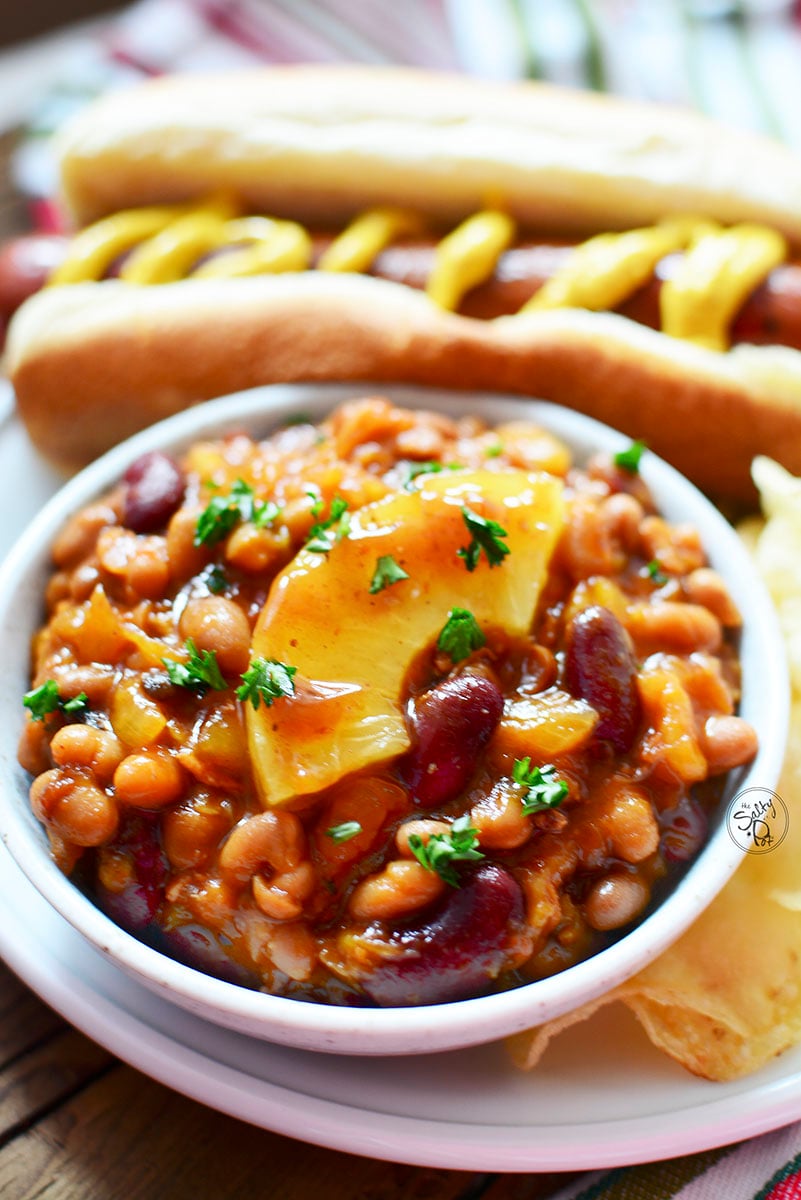 Sauerkraut – A classic topping that can't be missed. Homemade sauerkraut or store-bought, wine flavored or fermented, plain or with caraway added, adding sauerkraut to brats go together like peas in a pod.
And for a few more honorable mentions and well… sort of crazy ideas for toppings on brats:
Cheese – Ok, so not so crazy but maybe it's the kinds of cheeses you use. Almost every kind of cheese you can think of can go on top of a brat. Cheddar, mozzarella, feta, blue, hey, if you like it, get it on there!
Potato Chips – I know, it sounds crazy but plain potato chips would add a nice, rich, textural crunch. And if you used flavored chips, like let's say, Ketchup chips (I AM Canadian after all), I'd say that would be a perfect pairing!
Cowboy Candy – If you're a chili head, this sweet heat topping for brats idea would be perfect for you. The combination of sweetness, spiciness, and the savoriness of a brat in a soft bun would be epic.
Macaroni and cheese – It's a grown-up version of childhood mac and cheese with hotdogs! Stuff it all into a bun and make sure you keep plenty of napkins on hand.
Hot Honey – The contrast of sweet and savory, mixed with a hit of heat, makes a perfect combination, especially if the brats are grilled or air fried. Give it a try!
Well, I hope I've given you a few great ideas on what toppings to use for brats. Have you tried any of these listed above? What's your favorite or unique way to top brats? Leave a comment below, I'd love to them!
~Joanne