Peach season is officially here, and if you've managed to get your hands on some fresh, juicy ones yourself and are looking to put them to use in some delicious recipes, I've got your back with this amazing Crockpot Peach Butter recipe!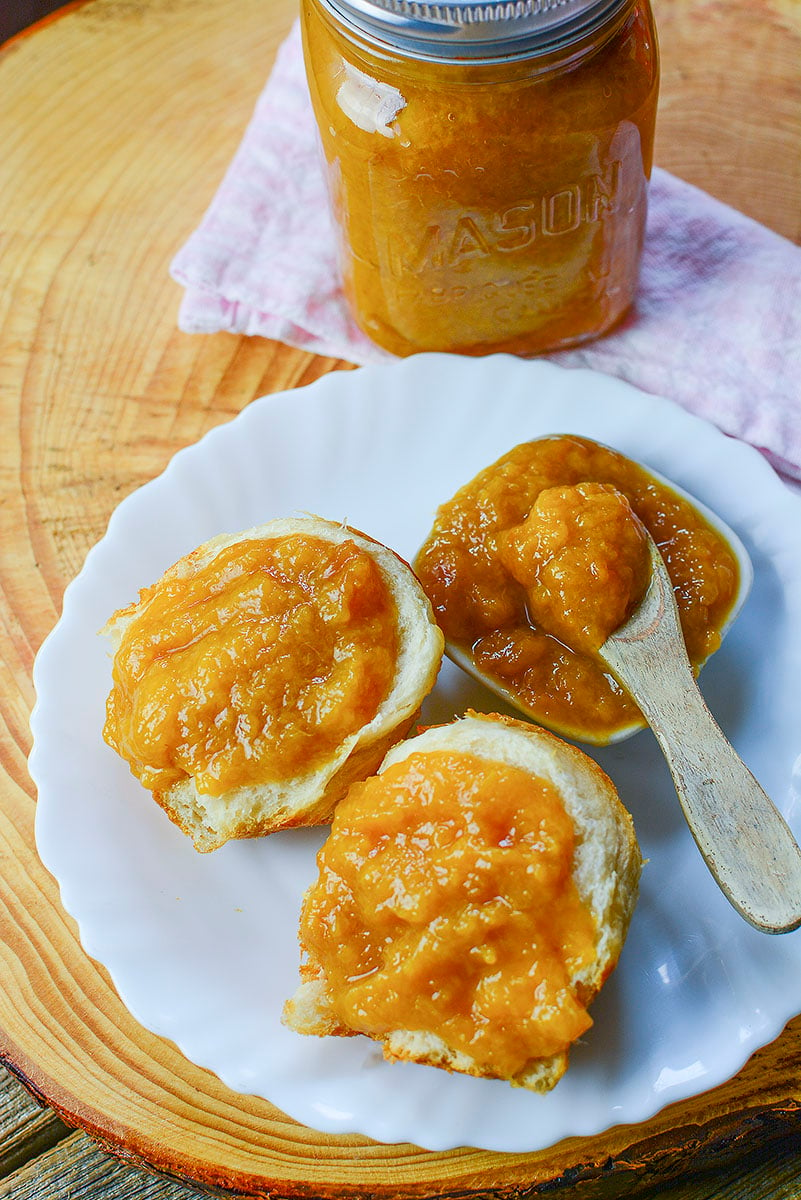 Crockpot Peach Butter= nectar of the Gods!!
What Exactly is Peach Butter?
So what exactly is peach butter- you ask. Simply put, peach butter is just like concentrated mixture of peaches (and some additions sometimes), that is boiled/slowcooked over a long period of time to evaporate a lot of the moisture contianed in the peaches.
Much like apple butter- the peaches turn a caramelized warm color with a peach flavor that is out of the world! And of course, you can use it as a great replacement for your homemade apple butter- when you're just looking for a bit different flavor.
And interestingly enough, I find that using your crockpot is one of the easiest ways you can whip up this delicious creation that is peach butter- something that's for sure going to be your next favorite spread.
Ready to go ahead and give it a shot?
Here's everything you'll need to know to get it right.
Ingredients For The Crockpot Peach Butter
Peaches (of course)
A tad bit of water
Peach juice (reserve any juices that fall into the bowl of the cut fruit. If there isn't a lot, that's ok. Just don't throw it away!)
Sugar (optional)
Vanilla (optional)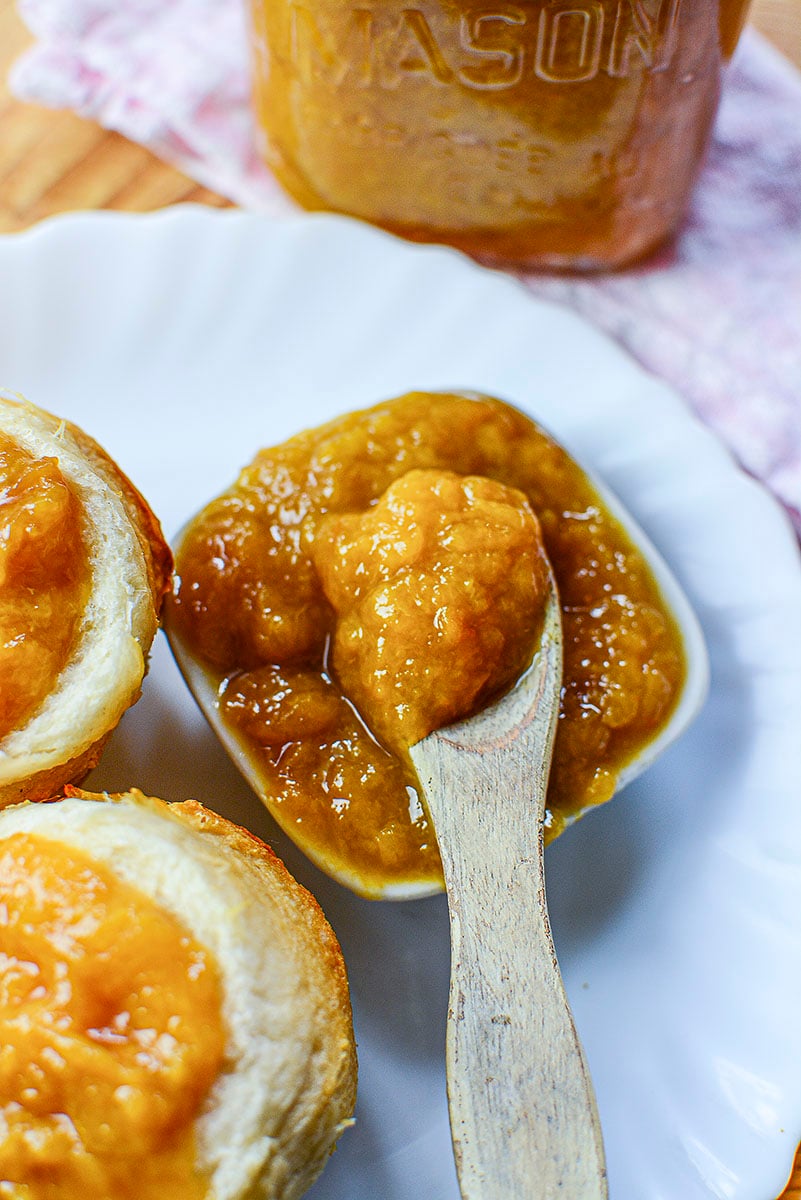 What Kind Of Peaches Should I Use?
First, lets talk about what kind of peaches you want to use. You can use ANY type of peach you want:
clingstone (a variety of fresh peaches usually produced first in the season. The peaches are tasty, juicy, and sweet, but the pit is harder to remove from the peach.)
freestone (a later variety that is sometimes not as sweet as clingstone but comes away easily from the center pit, making them easier to work with.)
canned (fresh is best, but it's possible if you get a great sale to use them!)
frozen (a much better option than canned as frozen peaches are processed within a day or two of picking, capturing their freshness)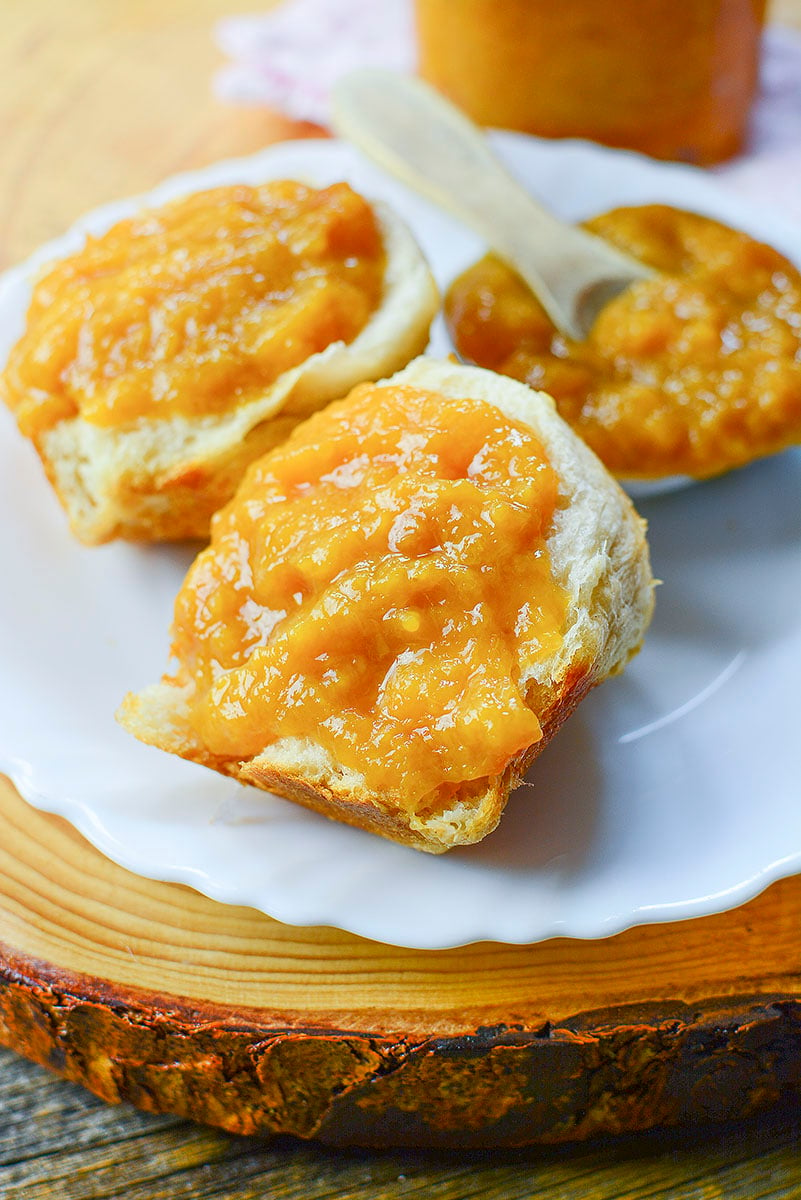 Do I Have To Peel The Peaches?
Not necessarily, but I always do. Sometimes, depending on the type of peach you have, the skins can be somewhat tough and personally, I don't want them floating around in the peach butter.
If the skins are thinner on the peaches you get, go ahead and process them with the skins on.
How Do I Peel The Peaches?
Not sure how to peel those peaches? I've jotted down a quick "Peach peeling" tutorial post helping you do it just right. It SUPER easy!
BTW – DO NOT throw out those peach peels and pits. Did you know you can make a fantastic tasting peach peel syrup?? Crazy right??? Preserved Home has a wonderful tutorial/recipe on how make the Peach Syrup using the scraps!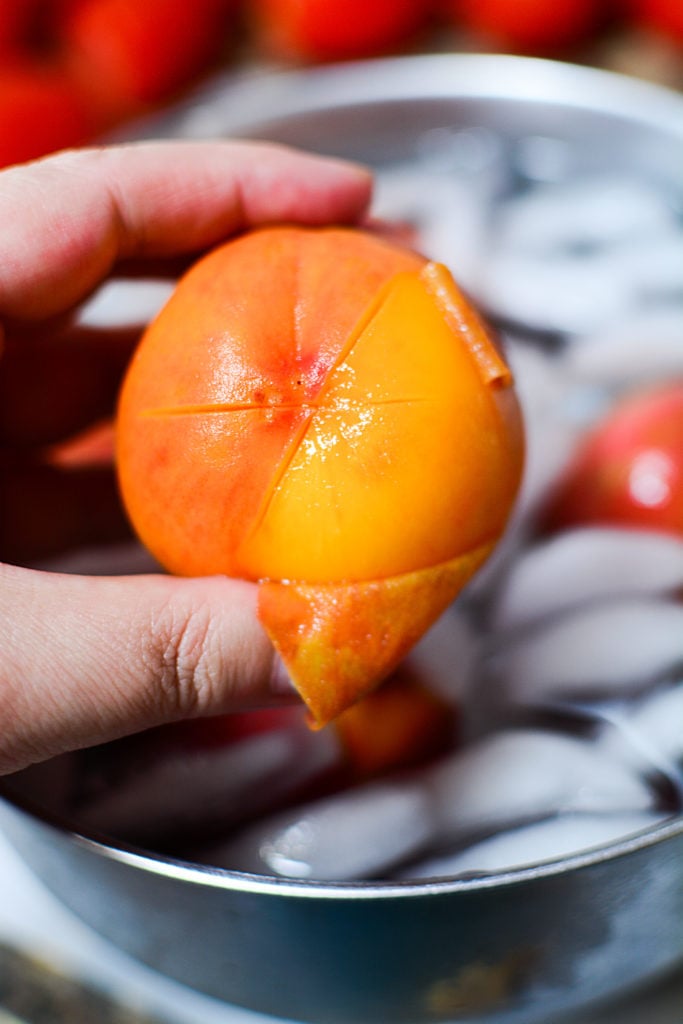 Making Crockpot Peach Butter Right
Start by slicing/cutting up the peaches. Put them into the crockpot with the peach juices and a bit o'water.
I used a crockpot for this recipe because I find that it is actually the simplest way to go through it. My slow cooker is definitely one of my most favorite kitchen appliances!
There's literally no watching required, and it makes cooking a breeze. Things might take longer to cook than a traditional stovetop but the big huge fat bonus here is that you don't have to keep watching it so it doesn't burn.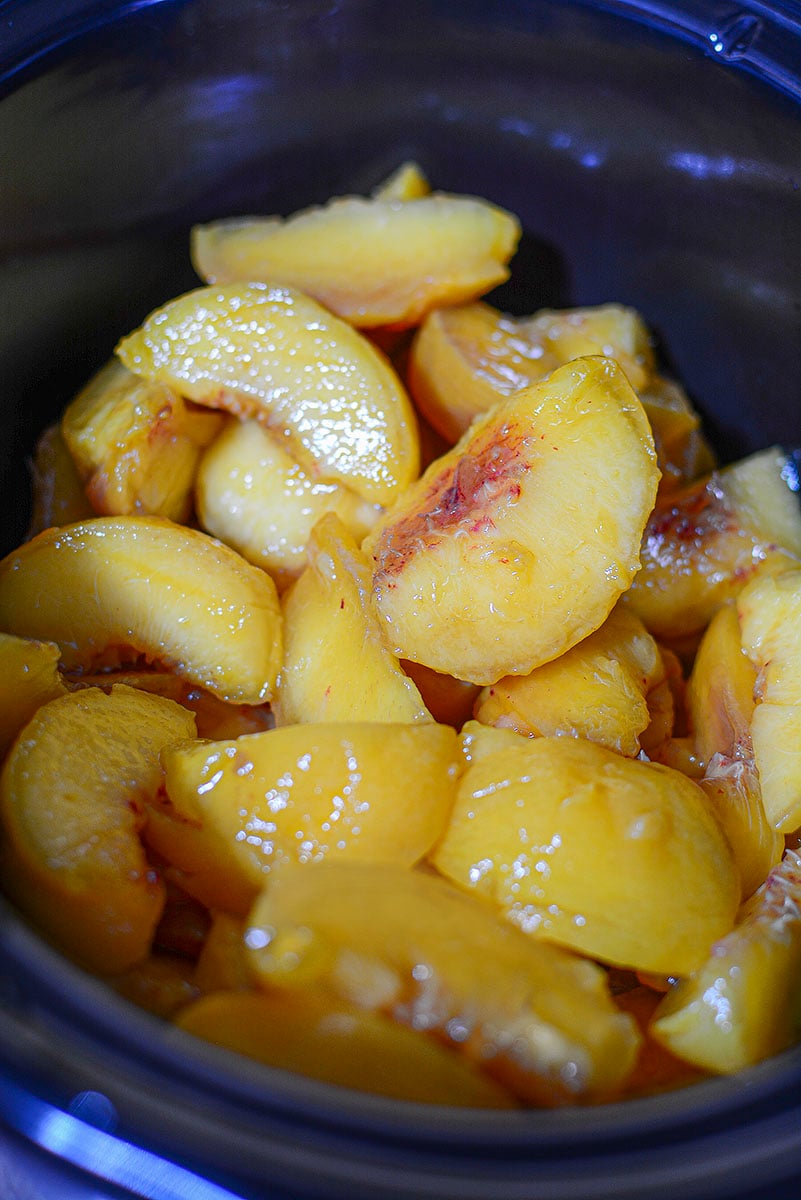 So after I added those first three ingredients in there, I let them cook on high until the mixture started to get concentrated because the moisture was starting to evaporate a bit.
¾'s into the cook time, take an immersion blender, and blend the bigger chunks to create a nicer consistency. Continue to cook the mixture until more of the moisture had evaporated and you've reached a consistency that you like.
What If I Don't Have An Immersion Blender?
That's not a problem. Grab your regular blender, and in SMALL batches, blend the peaches. Youll want to work in small batches because the peach mixture will be hot from the crockpot so you don't want to the butter to bubble up in the blender and burn you.
Leave the center plastic stopper out of the lid, and cover with a tea towel. You want some of that steam to be able to escape while it's blending.
Personally, I don't blend the peaches into oblivion because I still like some texture, but I don't want super chunky peach butter.
And that's it! Allow the mixture to cool down before you use it. Pour it into a glass jar and pop it into the refrigerator.
Do I Have To Use My Crockpot?
No not at all. You can make this Peach Butter in a few different ways:

Stovetop Method: Follow the same directions for peeling and placing them in the crockpot, but place them in a heavy bottom saucepan. Slowly bring them to a low boil and stirring frequently, let the peaches reduce down and evaporate a lot of the moisture. Then, follow the same directions for blending and cooling them!

Instant Pot/Ninja Foodi Method: The DIRECTIONS (not recipe ingredients!) will be quite similar to this Instant Pot Spiced Apple Butter I made. Instead of pressure cooking for 15 minutes, only pressure the peaches for 10 minutes with a 15-minute natural release. The immersion blender directions will be the same!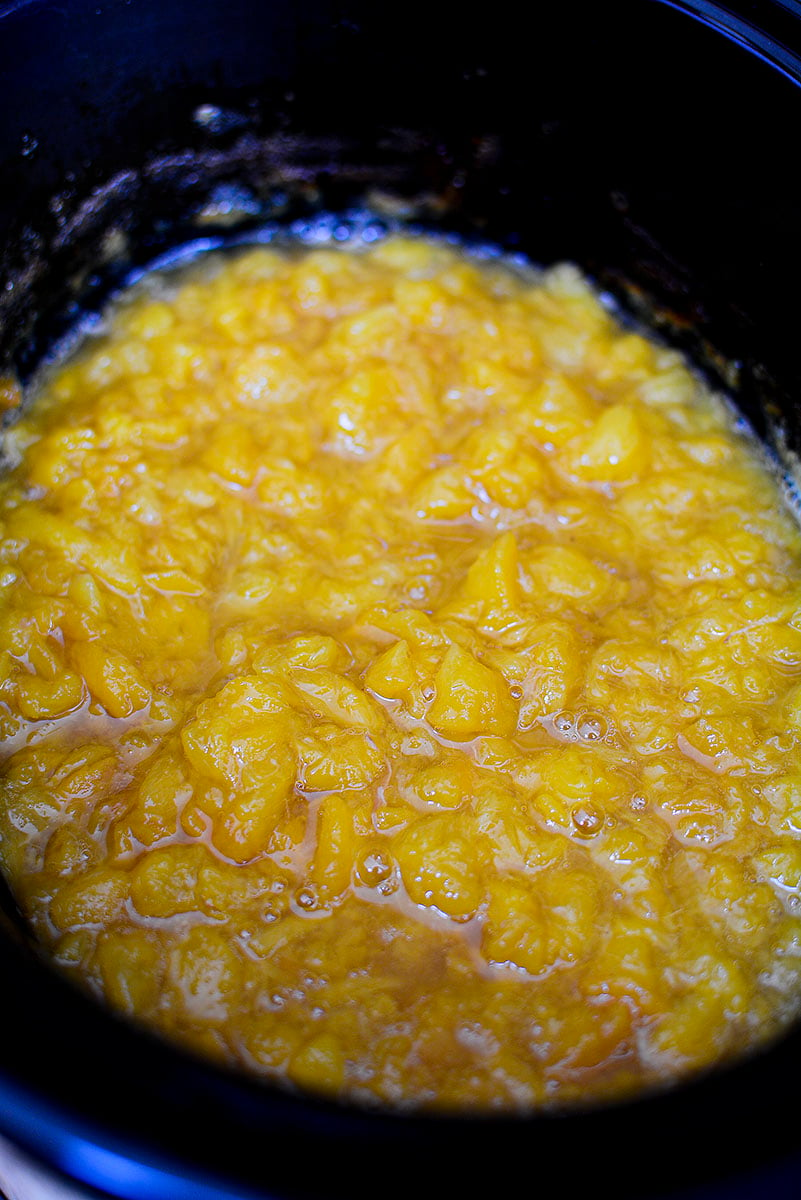 How Long Will The Peach Butter Stay Good?
Fridge– it can stay good in there for at least a couple of weeks if kept in an airtight container and always using a clean utensil to dish it out.
Freezer– As long as you have it frozen in a freezer-friendly container or bag, with as much oxygen removed, it will last up to three months. Let it thaw in the fridge, give it a few mixes with a spoon and you're off to the races!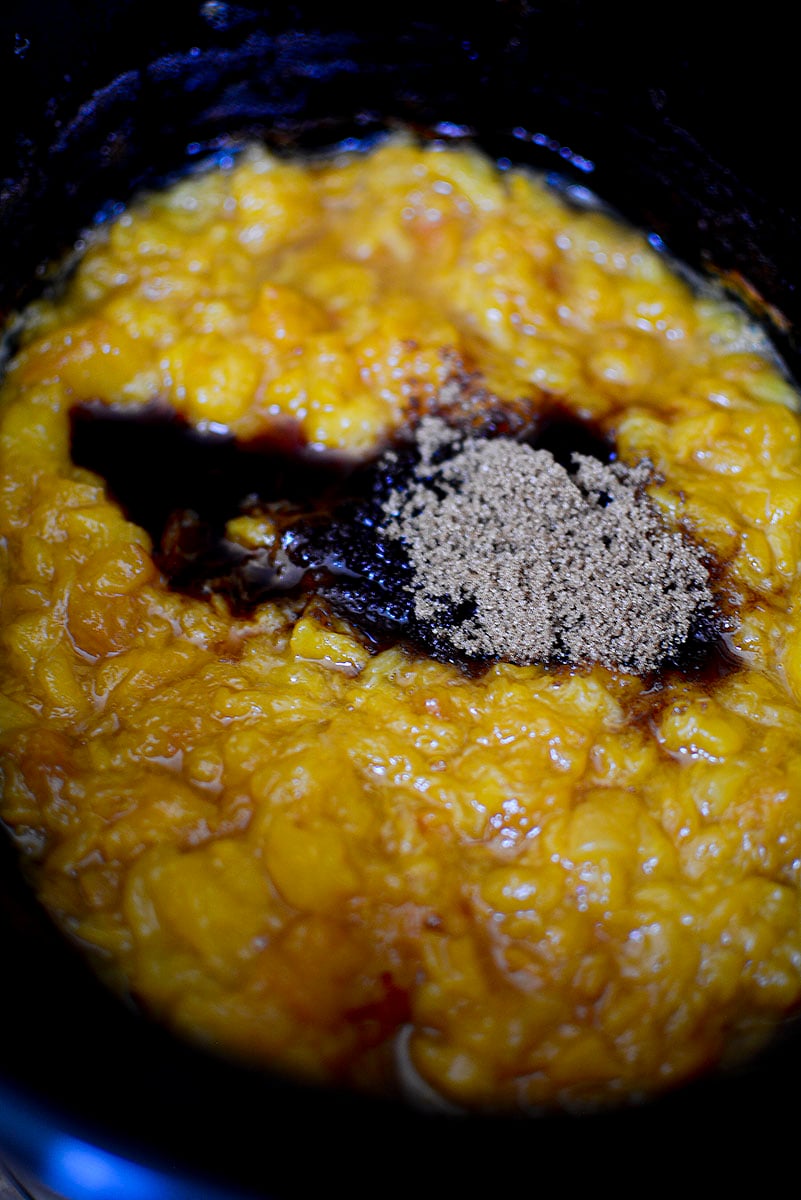 What Ideas Do You Have To Serve This Crockpot Peach Butter?
There are tons of ways to put your batch of peach butter to use!
Obviously, you can spread it on your morning toast or with your muffins or scones. Actually, pretty much any sweet baked goods will taste amazing with this slow cooker peach butter LIBERALLY spread all over it!
You can also use the peach butter as a base for your fruit salsa or drizzle it over your vanilla ice cream!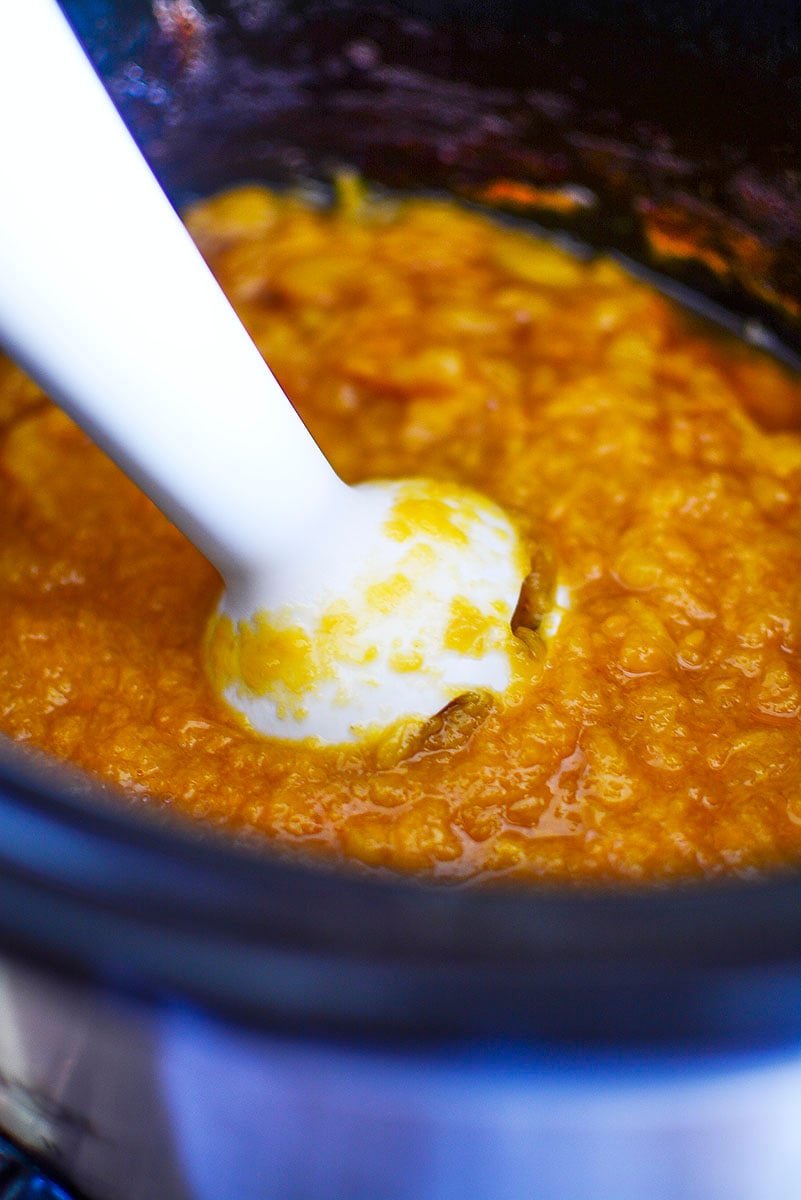 And yes, you can also use your peach butter in your savory dishes as well- it can turn out great as part of a marinade recipe or a dressing for your meats like pork roast, pork chops, chicken and fish!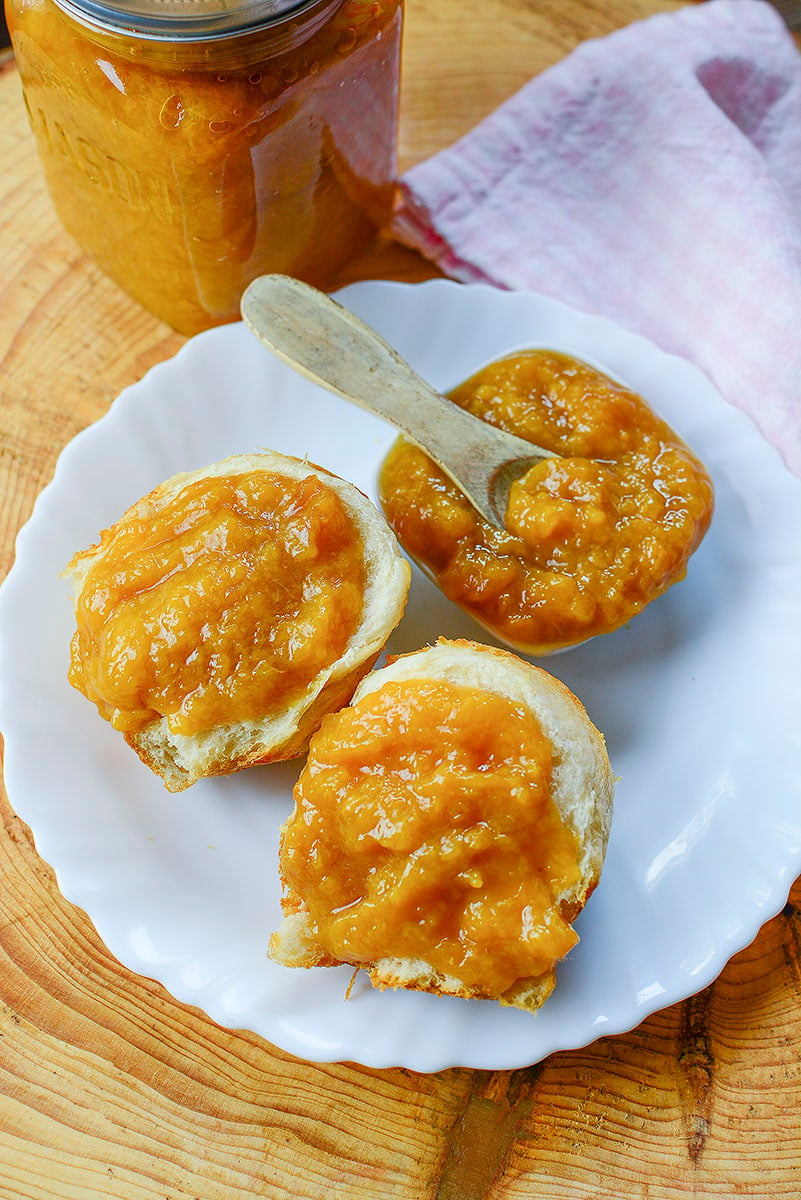 Looking for some other cool recipes that utilize peaches? Here are a few of my favorite picks.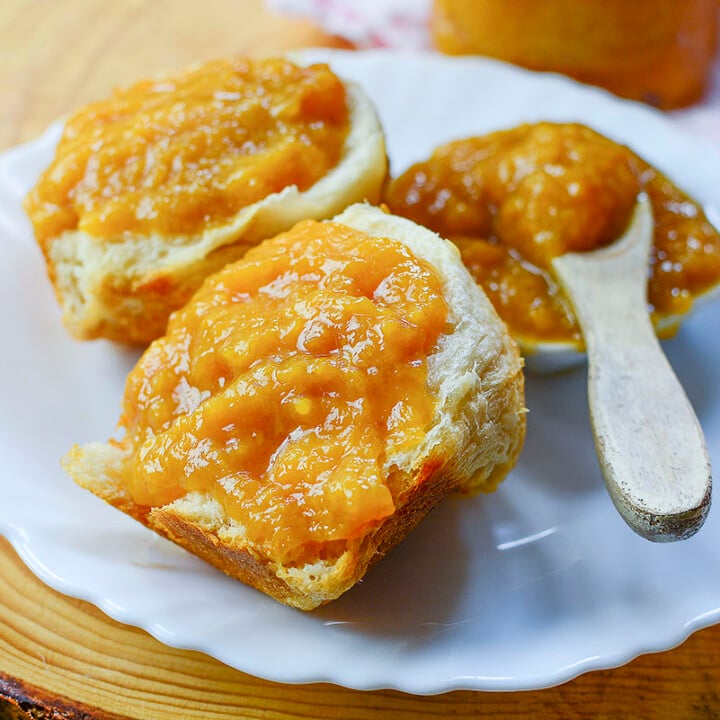 Crockpot Peach Butter
Additional Time:
5 minutes
Total Time:
8 hours
20 minutes
This wonderful crockpot peach butter is such an easy way to turn extra peaches into a fantastic condiment! Use it on (and in!!) practically any baking as well as in a savory way on pork, chicken or fish!
Ingredients
4 ½ - 5 lbs of peeled, diced peaches
½ c water
Reserved peach juice from cutting the peaches
¼ - ½c Brown Sugar (optional)
1-2 teaspoon Vanilla (optional)
Instructions
I peeled the peaches I used beforehand. Here is a quick tutorial on how to peel the peaches before you get started.
Place the peaches, water and any reserved peach juice into the crockpot.
Cook on high for 8 hours. About 1-2 hours into cooking, remove the lid, and mash the peaches as they cook. REPLACE THE LID ON THE CROCKPOT SIDEWAYS. (See notes)
Continue to cook the peaches as they reduce down and concentrate in flavor.
½ - ¾ of the way into cooking, use an immersion blender to blend a lot of the big chunks down into smaller bits. Be sure to still leave some pieces alone to add some texture to the peach butter.
When you've reached the consistency that you prefer (by blending and by evaporation of the moisture), taste the mixture. If you find it's sweet enough, add NO sugar. If you'd like it sweeter, add the sugar in ¼ cup increments and stir to dissolve. Also, add the vanilla now as well.
When the peach butter is not too watery, spreadable and caramelized in color, it's ready!. Let it cool down and place into airtight containers.
Enjoy!
Notes
1. Placing the lid on sideways (or, if you prefer, leave the lid off), helps in evaporating the moisture out of the peaches as they cook, quickening the process.
2. Again, don't add the sugar until near the end of cooking so that your peach butter doesn't end up too sweet.
Nutrition Information:
Yield:

64
Serving Size:

1 tbsp
Amount Per Serving:
Calories:

67
Total Fat:

0g
Saturated Fat:

0g
Trans Fat:

0g
Unsaturated Fat:

0g
Cholesterol:

0mg
Sodium:

0mg
Carbohydrates:

16g
Fiber:

2g
Sugar:

14g
Protein:

1g