Grilled Wings on Skewers are sweet from the pineapple and the sticky glaze, and as spicy as you want them.
When you grill them on the skewers, you get that smoky, succulent flavor through every wing, all at the same time!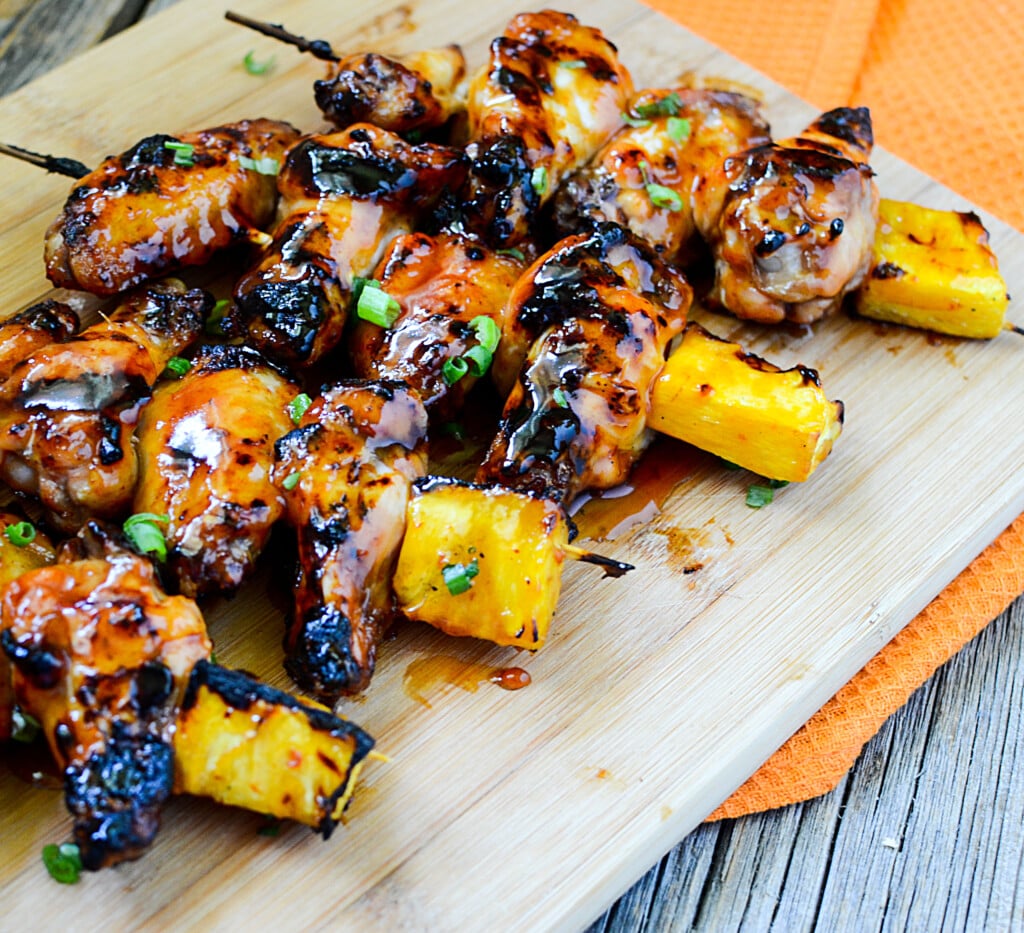 What's so amazing about this recipe?
Well, not to mention that getting chicken wings crispy on the grill is a great way to cook them, but the idea to cook them on skewers is such a unique way to get a bunch done at the same time.
Also, you save the calories from deep-frying them, and the spicy-sweet glaze with the bite of sweet pineapple just makes these grilled chicken wings epic!
Lastly, they make PERFECT game day food, just like my Buffalo Chicken Mini Pepper Appetizers, my Garlic Butter Bacon Cheddar Wheels Recipe and my Chili Lime Shrimp!
Ingredients needed to make these Pineapple Chicken Wings
Chicken wings: Not to be obvious, but of course, you need wings. Be sure they have the wing tips removed because they will burn really quickly if left on.
Sugar: Both brown and white sugar are used in this recipe, but if you only have one kind, use that. The combination of using both sugars just helps in the depth of flavor, but the grilled wings will be delicious either way.
Vinegar: I like to use apple cider vinegar, but if you only have white vinegar, that's ok as well.
Soy Sauce: Tamari or Coconut aminos will work if you prefer to use a gluten-free sauce.
Pineapple and Pineapple Juice: I used canned pineapple simply for ease of making the recipe. If you want to use fresh pineapple, that's great! You'll just have to buy some pineapple juice separately.
Ketchup and other Seasonings
Cornstarch: As the thickener.
**All the specific seasonings and amounts are listed in the printable recipe card below.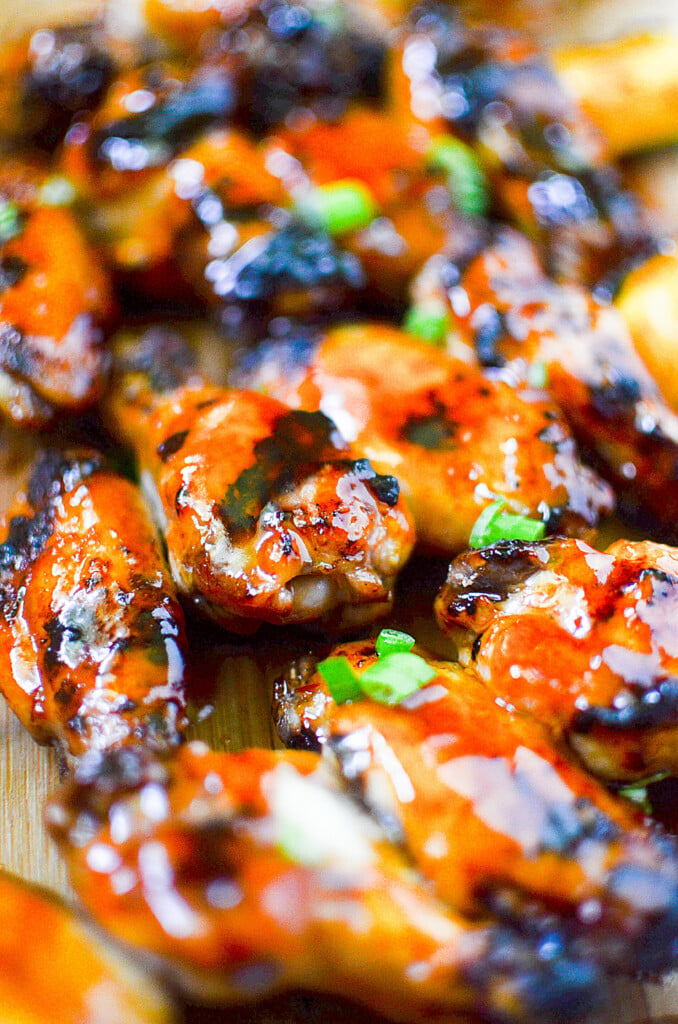 How to make the Chicken Wings
Pat dry the wings so they aren't slippery to deal with.
Season the wings and thread them on the skewers, putting 3 – 4 wings per skewer, adding a piece of pineapple on the very end. Place on a plate, cover, and put in the fridge while you make the sauce.
Add the ingredients to a saucepan and bring to a boil.
Add the cornstarch slurry to thicken. Remove from the heat.
Preheat the grill to about 350.
Grill the chicken skewers for approximately 5 minutes per side. I would recommend letting the long wooden handle end hang over the edge of the grill closest to you so they don't burn.
Begin basting the wings, flipping the skewers, and basting for approximately 15 minutes or until the wings reach an internal temperature of 165 degrees Fahrenheit.
Remove and let them rest for 5 minutes before serving.
**COOKS TIPS: I highly recommend using a digital thermometer to keep track of the internal temperature of the chicken while it's grilled. You don't want to overcook the chicken so it's no longer juicy, and undercooking the wings could cause illness.
The 3 Parts to a Chicken Wing
In case you didn't know, there are 3 parts to a chicken wing. The drumette, the wingette, and the wing tip. The wing tip is basically discarded or saved for stock along with other chicken parts. The remaining two are what's served to you when you order wings.
I like to refer to them as "The Flatty and the Fatty", haha. So, the drumette (the fatty) is the larger part of the wing and is attached closest to the body of the bird. It resembles the drumstick of a bird, so it's understandable how it got its name.
Then there is the wing portion that comes next, which is called the wingette or the "flatty". It usually contains two thin bones and gets the crispiest of the two pieces.
How to thread the wing onto the skewer
Lay each wing portion out horizontally to the skewer. Take the skewer and carefully work the pointy end through the drumette and the wingette. The skewer will poke its way through the path of least resistance and you'll be able to come out the other end with relatively no problems with a little bit of wriggling here and there.
I like to put 3 or 4 or maybe even more on each skewer. Thread on as many or as little as you feel comfortable doing. Just remember to leave a tiny bit of room for a big chunk of juicy pineapple to complement these grilled wings!
What do I serve the chicken wings with?
I have just served them as they are as part of a few appetizers for different events that I've had. But if you wanted to, you can dress these up and serve them a cooling Dill Pickle Macaroni Salad, a nice marinated vegetable salad, or even some plain rice would be delicious.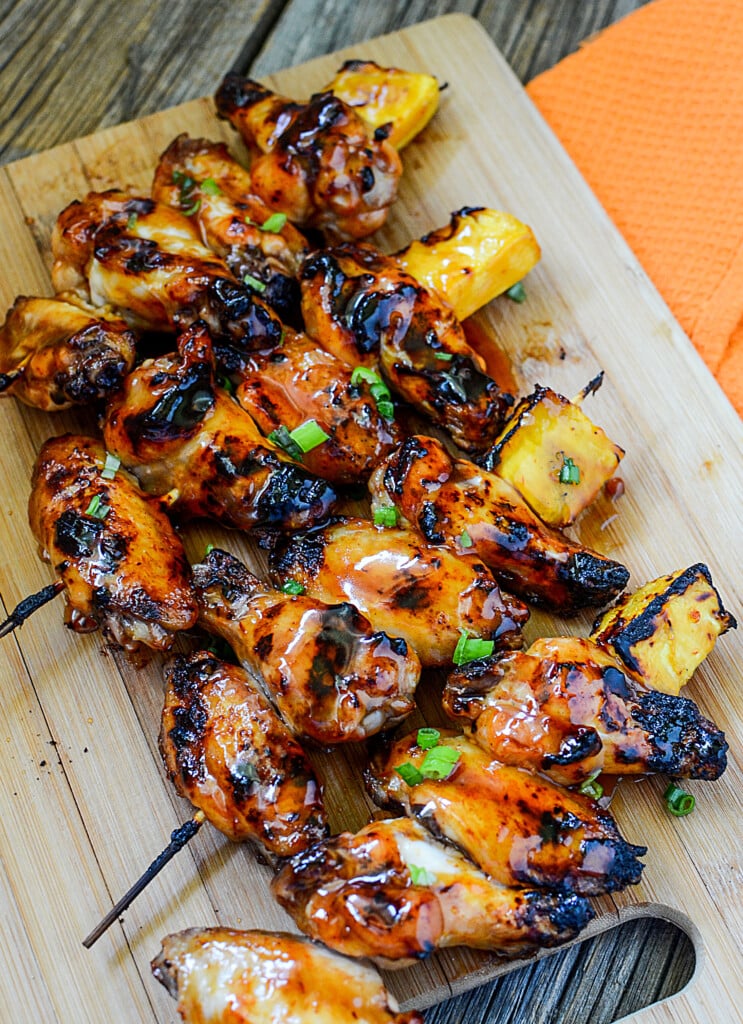 So that's basically it, my lovelies. Not much to it, but the payoff on the flavor is WORTH EVERY STEP. These grilled wings are so insanely delicious that when your family and friends eat them, they'll beg you to make them again an hour later.
It's true.
It's happened before. Or wait, maybe they were begging me to make the "Beergarita" again??? Well, either way, all those elements combined spell a super great time and happy tummies.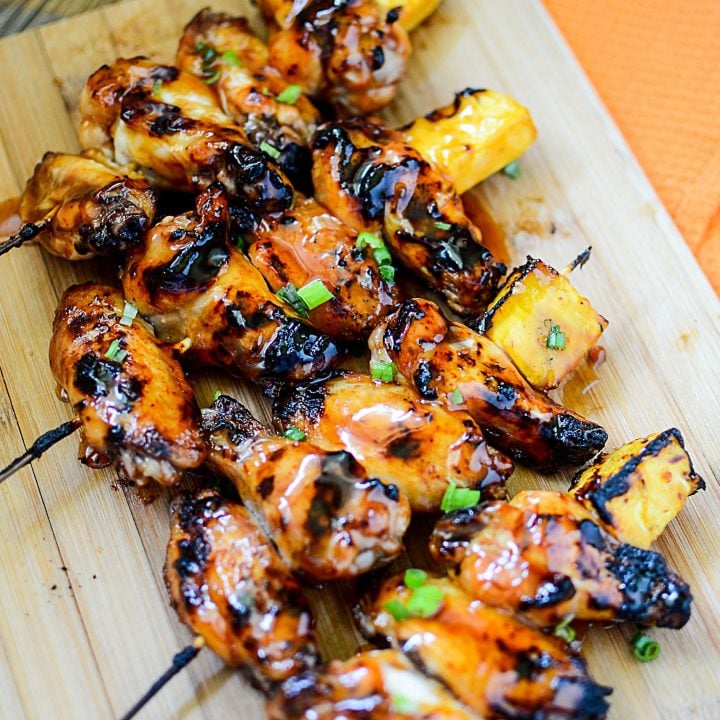 Sweet and Sticky Grilled Wings on Skewers
Sweet and sticky chicken grilled wings on a skewer have everything you'd want in chicken wing for game day! Sweet, sticky, smoky, and with a tiny bit of heat, this recipe is perfect when you're craving wings!!
Ingredients
1 dozen chicken wings
½ c brown sugar
¼ c white sugar
⅓ c vinegar
⅛ c soy sauce
⅓ c pineapple juice
1 c pineapple, chunked
1 tablespoon ketchup
as desired chili flakes, or hot sauce, which ever you might prefer
2 tablespoon cornstarch
2 tablespoon water
as desired, salt, pepper and garlic powder
garnish with chopped green onion/scallions
Instructions
Thread the wings onto the skewers evenly (3 or 4 per skewer) and add one chunk of pineapple on the end of each one.
Season with salt, pepper and garlic powder and set aside in the fridge
In a sauce pan, combine the vinegar, both sugars, soy, pineapple juice, ketchup and chili flakes
Bring to a boil, and make a slurry with the cornstarch and water.
Add the slurry and stir until the sauce thickens then remove from heat
preheat the grill to medium heat or 350
Grill the skewers on both sides for approximately 5 minutes each
Begin basting the skewers on both sides and grill for approximately 20 minutes or until the wings are cooked through.
Garnish with green onion/scallions
Notes
Be sure to remove all wing tips if they're still on the chicken wing.
This recipe is easily doubled or tripled if you have room for the skewers on the grill.
You'll want the skewers about 5-6 inches long on the end to enable you easily handle while on the grill, so a 10-12 inch skewer is perfect.
Be sure to soak the skewers if you're using wood or bamboo ones.
Nutrition Information:
Yield:

12
Serving Size:

2
Amount Per Serving:
Calories:

154
Total Fat:

7g
Saturated Fat:

2g
Trans Fat:

0g
Unsaturated Fat:

4g
Cholesterol:

22mg
Sodium:

310mg
Carbohydrates:

19g
Fiber:

1g
Sugar:

14g
Protein:

5g
All nutritional information is based on third-party calculations and is only an estimate. Each recipe and nutritional value will vary depending on the brands you use, measuring methods, and portion sizes per household.