Crock Pot Homemade Ketchup is one of the easiest condiments you can make. It's basically putting a few things together and letting the appliance do the heavy lifting.
Tangy, tomatoey, sweet, and with a wonderful depth of flavor, this slow cooker homemade ketchup recipe is something you'll want to make over and over. The bonus is, it has ingredients that you can pronounce!
**This recipe was updated on May 9, 2023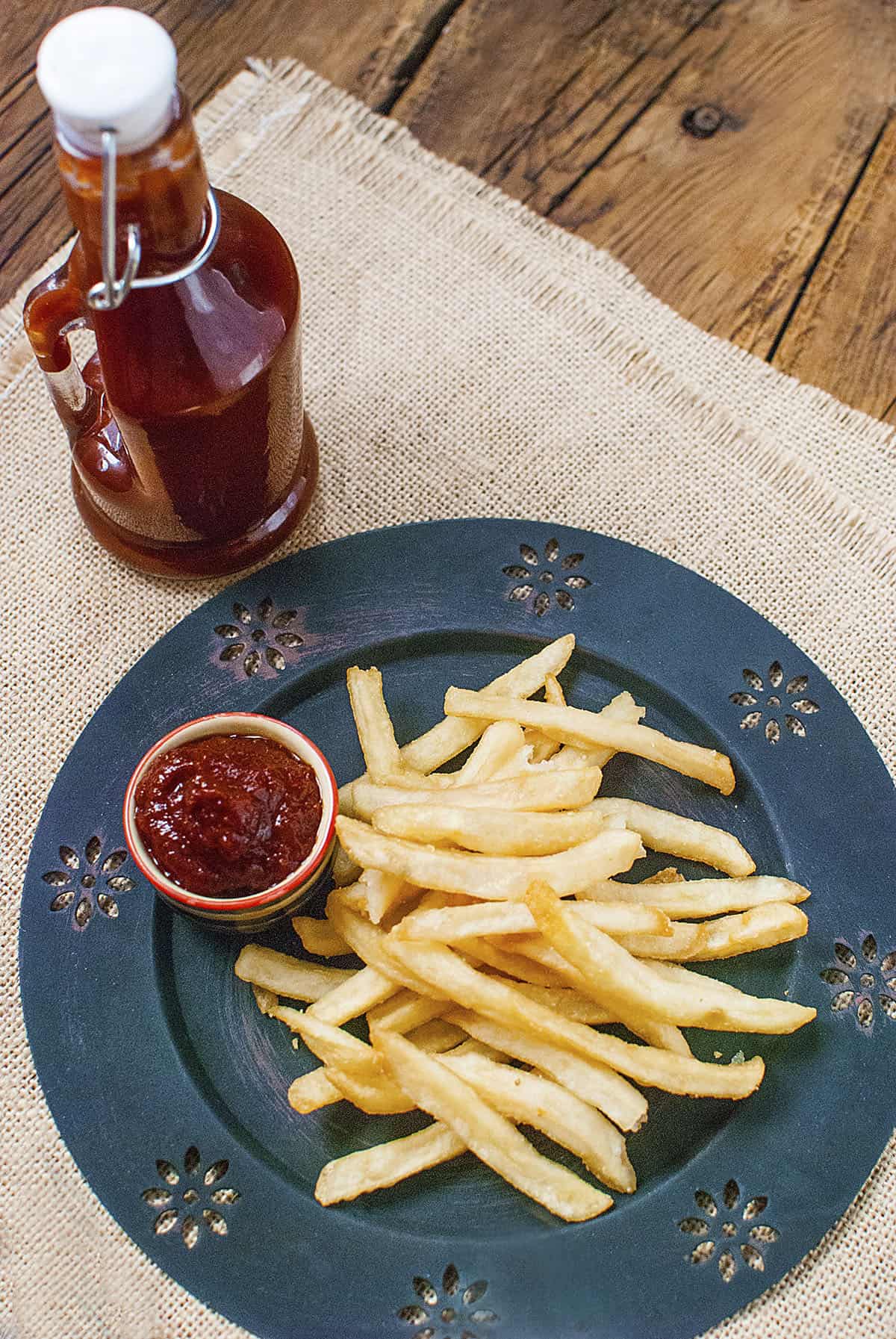 A Delicious Tomato Ketchup Recipe
Aaahhhh Ketchup. I like to call it the "convincer condiment". Have bland potatoes that your littles won't eat? Squeeze on some ketchup. How about some meatloaf they turn their noses up at? Try a little (or a lot) of ketchup. Have a piece of liver that they're refusing to eat? I don't blame them!
But hey, if you smother it with ketchup, you might be able to get a bite or two out of them. That's the power of ketchup. The problem is, some store-bought ketchup is LADEN with a cornucopia of additives and preservatives, (I'm looking at you, High Fructose Corn Syrup!) and weird color dyes that you know just probably shouldn't be put into little ones' bodies (or our own, for that matter).
So hey, don't deprive your sweet ones of the most important condiment in the world!! (to them, anyway). Just make your own homemade ketchup, and make it BETTER than store-bought.
Ingredients To Make Homemade Ketchup
What I love about this recipe is how easy it is to make it unique. Do you like your ketchup a bit tangy? Add more vinegar. A bit sweeter? Add more sugar.
Tomatoes: I've used both fresh, garden-grown tomatoes as well as canned tomatoes. I've also used regular tomatoes and Roma tomatoes. I prefer the Roma's as they are meatier but it doesn't really matter. The only difference will be in reducing time because of the liquid content. Use what you have on hand.
Sugar: I like to use brown sugar, but you can use regular white sugar, not a problem. I will also try to make it molasses but I didn't have any on hand, so, next time.
Vinegar: I've used both plain white vinegar as well as apple cider. I found both are delicious and add that tang you want from ketchup. Use what's in your pantry.
Soy sauce: Ok, so not traditional, but it adds a really nice umami saltiness to the ketchup.
Seasonings: Garlic, onion, cloves, and mustard powder.
Look for the fully printable recipe card at the bottom of the post to see full amounts and step-by-step instructions to make this ketchup recipe perfect every time.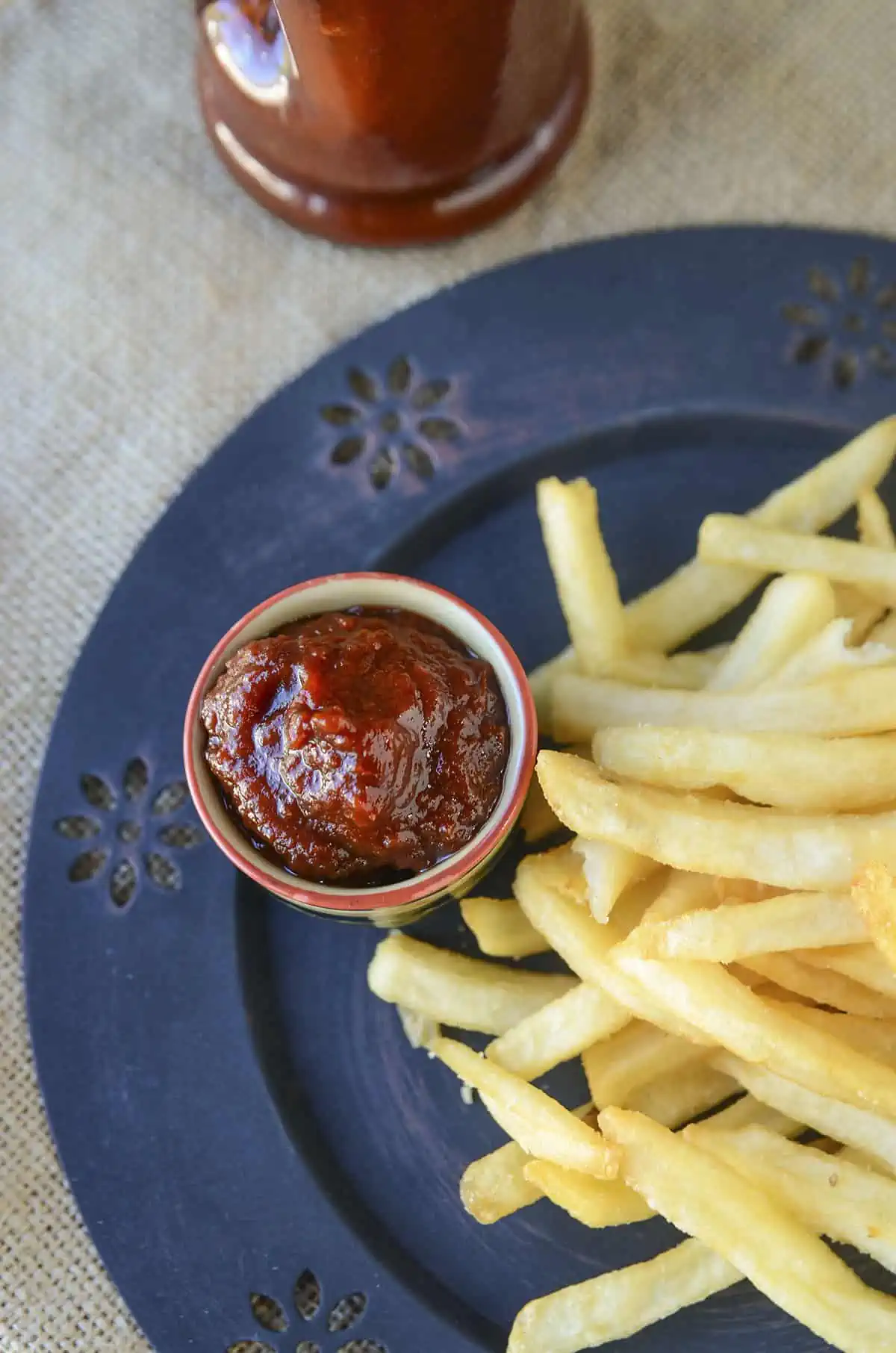 How To Make Ketchup From Scratch
It seriously couldn't be any easier.
Gather all your ingredients and put them in the slow cooker.
Taste and adjust to your preferences, or make the recipe as is!
Let the crockpot do all the hard work and develop those flavors while reducing the ingredients.
After it's done, give it a blitz to blend it all (strain or don't strain, it's up to you!).
That's pretty much it! (There are more specific directions if you use your homegrown tomatoes. See the tips and hints in the recipe card below.).
Variations To Make The Recipe Your Own
Of course, I recommend that you taste the ketchup throughout the cooking process and make any adjustments according to your preferences.
If you wanted to add other things to this tomato ketchup (tomato catsup?), try:
Red Chili Flakes – If you wanted a bit more zip to the ketchup, add some red chili flakes or any other hot chilis you enjoy the flavor of. (or even try some sriracha!)
Smoked Paprika – Instead of using regular or sweet paprika, try adding some smoked paprika. It will give a nice smoky hint that would almost be a cross of ketchup and barbeque sauce!
Garlic and Onions – Feel free to add some of these aromatics if you like them. I've added them to some batches and left them out on others. Just know that while the addition makes the ketchup delicious, it changes it slightly from the 'typical' ketchup flavors you might be used to.
Tomato Paste – Want an even punchier tomato flavor? Try adding a bit of tomato paste to the mix.

Storage
Store this slow cooker homemade ketchup in a container that has a tight-fitting lid. Glass would be better than plastic (It may stain the plastic) and would just be a lot easier to dispense if it was in a bottle. It will stay in the fridge for up to a month.
You can also freeze the ketchup in an air-tight freezer-friendly container for up to six months. Leave in the fridge to thaw overnight and warning, it may look a little sketchy and watery when it thaws. Not a problem, give it a good whisk to reblend everything and you should be good to go.
Alternatively, if you're a savvy canner, you can water bath the ketchup using the hot pack method to make it shelf stable.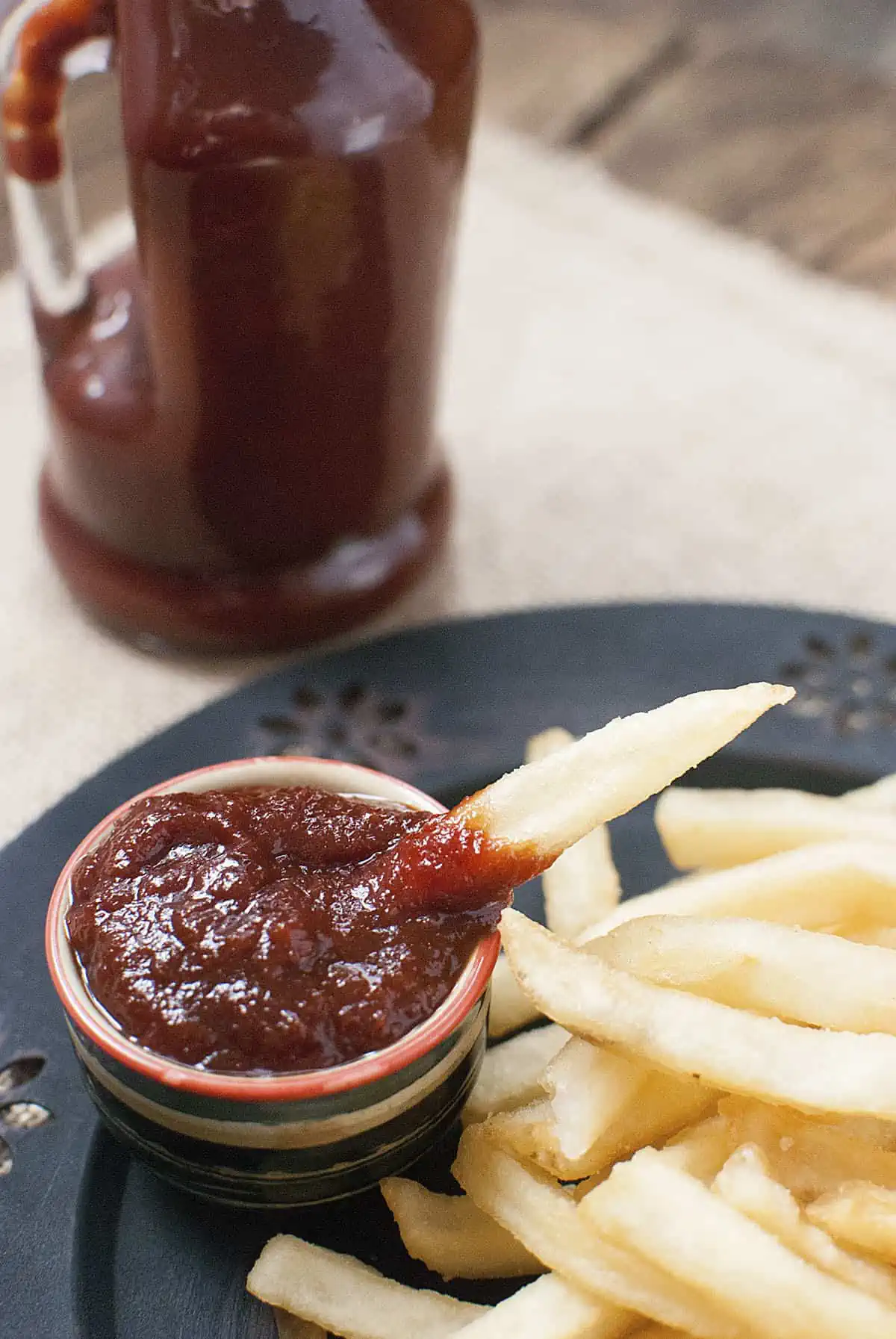 How can I make this homemade ketchup low-carb?
Well, you won't be able to get around the carbs that come from the tomatoes, but if you're looking to cut back on the sugar, you can easily replace the sugar in the recipe with artificial brown sugar, coconut sugar, or even molasses. Read the labels as each of those ingredients will have differing carb counts.
Should I use fresh tomatoes with peel on them?
You can however some of the tomato skins don't like to break down completely when cooked. So you should have a good blender to blend them up, or you can easily peel the tomatoes using this simple method.
Did you make this recipe for homemade ketchup? I'd love to hear what you think! Please leave a star rating in the recipe card and a comment below! Thanks for stopping by The Salty Pot today and I hope you have a fantastic day!
~Joanne
Crockpot Homemade Ketchup
Total Time:
12 hours
5 minutes
Homemade ketchup recipe that is easily adjusted to fit your exact flavor preferences. Make this once, and you'll never buy store-bought ketchup again.
Ingredients
2 cans crushed tomatoes, 28oz
¾ c brown sugar
½ c vinegar distilled
⅛ teaspoon ground cloves
¼ teaspoon mustard powder
1 tablespoon soy sauce
Instructions
Drain the tomatoes and put them in the crockpot.
Add the rest of the ingredients. (see notes below).
Place on low and turn the crockpot lid sideways on the crockpot. (so, turn the lid a quarter clockwise on the pot, so that it sits crosswise to the bowl, exposing both ends of the cooker. )
Leave to cook and reduce to a thicker consistency, much like ketchup. Occasionally stir so that it doesn't burn to the bottom.
Cook for approximately 10 – 12 hours or until it's reached the consistency you prefer.
Using an immersion blender (or your own regular blender), puree the ketchup until it's smooth and the texture you prefer.
Spoon into an airtight jar and refrigerate.
Enjoy!
Notes
If you're using homegrown tomatoes instead of canned diced tomatoes, remove the skin and stem from the tomatoes. Quarter them and simmer them in a large pot uncovered to break them down and evaporate water. The flavor of the real tomatoes is absolutely wonderful, but definitely another step in the process.
Instead of blending the ketchup after it cooks, an optional step is to blend the tomatoes before you start cooking so as to prevent any burns from splashing.
If you don't have an immersion blender, you can use your regular blender as well. If the mixture is hot, remember to remove the center cap from the blender lid as the steam from the hot blender can make the lid pop off and splash you and cause burns. Remember to cover the open lid with a clean cloth to prevent any splashing.
After the ketchup cools down, you can pass it through a sieve to remove any seeds that may not have broken down or blended into the sauce. I just left them in, as I don't mind the texture.
Nutrition Information:
Yield:

56
Serving Size:

1 ounce
Amount Per Serving:
Calories:

16
Total Fat:

0g
Saturated Fat:

0g
Trans Fat:

0g
Unsaturated Fat:

0g
Cholesterol:

0mg
Sodium:

42mg
Carbohydrates:

4g
Fiber:

0g
Sugar:

3g
Protein:

0g
All nutritional information is based on third-party calculations and is only an estimate. Each recipe and nutritional value will vary depending on the brands you use, measuring methods, and portion sizes per household.