Crispy yet succulent, these 15 minute Air Fryer Pork Steaks are one of the easiest and most delicious mains to make in your air fryer. The coating helps the outside stay crispy, and yet helps protect it from drying out.
Plus, the seasoned panko coating adds even more delicious flavor to these pork steaks done in the air fryer!
This post may contain affiliate links. If you make a purchase after clicking a link, I may earn a small commission AT NO COST TO YOU. As an Amazon Affiliate, I earn from qualifying purchases.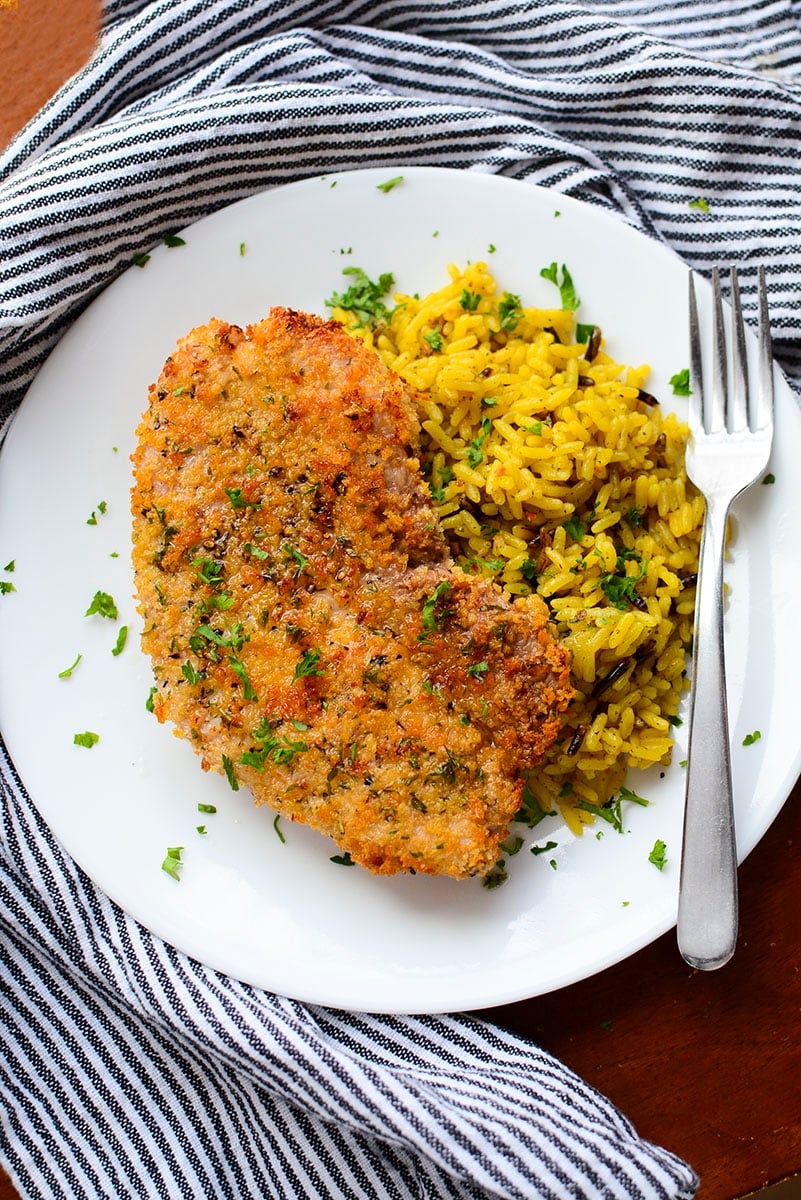 Air Fryer Pork Shoulder Steak = crispy seasoned deliciousness
Why these Pork Steaks in the Air Fryer are so Awesome
I love this recipe because using the air fryer to cook them makes them crispy like you deep-fried the food without all the greasiness and calories from the oil.
They're done cooking in about 15 minutes in the air fryer.
Pork shoulder steaks are really hard to overcook and dry out because they come from the shoulder "butt" roast area containing a lot of fat, so they're a great choice for the newbie cook using their air fryer.
Pork shoulder cuts are usually less expensive than your traditional center-cut loin pork chop.
The coating on the steaks is seasoned, adding even more deliciousness to the steak.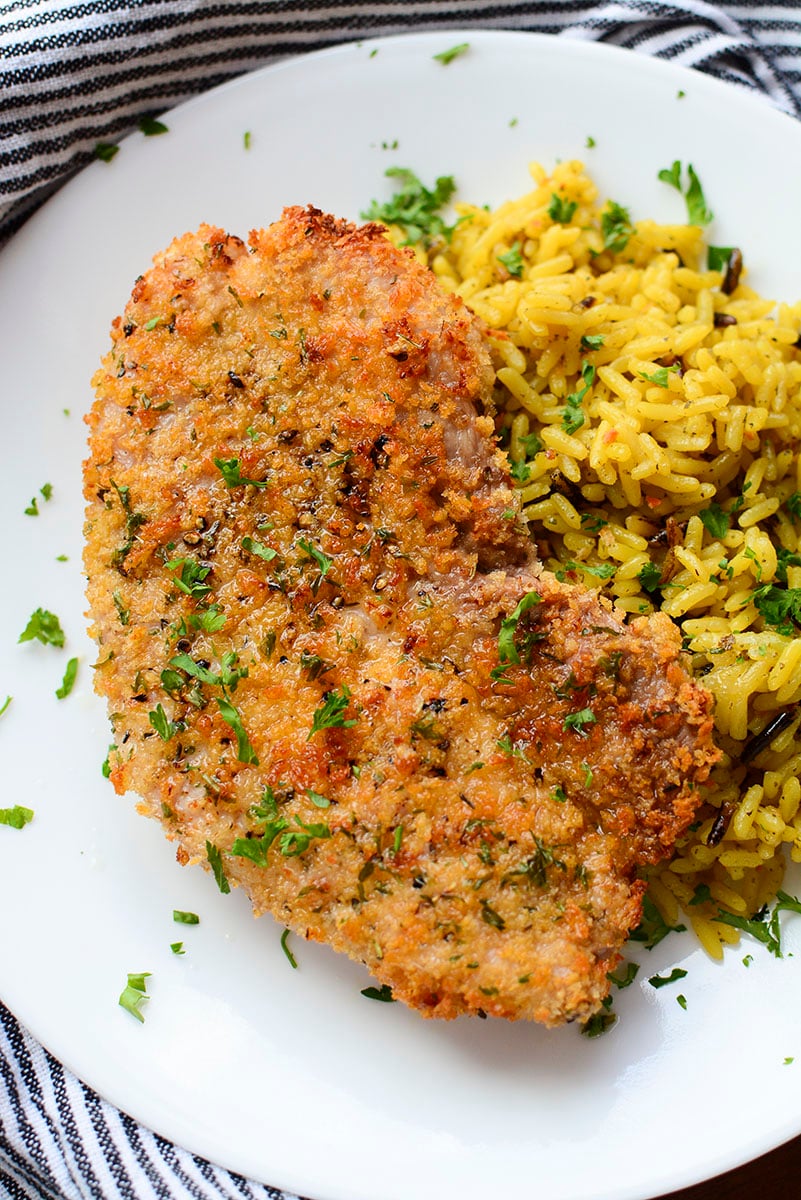 Main Ingredients in this Recipe
Pork steaks: A pork steak is a sliced section of the shoulder or "Pork butt" that looks much like a more common beef steak. Pork steak is a more flavorful and juicy cut compared to the common pork chop.
Panko breadcrumbs: This is a larger crumb coating than your regular breadcrumbs. But if that's all you have, that's not a problem to use them. If you don't have either, you can use my recipe to Make Your Own Breadcrumbs really easily.
Seasonings: Garlic powder, Italian seasoning, smoked paprika, etc. Check the printable recipe below for the specific amounts.
Oil: Just for spritzing on top of the steaks.
Butter and parsley mixture: For topping on the steaks when they're done in the air fryer. This step is completely optional.
How to Air Fry Pork Steaks
Start by preheating your Air Fryer while you do your prep work. This is an essential step to using your air fryer to get the crisp texture you love and to help ensure an even cook every time. It's just like how you preheat your oven and deep fryer before cooking.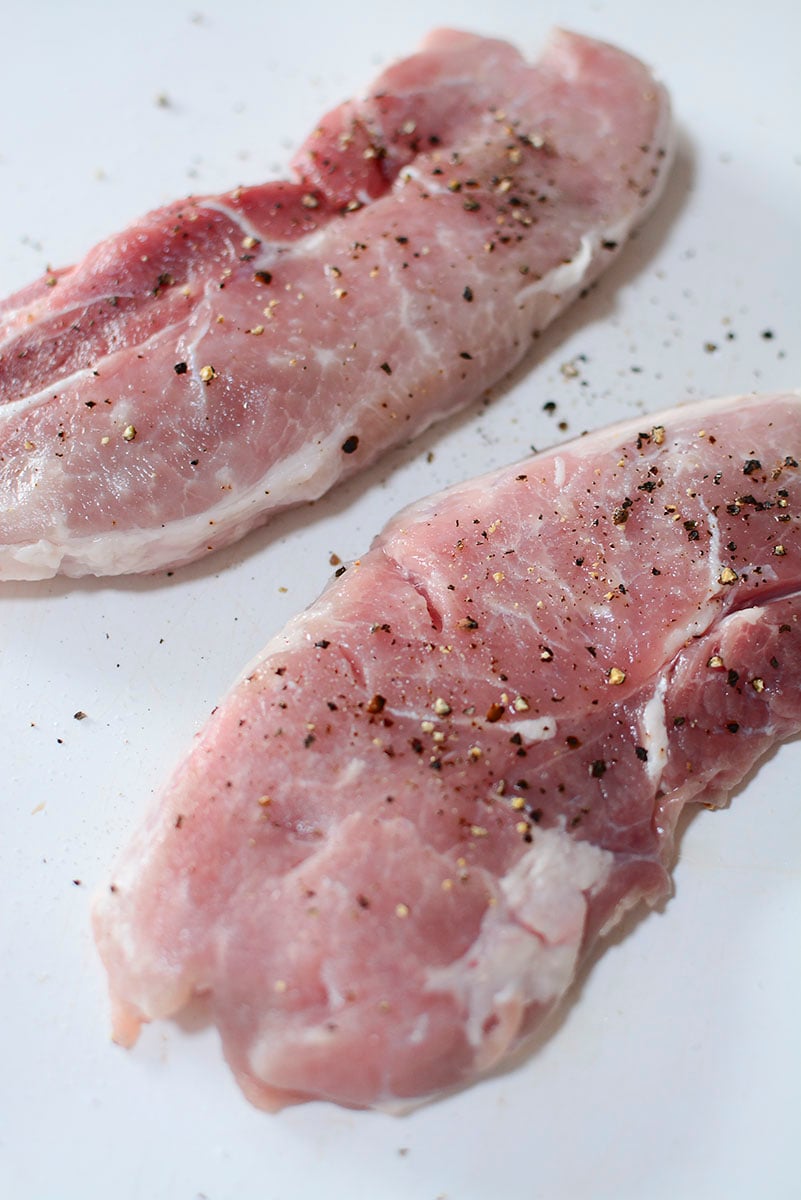 Season your pork steaks with salt and pepper and set to the side while you mix your coating.
In a shallow bowl mix together panko bread crumbs, a tiny pinch of smoked paprika to give a hit of smoked flavor that really helps to bring out a grilled flavor in the pork steaks.
Add the regular paprika, onion, and garlic. If you don't want to use a bunch of separate spices, you can also use my old standby favorite, Montreal Steak Seasoning. It's like an all-purpose, one-stop-shop for seasoning. I use it in many recipes like my Air Fryer Country Fried Steaks with Gravy, and as well in my Air Fryer Bone-In Chicken Breasts.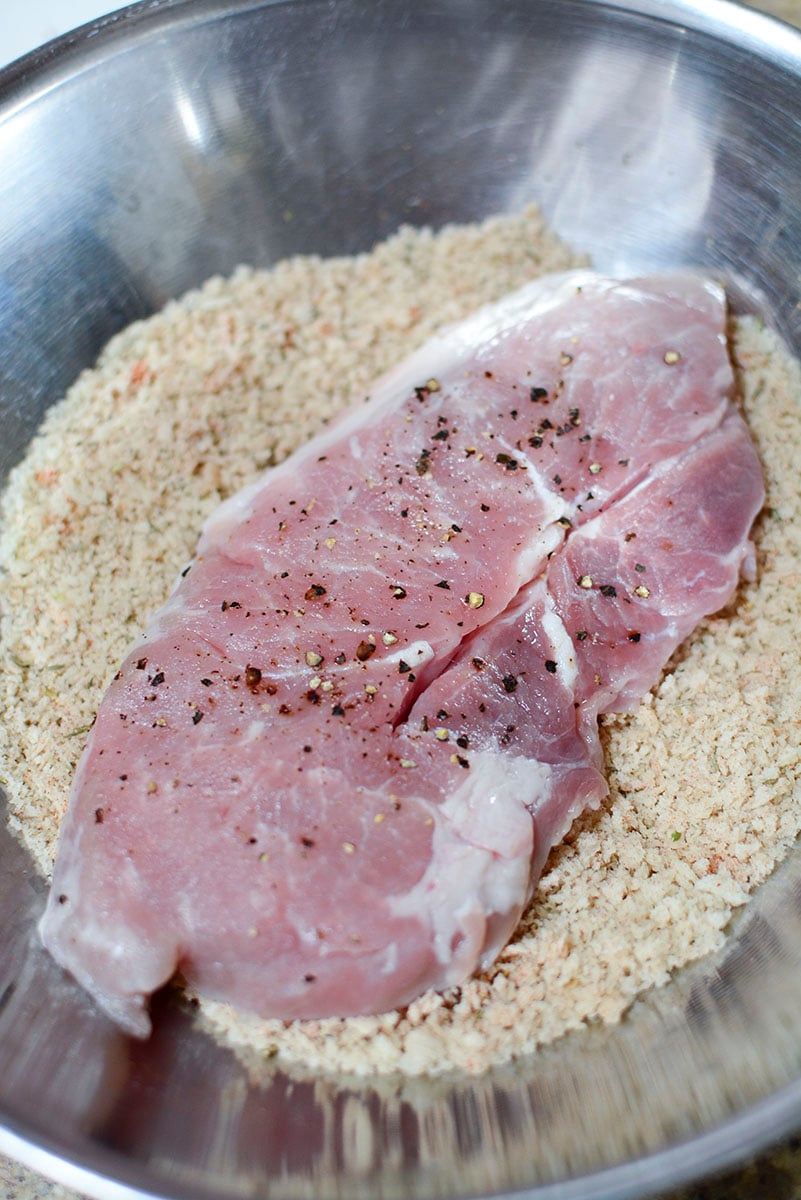 Montreal steak seasoning just takes the guesswork out of seasoning meat and poultry.
Season the steaks with salt and pepper, and then coat them in the crumb mixture making an effort to ensure that they are completely covered.
Air fry them until they are done, flipping them over to get more of the crispy outside during the cooking cycle.
Use a digital thermometer to test that the temperature has reached at least 145 degrees in the center.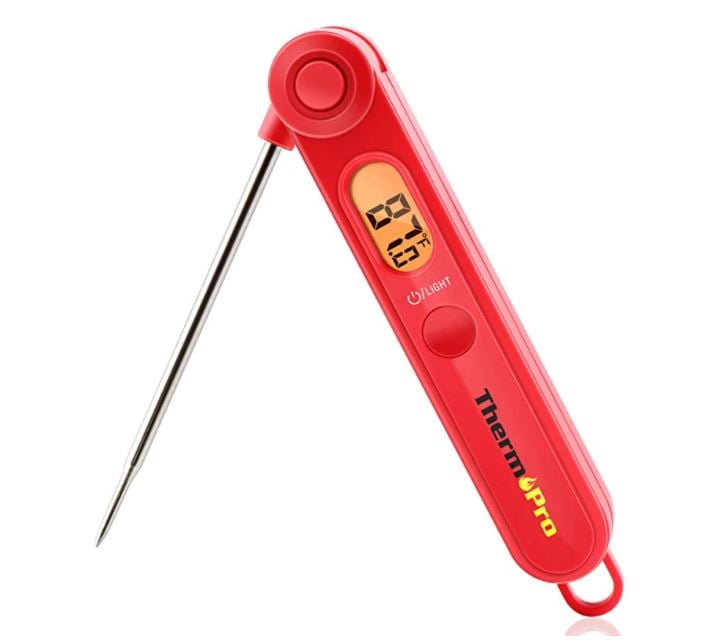 Let sit for 5 minutes before serving. To help enhance the flavor of your air fryer pork steaks, dab them with a mixture of melted butter and parsley right before serving. Do not do this too soon as it can make the coating soggy.
How Do I Cook Pork Chops Without Drying them Out?
With just a few pointers to follow, you won't ever dry out those chops.
Use a fattier cut of pork chop. Center cuts are usually from the loin part of the pig which is leaner, whereas if you use a shoulder cut, it will have more marbling which means more fat and a juicer chop.
Be sure to use a digital thermometer as I mentioned above. This way you know exactly when to stop the cooking process to preserve that juiciness!
It's always a good idea to bring the pork (or any meat for that matter) to room temperature before you air fry, roast, bake, grill, etc. If the meat is cooked right out of the fridge, the outside will cook faster than the inside, and you will have a dry piece of meat by the time the inside is cooked.
Marinating meat is always a great idea to help retain juiciness and add even more flavor.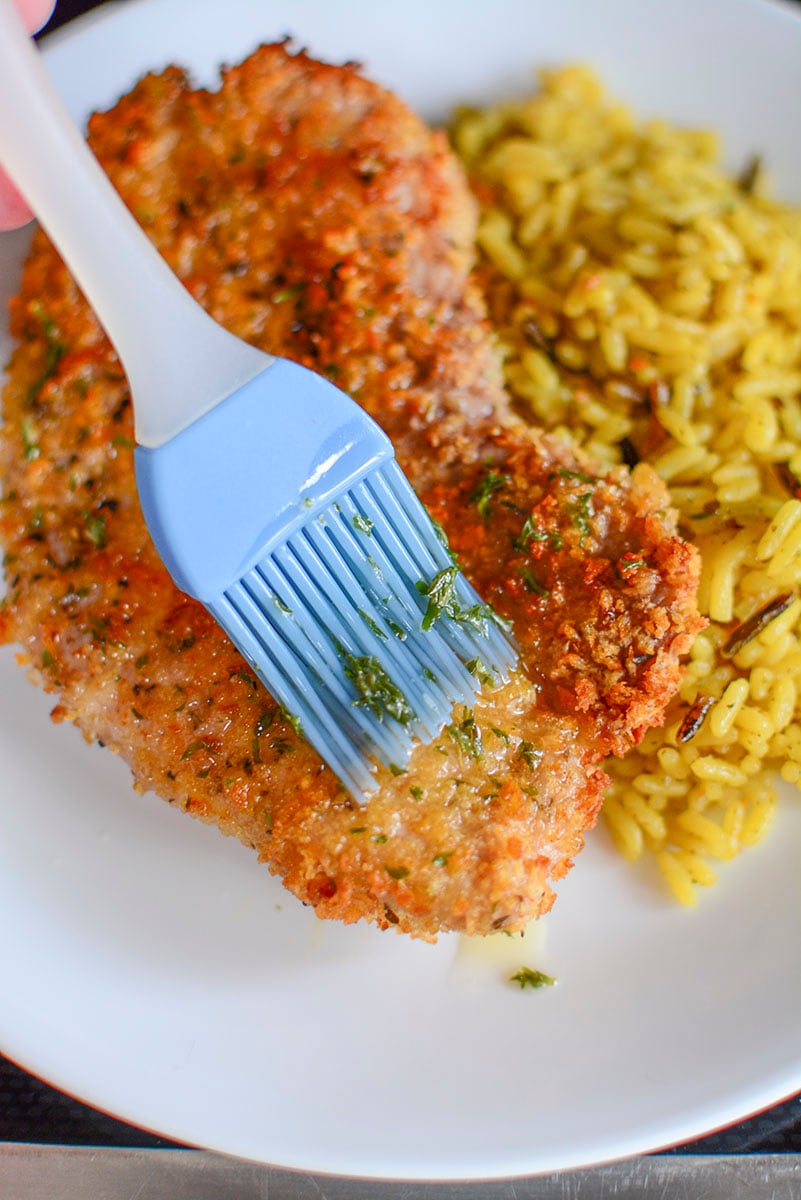 Saltypot Tip: Be sure to blot the steaks before you season them with salt and pepper!
What Side Dish Goes Well With Steaks?
These savory pork shoulder steaks are yummy served with super quick-to-make Ninja Foodi Rice, Instant Pot 3-minute Maple Cinnamon Butter Carrots, or if you want to go with a 'pub night' feel, try these Air Fryer Zucchini Sticks!
You can use a simple mashed potato with brown gravy and your favorite roasted veggies.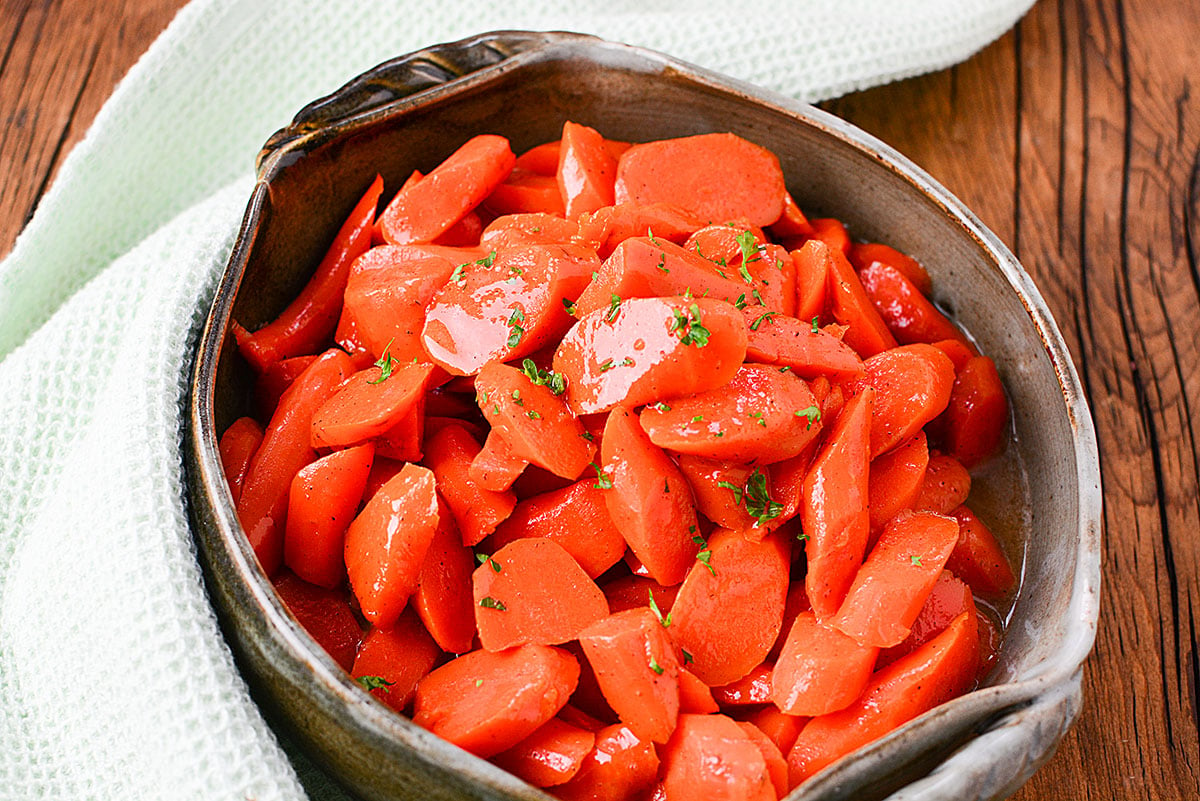 Storing Air Fried Leftovers
Like most fryer and air fryer foods, these are best enjoyed fresh and hot. Storing them can change the texture and the flavor. Usually not for the best.
These will last in the refrigerator in an air-tight container for 4 to 5 days. I do not recommend freezing them for a later date as the texture can become a soggy mess when thawed.
To reheat, toss back in the air fryer for 3 to 4 minutes, microwave for 2 to 3 minutes, or toss into the toaster oven for 5 to 6 minutes. The air fryer or toaster oven will give you the best texture.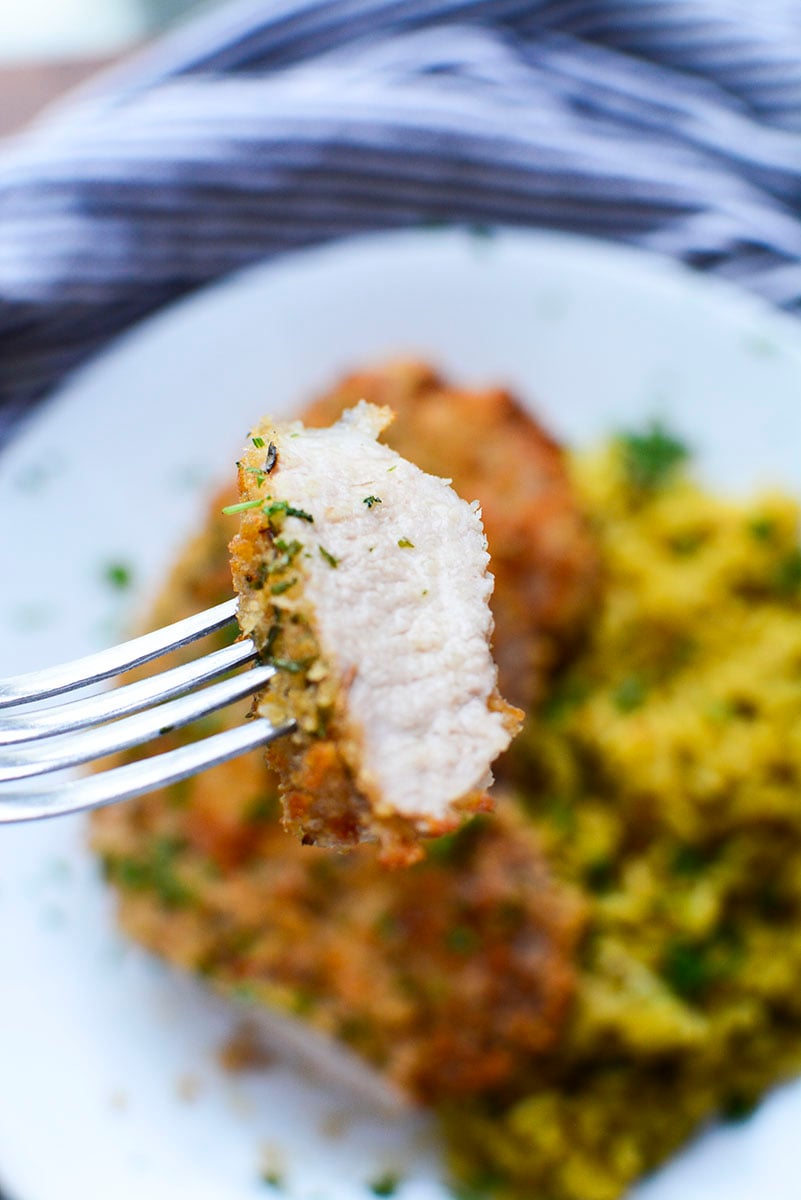 Questions You Might Have
Can I use pork chops instead of pork steaks?
Sure! You can use a bone-in chop, or center loin cut chops are fine as well. I would just keep a close eye on the center cuts if you use them because they tend to dry out quicker in the air fryer than pork steak or a bone-in chop.
Do I have to use a certain type of air fryer?
No. I used my Cosori 3.7 Qt Air Fryer. I also have a Ninja Foodi with an air fryer function that works fantastic as well. As long as your air fryer can reach 400F, you're good to go.
Thanks for stopping by The Salty Pot today! I hope that you give this recipe a try and when you do, please let me know what you think by leaving a ***STAR RATING*** and comment below, or shoot me an email at Joanne@thesaltypot.com.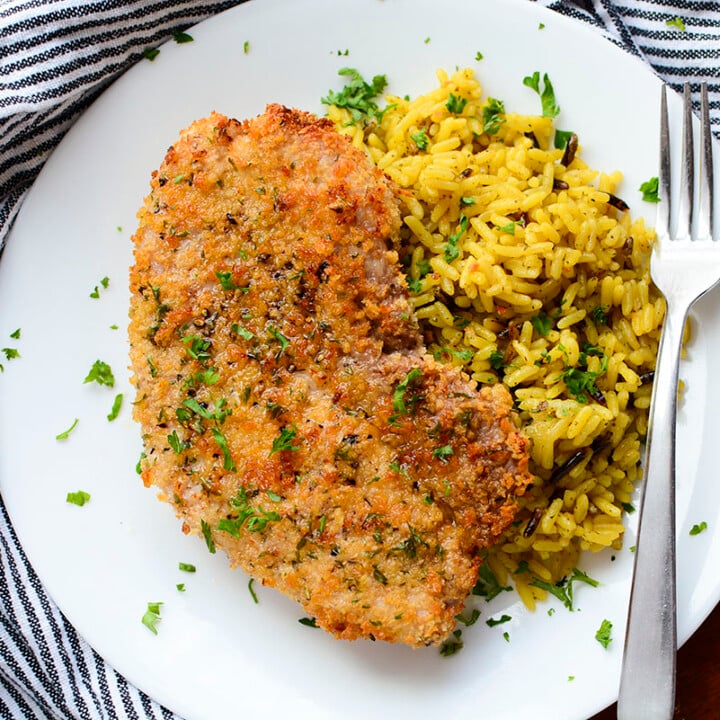 Crispy and Juicy Air Fryer Pork Steaks
Crispy, juicy, and super flavorful, these air fryer pork steaks are so easy to make! On the table in around 30 minutes, their coating tastes like a deep-fried schnitzel, but with only a fraction of the calories!
Ingredients
2 pork shoulder steaks
1 cup Panko bread crumbs (see notes)
½ teaspoon Smoked Paprika
1 teaspoon Regular Paprika
1 teaspoon Garlic Powder
½ teaspoon Onion Powder
1 ½ teaspoon Italian Seasoning
salt and pepper to taste
Oil for spitzing or drizzling on the steaks (see notes)
¼ cup butter, melted
¼ teaspoon parsley dried
Instructions
Begin to preheat the air fryer to 400 degrees.
While the air fryer is preheating, begin by blotting the pork steaks with a paper towel to remove excess moisture. Season with salt and pepper. Set aside.
In a bowl, combine the panko and seasonings. Mix very well to incorporate.
Dredge the steaks in the breadcrumbs on both sides and place them in the air fryer basket. Try not to have them overlapping.
Air fry the pork steaks for 8 minutes. Flip and then continue to air fry for another 5 minutes or until an internal temperature of 145F has been reached. . When the timer goes off, let them rest for 5 minutes inside the basket.
**Optional step: combine the melted butter and parsley together. Dab this mixture over the steaks for an even more delicious flavor. Enjoy!
Notes
If you don't have panko breadcrumbs on hand, regular bread crumbs will work. When spritzing the steaks with oil, this Misto Spritzer works fantastic because it's refillable, and you can use any oil you prefer.
Nutrition Information:
Yield:

2
Serving Size:

1 steak
Amount Per Serving:
Calories:

1018
Total Fat:

68g
Saturated Fat:

29g
Trans Fat:

1g
Unsaturated Fat:

32g
Cholesterol:

249mg
Sodium:

844mg
Carbohydrates:

42g
Fiber:

3g
Sugar:

4g
Protein:

59g
All nutritional information is based on third-party calculations and is only an estimate. Each recipe and nutritional value will vary depending on the brands you use, measuring methods, and portion sizes per household.