The time is coming to start pulling out our stretchy fat pants and perusing yummy recipes like our Favorite Desserts For Fall. Everything that comes along with fall/autumn is great – the outdoor scents are great, the weather's great, the sweaters are great, and of course, so are the recipes.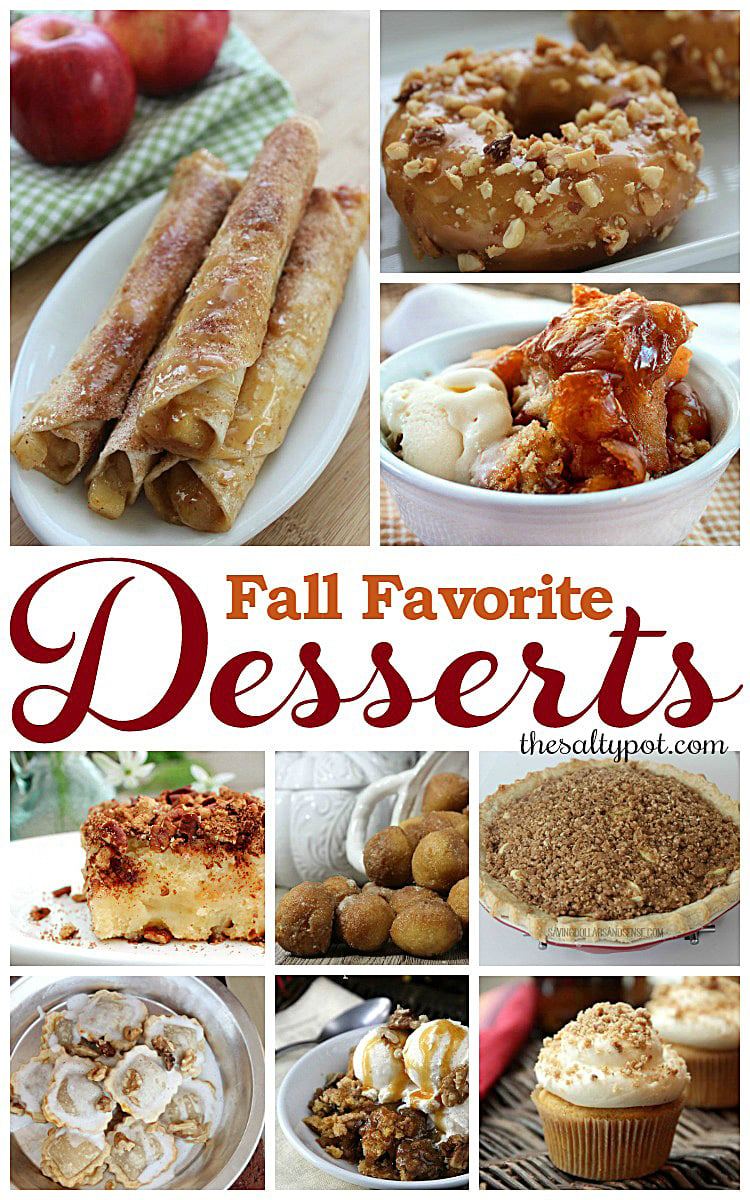 FAVORITE DESSERTS FOR FALL
If you're needing to fill in some gaps in your recipe collections, or if you are just starting to collect your own Favorite Fall Desserts For Fall Collection, here's a great start! (And no stretchy fat pants are required…………… yet. )
All of these recipes below have elements of cinnamon, nutmeg, creamy, sweet, pumpkiny, appley, nutty, mapley………. I'll bet you could make at LEAST one of these your new fall favorite dessert!
FAVORITE DESSERTS FOR FALL
The weather is getting chilly and the apples are ripening. Fall is here and everything that is fall makes us want to put on our snuggliest pj's, get a blankie and settle in, nice and warm.
The only thing that should be added to the list is DESSERTS! Apple and pumpkin flavors, spiced, warm dessert recipes are ready and waiting!
One of my most favorite desserts was my Grandma's pumpkin pie. I loved it. She also made homemade whipped cream to go on that fall dessert.
Sadly, those opportunities are over now.
Don't get me wrong, some store-bought desserts for fall like pumpkin pie, apple pie, autumn type cakes, and crisps are awesome. But there's just something about a fall dessert that when homemade, bring the whole meaning of DELICIOUS COMFORT FOOD to a whole new level!
What are your favorite desserts for fall? Do you have any awesome old fall favorite desserts that were handed down from relatives? Let me know, I'd love to hear about them!
***DON'T FORGET TO PIN THIS COLLECTION OF FAVORITE DESSERTS FOR FALL TO YOUR MOST FAVORITE PINTEREST BOARD TO SAVE FOR LATER!!***