I've been using the Cosori, larger-sized Air Fryer for quite some time now, (which I also wrote an honest review about if you're interested) and I've been loving how versatile and easy to use it is.
And recently, the good folks over at Cosori sent me the smaller version- the Cosori Air Fryer 3.7QT.
So how is it any different from what I had earlier? That's exactly what I'm about to find out!
So What Does it Do?
Much like the larger version, this air fryer does pretty much everything any other air fryer does. You'll be able to enjoy a healthier version of your favorite fried foods- everything from french fries and chicken nuggets to seafood and even desserts.
Basically, the air fryer cooks your food using super hot, circulating air, believe it or not. See, in the top chamber of the appliance, there is a heating element along with a forceful fan.
When you put your food into it to be 'fried', the fan will force the super-hot air in and around the food, making it crispy similar to deep frying, but without copious amounts of oil.
What's There to Love
The new Cosori 3.7 Qt air fryer has tons of features, and I'm so far, liking every single one of them. Here's what I personally liked the most!
One thing I love about this unit is that has a handy dandy "Preheat" button that when selected, automatically preheats the air fryer, getting it ready for air frying which not only helps you save on a lot of cooking time but will also help improve food texture and flavor.
The 11 preset programs take away the headache from having to decide how many minutes you need to set the air fryer timer at. It's one of my personal favorite features. You can use any of the presets to cook your favorites- from fried chicken and crispy fries to bread and dessert- it is all there. (As a side note, I took a small survey of friends, and people on the Facebook page, if they preferred pre-set programs or a dial to choose from. Most of them chose the presets, and I agree.)
The inner basket has a handle attached that separates from the outer basket, making it super easy to remove the air-fried food, as well as making cleanup super easy.
The fact that the inner basket AND the outer basket are both dishwasher safe. For someone who hates doing the dishes, this can be a blessing.
The non-stick basket is another plus because, with air frying, all those food bits stuck in between the grate-type structures, can be a pain to remove.
I absolutely love the free recipe booklet that came in with the package. It has over 100 recipes I could try out and recreate in my kitchen. (Which I have! See below for some of these!) This can be perfect for someone who likes meal planning.
The 'keep warm' function is another plus. It helps keep your food warm for a while until you can get to it.
My second favorite function is the 'shake' reminder! It is a super unique reminder that tells you to shake the contents in the air fryer to help you get a more even, crispy outer covering to your food.
First Impressions – Unboxing
Much like the larger, 5.8Qt model, this tinier unit came packed snug as a bug in a rug. It was well packed, easy to remove from the box, and the shipping time was decent, considering I'm in Canada, AND we all know what's going on in the world right now – and how it's affecting shipping times.
The unit is obviously smaller than the 5.8 QT and will accommodate amounts of food for approximately 2 – 3 people. So if you have a bigger family or people in your family who are really large eaters, I recommend going with the larger version that might suit you better.
After giving the baskets a good wash and dry, I was ready to get cookin'.
Putting it to Use – My Tests
Air Frying Bacon
While I tried some of the recipes out of the recipe book, my first go to was BACON.
In my other review, you'll see that the basket is bigger than with this model, obviously. They are built to hold more food in the larger version. But I wanted to try bacon out two different ways. First, just throwing the bacon in the basket, 'willy nilly' and letting it do its thing.
I like my bacon CRISPY, so I had to do two cycles of the automatic 'bacon' preset button.
The first photo is after one cycle, and the second photo is after the second cycle. As you can see, the bacon cooked unevenly – some places super crisp and other places, (where pieces overlapped), it wasn't nearly as crispy.
This could be avoided by just stopping the cycle half way through and giving the bacon a flip/turn so it cooks more evenly.
My second try was to lay out the bacon flat on the bottom of the basket. Here are the results:
Again, the first photo is after one cycle using the bacon preset button, and the second photo is after two. THIS is the way I prefer my bacon, nice and super crispy! There's nothing wrong with the doneness in the first image, and I'd say the only downfall is that you can't cook as much bacon as you can using the first 'willy nilly' method.
So depending on how much bacon you like to cook at one time will depend on how useful this is for cooking bacon for your family. By the way, each cycle to cook the bacon was 8 minutes. I can't be mad at that at all!
Air Frying Pork Chops
This is a recipe from the cookbook on page 34 called North Carolina Pork Chops. The recipe calls for two center cut chops, brown sugar, paprika, dry mustard, and other spices.
The recipe called for using the 'steak' setting for 10 minutes. I was really impressed with the results. The chops were tender, not dry at all, and the spice rub was tasty. I only cooked two chops, but I think you could fit another 2 in the basket, arranged differently, but only if they are center cut portions.
If you wanted the pork more or less done, you can certainly stop the air frying at any time and the machine will automatically pause the cooking.
AIR FRYING HASSELBACK POTATOES
This recipe on page 86 of the cookbook calls for 4 medium russet potatoes. I only had two on hand, and they were slightly larger than medium, I'd say. I went ahead and used them anyway, cutting them every ¼′, careful not to cut directly through to the bottom.
It called for oiling the potatoes and then seasoning them. I used my own preferred seasoning which is the beauty of these recipes. They're guidelines for seasoning but the most important thing are the cooking times.
You preheat the Air fryer using the pre-programmed button and place the sliced and seasoned potatoes in the basket after it's preheated.
The potatoes take about 30 minutes in the air fryer which is roughly the same amount of time it takes for my Smoky Bacon Hasselback Potatoes with Cream Sauce that are done in the oven. And in fact, I found the potatoes needed probably another five minutes as the very center of them was not soft enough.
However – I'm attributing this to the fact that I used a slighter bigger potato than what the recipe called for. Either way, the tops were crispy, and an added delicious bonus was that the recipe said to spread melted butter over the top and air fry a few more minutes for extra crispiness which is not something I thought about doing before.
The benefit here would be that you don't have to heat the oven up just to cook a few potatoes which would be nice in the summer. On the review of the larger Cosori Air Fryer, I made a basket of crispy baby potatoes and they were outstanding, so making that same recipe would work in this smaller basket as well.
Air fryer Accessories and Recipes
There are a number of other recipes that I want to try making from the recipe book. There is everything from salmon, fried chicken, different appetizers, and even some yummy-looking desserts.
You can also make some kabobs with this air fryer, (along with other delicious items) but you will need to purchase an accessory bundle. It's sold separately and comes with an Egg Bites mold, a Cake Pan (nice for baking bread that I will definitely try), the skewer rack with skewers, a silicone mat, a metal rack holder, and a pizza pan.
On Amazon, only some of the Cosori models include the skewer rack, but most don't. It's a shame, as this would be a nice selling feature.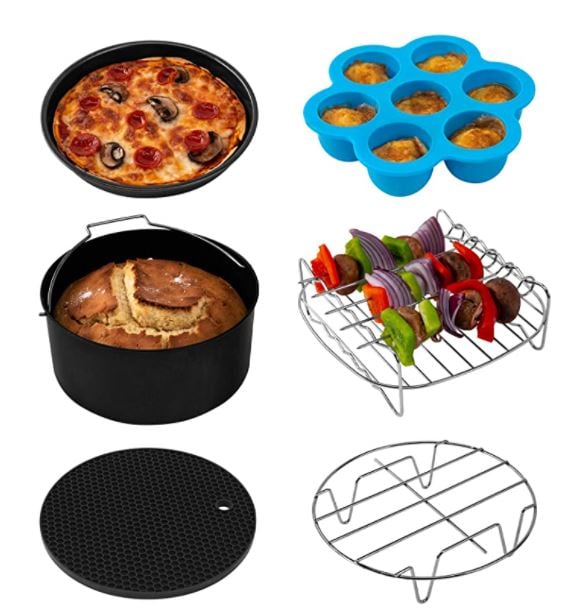 What I Didn't Like:
So, in review, here are a few things I didn't like about the Cosori 3.7Qt Air Fryer:
I don't like that the accessory bundle is not included with the purchase of the appliance. It would be a huge selling feature to include the accessory bundle in the purchase of all models. I just think if you're going to give recipes in the cookbook that you might need a special pan for, then sell the pans with the models.
It's a little loud while operating. However, it's not a huge drawback for me, but others might find it annoying.
You have to mist the food with oil so that it doesn't get that 'dry' crunchy result. Let's face it, oil is what makes things taste good and makes things crunchy so you need to be sure that you mist the food generously to achieve that 'fried' taste if that makes sense. That being said, the amount of oil you're misting over the food is a far cry to what adds up with actually deep frying.
If you're in the market for a good, reasonably priced misting bottle, I use The Misto.
I have a HUGE issue with the recipe book that's included with the appliance. Don't get me wrong, the recipes are great so far, but what annoys me is that the photos they've used for the recipes, don't match with the recipe itself. For example, the recipe for the North Carolina Pork Chops – the image they use for the recipe CLEARLY shows a bone-in piece of meat, yet the recipe calls for boneless center cut chops.
Again, another recipe for a Five Spice Spicy Chicken. While the recipe itself looks and sounds amazing, the photo they use for the recipe clearly shows that the chicken pieces were cooked in a casserole dish as there is sauce stuck to the sides of the dish. They were not air-fried.
So the recipes I've tried, they've worked out for the most part, but including photos in the cookbook that are not aligned with the recipes is something Cosori really has to work on improving. I want to see how the recipe is supposed to look after I make it.
Now, for what I DID like.
With the larger 5.8 QT unit, I found there was steam that would escape from the basket while cooking that created condensation on the countertop. While not a big deal, I noticed that this smaller unit doesn't do that.

One of the biggest pluses for me is that it doesn't take up the counter space that the larger unit does. I have a relatively small kitchen so counter space is at a premium. I really appreciate the smaller size of this air fryer.

I love the presets but at the same time, I like how you can adjust to your own temps and times if you want to do your own thing. Also, the option of changing the temps from Celcius to Farenhieght is also a great bonus, depending on what you prefer.

The 'shake' function is also something I appreciate. I don't stand by the appliance as it cooks, counting the time. I often get busy doing something else, and well… you know.. as we get older, sometimes we forget, right?? lol.. This reminder button has come in handy a few times already.

The basket is non-stick and dishwasher-friendly.

It will keep your food warm if you're not ready to serve immediately!
Will I keep the Cosori 3.7 Air Fryer?
Absolutely. Truth be told, I have a Ninja Foodi Pressure Cooker that also has an air fry/ air crisp function, but unless I'm pressure cooking something that I want to finish off with air crisping, it makes much more sense to use the Cosori model. It's smaller, much less cumbersome to use when only air frying, and does a pretty darn good job at what it says it does.
I'll be testing more recipes both from the cookbook and from my own creations, so I hope you bookmark this page so that you can see and follow along for what latest recipe I've made using this air fryer. I'm REALLY eager to do more baking in it.
Do you love air frying? What's your most favorite dish to air fry; I'd love to know! Tell me down below and let's talk about it!