Making your own breadcrumbs is a breeze, right? Making your own SEASONED breadcrumbs also isn't rocket science, but it is a tiny bit sciency.. well.. culinarily sciency. (oooh.. my spell checker is losing it's mind.) Come with me and save some money making your own signature seasoned breadcrumbs!
DIY your own seasoned bread crumbs = SAVING MONEY!
Making Your Own Seasoned Breadcrumbs
For years the delectable photos on the boxes of Shake and Bake would call my name. I went through boxes and boxes of the super-convenient, pretty tasty, chemical-crapstorm, commercially made and boxed variety.
Boxes of it, for real! So one day, I was getting ready to delicious up my chicken thighs and **GASP** I was OUT!
My pantry threw up its arms and said no magic breadcrumbs for me.
'Fine' I thought. I'll just make my own. Hence, the birth of my signature seasoned breadcrumbs happened!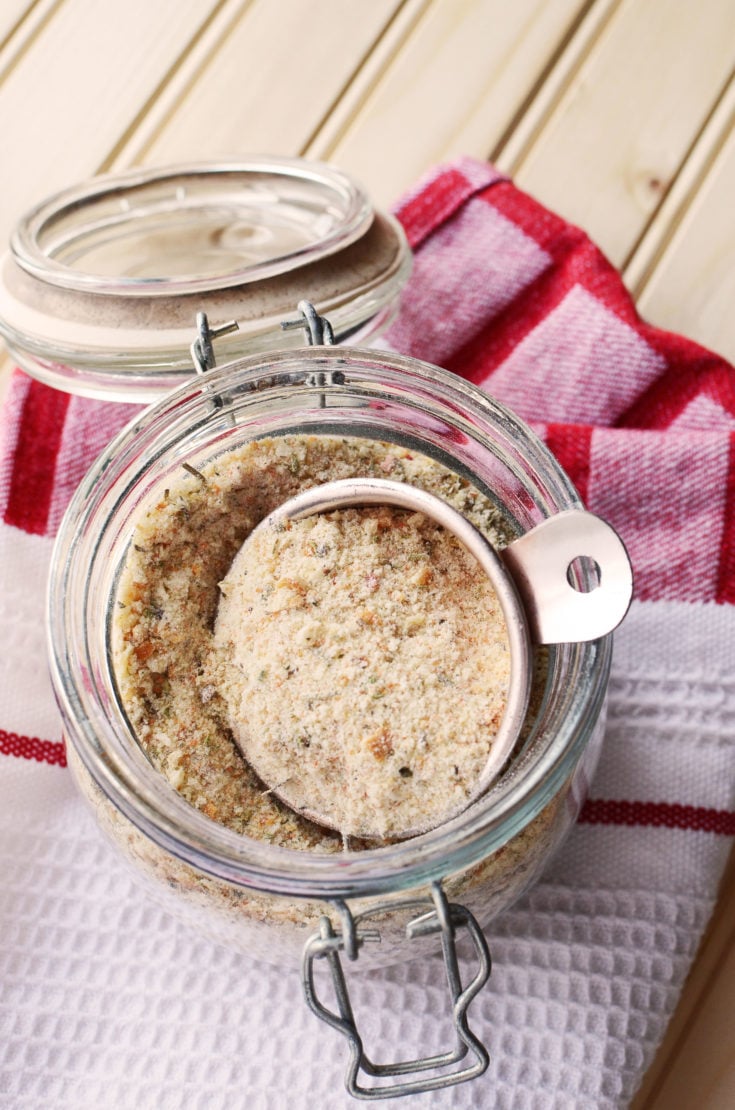 Sad Baguettes Become Happy Breadcrumbs
As part of my frugal nature, I was looking at my dried out, sad-looking baguette, I couldn't bring my cheap heart to throw it away. I could hear my grandma "tsk tsk"-ing me as I hovered it over the trash can.
It still had value past hitting a home a run with it, right?
If you have that same thing going on, use that dried up sad baguette and love it up into something new and tasty!! Make SEASONED breadcrumbs!!
Cheap, tasty and unique!

What Can I Use These Breadcrumbs For?
All sorts of things!! You could use them for:
Meatloaf
Onion Rings
Frying Fish
Pork Cutlets
Schnitzel
The Breadcrumbs Are Ready For Seasoning
Use my recipe below as a starting point, and sub in, take out, add less, add more, whatever your heart desires to make these seasoned breadcrumbs. Taste it as you go so you have an idea of what your liking and what you need more of.
One word of advice, – don't be afraid to go overboard with the spices. You THINK you're over seasoning it,.. but you're not. The crumbs have a lot of real estate to cover, so when spread out, the seasoning will be also, so it's ok to be a bit heavy-handed.
It's going to be unique to you!
Why Is It Called Unique Breadcrumbs?
I call it unique basically, seasoned breadcrumbs isn't a unique idea, but it's special in the WAY they're seasoned. I've listed a recipe at the bottom, but feel free to switch up the ingredients as it's pretty versatile.
Don't like rosemary? Then switch it Italian seasoning, or dried thyme, etc. Don't have smoked hickory powder? NO WORRIES! Leave it out.
Use my recipe as the template and make it your own!
Types of Bread to Use
You can use any sort. Baguettes work well, like the one I used today. But regular white bread, (like this Homemade, No Knead Dutch Oven Bread I made) or brown bread, whatever you like the taste of, you'll like as a breadcrumb.
The only thing I would be wary of is using a dark-colored bread like rye or pumpernickel as it would produce a dark crumb and might make the finished product look burnt.

You could even use a Panko breadcrumb if you wanted. I like using regular bread as the base because then the mixture becomes much more versatile in its uses. Panko can get too soggy if you use it as a filler for meatloaf, for instance.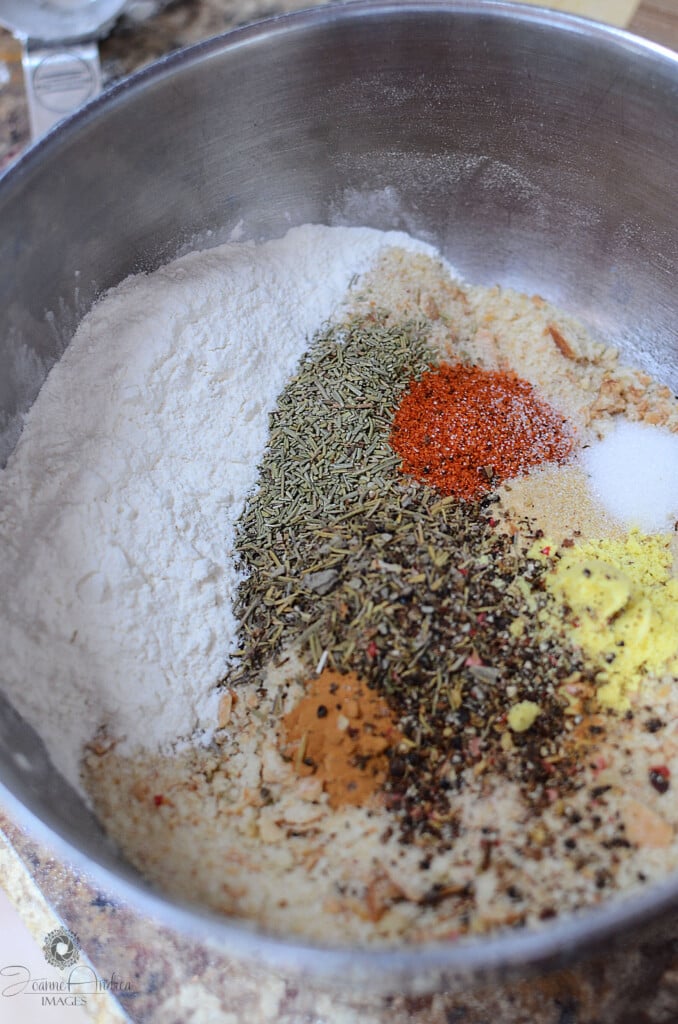 Can I Use Gluten-Free Bread To Make These Seasoned Breadcrumbs?
Yes, without a doubt! Gluten-free bread is very expensive, and if find that you haven't used up the entire loaf, I encourage you to make your own breadcrumb coating! Save those dollars, my dear reader!
Remembering How To Make Your Own Breadcrumb Coating
I would STRONGLY suggest that as you go about making this breadcrumb recipe, you write down any changes and additions you make along the way.
That way, when you arrive at the most delicious breadcrumb coating you've EVER had, you can make it again when you run out!
So g'head… shake your booty and get your OWN shake and bake type coating on with seasoned breadcrumbs! When you make these, please comment below and let me know what spices you used! I'd love to hear some new combinations!!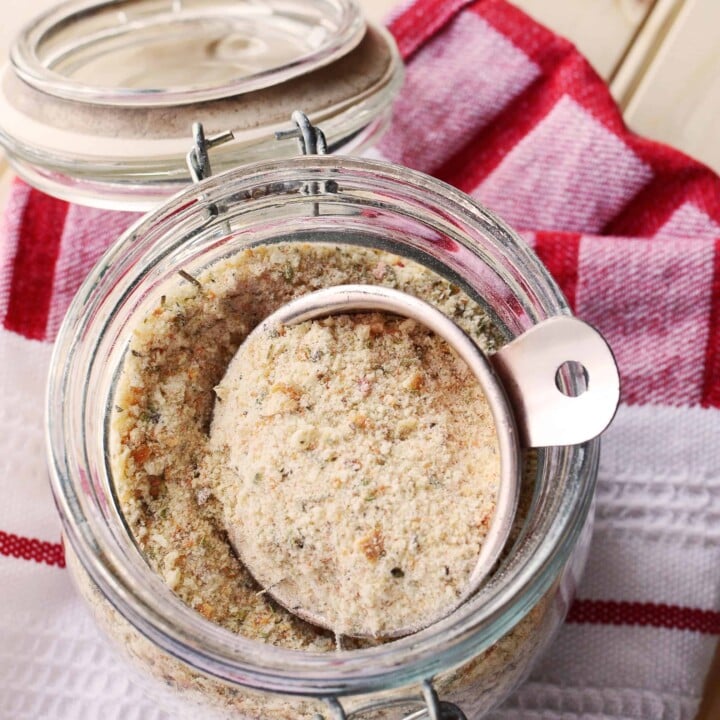 How To Make Your Own Unique Seasoned Breadcrumbs
Making your own seasoned breadcrumbs is something incredibly easy to do, it adds huge flavor to whatever your breading, and it saves you money!! Win Win Win!
Ingredients
¼ C Flour
1 Tb Rosemary, or Italian seasoning, whatever you prefer
1 teaspoon Seasoned salt
1 teaspoon Pepper
⅛ teaspoon Hickory smoke powder, Optional
1 teaspoon Chicken bullion powder
½ teaspoon Garlic Powder
1 C Plain Bread crumbs
Instructions
Place the dry bread into a food processor and grind until fine, or simply place bread into a zip lock bag and using a mallet, rolling pin or even the broad side of a hammer, crush the bread into a very fine crumb.
Add all the seasonings and spices above, and shake well. Store in an air tight container.
Notes
Remember to taste the crumbs as you go. Add, take away, omit and add your own spices and seasonings to make this your own!
Don't forget to write things down as you go so you can replicate it another time. Use this recipe as a template, and then make it unique to you!
Nutrition Information:
Yield:

6
Serving Size:

¼ cup
Amount Per Serving:
Calories:

98
Total Fat:

1g
Saturated Fat:

0g
Trans Fat:

0g
Unsaturated Fat:

1g
Cholesterol:

0mg
Sodium:

386mg
Carbohydrates:

18g
Fiber:

2g
Sugar:

1g
Protein:

3g
**PIN THIS SEASONED BREADCRUMBS RECIPE TO YOUR FAVORITE PINTEREST BOARD TO USE LATER!**