Drinking this Warm Toffee Apple Cider could be one of the best things about fall and winter. Sweet fresh apple cider flavored with hints of buttery toffee make this comforting drink a go-to for every single celebration.
And if you want to go that little bit extra, making it an adult, or, hard cider is a fun twist for sitting around on those cold crisp evenings!
This post may contain affiliate links. If you make a purchase after clicking a link, I may earn a small commission AT NO COST TO YOU. As an Amazon Affiliate, I earn from qualifying purchases.
Toffee Apple Cider = The perfect warm drink for cold weather!
With the arrival of cold weather, it is the perfect time for simple warm drinks that just settle and relax you. Drinks like this warm apple cider with toffee are perfect for warming up out of the cold and warming up your holiday parties.
This cider is one of my favorites to make on a chilly day and everyone loves it at gatherings, not that you need a gathering as an excuse to whip up a batch of this though!
I love this recipe because it's perfect for keeping warm in the slow cooker to serve to anyone that wants it.
For an adult option like a simple hard cider, you can add alcohol to each glass for those that desire it making this a kid-safe drink option without the addition.
How to make Caramel Apple Cider
Start by placing your purchased, or Homemade Apple Cider into your slow cooker and turning it on high for one hour. This should make it nice and hot so you can blend it easily. Add the English toffee pieces and stir into your apple cider until dissolved. This can take a few minutes but will give you a deliciously sweet base for this hot beverage.
After all the toffee pieces have dissolved, you can set it to warm and leave it there until you are ready to serve.
This is safe for children as is but can be spiced up a bit with a simple addition of caramel or butterscotch syrups if you want to intensify the caramel undertones.
Adding Alcohol to the Slow Cooker Apple Cider
When you're ready to serve to adults that want the spicy options can add up to an ounce of alcohol to the glass then top off with hot caramel apple cider.
I would not recommend adding the alcohol to the slow cooker because then you can't regulate the amount of alcohol that each person gets. Some may just prefer a hint of the alcohol whereas others prefer it stronger.
What kind of Alcohol can I mix with the Toffee Cider?
There's a variety of different types you can use.
In my case, I used Phillips Butter ripple schnapps (not sponsored), but you can opt for a caramel vodka to give it more of a boozy kick.
You can use any choice of fun flavored booze options you have on hand for this ranging from spiced rum to firey cinnamon liquor like my Red Hot Apple Cider recipe. Anything that goes well with apple cider such as those with cinnamon, nut, or vanilla undertones will go perfectly with this caramel cider to make it your own.
To garnish, you can add some yummy whipped cream and sprinkle some extra toffee bits over the top. Another idea is to add a drizzle of caramel sauce or dip half an apple into caramel and then cut a notch to attach to the side of the glass to draw the eye.
This drink is best served warm. As the party goes on be sure to stir it on a regular basis to avoid settling of the unfiltered juice and candy bits.
Leftover Storage
If you happen to have any left, simply store it in the fridge in a container with a tight-fitting lid. You will want a lid so that the cider won't take on any of the fridge smells, and in case it gets tipped over, there won't be a mess.
To serve the cider again, you can add it back to the slow cooker to reheat if you have a large amount of it, or heat it up for a minute or less in the microwave in individual servings.
Be sure to shake or stir the apple cider drink before reheating it because there may be some apple pulp at the bottom that has a lot of flavors you want to redistribute through the liquid. Do this before you add any alcohol.
Can I make this with Apple Juice?
I suppose you could, but the results would not be the same. Fresh apple cider is the unrefined juice that comes from apples (has some pulp in it) where apple juice is filtered from the pulp and is pasteurized in order to extend the shelf life. Apple cider is softer in flavor and not so sharply sweet as apple juice.
Can I freeze the Butterscotch Apple Cider?
You can freeze the apple cider if it has toffee bits dissolved in it. You'll want to make sure that it's stirred well on reheating so everything is combined well. However, I would not freeze the mixture if it has flavored alcohol dissolved in the liquid. It will not freeze properly.
I hope that you give this recipe a try and when you do, please let me know what you think by leaving a ***STAR RATING*** and comment below, or shoot me an email at Joanne@thesaltypot.com. Have a fantastic day!
~Joanne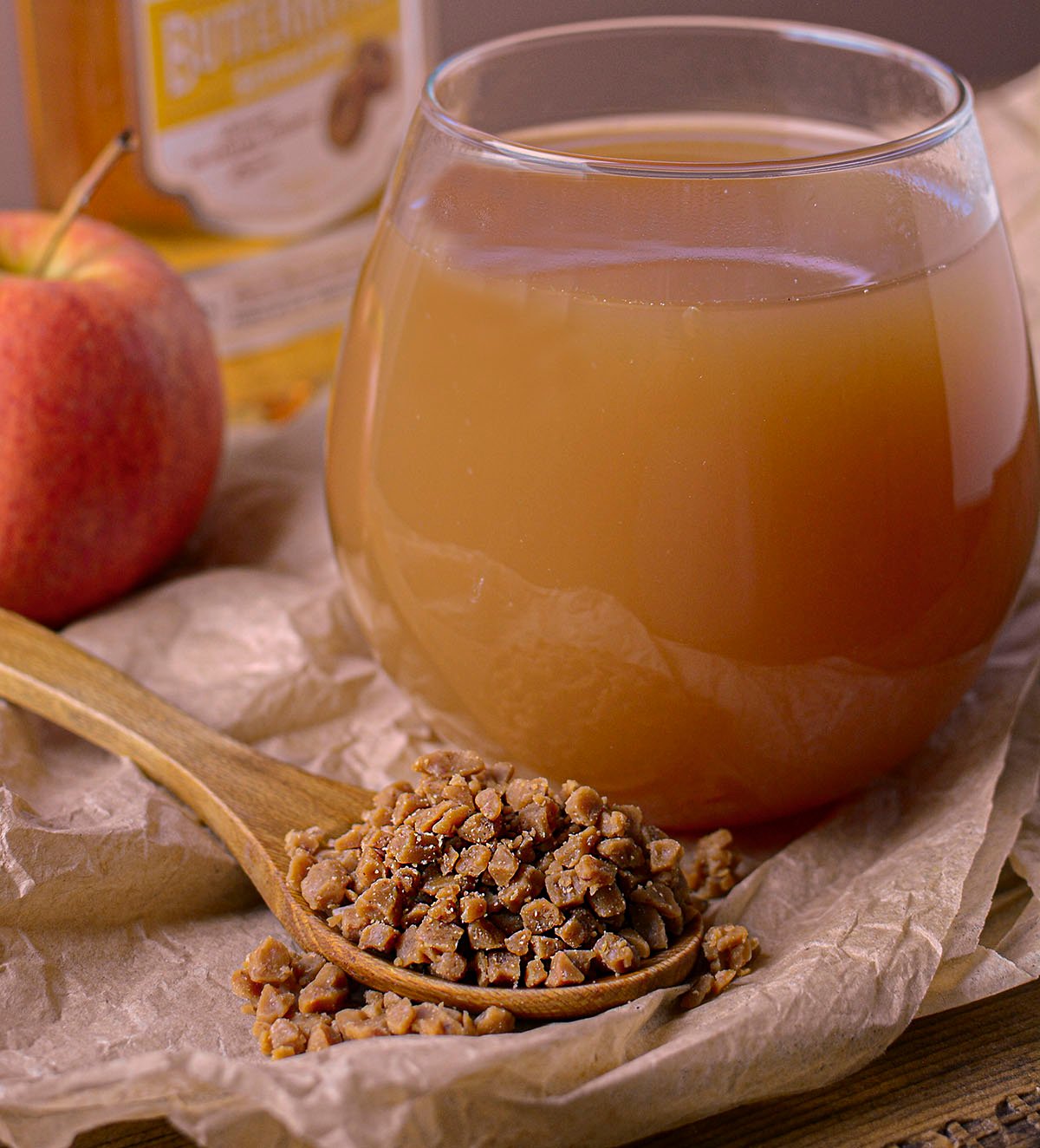 Warm Toffee Apple Cider
Warm and comforting, this buttery toffee apple cider is a drink that's perfect for a crisp chilly day. Ideal for gatherings, it can be served to everyone, and then kicked up a notch for adults by adding some alcohol.
Ingredients
2 liters of apple cider (see notes)
1 bag of Toffee candy bits, 10 ounces
To make it for adults:
Add 1 ounce of your chosen alcohol.
Instructions
Turn the slow cooker on high and add the apple cider.
Heat the cider until it gets very hot and then add the toffee bits. Continue to stir until the bits are completely dissolved. This may take a few minutes.
Turn the slow cooker to warm to keep the drink warm for as long as you need it. Stir occasionally to redistribute the apple pulp and any toffee bits that weren't dissolved.
Notes
To make this drink on the stovetop:
1. Transfer the apple cider into a large soup pot and begin to heat to a boil.
2. Add the toffee bits and stir until they're dissolved.
3. Turn the heat down to a 'warm' or the lowest warming temperature you have on the stovetop. Only use this method if you are always present to monitor it. Stir occasionally to redistribute the apple pulp and any toffee bits that weren't dissolved.

Remember, in making this toffee apple cider, a hard cider, add the alcohol to each serving glass so you can regulate how much alcohol each adult wants.
Nutrition Information:
Yield:

8
Serving Size:

1 cup
Amount Per Serving:
Calories:

327
Total Fat:

12g
Saturated Fat:

7g
Trans Fat:

0g
Unsaturated Fat:

4g
Cholesterol:

37mg
Sodium:

58mg
Carbohydrates:

53g
Fiber:

1g
Sugar:

48g
Protein:

1g
All nutritional information is based on third-party calculations and is only an estimate. Each recipe and nutritional value will vary depending on the brands you use, measuring methods, and portion sizes per household.