This Air Fryer Country Fried Steak has a juicy center with a crispy, air-fried coating that's incredibly delectable. The creamy, savory gravy that drapes over the steak just takes it to a level of deliciousness that won't be soon forgotten.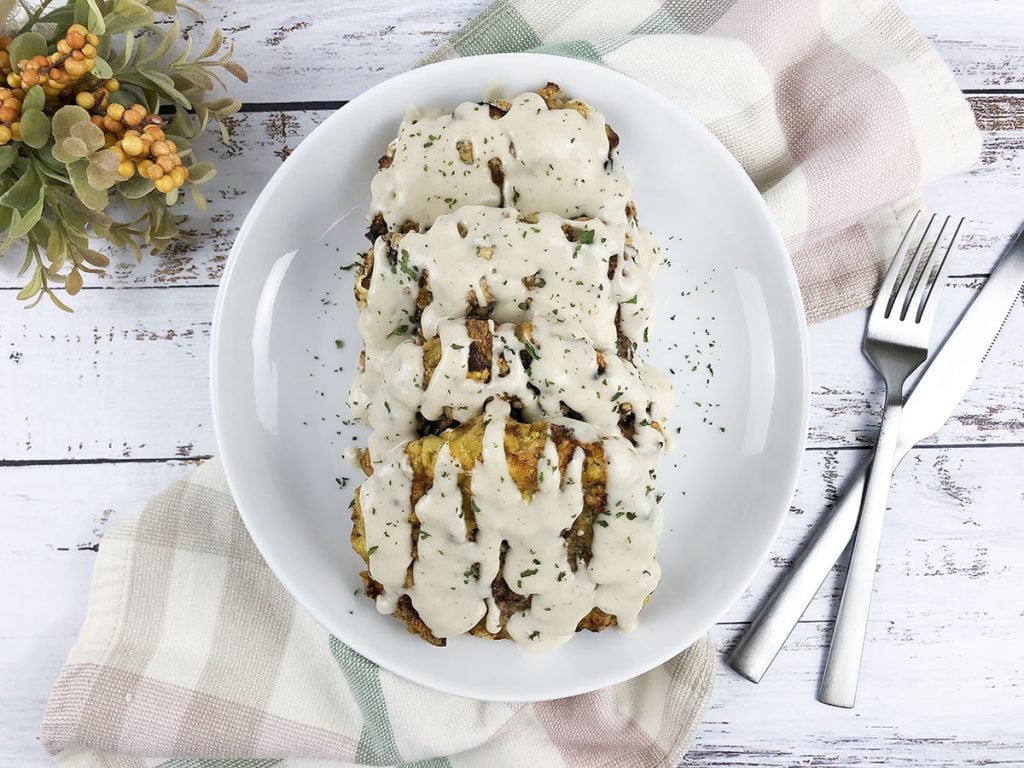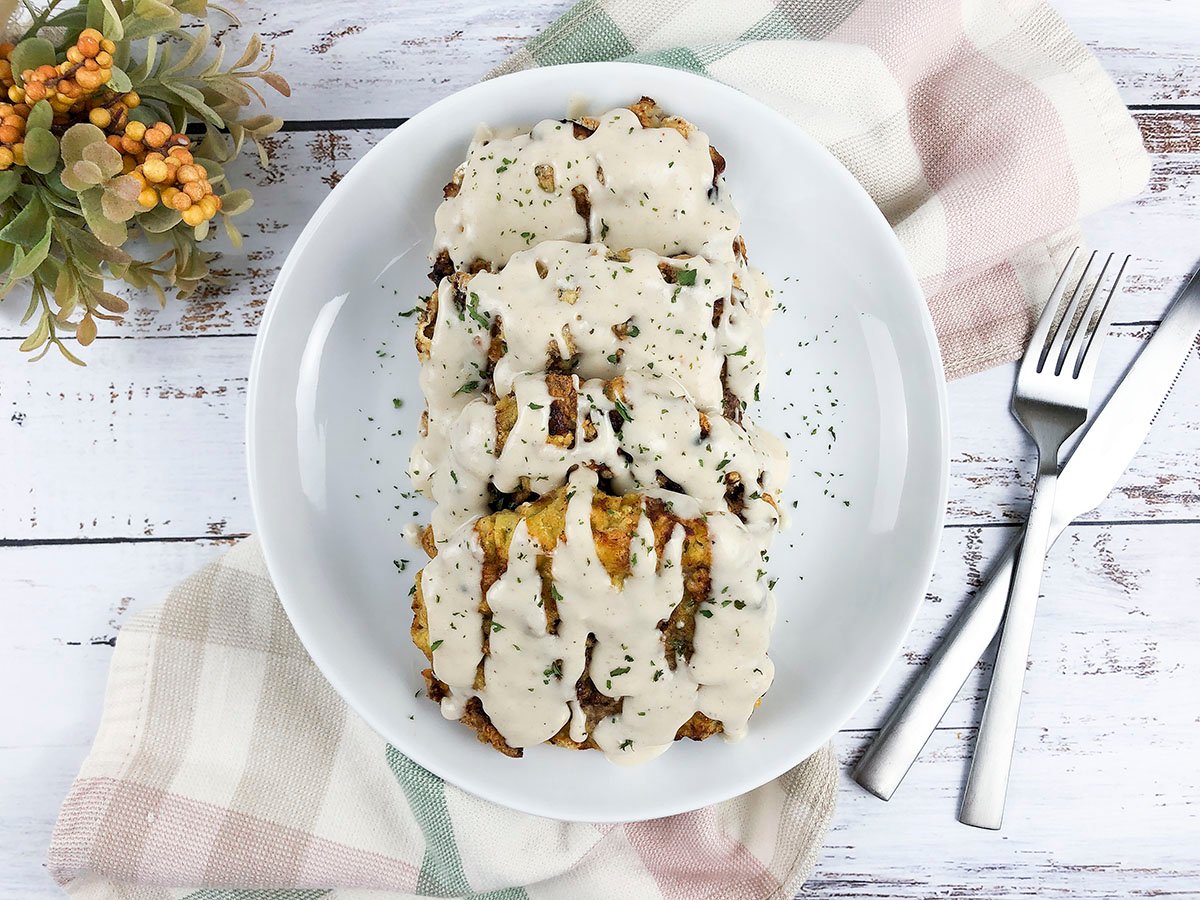 This post may contain affiliate links. If you make a purchase after clicking a link, I may earn a small commission AT NO COST TO YOU. As an Amazon Affiliate, I earn from qualifying purchases.
Air Fryer Country Fried Steak = Same flavor, less calories!
Why we love this recipe
It's made in the air fryer and not deep fried in oil, so it rings up with less calories
It uses inexpensive cuts of meat so your grocery budget goes further
The gravy recipe with this dish is divinely delicious!
It takes little time in the kitchen to make and there's no need to heat up oil on the stovetop.
What is chicken fried steak?
Chicken fried steak or country fried steak is a cutlet style dish that consists of breading and frying a beefsteak. This can be done using cubed steak or even ground beef formed into patties but pretty much any boneless cut can be used for a tender beef center.
The breading is similar to the breading traditionally used in fried chicken and once they are fried, it leaves your meal with a crispy comfort food dish you would expect from something named after a classic fried chicken.
Ingredients needed for this dish
Cube Steaks: Cube steak is easily found in the grocery store, but if you have tougher steaks you'd like to use up, simply pound them ½″ thin with a meat mallet to help break up the fibers.
Flour
Eggs
Milk
Butter
Seasonings
Oil for air frying (Using a Misto or oil in a spray can)
How to make chicken fried steak in the air fryer
Making air fried country fried steak is easy to do and a great way to get a meal going with less work. As for what air fryer is best to use for this recipe, I have used both my Ninja Foodi with the air crisping function, as well as my Cosori Air Fryer. I say use what you have as long as the temperature will reach 390 – 400.
One of the best things about using the air fryer is that you do not have to watch it as much as you do when frying on the stovetop, freeing up your hands for the gravy and side dishes.
To get a crispy finished product you need to preheat your air fryer while you prep your cutlets. The dry breading used in chicken fried steak is perfect for the air fryer, unlike wet batters.
To make a dry batter you will make a mixture of eggs and milk to dip the meat into before dipping into dry flour and seasonings. This method is best for any fried food in the air fryer.
After breading spray with oil to create an even coating. I like to use this oil mister because the oil comes out evenly and it helps to ensure that all areas of the breading to get an even crisp. When flipping the food, repeat spraying oil to help get the best crisp possible.
Serve right after removing from the air fryer to prevent it from getting soggy. Like fried chicken, this is best served fresh.

Check below for the full printable recipe in detail to make this dish.
PRO TIP: Use a healthy spritzing oil like olive oil or avocado oil to spray on the top of the cutlets. Avocado oil in particular has a high smoking point and is a great alternative to vegetable oils.
Making the gravy for your country fried steak
Chicken fried steak is amazing when served with freshly made gravy. Normally you would use the drippings from frying your chicken fried steak in a pan on the stovetop to make the gravy.
There's no need for all that fuss because you can make a simple but incredibly delicious gravy using a butter base.
This has the benefit of allowing you to make the gravy at the same time you are cooking the chicken fried steak in the air fryer, thus allowing you to get more done at one time.
Can I change the seasonings in my air fryer country steak?
One thing you may be wondering is if you can alter the seasonings for this dish to suit your needs. The breading for chicken fried steak can be altered to match your favorite fried chicken recipe!
Any seasoning that you like in your fried chicken will work wonderfully for this. You can also opt to season the meat and let it sit overnight to marinate for more flavor. Montreal steak seasoning is one of my favorites for this but a good tip is to avoid using a wet marinade that can leave the breading soggy.
What can I serve with my air fryer steak?
Well, my first choice would be mashed potatoes, like these Instant Pot Mashed Potatoes with Caramelized Onions, because they scream comfort food, and you need something more to help sop up the extra gravy!
Another great idea for a side dish would be these 3 Minute Instant Pot Maple Butter Carrots. The sweetness is a super contrast to the savoriness of the air fryer steak.
Leftovers
IF you have leftovers, reheating them can be done in the microwave, although the initial crispiness of the coating won't be there.
Alternatively, you can reheat them for a few minutes in the air fryer. Keep an eye of them as they can easily burn and dry out.
I wouldn't recommend freezing air fried chicken steak because the coating won't be very nice upon thawing.
Well, my friend, I hope I've convinced you to try making this delicious chicken fried steak in your air fryer. I really think that once you try it, you won't go back to shallow frying in oil on your stovetop.
I hope that you give this recipe a try and when you do, please let me know what you think by leaving a ***STAR RATING*** and comment below, or shoot me an email at Joanne@thesaltypot.com.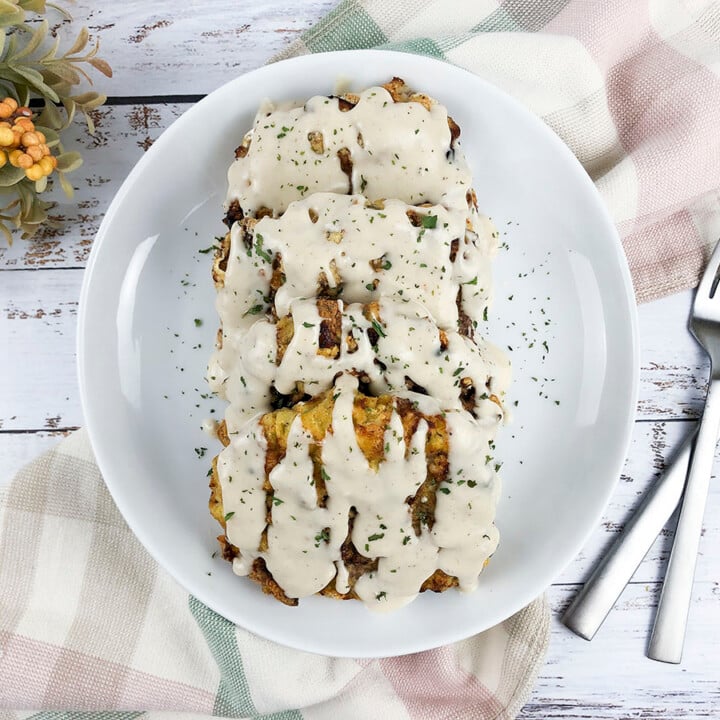 Air Fryer Chicken Fried Steak and Gravy
Air Fryer Country Fried Steak has all those traditional flavors but in a healthier way using your air fryer. Delicious is still on the menu!
Ingredients
4 cube steaks
⅓ cup flour
Salt & pepper
½ teaspoon garlic powder
¼ teaspoon thyme
1 ½ teaspoons onion powder
½ teaspoon baking powder
2 eggs, whisked
⅓ cup milk
Dash hot sauce, *optional
GRAVY:
2 tablespoons butter
2 tablespoons flour
1 cup milk
Salt and pepper as desired
Pinch of cayenne *optional
Instructions
1. Season the steaks with salt, pepper and garlic, both sides, and set aside.
2. In a shallow dish combine dry ingredients until well incorporated.
3. In a separate shallow dish, whisk together eggs, milk, and hot sauce (if using).
4. Start to preheat the air fryer at 350 for five minutes.
5. Meanwhile, begin to dredge the steaks in flour making sure the flour sticks well to the steak, then dip the steaks into the egg mixture, then dredge back into the flour again - repeat this process for
each steak.
6. Turn the air fryer to 400 degrees and mist the steaks with nonstick spray
7. Cook steaks 5-7 minutes on each side, spraying with nonstick spray before flipping
over.

Gravy:
In a skillet melt butter over medium-high heat then whisk in flour and cook for about 2 minutes
Whisk in milk slowly, stirring constantly until thick - use more milk if needed to reach
desired consistency
Remove from heat and season with salt, pepper, and cayenne
Spoon gravy over steaks, serve, and enjoy!
Notes
1. Remove the steaks from the fridge approximately 15 - 20 minutes before cooking so that they come to room temperature. You'll get a more even crisp/cook on the steaks.
2. Pat dry the steaks before you season them. The seasoning will stick better as will the flour and other ingredients if the steaks are patted dry as possible.
3. Depending on the thickness and size of your cutlets, you may need to increase the air frying time. Checking with a meat thermometer, the ideal internal temperature is 155 F - 165 F.
4. Use these air fryer parchment paper liners to reduce your clean-up time.
Nutrition Information:
Yield:

4
Serving Size:

1 cutlet
Amount Per Serving:
Calories:

391
Total Fat:

22g
Saturated Fat:

10g
Trans Fat:

0g
Unsaturated Fat:

9g
Cholesterol:

193mg
Sodium:

377mg
Carbohydrates:

16g
Fiber:

1g
Sugar:

4g
Protein:

30g
All nutritional information is based on third-party calculations and is only an estimate. Each recipe and nutritional value will vary depending on the brands you use, measuring methods, and portion sizes per household.