20 Best Salad Recipes That Are Sensational!
Let's talk about the best salad recipes for summer that are sensational!!! Often, when we're grilling or at cookouts with family and friends, salads are on the menu for a number of reasons. They lighten up the meal that's often grilled/bbq meat mains, PLUS they feed a crowd!
Let's get going with the list, there's no time to wait, summer is here!!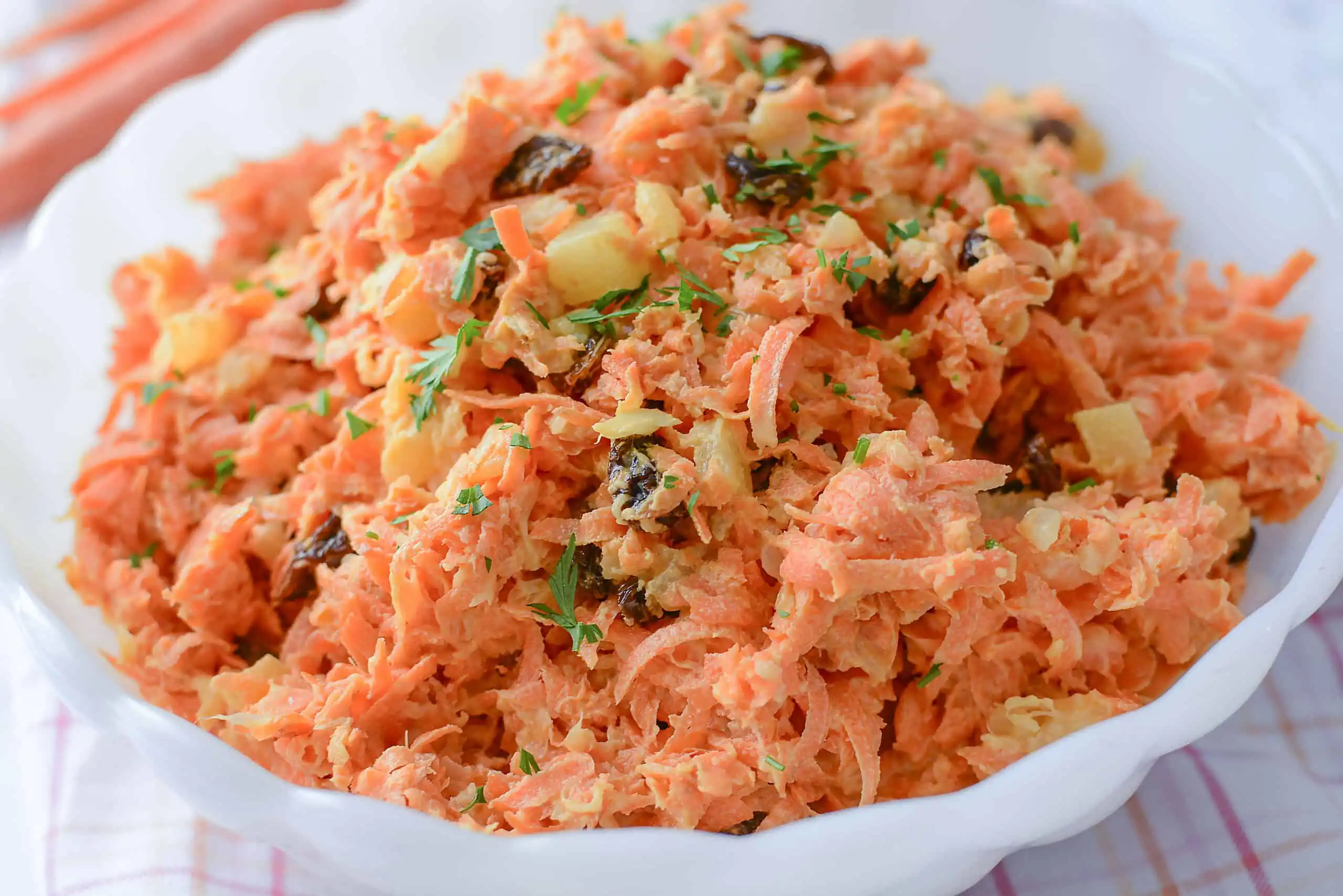 Shredded Carrot Raisin Pineapple Salad
If you are looking for a refreshing way to use up fresh carrots from the garden or on sale in your local produce section you will love this sweet flavorful salad that is easy to make and packed with flavor.
Asian Cucumber and Carrot Salad
This salad has a hint of some of your favorite Asian flavors to help bring the carrots and cucumbers up a notch. If you like some sauce try adding a bit of homemade hot honey for an extra kick. Serve this chilled for a refreshing dish on a hot summer day.
This corn salad is the perfect treat as corn goes on sale for next to nothing this time of year. Make the most of the sales and feed your family this classic corn salad with crispy chunks of bacon that is sure to please just about everyone.
Shaved Carrot Salad with Sweet Orange Dressing
If you are looking for a crunchy and sweet salad to hit the spot on a sunny summer day you will love this shaved carrot salad. Put carrots, radishes, and celery from the garden to work in this easy-to-make flavorful dish.
Cranberry Chicken Salad with Pecans
If you love chicken salad you will love this version with cranberries and pecans making the perfect summer lunch or snack.
Is your garden overflowing with fresh cucumbers and tomatoes? Put them to use in this simple creamy cucumber and tomato salad that brings back childhood memories of my grandmother and her love of adding cream or butter to just about anything.
Looking for a sweet summertime treat to use the fruit you find on sale? This ambrosia salad will go well with nearly any fruit you have on hand and it makes the perfect easy dreamy summer treat.
Creamy Dill Pickle Salad with Pasta
I love creamy salads. This salad uses one of my favorite herbs to enjoy right out of the family garden. Dill. Many gardeners grow dill to help keep pests at bay and attract beneficial insects to the garden. This is a great way to use up that abundance.
Beet Salad with Avocado and Feta Cheese
This is a perfect way to use up your summer beet crop and take advantage of the avocado sales with this flavorful salad perfectly complimented by fresh feta cheese.
This pasta salad has the classic chicken caprese flavor which makes this pasta salad stand out from the crowd. This will be a hit as the pasta salad for your next cookout or potluck.
This bright summery salad is the perfect Mediterranean addition to your summer table. The olives bring the flavor home for an amazing summer salad.
Want to kick your summer menu up a notch? You will love this spicy southwest salad. Add just the spice to the perfect level for a southwestern or TexMex style salad that is sure to be a summer staple.
Incredibly Easy Pesto Pasta Salad
If you love pesto and have an abundance of basil you will love this pesto pasta salad that uses up plenty of fresh basil.
This BBQ Chicken salad is a great option for you if you like the salad from Panara. This creator made their own BBQ ranch dressing but you can use any dressing you want.
If you love salmon you are sure to love this twist on the classic Caesar salad with fresh salmon instead of traditional chicken for a seaside summer flavor.
Smoked Mackerel Salad with Apple and Bacon
If you prefer mackerel over salmon you will absolutely love this mackerel salad that puts fish, bacon, and apples together for the perfect sweet salty, and slightly tart salad.
If you like kale you will love this salad that balances out the flavor with fresh orange and dried cranberry.
Persimmons are one of those things we do not always know what to do with. This salad makes use of your fresh persimmons for the perfect sweet and savory summertime salad.
Keep going, for more Sensational Best Summer Salad Recipes!!!
Roasted Bell Pepper and Eggplant Salad
Are you looking for a healthy and flavorful salad? This roasted summer salad will put the summer eggplant and bell pepper abundance to work.
Easy Shrimp Avocado Salad with Tomatoes and Feta
This festive salad with shrimp, fresh avocado, juicy tomatoes, and rich feta cheese is sure to stand out on the dinner table.
Grilled Flank Steak Salad with Strawberries
This savory salad has a kick of sweetness to make the perfect combination for dinner.
This simple cole slaw salad can be assembled in a jar for the perfect on-the-go summer lunch that lets you keep leftovers from going to waste.
Refreshing Watermelon Mint Feta Salad
This fresh salad turns watermelon a summer favorite into an unexpected surprise that is sure to hit the spot on a hot summer day.
Picnic Perfect Kale Quinoa Salad Cider Vinaigrette
This salad is the perfect option for grown-ups at the picnic. Packed with nutrient-rich kale, quinoa, and cider vinaigrette.
PIN this to your salad or side dish boards for easy future reference!!
I hope that with this awesome collection of the best summertime salads, you'll find something that would be a sure winner for your family's plates! And even if it's not summertime, these incredibly tasty salad recipes will be perfect any time of the year!