Creamy Dill Pickle Salad with Pasta. While it's a mouthful of words, it's also a mouthful of flavor! Veggies with a tangy dilly flavor, a nice crunch from the pickles and corn, a tender, comforting bite from the pasta covered in a delicious creaminess from the dressing, and a yummy richness from the cheese.
Yes, my friends, this salad has it all!
This post may contain affiliate links. If you make a purchase after clicking a link, I may earn a small commission AT NO COST TO YOU. As an Amazon Affiliate, I earn from qualifying purchases.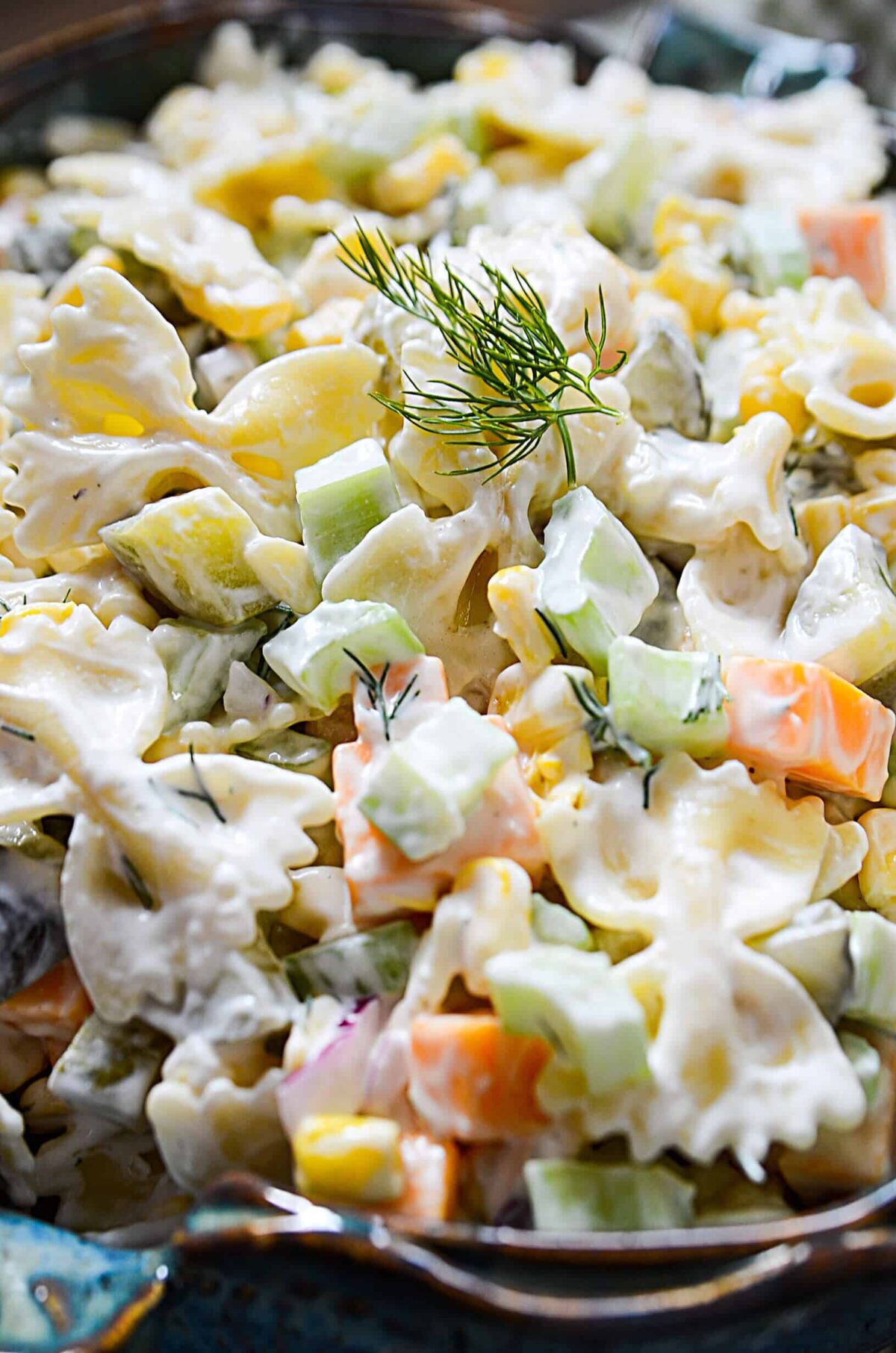 Creamy Dill Pickle Salad with Pasta Recipe
It might sound like a really weird combination to you, but seriously, give it a second. Find out why this combo works so well:
Dill pickles and cheese is a classic combination. (Think a burger with cheese and pickles, or appetizer skewers with cheese and pickles.)
Creamy and crunchy – the dressing is creamy, and yet the other ingredients give it a nice crunch making it a nice balance in textures.
Pasta – So the shape doesn't matter TOO much for this salad, but who doesn't like a great creamy pasta salad at a cookout?
Tangy flavors – Here again, the marriage of tangy pickle juice with the creamy dressing, along with the tangy crunch of the pickles in the salad – it's seriously something that's undeniably delicious.
Time – You can have this salad made and chilling in the fridge in under 30 minutes.
Ingredients You'll Need to Make this Pasta Salad
Pasta – I used bowtie pasta because I love the shape and I think it's a fun macaroni pasta shape to use for this salad.
Dill Pickles – The choice to use garlic dill pickles or just plain dill pickles is yours. I prefer to control the amount of garlic in the recipe, so I used regular dill pickles with no garlic. You should use your favorite kind.
Celery – Use fresh, crisp, and washed celery ribs.
Red Onion – Also known as purple onion.
Corn – It's easy to use canned or frozen. You can also cut the corn fresh off the cob and use it as well.
Cheddar Cheese – The bolder the better here, in my opinion. Sharp cheese is what I prefer to use.
Fresh Dill – If you can't use fresh, use dry dill. Just remember to use about half as much as dry dill is stronger in flavor than fresh dill.
Sour cream
Mayonnaise – Do not use salad dressing (aka miracle whip). Use a full fat Mayonnaise like Helman's.
Pickle Juice – The same juice from the jar where you get your pickles is perfect.
Seasonings
Cooks Tip: Did you know you don't need to 'cook' the corn that you cut off the cob? It's perfectly fine and safe to eat raw. Warming corn on the cob simply releases a phytochemical called ferulic acid, which can have certain health benefits, and makes it easier to melt all that luscious butter over it!
How to make this Dill Pickle Pasta Salad
Honestly, this salad is so easy and SO tasty to put together, you won't be sorry you gave it a go. It's basically cooking the pasta and cooling it down. Making the dressing and putting the veggies together with the pickles.
Start with boiling the bowtie pasta in salted water. Cook, drain, then cool. Add a small amount of oil to the pasta to prevent it from sticking together as it cools.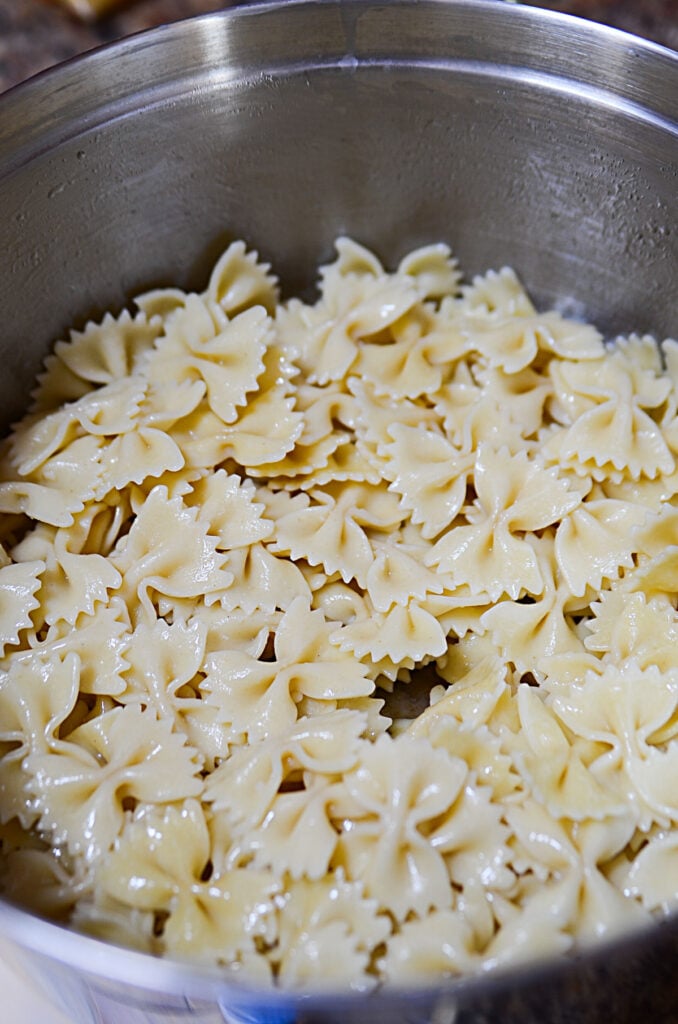 2. After the pasta is cool, add the rest of the vegetable ingredients.
3. In a separate bowl, combine the dressing ingredients.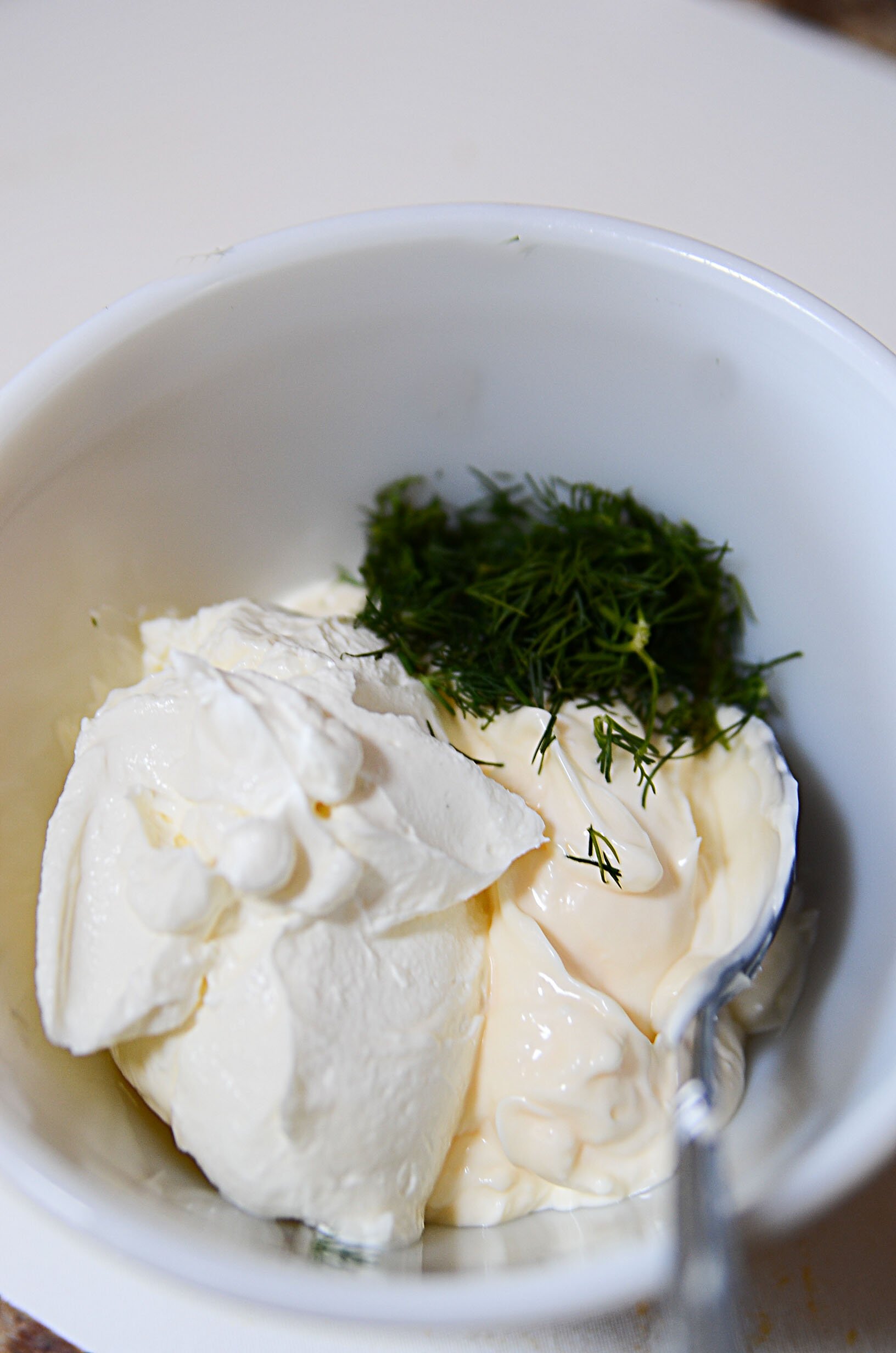 4. Add the dressing to the pasta ingredients and mix well. When fully combined, cover and chill for at least 30 minutes to allow the flavors to meld together.
Tips and Tricks to make this Dill Pickle Veggie Pasta Salad Perfect
Make the salad the morning of when you want to serve it. It gives the flavors a lot of time to mingle and be besties.
Leave the cheese cubes out until you're just ready to serve. It's nice to have them cheesy firm instead of slightly soft in the salad, but honestly, it's your call. Adding it all together will totally work as well.
Don't overcook the pasta. There'll be a lot of tossing and folding in this prep, so if the pasta is too soft, it's going to break up and not look pretty.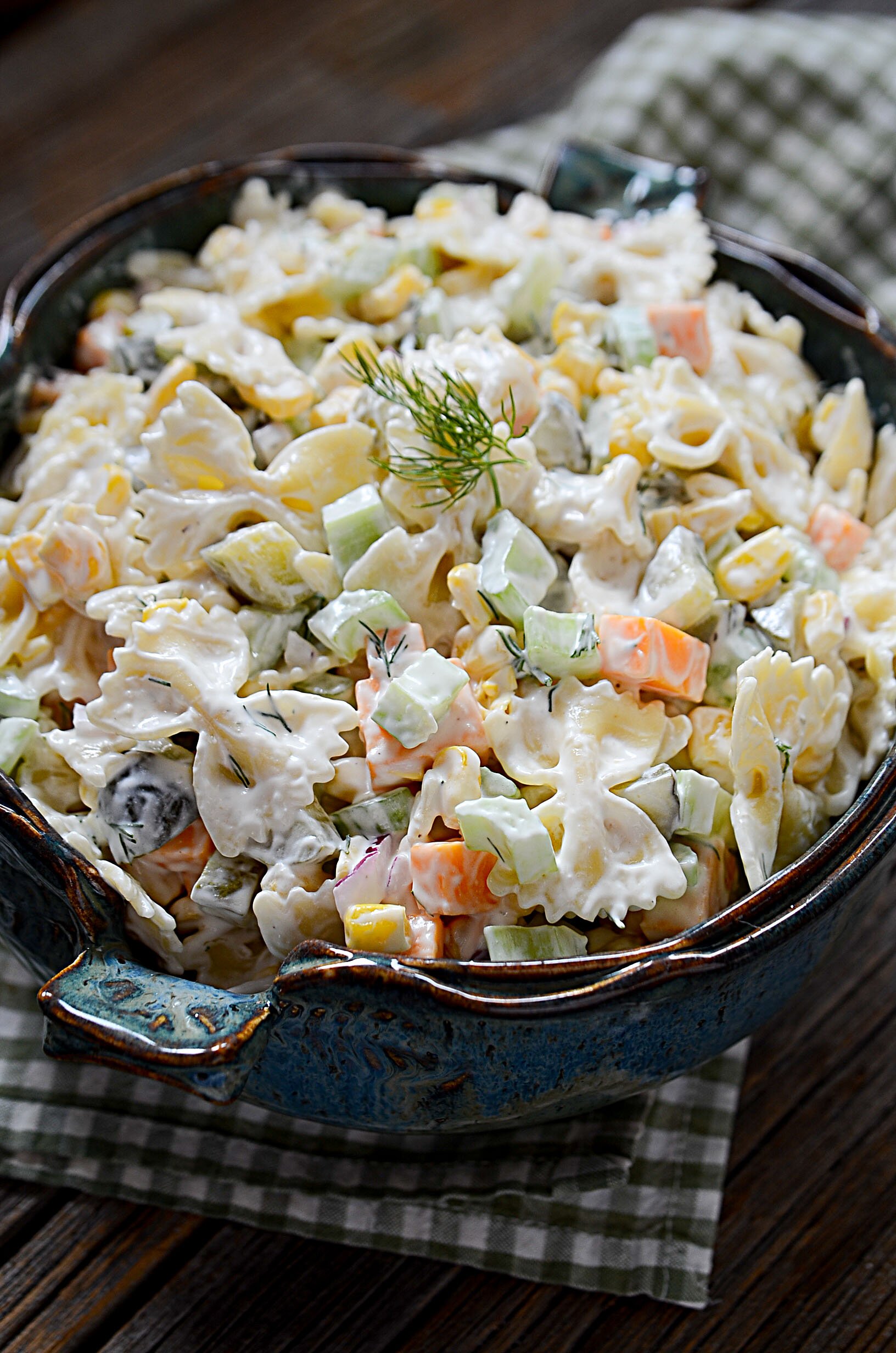 When I made this salad and served it at a mother's day brunch, there were a lot of requests for the recipe! I think the fact that it's a bit different than your typical pasta salad recipe makes it a crowd-pleaser.
Storing and Leftovers
Store this salad in the fridge, covered, right up to the time you're ready to serve. It's best served slightly chilled (in my opinion). It's fine to serve at room temperature but it's a good idea not to allow the salad to sit at room temperature or, outdoors for more than an hour. The dressing contains mayonnaise which can cause food poising issues if left out too long.
Switching Up This Pasta Salad Recipe
Ways to put your own twist on this recipe is really easy.
Try using different pasta shapes other than bow toes. Penne, fusilli, macaroni, or even radiatori pasta will be fine alternatives.
Using different types of pickles can also change the flavor profile slightly. Keep it to a tangy pickle (don't use sweet bread and butter pickles) such as garlic dills, cornichons or even sour pickles would be delicious.
Switch the cheese that you use. Using a spicy jalapeno Harvarti, or Pepperjack cheese would be a great substitute for the cheddar.
Add more veggies like diced carrots or fresh peas.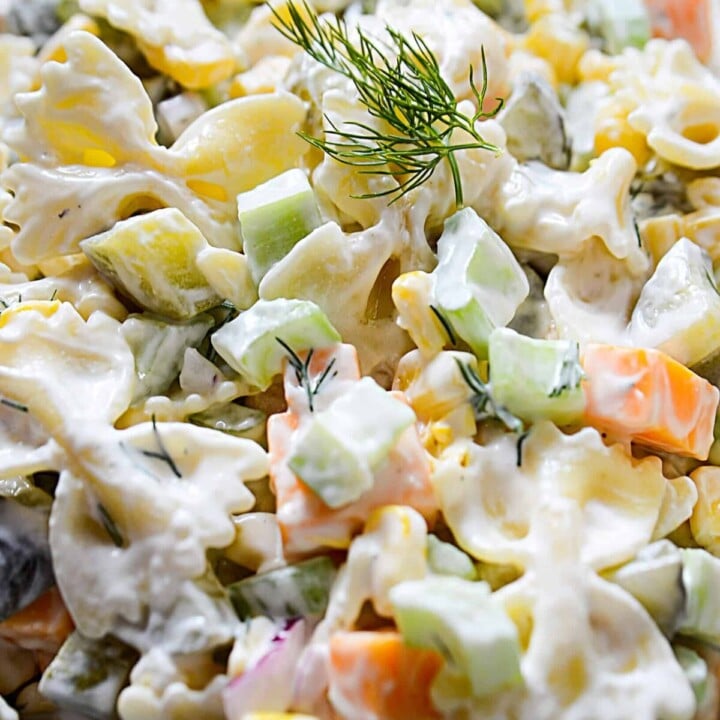 Creamy Dill Pickle Salad with Pasta
Yummy, tangy, creamy, and crunchy! Creamy Dill Pickle Salad with Pasta has it all. It's perfect for any occasion and ALWAYS gets people asking for the recipe.
Ingredients
8 oz bowtie pasta
3 ribs celery, diced
1 cup corn niblets
¼ cup red onion, diced
4 - 5 dill small pickles, with or without garlic, your preference, diced small
1 cup cheddar cheese, cut into small cubes
1 cup mayonnaise
½ c sour cream
1 tablespoon or more of dill weed, chopped (fresh). If using dry, only use ½ tbsp.
4 tablespoon pickle juice
salt and pepper
Instructions
Cook pasta according to package directions. Drain and let cool
In a bowl, combine the dressing ingredients and set aside.
In another bowl, combine the cooled pasta, red onion, corn, pickles, and celery. Toss well.
Add the dressing and fold to combine well.
Refrigerate the salad minimum 1 hour.
Add cheese just before serving.
Enjoy!
Notes
Feel free to switch up the pasta by using your favorite shaped pasta. Try macaroni, fusilli, penne, etc.
Switch up the cheese for something with a bite like pepper jack cheese or even jalapeno Havarti. Or, feel free to leave the cheese out altogether if you're not a fan.
Nutrition Information:
Yield:

10
Serving Size:

1 cup
Amount Per Serving:
Calories:

281
Total Fat:

23g
Saturated Fat:

6g
Trans Fat:

0g
Unsaturated Fat:

16g
Cholesterol:

28mg
Sodium:

469mg
Carbohydrates:

14g
Fiber:

1g
Sugar:

3g
Protein:

5g
All nutritional information is based on third-party calculations and is only an estimate. Each recipe and nutritional value will vary depending on the brands you use, measuring methods, and portion sizes per household.