Classic ambrosia salad – is it REALLY a salad, or is a dessert we eat at the same time we eat dinner? All I know is that I thank God for whoever invented it.
Ambrosia fruit salad is loaded with tons of flavor, and you guys are going to love it! Take this ambrosia salad to the next potluck, barbecue, or family gathering, and I promise your friends and family are going to go crazy for it. Not only does it taste phenomenal, but it also gives an impressive presentation.
Okay, I am not going to make you wait any longer! Let's get down to business, and I will tell you about this fantastic classic ambrosia salad recipe.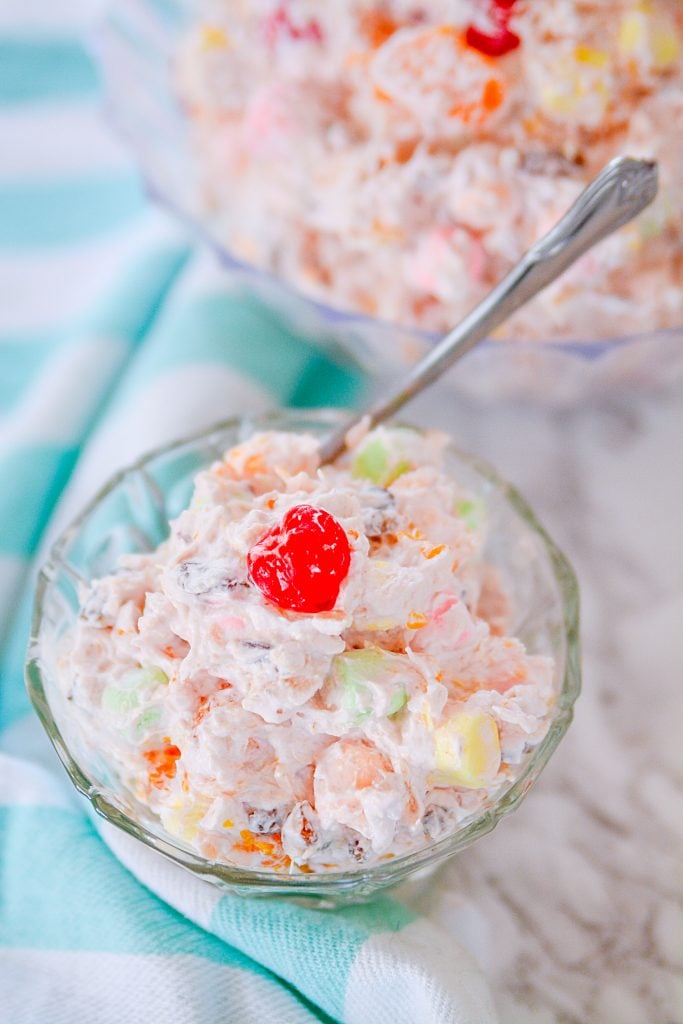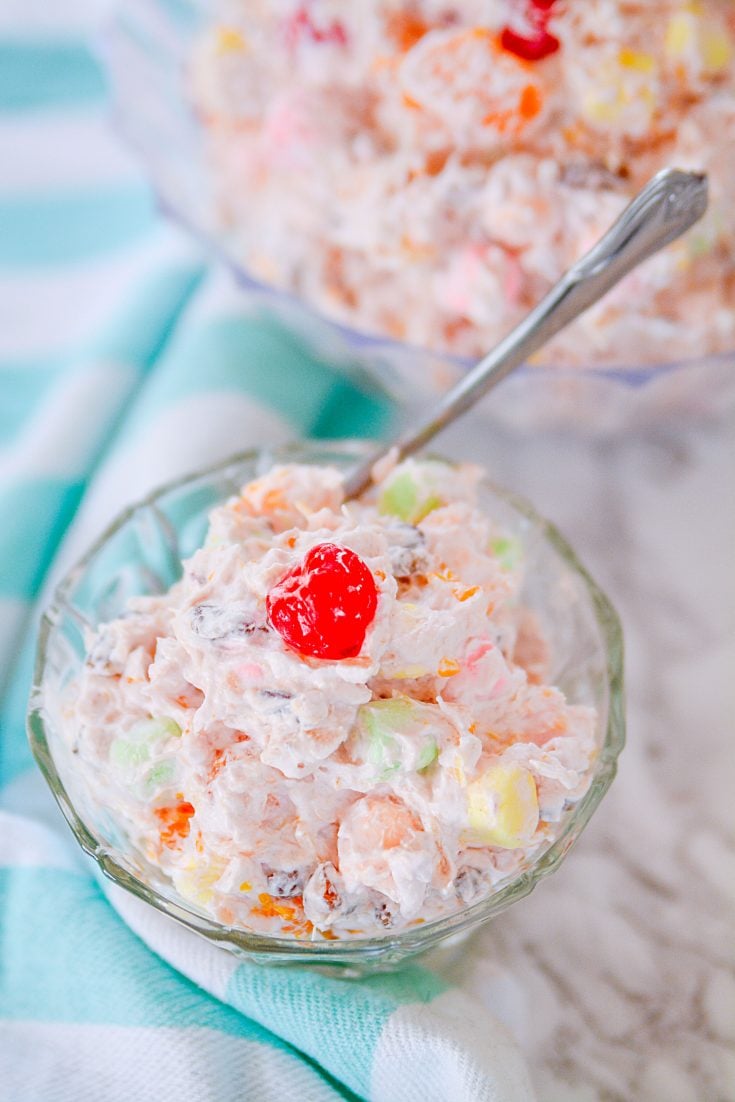 How To Make Ambrosia Salad
You all are legit going to be thrilled with how easy it is to make this classic ambrosia salad. There isn't much to it, and you can whip it up in no time! Here are the easy to follow instructions for your new favorite dessert:
STEP 1: Add cherries, oranges, and pineapple to a bowl, then set aside.
NOTE: Make sure to drain off the juice before adding the fruit to the bowl. Otherwise, you will have a lot of extra liquid in the bottom of the ambrosia fruit salad.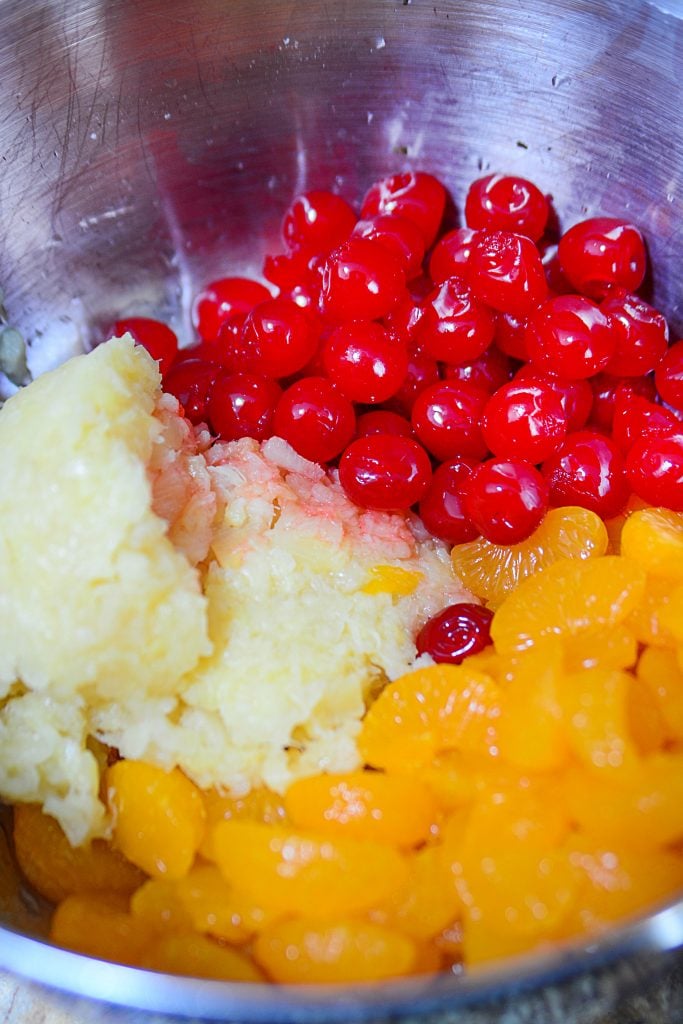 STEP 2: Gently fold the Cool Whip and cherries in a separate bowl.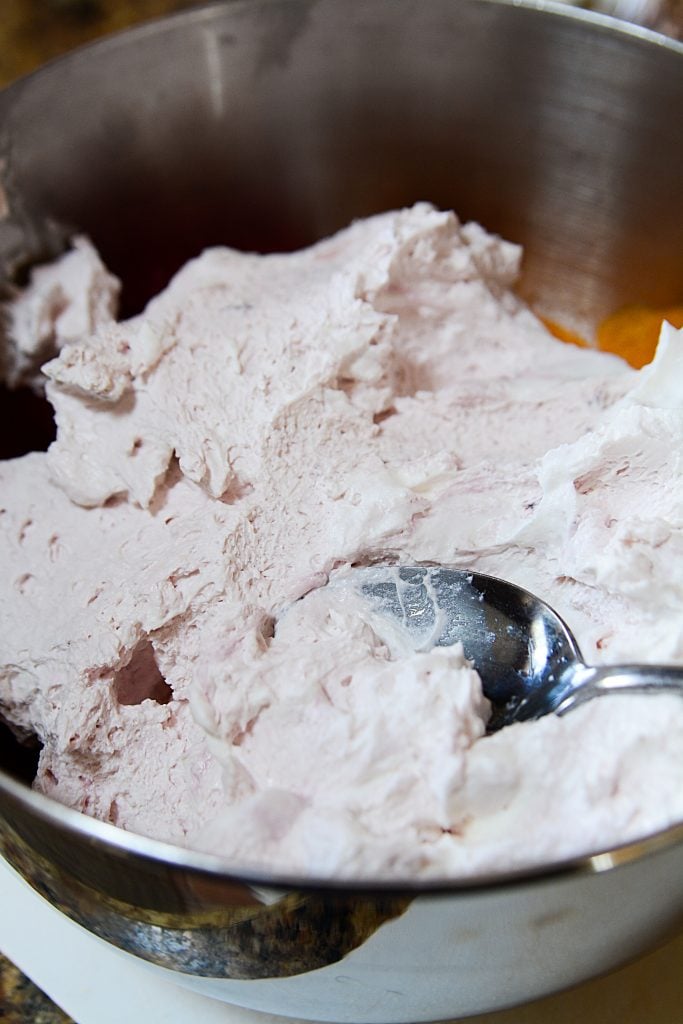 STEP 3: Add together the Cool Whip mixture and the fruit and gently mix together.
NOTE: Make sure not to overmix it, you want the fruit to not get mushy!
STEP 4: Finally, add the pecans and marshmallows. Mix everything together and refrigerate for at least 30 minutes before serving.
NOTE: Don't skip refrigerating the classic ambrosia salad because that is when the flavors really blend together to make the perfect marriage!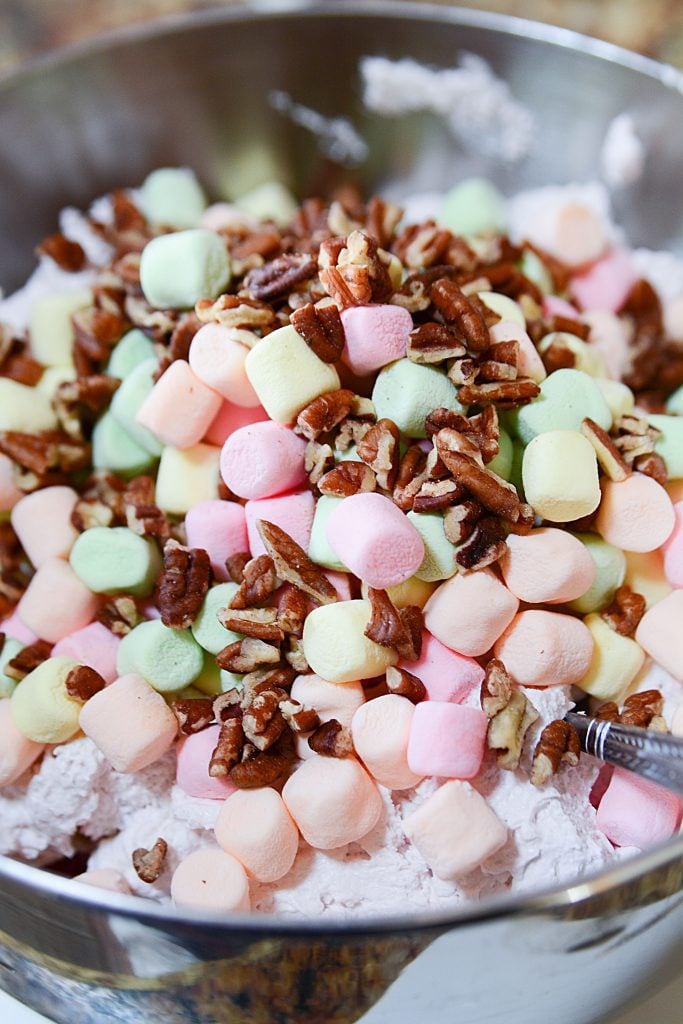 What Exactly Is Ambrosia Salad?
You may be asking yourself what in the world ambrosia salad is if you have never heard of it. Ambrosia salad is just a fancy term for fruit salad. Notoriously, it has pineapple, oranges, and cherries along with marshmallows and whipped cream. You will find several varieties, and there is no wrong way to make it. It tastes good no matter how you mix it! Trust me on this. 🙂
When Should I Serve Classic Ambrosia Salad?
Obviously, ambrosia fruit salad with Cool Whip is super easy to make! The advantage of making quickly is that you can whip it up on a whim and take it with you. I like to make it for dessert regularly at home, but there are many other times you may want to serve this ambrosia salad recipe. Here are a few ideas:
Weddings
Funerals
Baby Showers
Wedding Showers
Birthday Parties
Potluck Dinners
Barbecues
Dinner Parties
Best Ambrosia Salad Variations
Naturally, this ambrosia salad is terrific just the way the recipe is written. Sometimes I like to change it up, so we don't get bored. Try these ideas for a fun treat:
Nuts – This ambrosia recipe calls for pecans, but you can also use almonds, cashews, walnuts, peanuts, or any other kind of nut you like.
Coconut – If you are a coconut fanatic, you should toss in ¼ or ½ cup into the fruit salad.
Marshmallows – I used colorful marshmallows because they are super cute and I love the colors! However, you could use regular marshmallows if that is what you have on hand.
Grapes – They add extra sweetness and fun texture to the ambrosia dessert.
Bananas – You can't go wrong with tossing in some chopped banana to the salad. So yummy! (Just remember to add them last minute so they don't brown!)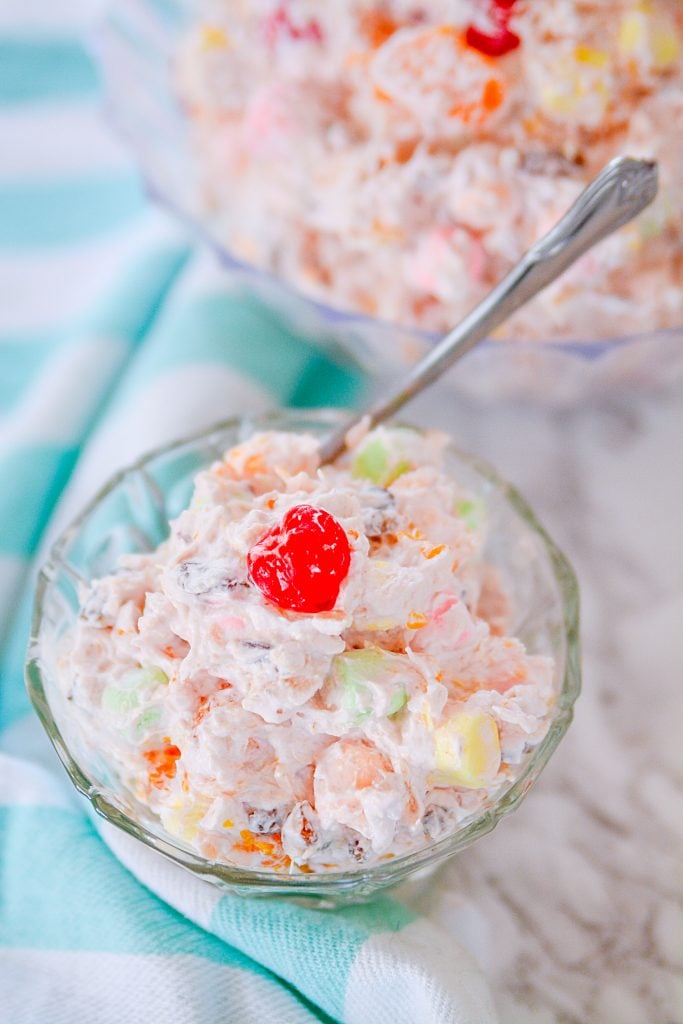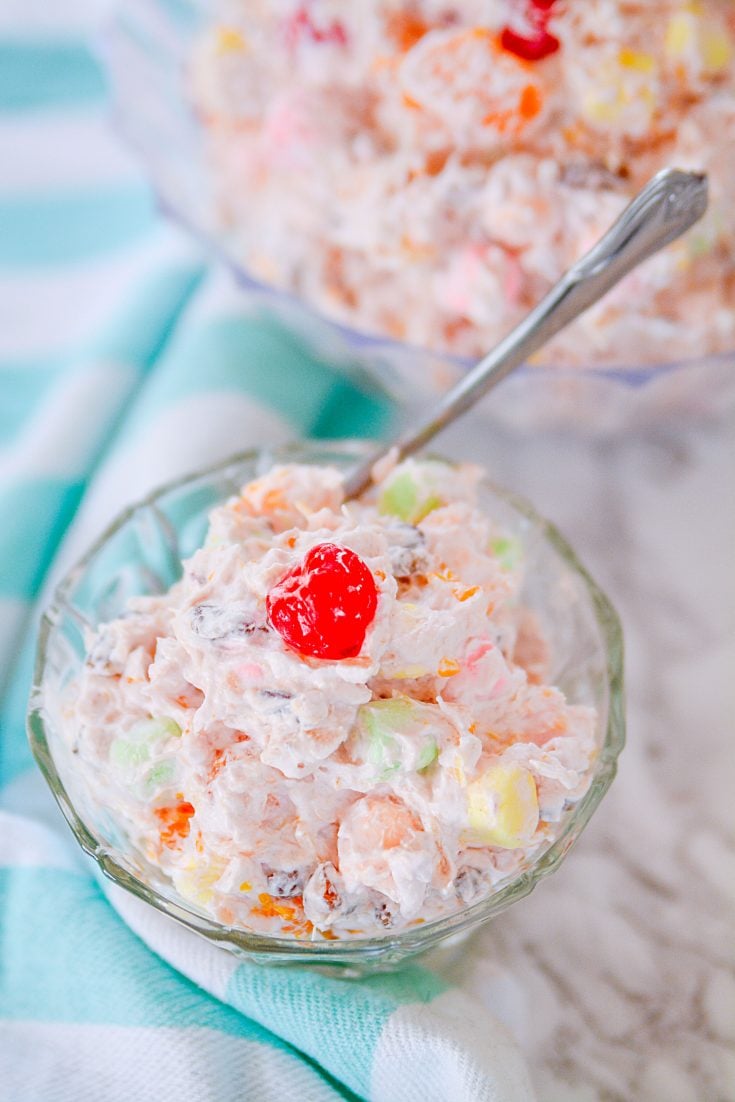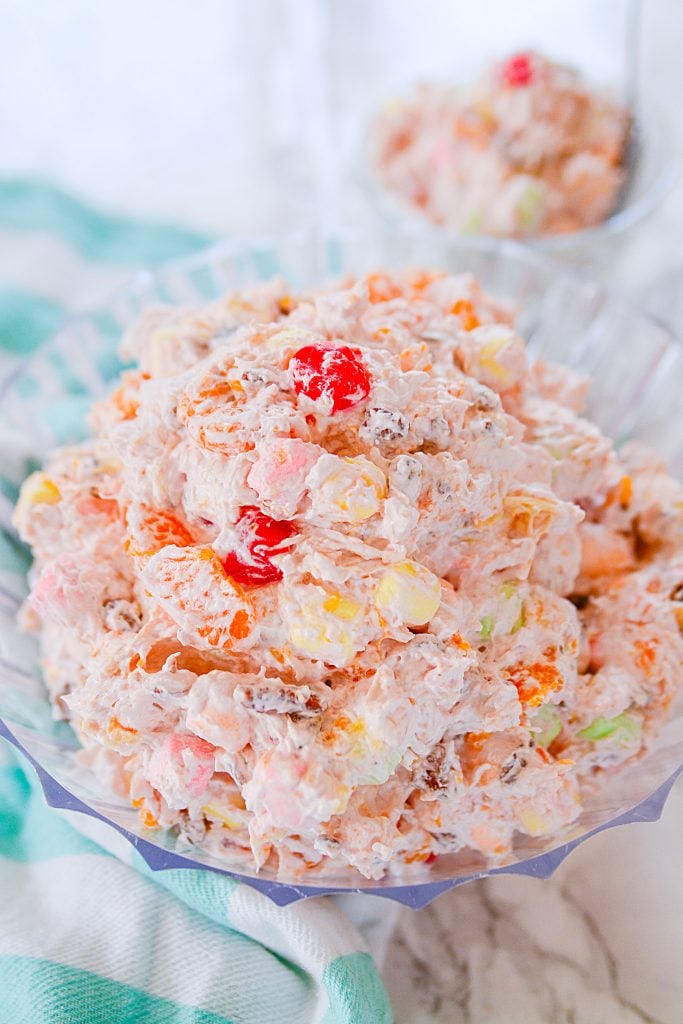 How Long Does Classic Ambrosia Salad Last?
As long as you keep leftover classic ambrosia salad in the fridge in an airtight container, it will last around 3 days. Another option is to put the leftover ambrosia fruit salad in a baking dish. Cover it with a lid so no air can get to it then place it in the freezer. Then when you are ready to serve, you can scoop it with an ice cream soup! Such a cool and refreshing twist on a super cool dessert that is sure to bring a smile to your face.
In the mood for some more salad recipes? Take a look at these tasty salads & other amazing barbecue recipes. All of these recipes are perfect to mix and match with, for any occasion!:
As I said earlier, there's a lot of different ways to make ambrosia salad, but the recipe below is the CLASSIC way to make it. So mix it up or make it the classic ambrosia salad, either way, the biggest dilemma will be to serve it as a dessert or as a side! (Why not both? lol!) Thanks so much for stopping by The Salty Pot today! Have a wonderful day!
**OH! DON'T FORGET TO SAVE THIS CLASSIC AMBROSIA SALAD RECIPE TO YOUR FAVORITE PINTEREST BOARD TO USE FOR LATER!!**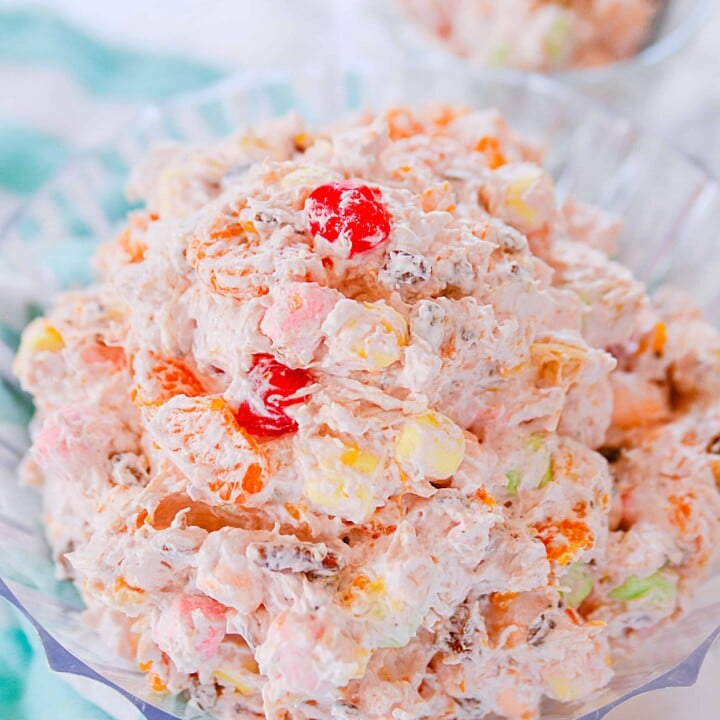 CLASSIC AMBROSIA SALAD
Additional Time:
30 minutes
Fruity, creamy, marshmallowy, and sweet. This classic ambrosia salad has everything you could want from a side salad... or maybe a dessert! Or, maybe BOTH!
Ingredients
1 pkg fruity mini marshmallows
1 jar (12 oz) marashino cherries, no stems, drained
1 tub cool whip
1cup cherry flavored yogurt
1 can crushed pineapple, drained, 18 oz
2 x 10 ounce cans mandarin orange segments, drained
½ cup pecan pieces
Instructions
In a bowl combine the cherries, oranges and pineapple. Set aside.
In another bowl, fold together the cool whip and cherry flavored yogurt.
Add the cool whip mixture to the fruit and fold together carefully.
Add the pecans and the marshmallows. Fold together again to completely mix together.
Cover and refrigerate for at least 30 minutes. *see notes
Notes
Be sure to drain the fruit as much as possible as you don't want the extra juices collecting at the bottom of the bowl.
Letting the salad chill in the fridge will help the flavors blend together.
Nutrition Information:
Yield:

8
Serving Size:

1 cup
Amount Per Serving:
Calories:

121
Total Fat:

5g
Saturated Fat:

1g
Trans Fat:

0g
Unsaturated Fat:

4g
Cholesterol:

1mg
Sodium:

17mg
Carbohydrates:

18g
Fiber:

2g
Sugar:

15g
Protein:

2g