This Asian Cucumber and Carrot Salad is perfect for practically any event or summertime cookout. It's cooling on the hottest days and has Asian-inspired flavors that we love so much.
It is crazy easy to make, uses only a few ingredients, and can be easily prepared ahead of time.
Keep reading and we'll talk not only about how to make it, but the best way to serve it, and how to store it, and I'll give you a few ideas on how to make it totally unique to you.
This post may contain affiliate links. If you make a purchase after clicking a link, I may earn a small commission AT NO COST TO YOU. As an Amazon Affiliate, I earn from qualifying purchases.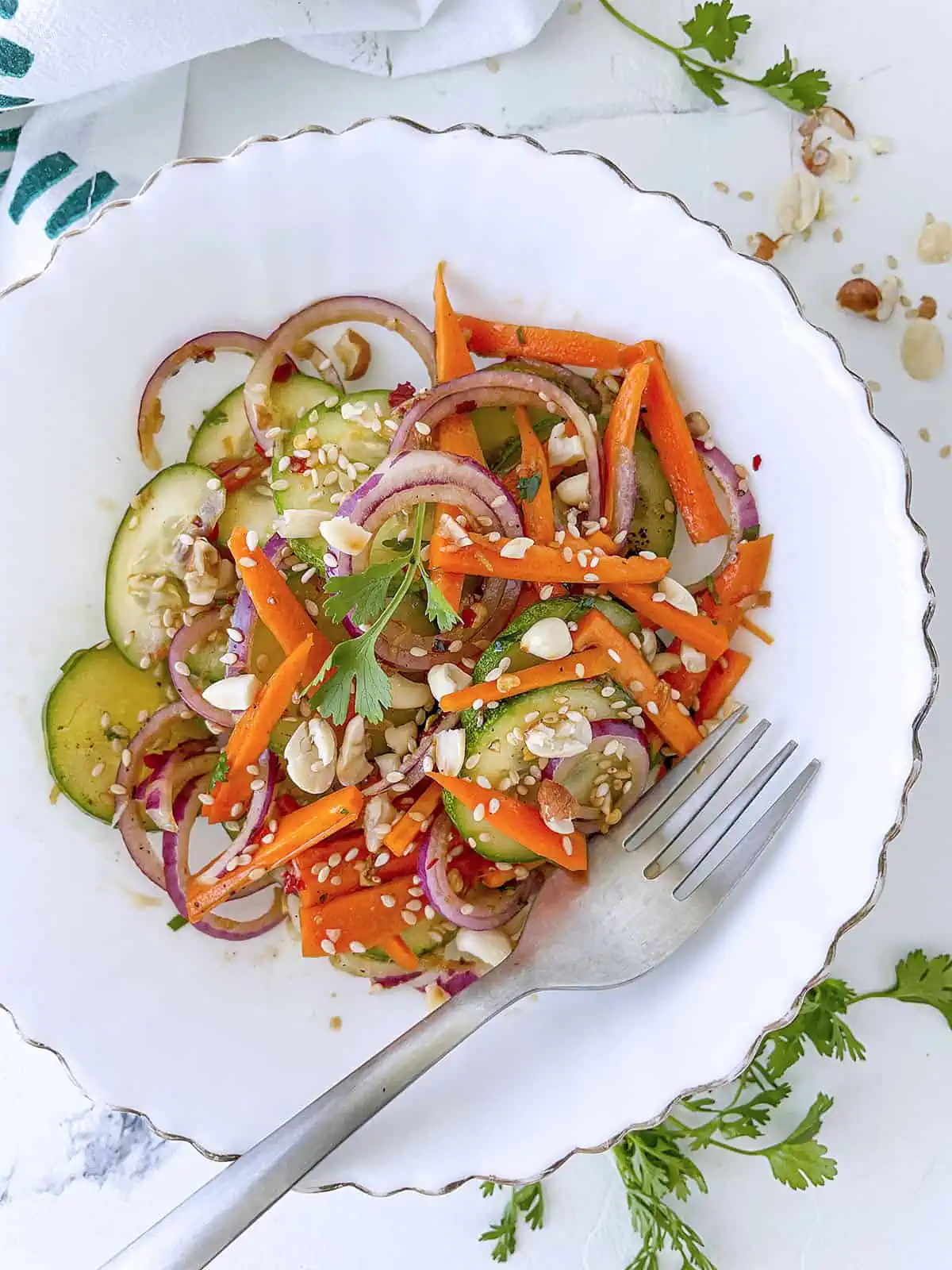 Asian Inspired Carrot Cucumber Salad
Recipe Highlights
This salad takes less than 10 minutes to prepare and it's easily made ahead of time.
It's nice and refreshing on hot days because it's juicy, crisp, and served chilled.
The main vegetables are inexpensive, and the dressing ingredients are easily found in the Asian food aisle of your grocery store.
Ingredients Needed For This Cucumber Carrot Salad
Carrots and Cucumbers – In the summer there is a bounty of fresh veggies at the farmers market. This is where I recommend finding the freshest produce, but if you don't live close to one, picking them up from the grocery store is completely fine. For the carrots, look for ones that still have the tops on them as they tend to be a bit fresher than the bagged variety.
Onions – This salad has red onions because that's what I had on hand. If you don't have red (or sometimes called purple onions), green onions/scallions/spring onions will do, and in a pinch thinly sliced sweet onions would be fantastic with this salad.
Vinegar – Rice vinegar, white or red wine vinegar are the best choices here. If you have none of those on hand, using regular vinegar will be ok.)
Soy Sauce – Reduced sodium is fine to use with this recipe.
Honey – Don't use creamed honey. Use liquid, or even make homemade hot honey to add a bit more zip to the dressing!
Sesame Oil – Easily one of my most favorite condiments, its deep toasted flavor elevates almost any Asian dish you add it to. Just remember a little goes a long way!
Sesame seeds – Regular are fine, but toasted or roasted add even more flavor!
Ginger – Fresh is your best choice, but powdered is fine. I recommend starting with half the amount and then tasting to see if you need more. Powdered ginger can be stronger than fresh sometimes.
Dried Chili Flakes – I've recommended an amount in the recipe but use as much or little as you desire. If you have fresh chilis on hand, feel free to use them!
Cilantro – I recommend ONLY using fresh cilantro for this recipe. (well, for any recipe, actually). I find that dried cilantro often loses its punch and fresh flavor when dehydrated.
Garlic – Freshly minced is wonderful but powdered or granulated is great. Please do not use garlic salt.
Roasted Peanuts – Optional, but when crushed and used as a garnish, they're a wonderful addition to this salad.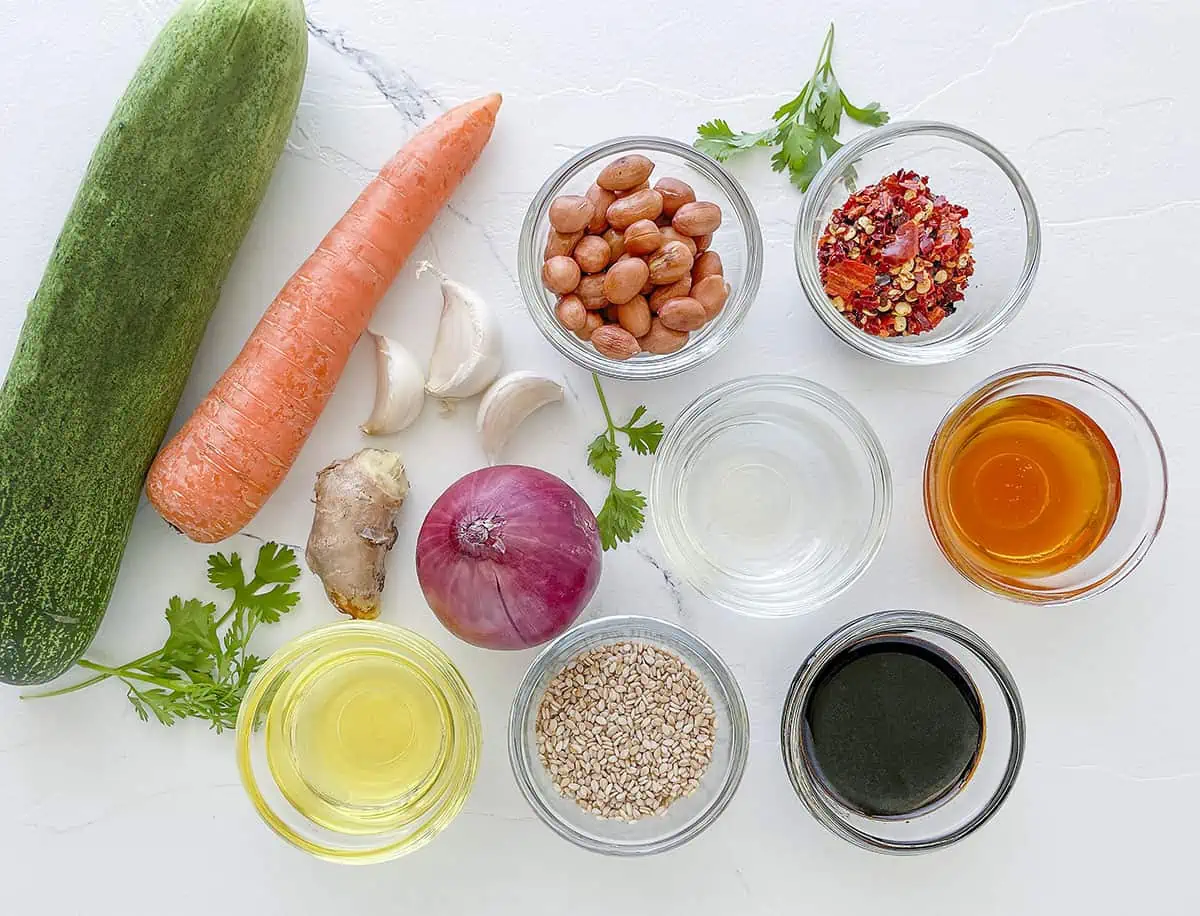 Let's Make It!
Honestly, this is one of the best parts of this carrot and cucumber salad – just how easy it is to make.
Making the dressing: In a small bowl or jar, combine the vinegar, soy sauce, honey, garlic, ginger, chili flakes, cilantro, sesame oil, and sesame seeds. Mix well.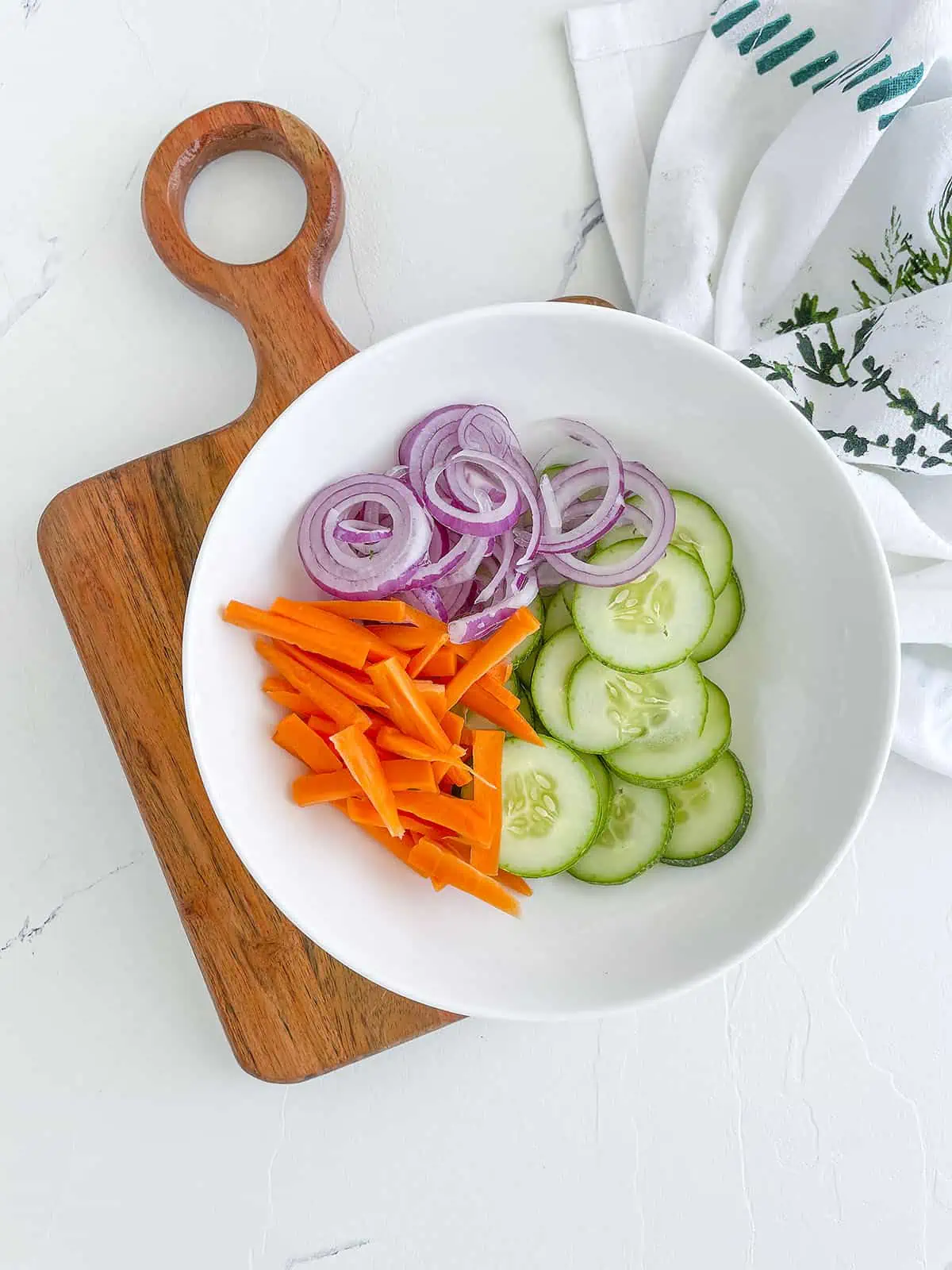 Assembling the salad: In a large bowl add the cucumbers, carrots, and sliced onions. Drizzle the sesame oil dressing over the vegetables. Toss to coat.
Adjusting the flavors: Add salt and pepper to taste.
Serving: Chill the salad, covered for at least 30 minutes before serving to let the flavors meld together. Just before serving, garnish with sesame seeds and crushed peanuts.
NOTE: For all the exact amounts, directions, and helpful notes to make this recipe perfect, please check below for the printable recipe card.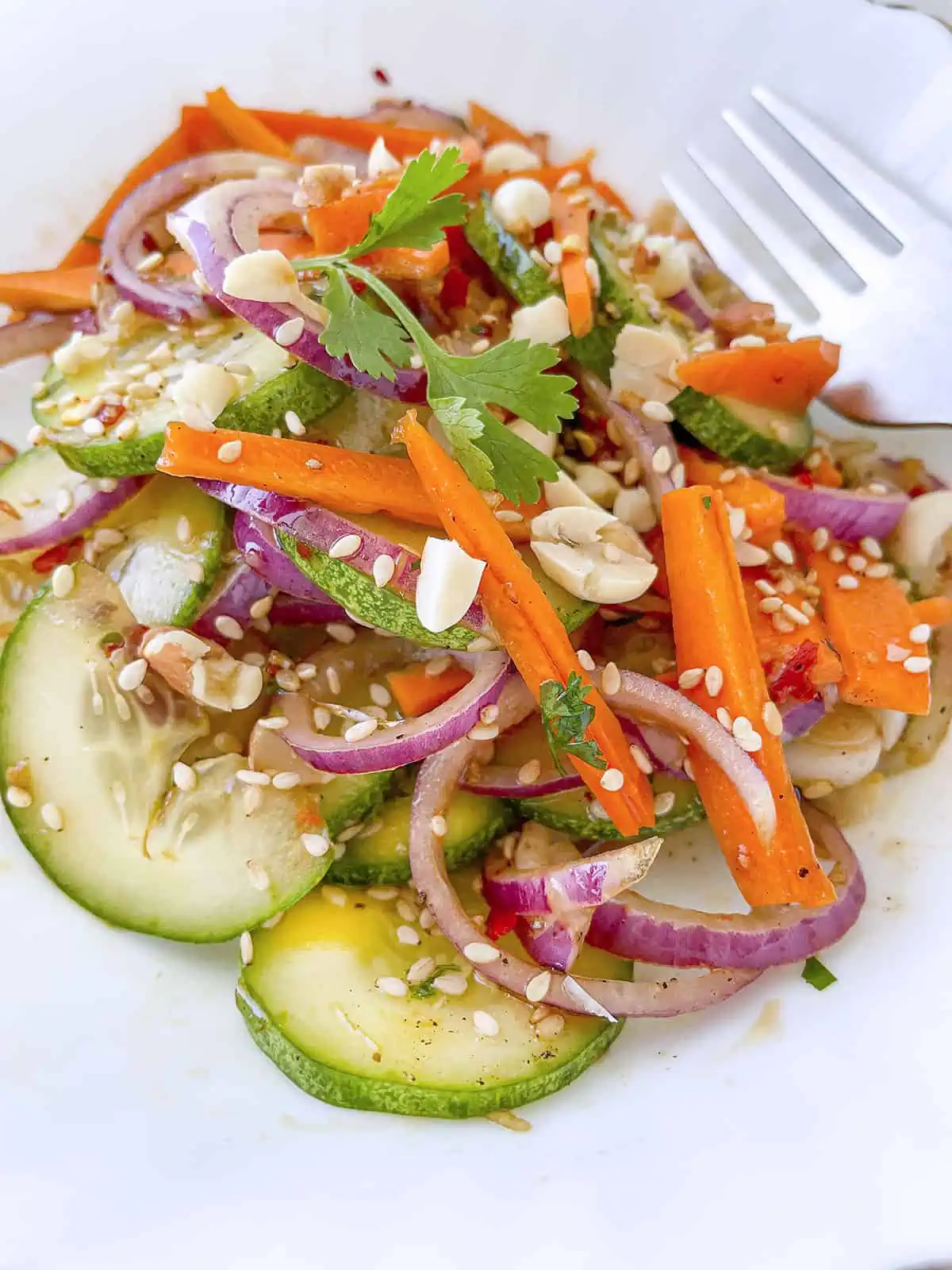 Best Ways To Serve This Salad
Just like my Shaved Carrot Salad with Sweet Orange Dressing recipe, this Asian cucumber and carrot salad is a really flexible and versatile dish that can be easily served as a side dish or as a main course.
If you wanted to make this salad into a balanced meal, try adding different proteins. Grilled chicken, beef, pork, or even seafood like grilled shrimp would go well. Just be sure to season the proteins similar to what is in the salad and be sure to chill the cooked meats before adding them to the salad.
If you wanted to make the salad vegetarian, use tofu, seitan, or make some quinoa as they are perfect subs for the other meat proteins listed above.
And of course, this salad is just as scrumptious served as a chilled side dish to any of those proteins listed above.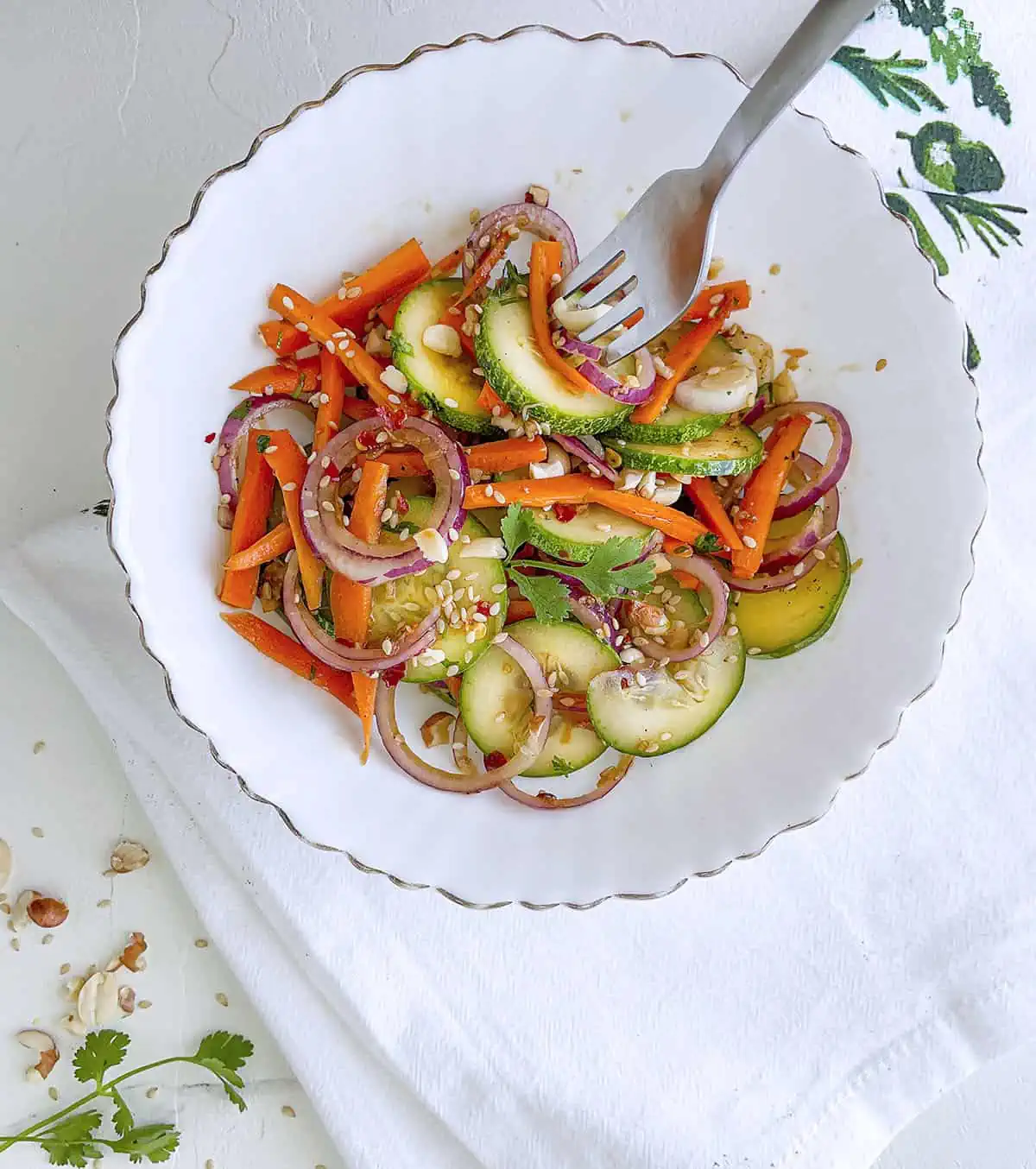 Make Ahead and Storing Leftovers
The salad can be stored in an airtight container in the refrigerator for up to 3 days. However, it's important to know that the longer it sits, the more the vegetables will soften and release their water content.
It will still be delicious, but to freshen it up, you can add some freshly sliced cucumbers and carrots and a little more dressing.
To make this salad ahead of time, prepare the dressing and have it in a closed container in the fridge up to a week in advance. The vegetables can be chopped and combined the day you plan to serve it. Chilling the salad for a bit after it's assembled (before the protein is added if you're adding any) is a wonderful way to have all the flavors melt together.
I do not recommend trying to freeze the leftovers of this salad.
Variations To Make This Asian Veggie Salad Your Own
While the basic recipe for this cucumber carrot salad is tasty as is, if you wanted to switch up the recipe to make your own, try these different ideas.
Adding sliced mango, pineapple or even fresh peaches would add some sweetness to the recipe.
Try swapping out the cilantro and add Thai Basil or fresh mint for some added freshness instead.
You don't have to rely on chili flakes for heat. Using fresh jalapenos or bird's eye chilis would be great. Just remember if you want to temper the heat, remove the seeds and ribs of the peppers first.
Add extra vegetables to bulk up the salad like radishes, asparagus, or pea pods would be delicious.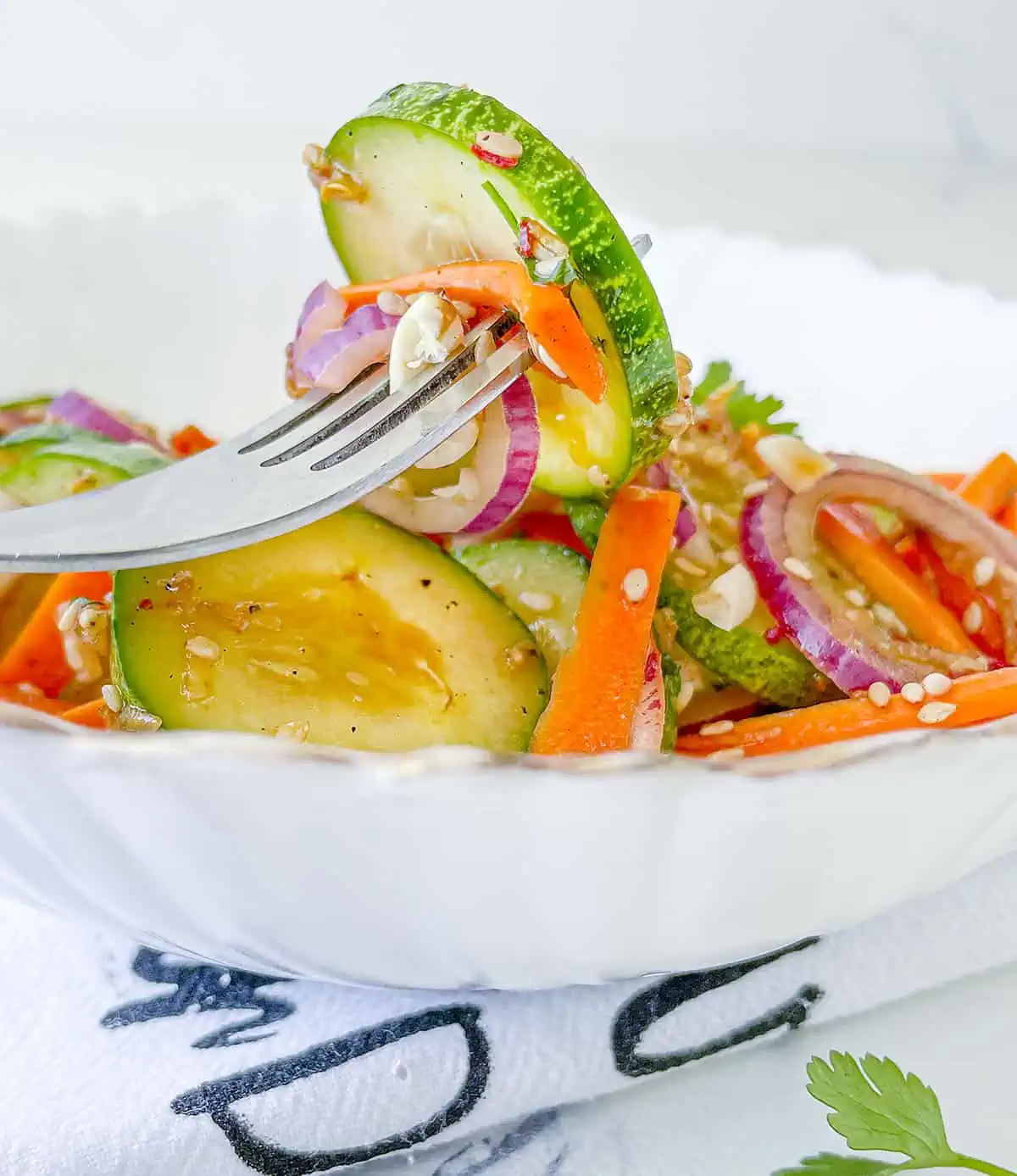 Questions You Might Have
Can I peel the cucumbers and carrots?
This is all up to your personal preference. I actually like the texture of leaving the peels on the cucumbers and like the idea of the extra fiber both offer with keeping the peels on. If you prefer a softer, slightly less crunchy bite, then go ahead and peel them.
How long ahead of time can I make the dressing?
The dressing will easily be fine sitting in the fridge in a closed container for up to a week. If you use completely dried ingredients (not fresh chilis or herbs) in the dressing, it will stay fine for up to two weeks.
Did you try this recipe? If so, did you switch it up? I'd love to hear what you thought of this salad recipe! Please comment and leave a star rating on the recipe card below! Have a wonderful day!
~Joanne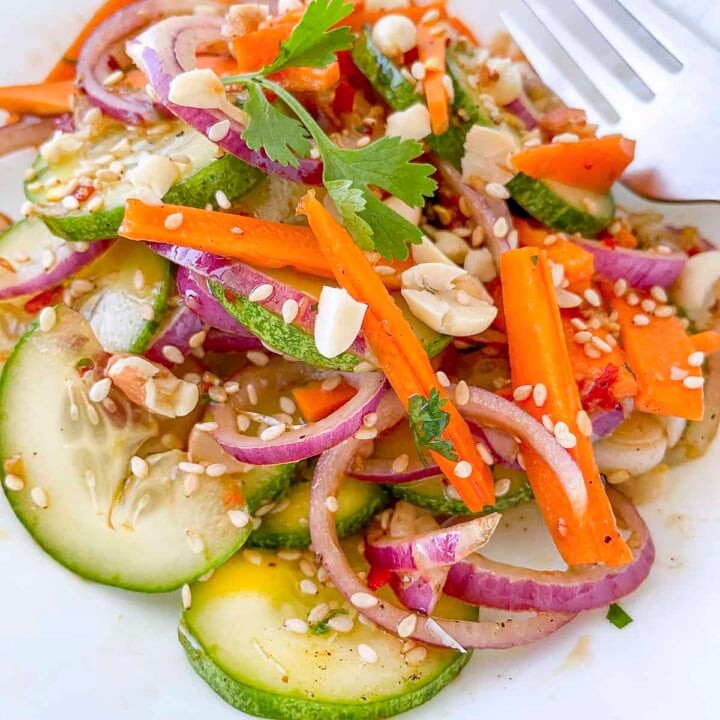 Asian Carrot and Cucumber Salad
Additional Time:
30 minutes
Cool, crispy, and juicy, this Asian-inspired Carrot and Cucumber salad is the perfect side to any meal on a hot day. Even if you're not grilling, this quick salad is packed with flavor and sides with almost any protein you pair it with.
Ingredients
¼ cup red onions, sliced
1 cup carrots, julienned
1 cucumber sliced into thin rounds
1 tablespoon vinegar
2 teaspoon soy sauce
1 tablespoon honey
1 tablespoon sesame seeds, roasted
½ teaspoon ginger, grated
½ teaspoon dried chili flakes (or use fresh if you prefer)
2 tablespoon cilantro, finely chopped
½ teaspoon garlic, minced
2 teaspoon sesame oil
1 tablespoon roasted and crushed peanuts
Salt and pepper to taste
Instructions
In a small bowl or jar, combine the vinegar, soy sauce, honey, garlic, ginger, chili flakes, cilantro, sesame oil, and sesame seeds. Mix well.
In a large bowl, add the cucumbers, carrots, and sliced onions. Add salt and pepper to taste.
Drizzle the sesame oil dressing over the vegetables. Toss to coat.
Chill in the fridge for a minimum of 30 minutes.
To serve, garnish with sesame seeds and crushed peanuts.
Notes
You can substitute red onions for sweet onions or scallions
Chilling this salad ahead of time, in my opinion, is essential. The flavors get a chance to blend and the coolness of the salad on a hot day is wonderful!
Adding protein can easily make this salad go from a side to a main dish.

Nutrition Information:
Yield:

4
Serving Size:

1
Amount Per Serving:
Calories:

92
Total Fat:

5g
Saturated Fat:

1g
Trans Fat:

0g
Unsaturated Fat:

4g
Cholesterol:

0mg
Sodium:

254mg
Carbohydrates:

12g
Fiber:

2g
Sugar:

7g
Protein:

2g
All nutritional information is based on third-party calculations and is only an estimate. Each recipe and nutritional value will vary depending on the brands you use, measuring methods, and portion sizes per household.