You know, I've been making variations of this type of "cheese", (yogurt cheese) for as long as I can remember. Actually, even before I even tried Boursin type cheeses, I was making this cheese. Maybe I invented the Boursin style cheese! ……. yeah.. probably not. Regardless, this Lemon Dill Yogurt Cheese has that same texture, it's creamy and spreadable, and PERFECT on your morning toast!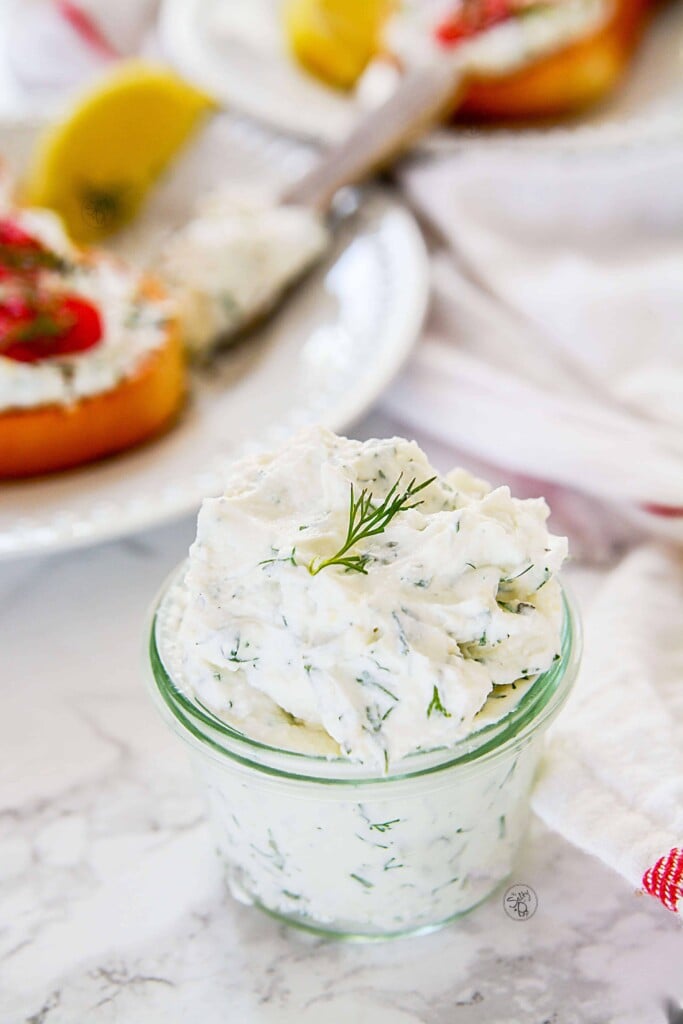 Yogurt cheese with Lemon and Dill  
Yogurt cheese is just another fantastic way to get some tangy dairy yogurt into your gorgeous bod. And you know, all those healthy probiotics that are in yogurt are also transferred into the yogurt cheese. So not only is it super delicious, it's really good for your body as well! Win-Win!
I actually love making cheese. I've made a really simple, stove top, cottage/ricotta type cheese that I just call a Simple Cheese (cuz it's so simple), made from store-bought cows milk. And I've also made a feta cheese which was amazingly delicious, and would you believe I've even made cheese in a slow cooker?!?!?! Believe it! (I just haven't posted it yet!! But stay tuned for that!!)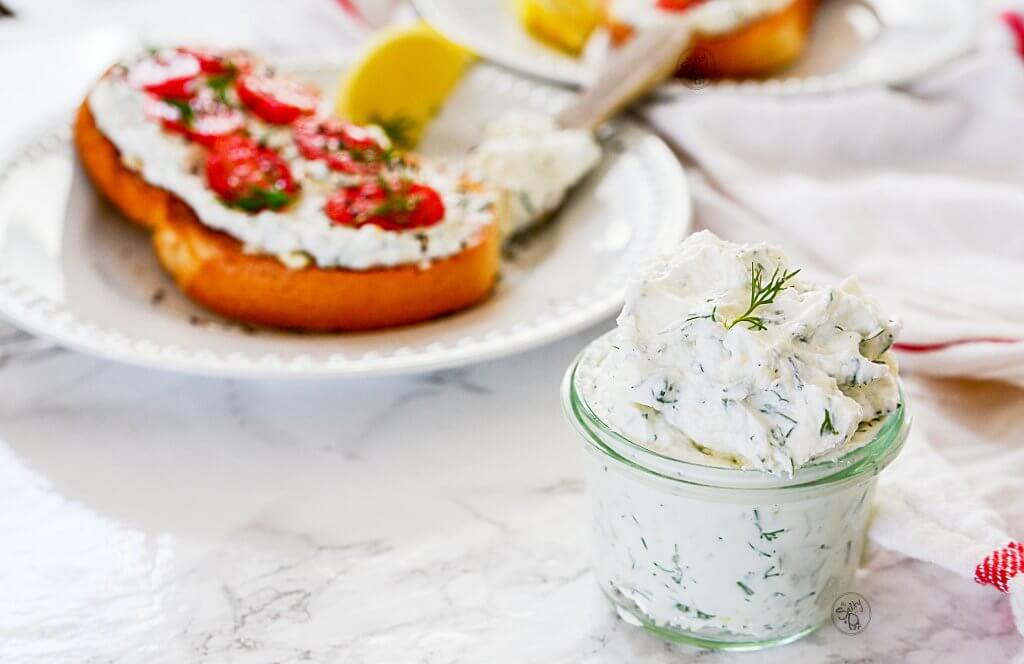 What is Yogurt Cheese?
If you've not had yogurt cheese before, please give it a go! Technically, it's also known as Labneh, a middle eastern type of "cheese". At the end of the day, what we are making here is a yogurt cheese that is basically a greek or thick yogurt, separated from the liquids (whey) that are contained in the yogurt, and thickens to a soft cream cheese texture. What's great about this is that it still keeps its tanginess in the cheese, and if you add other flavors that go well with it, this cheese is a superstar among spreadable cheeses! 
And one of the best parts of this cheese? It's INSANELY easy to make!!!
What is Whey?
Whey is the liquid byproduct that drips and separates from the solids of the yogurt (or rich cream when making other cheeses). In basic terms, it's a protein that can be used in other applications such as baking muffins, cupcakes, and bread.
Also, it's the same sort of thing (but in less concentrated form) as a whey protein powder that bodybuilders take. So, while you can simply drain it down the sink after the cheese has finished dripping, you can also use it to replace the water or milk in any of the baking recipes you have for extra protein.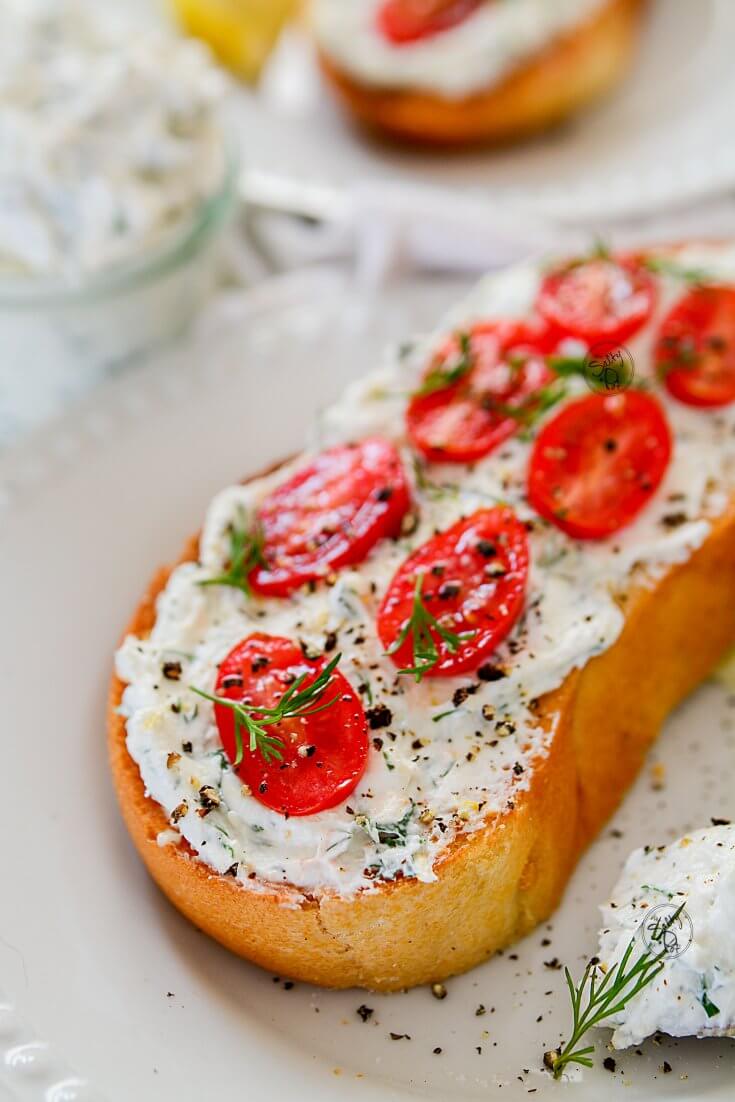 What Other Flavors can you Mix into Yogurt Cheese Spread?
Wow.. honestly, the list can go on and on here. But some really great flavor combinations could be:
Roasted garlic and onion
Lemon Thyme
Rosemary Blue Cheese (adding blue cheese to the yogurt cheese and fresh chopped rosemary)
Citrus and honey
Adding any fresh berries with honey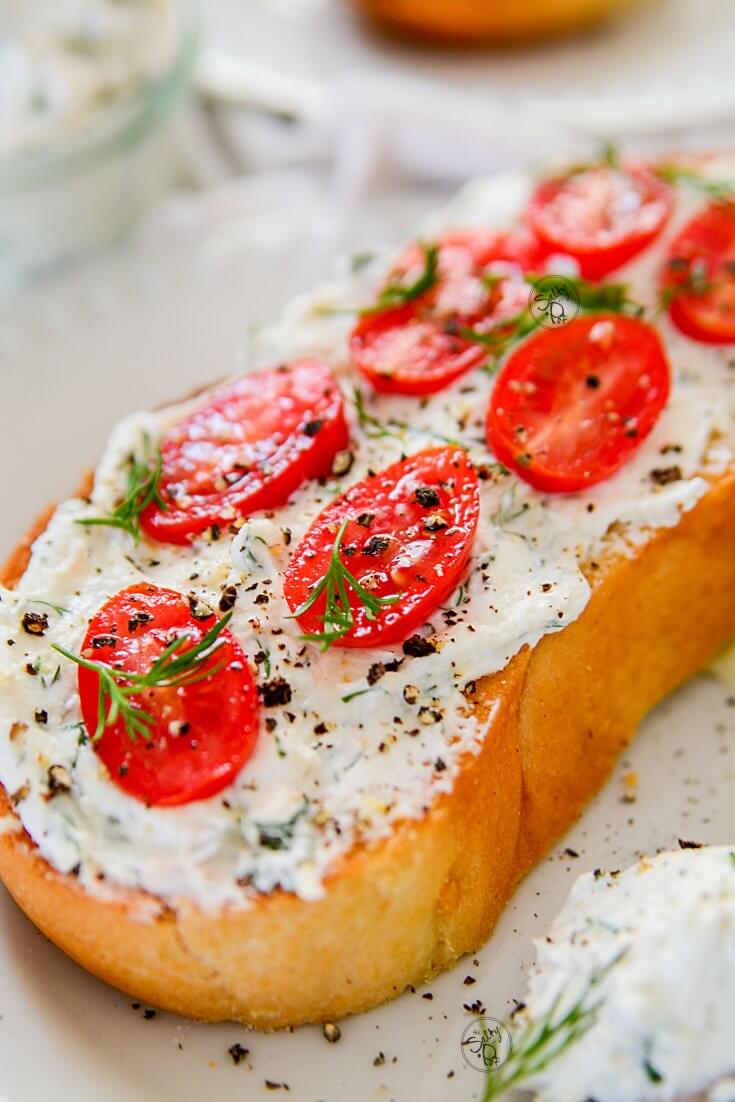 WHAT CAN I SERVE THIS GREEK YOGURT CHEESE ON?
Loads of things, my dear!!
crackers
veggie sticks
toast soldiers
regular toast
bagels
potato chips
apple slices (sweet flavored cheese)
sweet potato toast
baked potatoes (replacing sour cream)
etc etc etc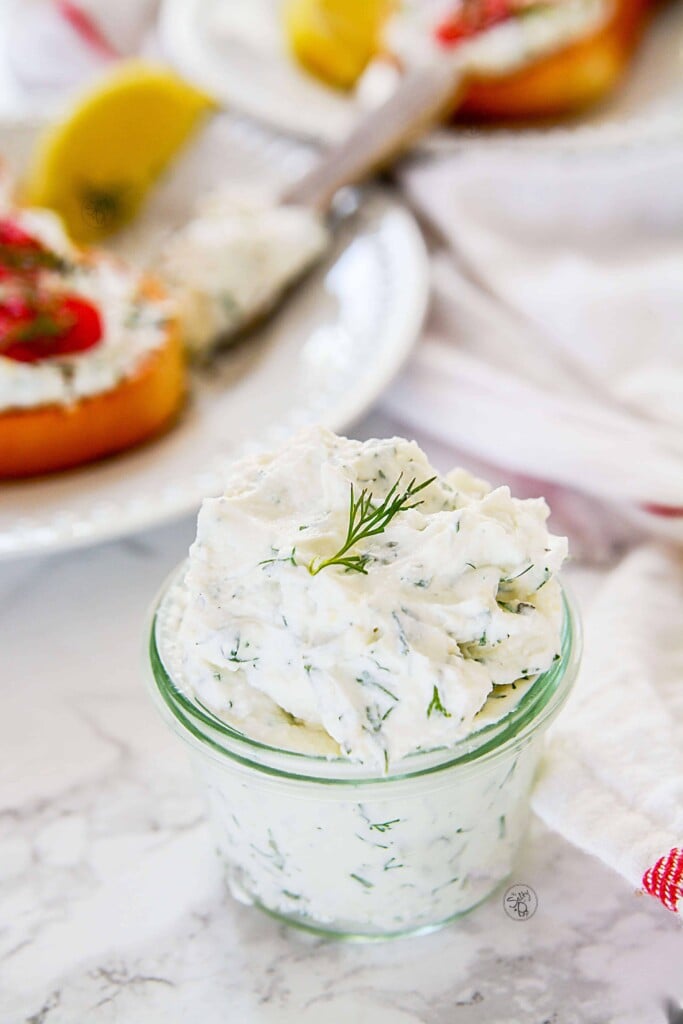 Making Yogurt Cheese the Easy Way
You will need: 
greek yogurt – try and find the highest milk fat content you can. It will result in a much better flavor for your cheese.
cheesecloth
strainer
bowl
rubber band or string 
salt
mix ins: whatever ingredients you've decided to use to add to the cheese.
You will line the fine mesh strainer with the cheesecloth. Put the strainer over the bowl.
Place the cheesecloth over the strainer, letting the ends overlap on the ends
Scoop the yogurt into the strainer, over the cheesecloth
Wrap the ends of the cheesecloth over the top and either tie in a knot, or use a rubber band/piece of string to close the cheesecloth over the yogurt.
Let the yogurt strain for about 12 hours or overnight.
Unwrap the cheesecloth, and the texture of the yogurt should be very creamy and resemble almost a boursin type cheese texture. Place the yogurt cheese into a bowl.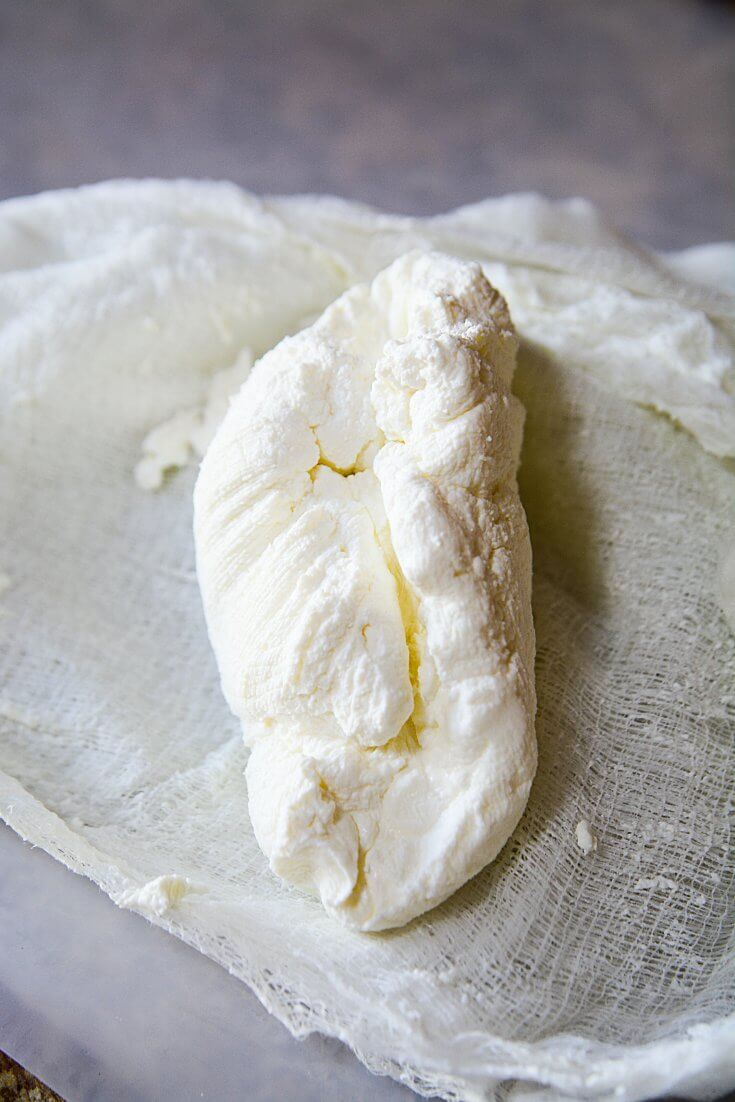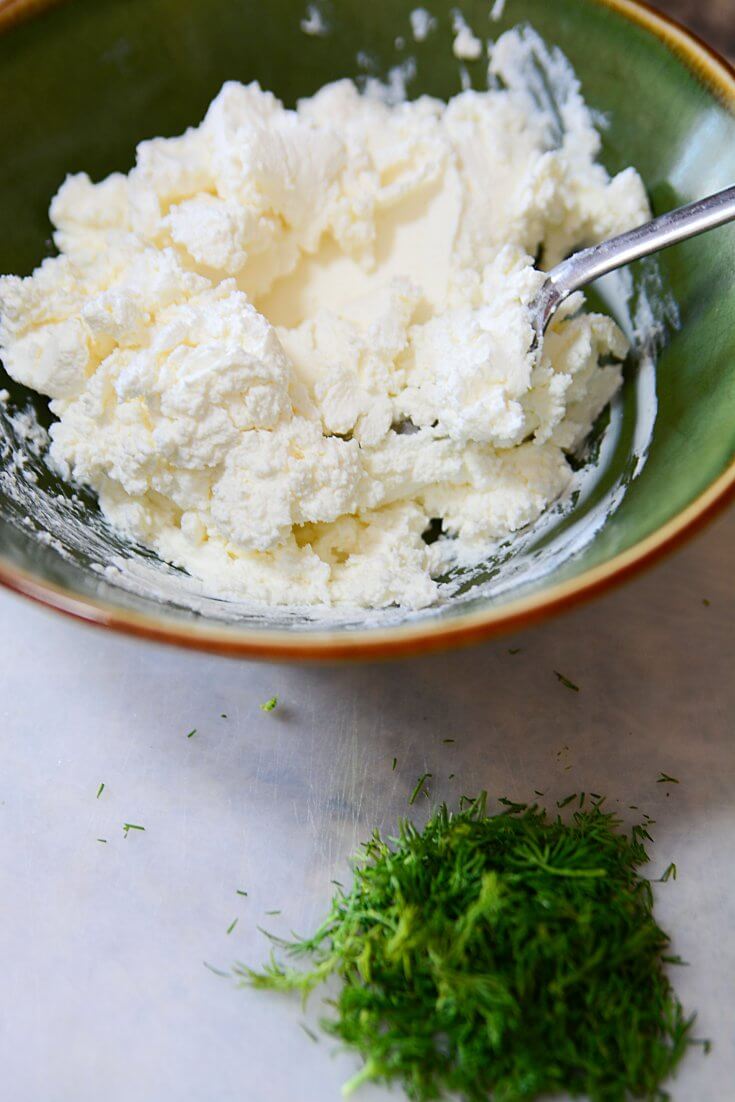 At this point, you can simply salt (and pepper) if you like, and move on from there. But I highly recommend adding whatever flavor combinations that strikes your fancy!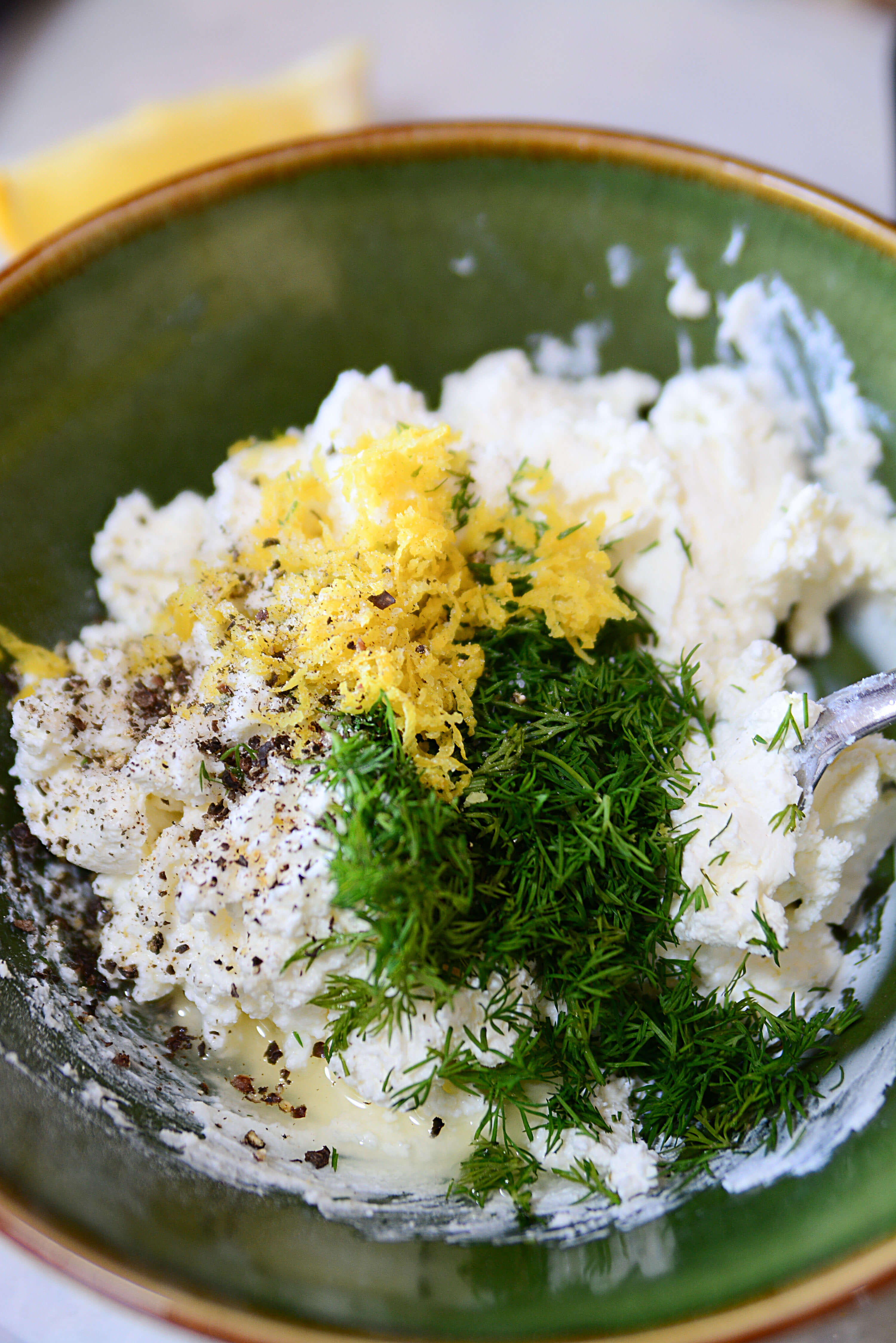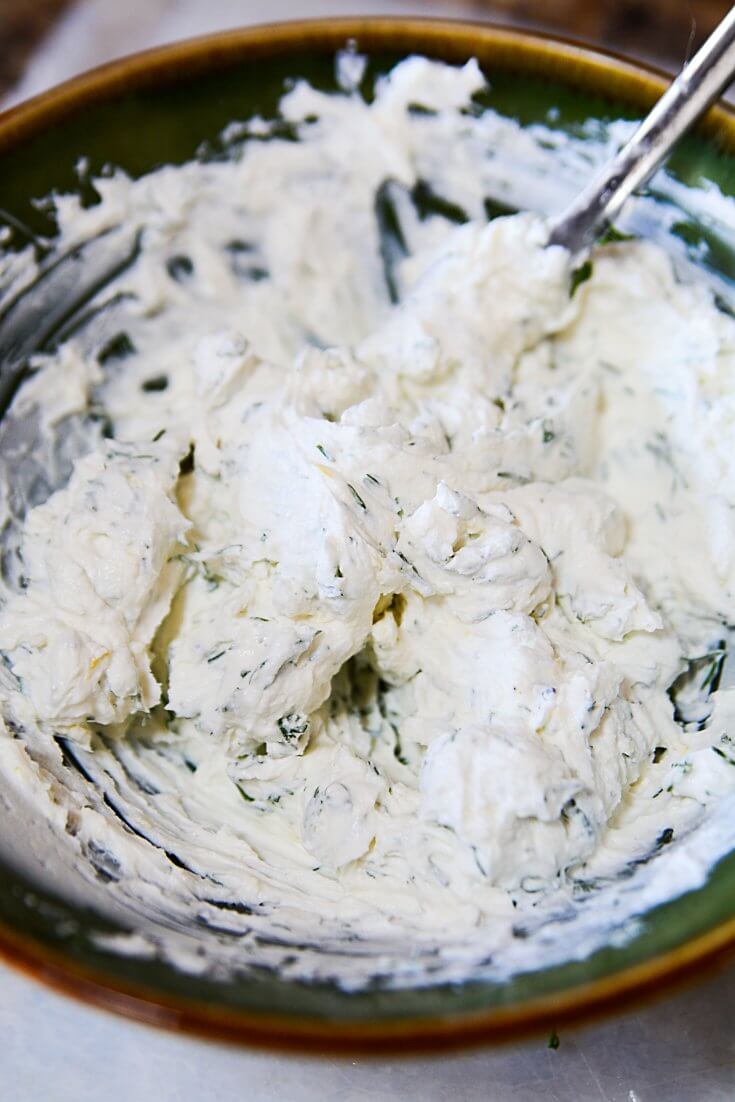 Add your mix-ins, and then cover and let it refrigerate for another few hours, just to let the flavors mingle and become friends. This is an option, but ohhhh so worth it!
After that, the yogurt cheese is ready to go!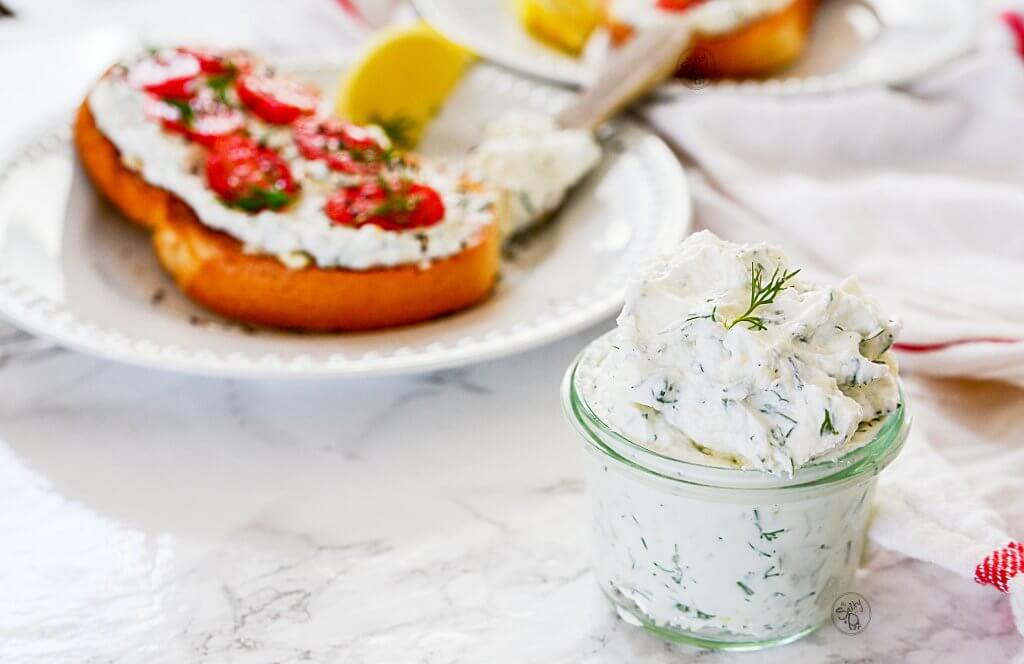 As you can see, today's recipe with the cheese was a Lemon Dill mix in, and I ended up spreading it on some french loaf toast, and then adding salt and pepper, and sliced cherry tomatoes. OH MY GOSH, it was incredibly good!!!
As you can imagine, there really is an endless amount of ideas on how to use (and flavor) this yogurt cheese!!! Next time I make it, I'm going to try and make a fruity-type yogurt cheese! I think it will be super delicious! 
Keep an eye out for some different ideas on this yogurt cheese, and when you make it, please comment below and let me know what flavors you used!!! Thanks so much for stopping by The Salty Pot today!!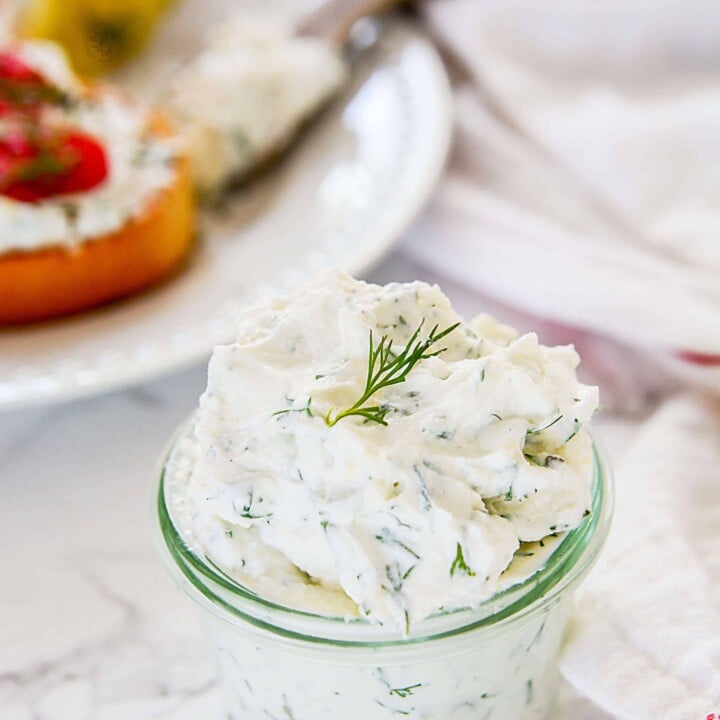 Lemon Dill Yogurt Cheese
Additional Time:
12 hours
Total Time:
12 hours
5 minutes
This creamy and slightly tangy yogurt cheese, flavored with the freshness of lemon and dill, makes this boursin type cheese perfect for spreading on toast, sandwich spread, veggie dips, etc
Ingredients
3 cups greek yogurt
zest and juice of one lemon
as desired fresh dill, chopped. (I used 2-3 tbsp)
as desired salt and pepper
Instructions
Cover the mesh strainer with the cheesecloth, leaving the sides and long edges draped over the edges of the strainer.
Place the strainer over a bowl
Transfer the yogurt into the strainer to let the whey separate from the yogurt solids.
Lightly cover the yogurt with the ends of the cheesecloth and place in the refrigerator overnight or for 12 hours. (or until there is no more dripping of the whey at the bottom of the strainer.)
Uncover the cheesecloth and place the yogurt cheese into a bowl.
Add the lemon zest, lemon juice, dill, salt and pepper. Mix well.
Cover and place back in the fridge to let the flavors mix.
Serve and enjoy!
Nutrition Information:
Yield:

16
Serving Size:

1 tablespoon
Amount Per Serving:
Calories:

26
Total Fat:

0g
Saturated Fat:

0g
Trans Fat:

0g
Unsaturated Fat:

0g
Cholesterol:

2mg
Sodium:

34mg
Carbohydrates:

2g
Fiber:

0g
Sugar:

1g
Protein:

4g
All nutritional information is based on third-party calculations and is only an estimate. Each recipe and nutritional value will vary depending on the brands you use, measuring methods, and portion sizes per household.
**DON'T FORGET TO PIN THIS LEMON DILL YOGURT CHEESE RECIPE PIN TO YOUR FAVORITE PINTEREST BOARD TO SAVE FOR LATER!!! **