Making dehydrated spinach into a powder is one of the easiest ways to get more of those healthy powerhouse greens into your body.
One of the best things about this recipe is that you don't even necessarily need a dehydrator!
This post may contain affiliate links. If you make a purchase after clicking a link, I may earn a small commission AT NO COST TO YOU. As an Amazon Affiliate, I earn from qualifying purchases.
Spinach powder is a simple way to add extra nutrtients to your diet!
DEHYDRATED SPINACH
Spinach is known to be one of the best superfoods out there, we all know that. But let's get real- it isn't always the most delicious veggie, and sometimes, it can be downright tricky to add it to your diet, especially for the little ones!
If that sounds like something you'd agree to, here's a quick way to turn things around. We can do this by making spinach powder. Read on to discover how to make your very own dehydrated greens powder, and how to put it to use!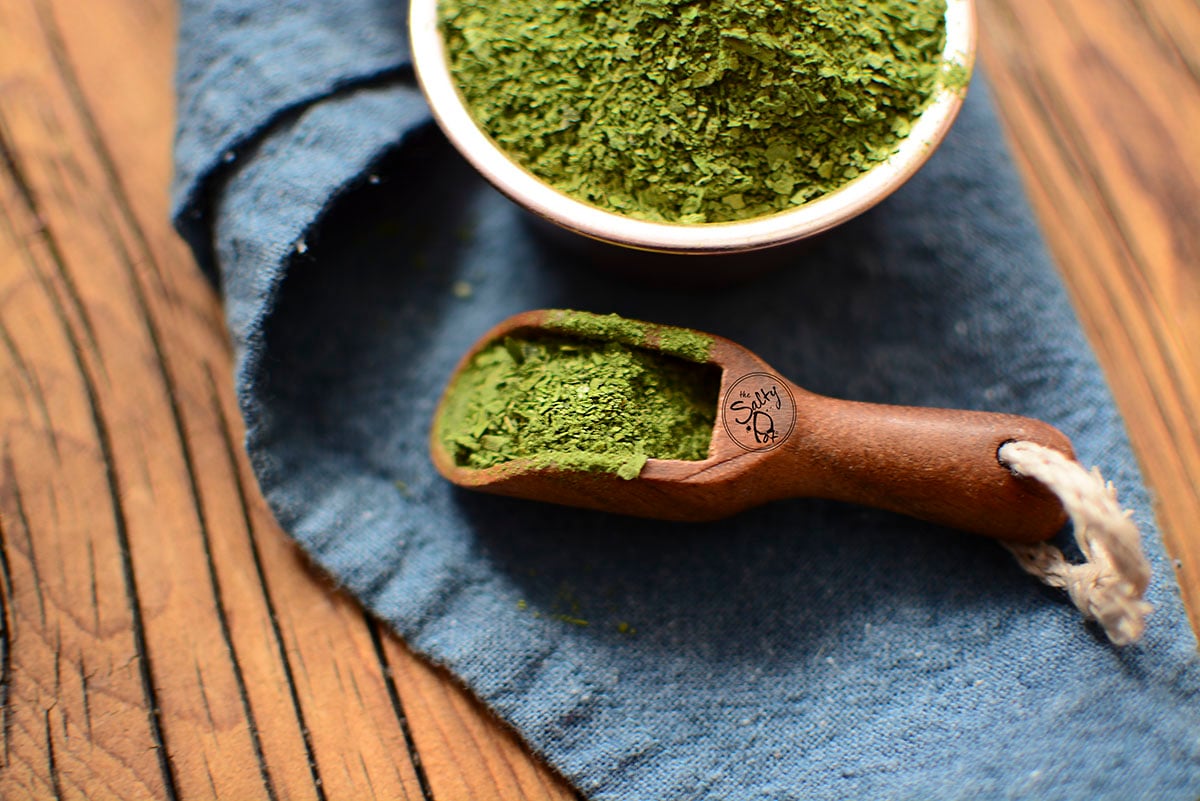 Why Dehydrate Spinach
Packed with iron, antioxidants and a ton of other nutritional benefits, spinach is one of the healthiest foods on the planet. By dehydrating and storing this powerful veggie, you can not just get the most out of it, but also make your food healthier with minimal effort.
Plus, it can also be a great way to utilize excess spinach from your garden or get your hands on more of it to practise frugal living.

Doing it the Right Way
There are a few different ways you can go about dehydrating spinach. If you have a dehydrator at home, the process is simple. But if you don't have one, your oven can still do the job. That's actually how I did it too!
Start by setting your oven at 110 F (or the lowest you can take it to), and then lay out the spinach leaves on the tray. It may take a few hours to reach the correct amount of dehydration, but it's worth it.
That's it! It's so incredibly easy!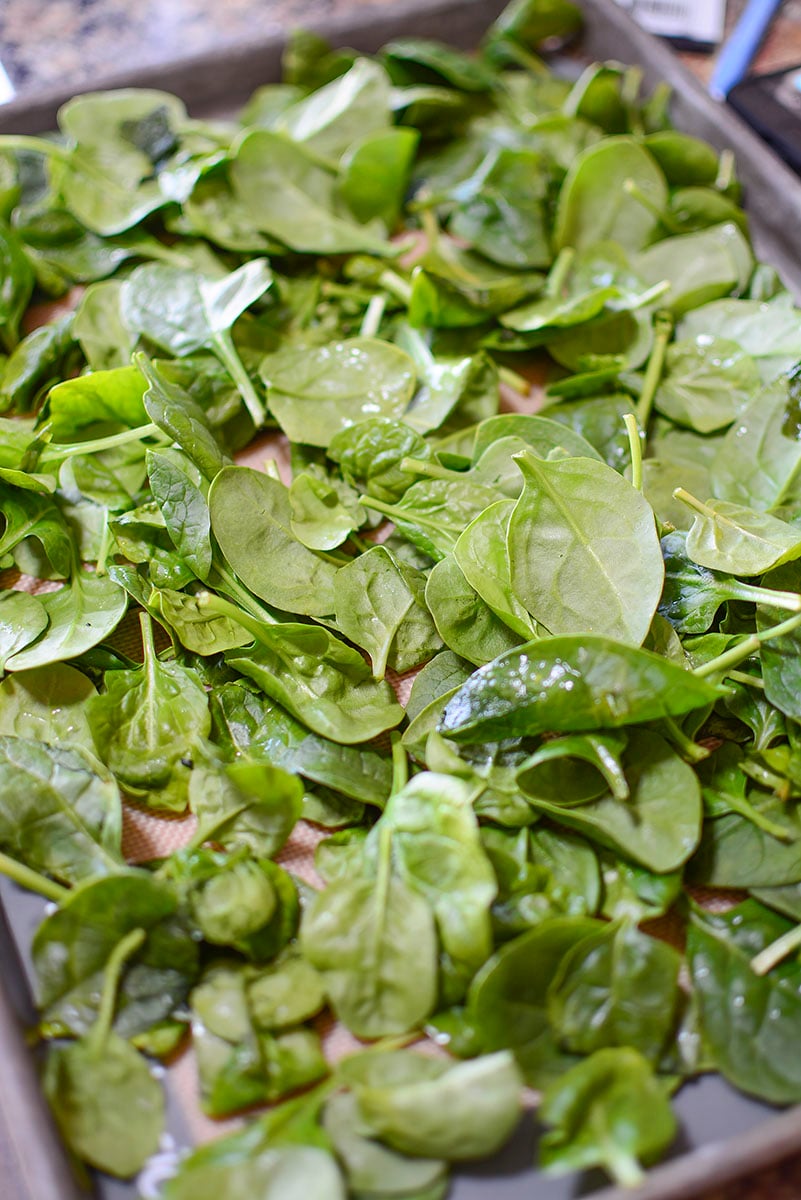 I then allowed it to come down at room temperature to properly work with it. You can actually leave it at this stage by simply crumbling the dried leaves in your hands and turning them into spinach flakes.
Spinach flakes can easily be sprinkled over salads or fried eggs. Add them to soup for extra flavor interest or believe it or not, sprinkled into mashed potatoes make them look pretty AND tasty!
I prefer to use them in powder form. So after crushing them in your hands, transfer them to a blender and grind them further into that useful vegetable powder.
By the way, if you're looking to dry other vegetables you might have on hand, take a look at this free in-depth guide about How to use Your Oven to Dehydrate Veggies. Don't waste that money by throwing them away because you haven't used them fast enough.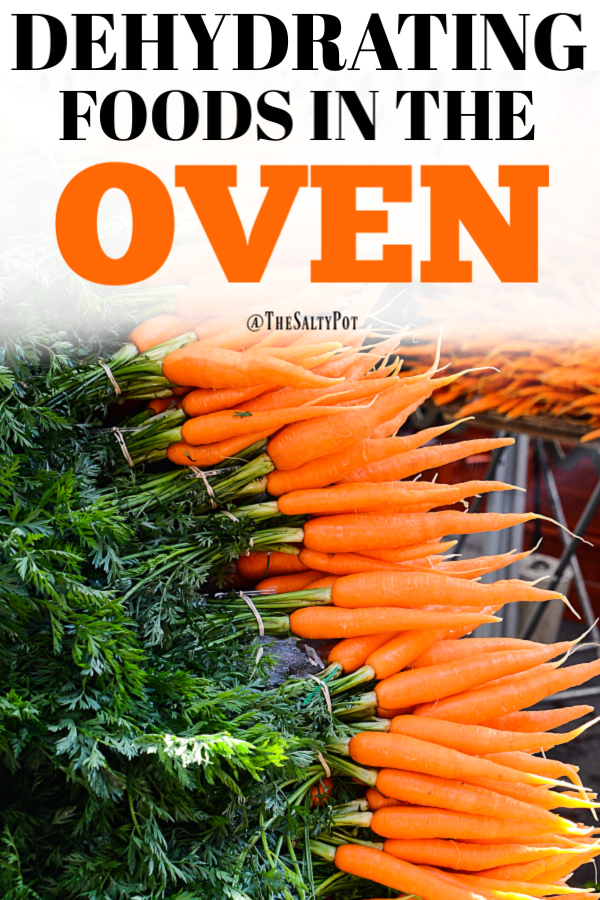 PUTTING THE POWDER TO USE
Now that you're done preparing the dehydrated spinach, it is time to put it to use. Typically, powdered spinach doesn't really have a strong taste, which makes it easier to be added to a lot of foods.
You can add some of the powder to your green smoothies (it tastes best with lots of ice and fresh berries), or even mix it into muffins, which can be a great way to offer your picky eaters the nutrition out of it.
Dehydrated spinach also tastes excellent in soups and stews, and yes, you can also add them to your homemade bread, flatbreads, and biscuits. You'll barely notice any difference in the flavor- just a nice change in the color. 

Loved trying your hands at dehydrated spinach? You can do the same with other greens too. Kale and lettuce can be excellent choices to consider getting started on. Just make sure you store them all separately in air-tight containers or zip lock bags in a cool and dry place, and they should stay good for at least a couple of months.

I hope that you give this recipe a try and when you do, please let me know what you think by leaving a ***STAR RATING*** and comment below, or shoot me an email at Joanne@thesaltypot.com.
Have a wonderful day!
~Joanne
Dehydrated Spinach
Additional Time:
10 minutes
Total Time:
6 hours
15 minutes
A super easy way to make your own dehydrated spinach. Dried spinach is a versatile way to get extra nutrition into your body by mixing the powder into so many foods.
Ingredients
2lbs fresh spinach
fresh water
Instructions
Wash the spinach with water and pat dry.
Place the fresh spinach onto a parchment (or silicone lined) baking sheet.
Set your oven to the lowest temperature it will go. (See notes)
Begin to dehydrate the spinach until its very dry and crumbles when touched. Depending on the temperature of the oven and the humidity in the air will depend on exactly how long it takes to dry. Check on the spinach every hour.
Remove from the oven and let cool completely.
For Flakes: Simply crush the spinach in your hands until you have the desired flake consistency you're looking for. FOR POWDER: Transfer the dried spinach into a blender (or mortar and pestle) and grind the spinach into a fine powder.
Store the spinach in an air tight glass container, in a cool dark place.
It's ready to use in smoothies, baking, or sprinkled on a variety of foods. Enjoy!
Notes
When setting the oven to dehydrate, you want to choose the lowest temperature your oven will go. My oven will go to 100F. If your oven doesn't go that low, just set it for the lowest temperature and prop open the door so some of the heat escapes and keeps the oven at a temperature that will dry the spinach, and not cook it.
Nutrition Information:
Yield:

16
Serving Size:

1 tablespoon
Amount Per Serving:
Calories:

13
Total Fat:

0g
Saturated Fat:

0g
Trans Fat:

0g
Unsaturated Fat:

0g
Cholesterol:

0mg
Sodium:

45mg
Carbohydrates:

2g
Fiber:

1g
Sugar:

0g
Protein:

2g
All nutritional information is based on third-party calculations and is only an estimate. Each recipe and nutritional value will vary depending on the brands you use, measuring methods, and portion sizes per household.