Shredded Carrot Raisin Pineapple Salad is sweet, creamy with a nice crunch, and absolutely perfect when served chilled.
Serve it at your next cookout get-together and you'll be asked for the recipe over and over!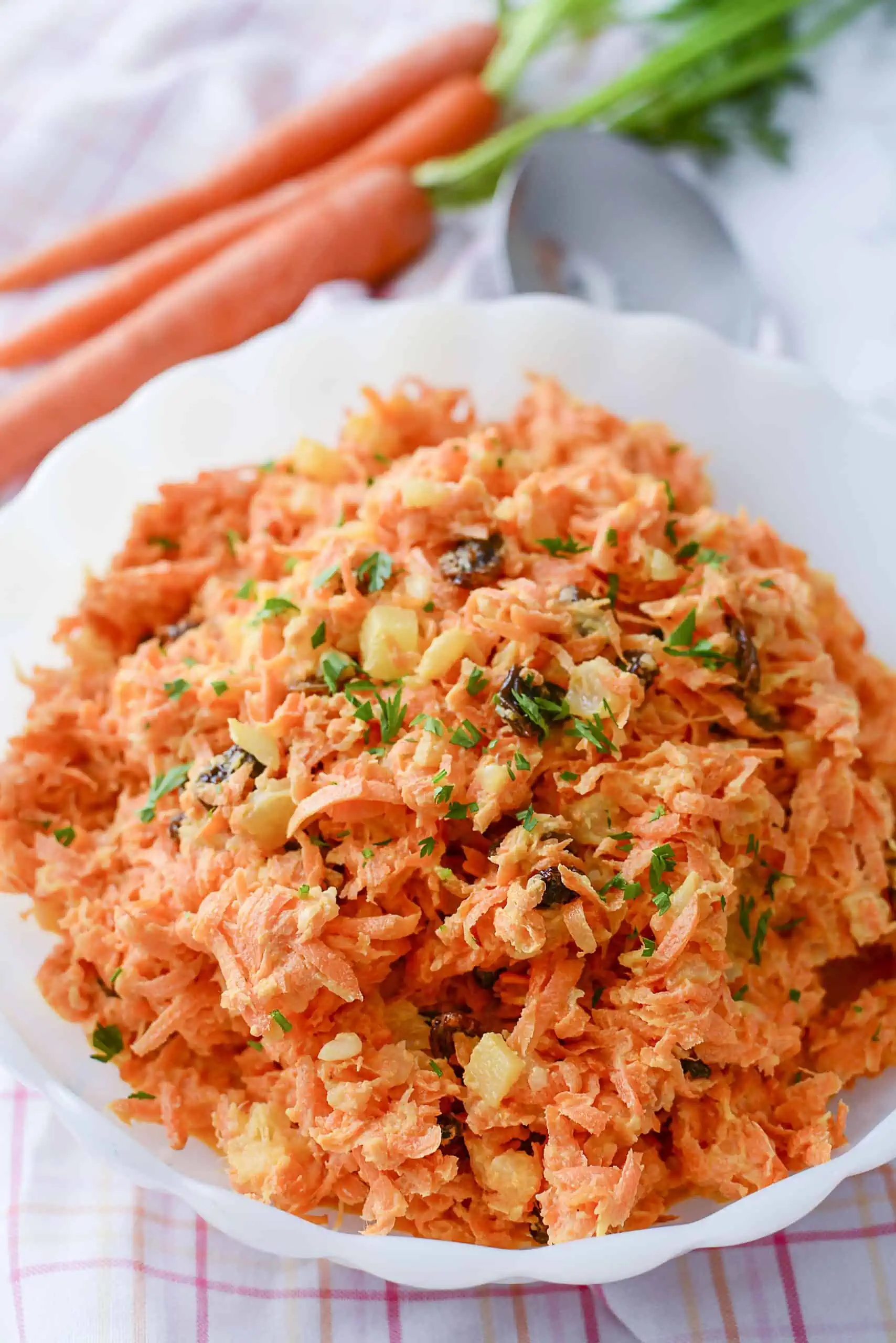 Carrot Salad with Raisins and Pineapple is a scrumptious side dish!
Recipe Highlights
This sweet salad is fairly inexpensive, refreshing, and easy to make. Similar to my other Shaved Carrot Salad with Sweet Orange Dressing, this salad is always a hit when I serve it at different places because the pineapple really adds nice texture and sweetness.
It's a fantastic make-ahead side dish.
Carrot salad is a vintage recipe that's been around for many years and has countless variations. However, I think my version is all that you need for any cookout, picnic, Mother's Day brunch side dish, or even a busy weeknight side dish.
Let's Talk Ingredients!
CARROTS: Obviously carrots are the main ingredients in this recipe. I used fresh as possible carrots and left them unpeeled. (More on that in the recipe card below.) If possible, support your local farmers market and buy your carrots there. Typically, they'll be fresher and sweeter than what you'll find in the grocery store.
PINEAPPLE: Canned pineapple is the best choice for this salad. It's crushed, so a lot of the pineapple flavor is distributed throughout the salad, not just in the tidbits. You'll want to drain the juice from the pineapple and reserve it for later use in the recipe.
RAISINS: The variety of the raisin you choose doesn't matter. Sultanas, golden raisins, etc, it's all fine, use what you have on hand.
MAYONNAISE: I prefer to use a regular mayonnaise but I recommend using a salad dressing type mayonnaise (like Miracle Whip) if you want this salad sweeter.
SALT: Just a dash will do you in this salad. It's meant to heighten and balance the flavors and sweetness of the ingredients.
***NOTE: The exact amounts of ingredients as well as specific directions and notes will be in the printable recipe card below.
How To Make Carrot Salad With Raisins and Pineapple
Once you make this carrot salad, you'll see exactly why this side dish is so perfect for not only busy weeknights but gatherings and events as well.
First, drain the pineapple as much as possible from the pineapple juice in the can. Reserve this juice in a bowl.
Set the drained fruit aside and transfer the raisins into the pineapple juice. Place the bowl in the microwave for one minute to heat. When the timer goes, simply leave the bowl in the microwave for the heat of the oven and the heat of the juice to soak into the raisins and make them take on some of the pineapple flavors. (And plumps them up in the meantime!).
Shredding the carrots in a food processor is the easiest way to break them down. If you don't have a food processor, you can use a mandoline (julienne blade) or even a box grater will work.
Making the dressing is a cinch. Mix together the mayo and a bit of the reserved pineapple juice. Mix well and sprinkle a little salt to enhance the sweetness.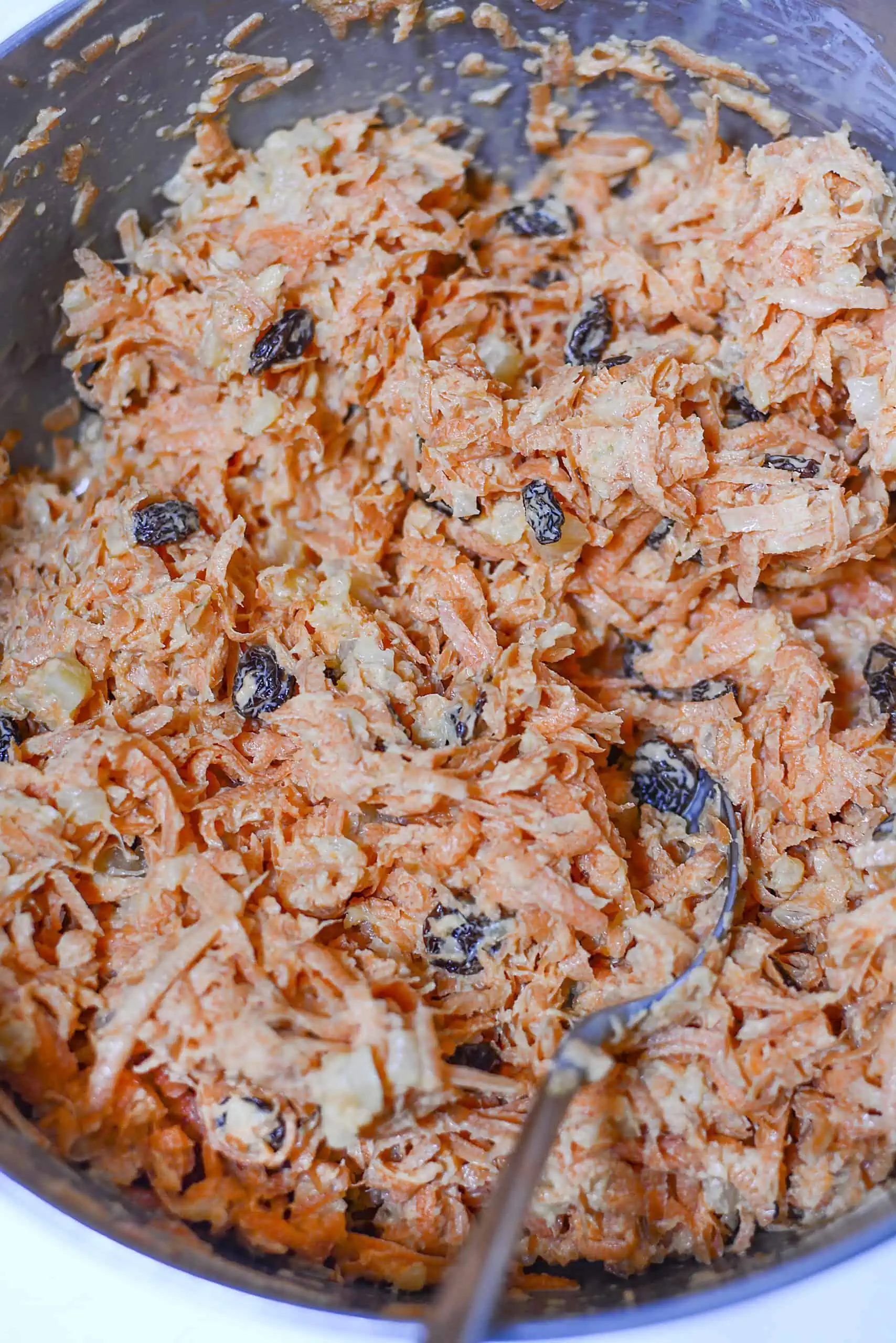 In a large bowl, place the shredded carrots, pineapple, and plumped raisins in with the freshly made dressing. Mix until very well incorporated.
Cover with plastic wrap or a bowl lid and chill in the fridge until ready to serve.
Serving Tips and Ideas
My number one piece of advice for this carrot and pineapple salad is to serve it CHILLED! The ingredients mixed with the dressing are the most perfect combination when chilled and served next to something warm.
This salad is awesome served next to grilled/roasted chicken or ribs. Seafood skewers like shrimp kabobs would be fun and even snuggled up to your burger at the cookout would be ideal. Don't forget that during those busy weeknights, this veggie salad is perfect next to practically any protein you make on the stove. Pork chops, hot dogs, steak, or chicken breasts will be complimented by the flavors in this salad.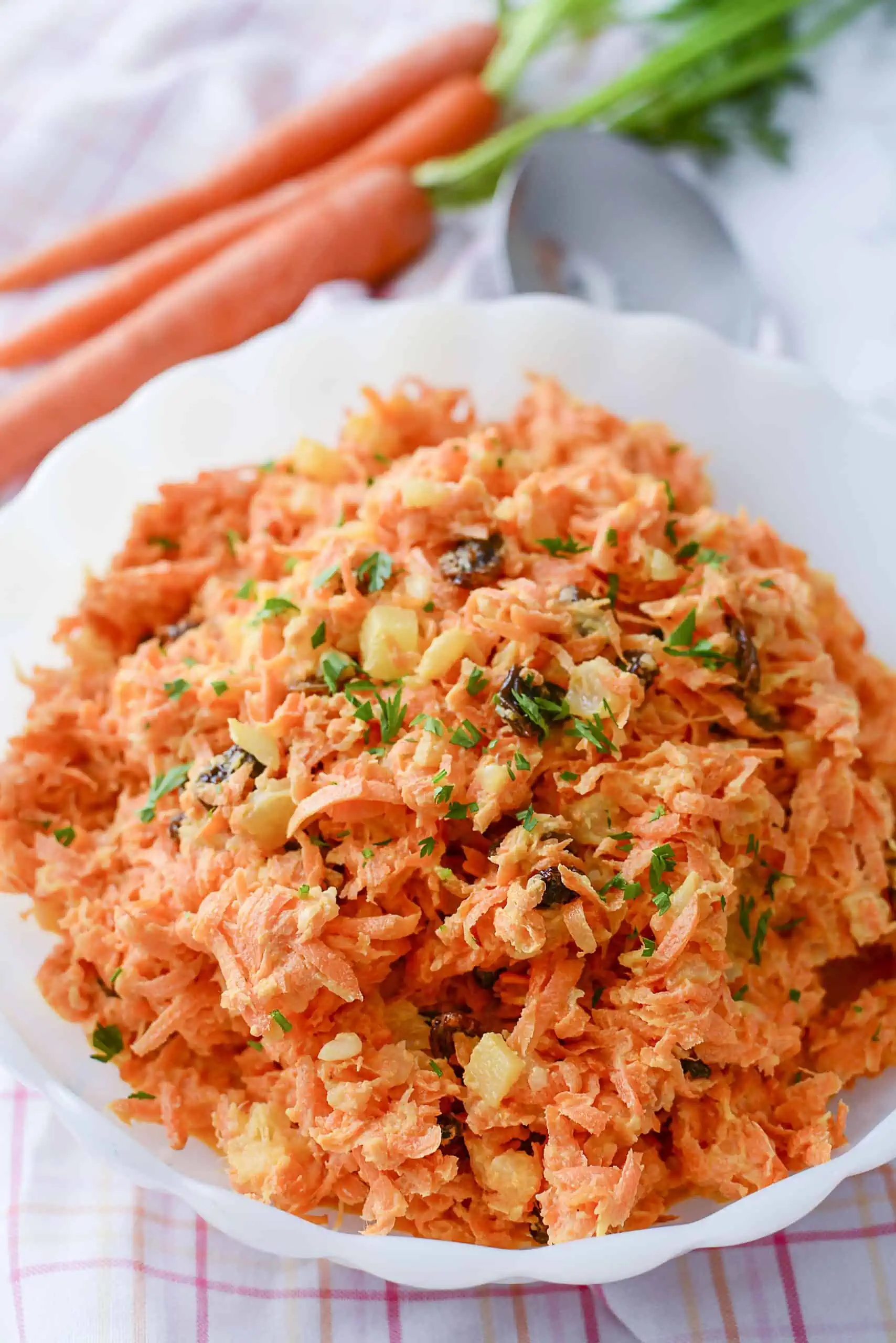 Variations For This Recipe
While this carrot salad recipe calls for all the classic ingredients it's really so easy to switch it up and add other ingredients, making this recipe totally unique to you.
Try adding different nuts to the recipe. Chopped pecans are best friends with carrots or even try some chopped walnuts as well for some extra crunch.
Don't want to use raisins? Not a problem. Swap them out with dried cranberries or even a few chopped seedless dates.
As for the dressing, if you wanted to go a bit more of a healthier route, try switching the mayonnaise for a thick Greek yogurt. The tang from the yogurt will be delicious and still slight because it's mixed with the pineapple juice.
Storing and Leftovers
This pineapple carrot salad recipe will stay great as long as it's covered tightly in the fridge for up to 4 days. You'll have to give the salad a mix before serving because often the dressing will pool at the bottom but it still tastes wonderful.
I don't recommend freezing this salad.
Questions You Might Have
Can I use fresh pineapple instead of canned?
Yes absolutely. If you have it on hand, go ahead and use it. Peel, core and chop up the pineapple as small as you can get it. Because the canned variety comes with pineapple juice to soak the raisins in, you could soak them in store-bought pineapple juice, a juiced orange, or water will also do.
How far ahead of time can I make this salad?
Well, making it the morning you plan to serve it would be best. And I highly recommend that after shredding the carrots, keep them tightly covered to prevent browning because of oxidation if you're going to keep all the ingredients separately before assembling. You can make the dressing the day before and keep it chilled in the fridge until you assemble the salad.
I hope you decide to make this shredded carrot pineapple raisin salad. You'll see it's light, slightly sweet, and refreshing. It's also a fantastic way to get extra veggies and fruit into the little ones!
Have you made this recipe? I'd love to hear what you thought about it, or if you switched it up in any way. Please leave me a comment and star rating below in the recipe card or in the comment section! I really hope you have a fantastic day, and thank you so much for stopping by The Salty Pot.
~Joanne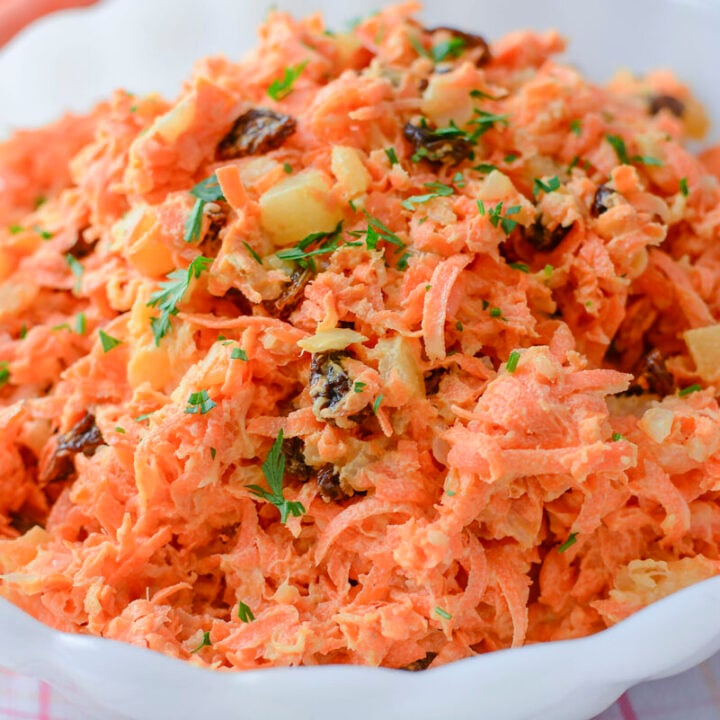 Shredded Carrot Raisin Pineapple Salad
Additional Time:
30 minutes
Sweet fresh shredded carrots paired with tropical pineapple and juicy raisins are the stars of the show in this Shredded Carrot Raisin Pineapple Salad! Perfect for any occasion when chilled.
Ingredients
1 lb. Carrots, tops and ends removed
2 cups Pineapple, crushed, drained (reserve the pineapple juice)
½ cup Raisins
1 cup Mayonnaise (see notes)
dash Salt
Instructions
1. Heat the pineapple juice on the stovetop or in the microwave till warm. Add the raisins to soak and set aside.
2. Shred the carrots.
3. Transfer carrots to a large bowl and add the drained crushed pineapple. Mix together.
4. Add the mayonnaise and the dash of salt. Mix well.
5. Drain the raisins from the pineapple juice and add them to the carrot mixture. Again, mix well.
6. Cover and let the salad chill for at least an hour. Just before serving, taste and adjust for personal preference in creaminess (add more mayo if you prefer it creamier).

Enjoy!


Notes
If the mayonnaise that you're using is thicker than you'd prefer, feel free to add a few tablespoons of pineapple juice to thin it out, however, I found it was just fine.

If you prefer a sweeter dressing, add some sugar to the mayo to sweeten it up, or, the mayo can be replaced with Miracle Whip
salad dressing which is sweeter than regular varieties of mayo.

Nutrition Information:
Yield:

8
Serving Size:

½ cup
Amount Per Serving:
Calories:

256
Total Fat:

21g
Saturated Fat:

3g
Trans Fat:

0g
Unsaturated Fat:

17g
Cholesterol:

12mg
Sodium:

228mg
Carbohydrates:

18g
Fiber:

3g
Sugar:

12g
Protein:

1g
All nutritional information is based on third-party calculations and is only an estimate. Each recipe and nutritional value will vary depending on the brands you use, measuring methods, and portion sizes per household.