Instant pot rutabaga mash is pressure cooked and mashed with heavy cream, smoky bacon, and delicious cheese that just elevates something from previously boring to tasty, unique, and totally 'make again worthy'!
Best of all, this pressure-cooked rutabaga mash is cooked in a fraction of the time that stovetop mash is made!
This post may contain affiliate links. If you make a purchase after clicking a link, I may earn a small commission AT NO COST TO YOU. As an Amazon Affiliate, I earn from qualifying purchases.
Instant Pot Rutabaga Mash = A new side dish for your holiday table!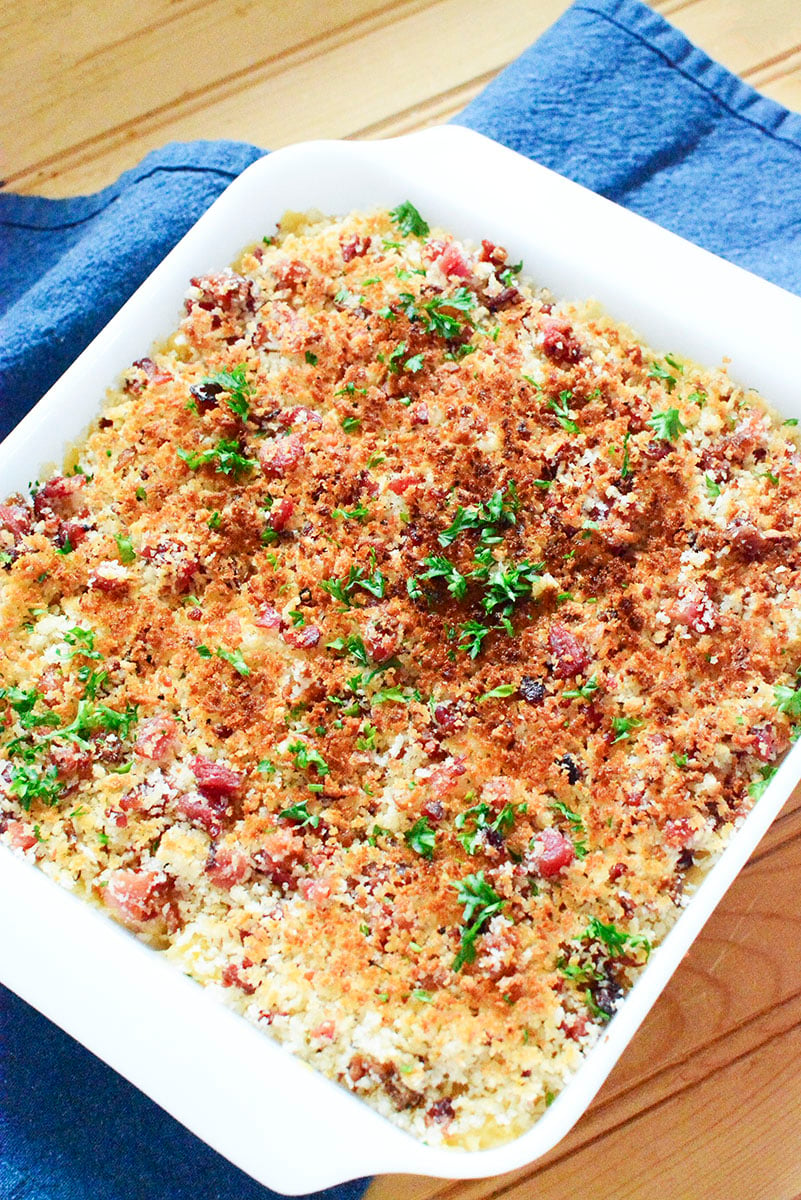 This Mashed rutabaga recipe is one of my favorite ways to use them by making simply mashed rutabagas and topping it with a golden crumble topping. This recipe is similar to a sweet potato casserole making it a great dish to bring to a potluck or serving for guests.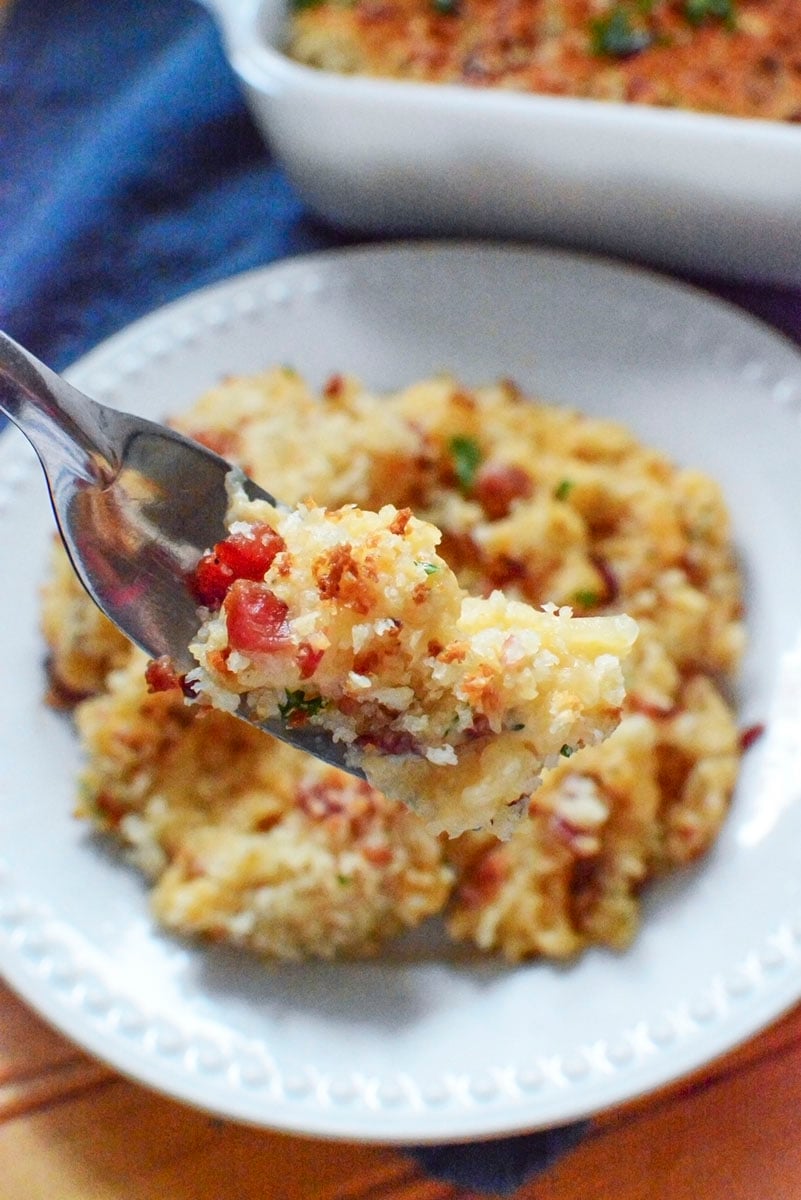 Ingredients Needed:
Rutabagas: Peeled and chopped into large pieces.
Water: (for cooking in the Instant pot)
Butter: Salted butter is best for this recipe.
Cream: To save some calories you can use whole milk, but rutabaga really benefits from the extra richness of heavy cream.
Bacon: Diced and cooked (or see an easy alternative below in the FAQ section).
What is the difference between a rutabaga and a turnip?
If you've wondered what the difference is in the look of rutabaga and turnip, it's not just the color and shape.
Rutabaga is a yellow-fleshed root vegetable that is commonly used in place of potatoes for a healthier lower starch option. While this recipe will work using turnips as well, rutabagas have more of a sweet flavor to them while turnips are spicier.
At the grocery store when looking for rutabagas you will find that these root vegetables are larger than turnips with a yellow flesh and a turnip will also have a brighter purple upper 'shoulder' than rutabagas.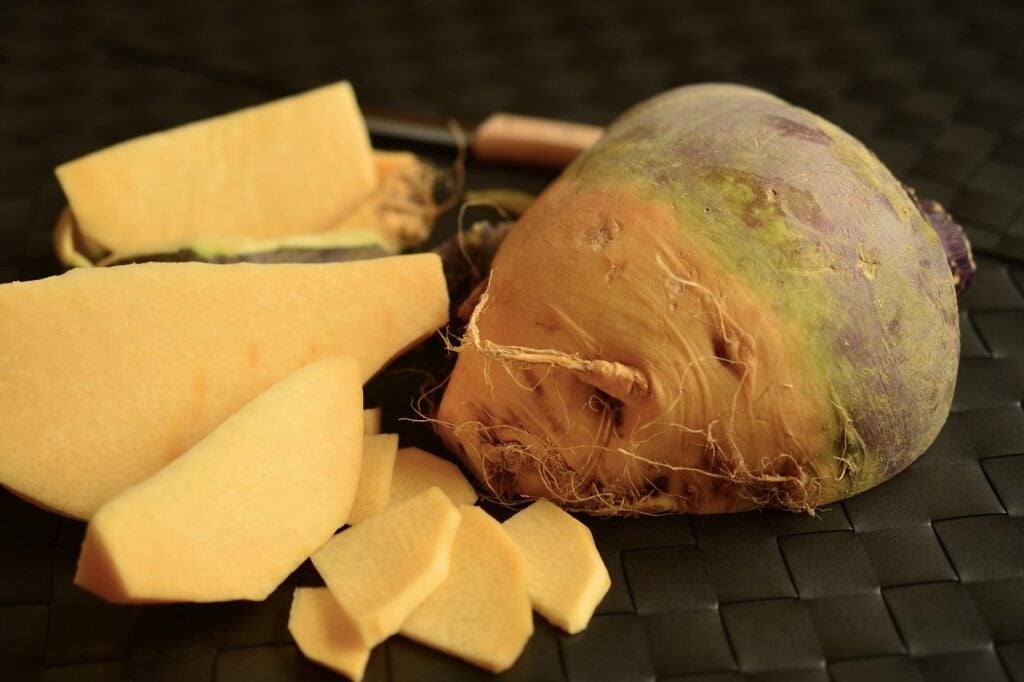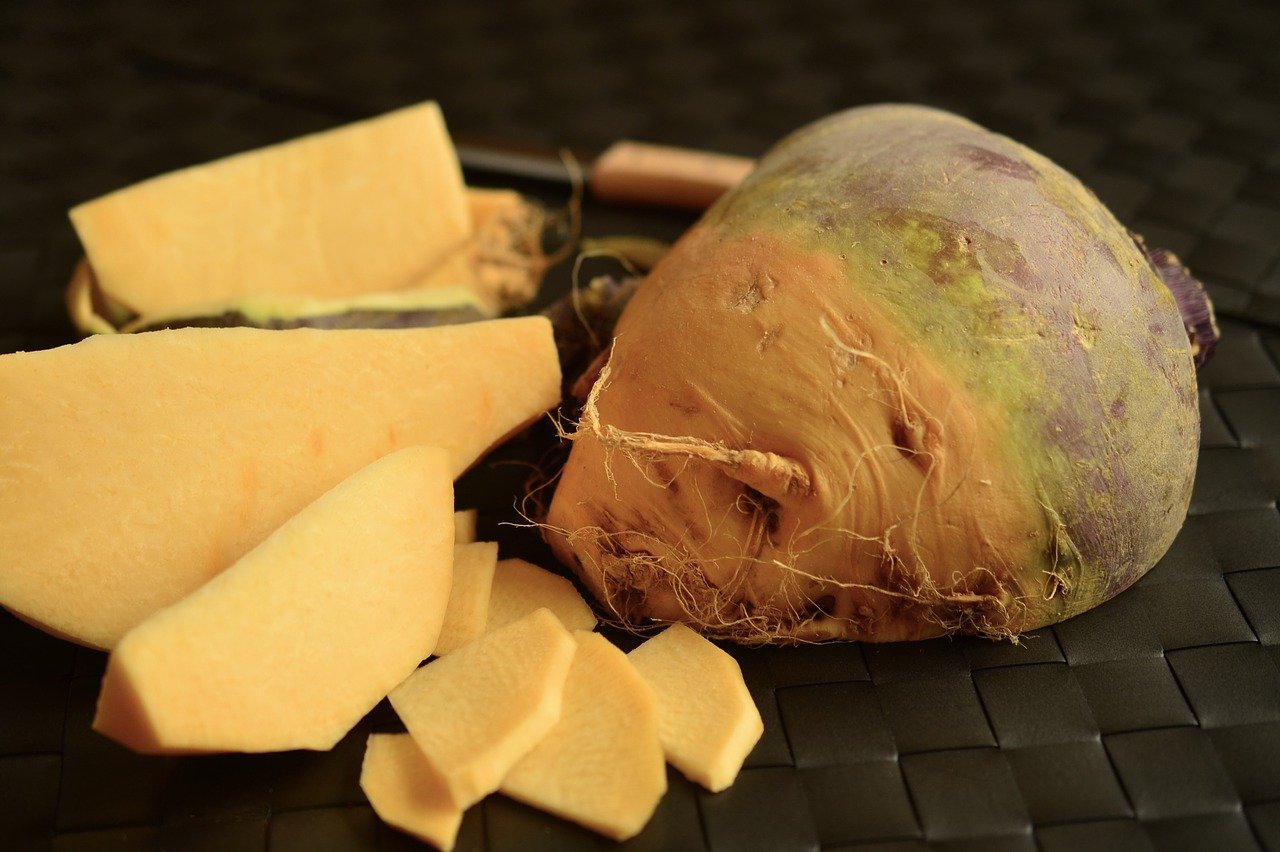 How to make mashed rutabaga
You cook rutabaga much like you would a potato though depending on the cut of the rutabaga you may find that you need to cook a bit longer.
The Instant Pot is perfect for getting it well-cooked soft enough to mash it into a smooth consistency.
Set your Instant Pot to saute and add a drizzle of oil to the inner pot and allow it to heat. Add in your onions and brown sugar to begin to caramelize. You can skip the brown sugar on this one as it is not essential but simply to help speed up the caramelization of the onions.
After your onions have begun to caramelize add in ½ cup bacon bits and your garlic. Saute until the flavors have mixed well.
Steam your rutabagas for 4 minutes in high then allow the pressure to naturally release for at least 15 minutes before opening.
Return the cooked rutabaga to the Instant Pot or a large mixing bowl and add in the butter, cream, pepper, salt, and your sauteed bacon and onions. Mashed together until you get the right consistency. For most this will be smooth and creamy. To get the right consistency for you, consider how you prefer to eat your mashed potatoes and sweet potatoes.
After mashing, move to a greased 9 x 9 casserole dish. This can be lined with parchment paper to make cleaning up easier later. Spread evenly before moving on.
To make the topping for your mashed rutabagas, mix together panko crumbs, pepper, and bacon pieces. Pour in melted butter and mix well until you have a nice crumbly topping. Sprinkle the topping over your mashed rutabaga and broil until the top turns golden brown.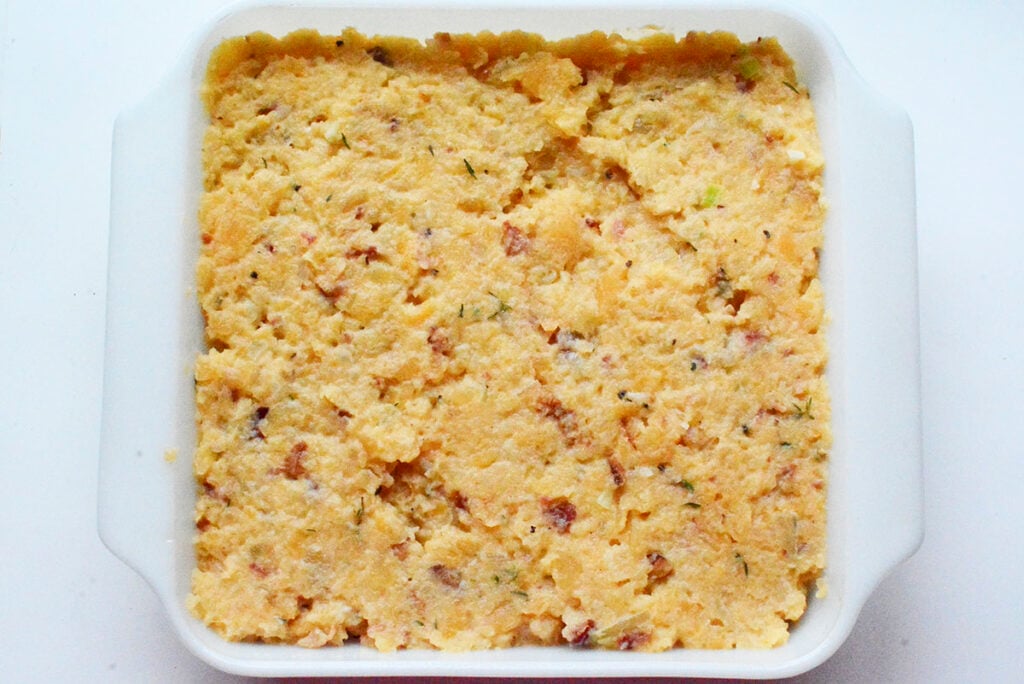 Tips for Making Mashed Rutabagas
I used pre-made bacon crumbles that were equal to about 16 slices. If you are making your own you may want to reduce the butter in the topping to avoid getting an overly greasy topping.
When choosing rutabagas for cooking look for the smaller ones. The larger the rutabaga the more likely it will take on a bitter taste in the final product.
Panko crumbs are a great option for your crumble topping because panko will give you a crispier result but any bread crumbs you have on hand will do the trick.
If you do not wish to mash your rutabagas by hand you should blend them with an immersion blender or stand mixer after adding your cream and butter but before you add in the onions and bacon as they tend to turn to mush when too much power is used.
How to store your mashed rutabagas.
This is definitely something that is best eaten fresh and hot. It will not likely freeze well making it better to not make more than you can use. If you need to make it ahead of time you can make the mashed rutabagas the night before then add the topping and broil before serving to help make your day a bit easier.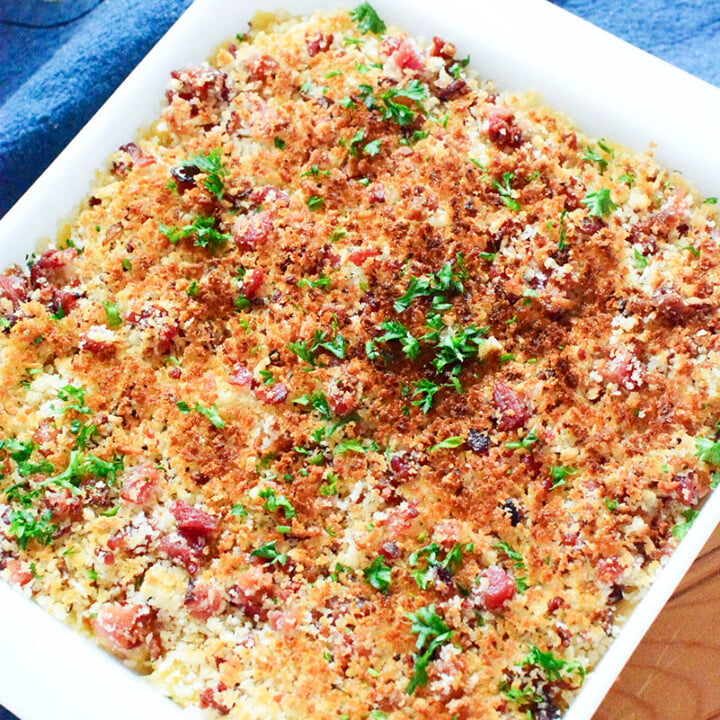 Creamy Instant Pot Rutabaga Casserole With Bacon
Additional Time:
18 minutes
This creamy and savory Instant Pot Rutabaga Bacon Casserole is super simple to make thanks to the pressure cooker. It's easy enough for a weeknight side dish, yet delicious and special enough for your holiday table.
Ingredients
3 pounds Rutabaga, peeled and chopped into 1" cubes
1 cup Bacon crumbles, divided into ½ cup each
½ Onion, large, diced
2 cloves Garlic, peeled and diced
¼ teaspoon Garlic powder
½ teaspoon Thyme, dried
1 ½ cup Water
½ cup Cream
2 Tablespoon Butter
2 Tablespoon Butter, melted
1 teaspoon Brown sugar
1 cup Panko bread crumbs
1 Tablespoon Oil
As desired Salt and pepper
Instructions
1. Press the sauté button on the IP and drizzle the oil into
the inner cooking pot to begin heating.

2. Add the Onions and the brown sugar and begin to sauté. Cook the onions until they start to get a bit of caramelization on them.

3. Add the garlic and ½c of the bacon bits. Sauté until well incorporated and all the flavors are well mixed. Remove from the IP bowl and set aside.

4. Place the steaming trivet into the cooking bowl and pour in the water.

5. Put all the cut rutabaga into the pot, on top of the steamer.

6. Close the lid on the IP and set the toggle
switch to "SEAL". Cook for 4 minutes on high and then do a 15-minute natural
release.

7. When the 10 minutes are up, carefully release any more pressure that is in the pot by turning the toggle switch to "VENTING".
Wait for the pin to drop in the lid and carefully open the lid away from your
face.

8. With protected hands, remove the steamer and lift the inner pot out of the IP. Drain the rutabaga into a colander to empty the
cooking water. Return the vegetable back to the cooking pot and place it back
into the IP.

9. Add the butter, cream, pepper, salt, sauteed bacon, and onions. With a potato masher, mash all the ingredients together until you arrive at the consistency that you'd like.

10. Grease a 9 x 9 casserole dish.

11. Transfer the rutabaga filling to the casserole dish and spread it out evenly.

12. In a bowl, combine the panko crumbs, garlic
powder and pepper, and remaining bacon pieces. Pour melted butter over the
crumbs and mix well.

13. Sprinkle the crumbs over the top of the casserole.

14. Turn the oven to broil and broil the top of the casserole until it gains golden brown color (1-2 minutes).

15. Remove from the oven and let rest for 5 minutes before serving. Enjoy!





Notes
1 The brown sugar is not essential in this recipe but helps caramelize the onions quicker.
2. Regarding the bacon – I used Costco's Kirkland brand of Bacon crumbles:
 https://www.costco.com/kirkland-signature-bacon-crumbles%2C-20-oz.product.100334421.html
I used one cup which would equal about 16 slices of crumbled bacon. The
Kirkland brand bacon crumbles are less greasy, so if the reader wants to use
home-cooked bacon, they may want to cut back on the butter for the topping.
3. For best results, use smaller rutabagas. The larger they get they can tend
to get a bit more bitter.
4. I used panko crumbs because I think they are a bit crispier in texture and
because the filling is a bit soft, there needs to be a good textural contrast.
However, breadcrumbs will work as well.
5. In mashing the rutabaga, the reader can also use an immersion blender to get
a smooth consistency with no lumps. I don't mind the lumps because of the
textural component. If they want to use the blender, then they should blend
after they add the butter and cream, but before adding the bacon and onions.
Nutrition Information:
Yield:

8
Serving Size:

1 cup
Amount Per Serving:
Calories:

263
Total Fat:

16g
Saturated Fat:

8g
Trans Fat:

0g
Unsaturated Fat:

7g
Cholesterol:

37mg
Sodium:

292mg
Carbohydrates:

26g
Fiber:

5g
Sugar:

10g
Protein:

6g
All nutritional information is based on third-party calculations and is only an estimate. Each recipe and nutritional value will vary depending on the brands you use, measuring methods, and portion sizes per household.