Chicken Caprese Pasta Salad has so many delicious flavors for a chilled salad. Creamy bocconcini, juicy tomatoes, savory chicken, and a fun rotini pasta all seasoned with a light yet luscious balsamic vinaigrette makes this salad perfect for any occasion!
Chicken Caprese Pasta Salad – A perfect side or even main that's easy and delicious!
CHICKEN CAPRESE PASTA SALAD
I love this salad because it's really so versatile. You can make it different every single time by just switching up the type of pasta, adding more protien to make it a main meal, and even switching up the spices on the chicken.
Plus, a huge bonus is that you can make it ahead of time and the flavors are even better!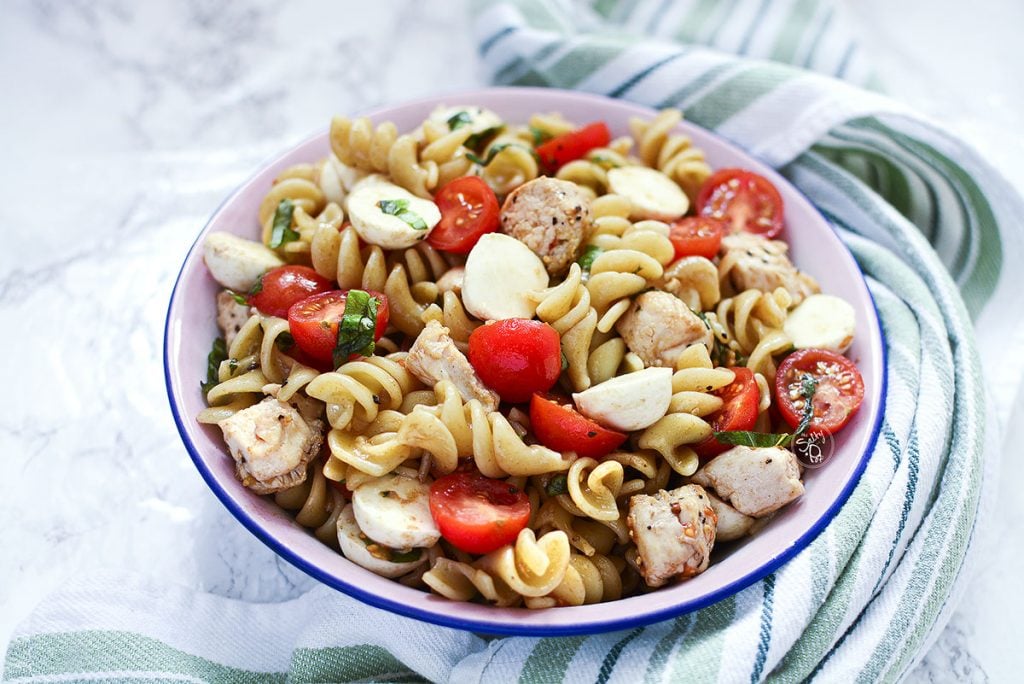 Ingredients Needed:
Pasta: I used rotini for this salad but use what you have on hand. Bow ties would be awesome, or a cavatelli would be super fun too. Even if you have spaghetti or linguini, using that would be great too.
Bocconcini Cheese: Bocconcini is a type of fresh mozzarella that comes in different sized balls. They can go from baseball size right down to pearl-sized. I used a 'cocktail' size of bocconcini cheese for this recipe.
Cherry Tomatoes: Your standard type of cherry tomato would work perfectly here. If they are a little larger than the normal cherry tomatoes, you can cut them in half as I did.
Incidentally, if you have extra cherry tomatoes to use up, check out another side dish recipe for my Mediterranean Roasted Tomatoes – it's scrumptious!
Balsamic Vinegar: Use your favorite balsamic vinegar here.
Oil: I used avocado oil, but use what you have on hand- especially if you like the flavor of it.
Spices: I used Montreal Steak Seasoning, salt, and pepper. If you don't have that, use your favorite all-purpose seasoning.
Basil: Using fresh basil leaves is optimal for this recipe.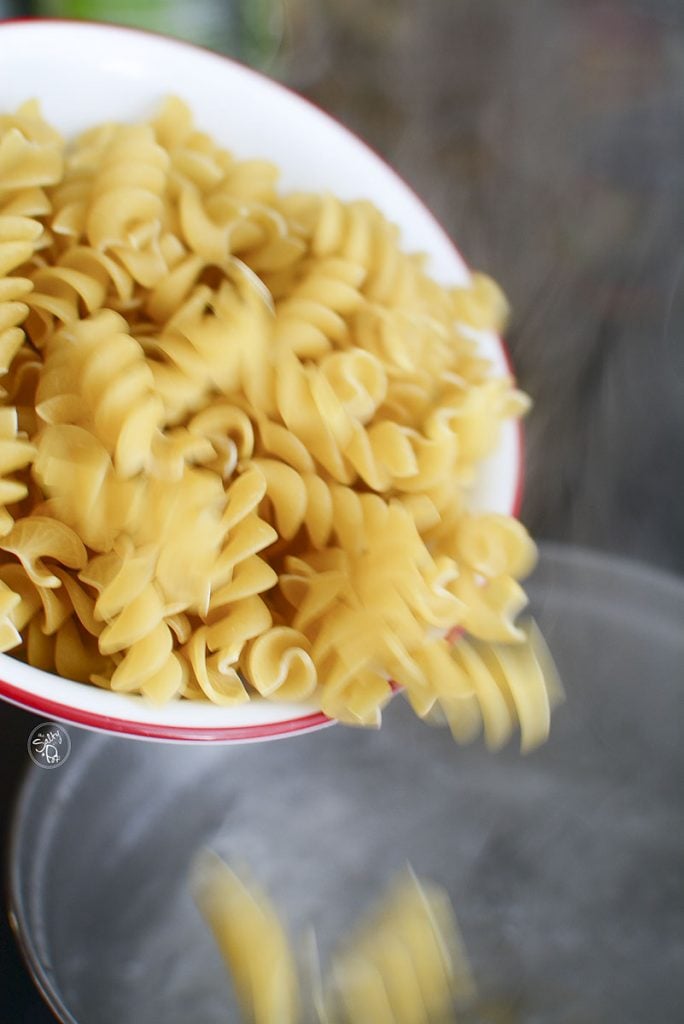 Making It Right
Making this Chicken Caprese Pasta Salad couldn't be easier. You can also make it ahead of time which is even better in order to let the flavors meld together and taste even better!
You'll want to saute your diced and seasoned chicken in a pan. Let it cool. Meanwhile, boil up the pasta in salted water. After cooking, it's very important is to rinse the pasta under cold water to stop the cooking after you drain it.
Mushy pasta is no beuno!

After prepping the other ingredients, the last thing to do is assemble this pasta salad! Soo easy!
Additions and Substitutions for this Caprese Salad
There are so many options here! From changing up the shapes of the pasta, you could also use a different TYPE of pasta! How about a whole wheat pasta? You could also use gluten-free, soybean pasta, quinoa pasta, lentil pasta, etc. With every change, the flavors will be just that little bit different every time!
Also, another nice change is to use white balsamic vinegar if you have it on hand. They taste quite similar (the darker one is slightly sweeter) but the reason for using a lighter one is that the darker vinegar can change the color of the pasta and the bocconcini. I don't care about that, to be honest. I just love the flavor any type of balsamic vinegar gives this Caprese salad!
Lastly, you could add extra chicken if you wanted to make it more of a meal rather than a side pasta salad! That would be perfect for those hot summer nights when it's just waaay too hot to turn on the oven to make dinner!
REFRIGERATION AND FREEZING
The assembled pasta will be great in the fridge for up to 5 days. If you wanted to make it ahead, you could do it a day or so ahead, however, I would LIGHTLY toss the pasta in about ½ a tablespoon of oil just so the pasta doesn't stick together and glumpy in the fridge.
Also, I wouldn't assemble the salad until the morning of the day you plan to serve it. Just keep all the ingredients prepped but separate until you assemble.
I don't really feel this salad would lend well to freezing. Mozzarella has a funny texture after thawing, as would the tomatoes. It's best to eat this salad fresh.
CHICKEN CAPRESE PASTA SALAD
Additional Time:
10 minutes
This chicken caprese pasta salad is a perfect side to any protein. The soft creamy cheese with juicy tomatoes, seasoned chicken and bouncy pasta all combines so well with the delicious dressing, this salad is a hit everywhere it's served!
Ingredients
1 chicken breast, skinless, boneless, diced into bite size pieces
8 ounces of dry rotini pasta
1 pint of cherry tomatoes
1 container bocconcini cheese, cocktail size (15 - 20 pcs)
2 tablespoon fresh basil leaves, sliced into strips
1 tablespoon oil for frying
1 teaspoon Montreal Steak Spice (or your favorite seasoning for chicken)
salt and pepper to taste
DRESSING:
2 tablespoon Balsamic vinegar
1 tablespoon avocado oil (or any oil you prefer)
salt and pepper to taste
Instructions
Begin by boiling the pasta according to the package instructions, in salted water. When the pasta is cooked, drain and rinse under cold water to stop the cooking.
While the pasta is cooking, season the chicken pieces fry them in a tablespoon of oil in a frypan until cooked through. Set aside to cool.
Cut the tomatoes and bocconcini balls in half.
In a small bowl, make the dressing by combining the oil and vinegar. Season with salt and pepper.
Assembly: In a large bowl, transfer the cold pasta. Add the chicken, tomatoes, cheese, and basil.
Give the dressing a really good whisk to emulsify it and immediately pour over the contents of the bowl.
Toss the salad lightly and chill, covered, for at least an hour before serving.
Enjoy!
Notes
Use white balsamic vinegar for a nice switch up.
Add extra chicken if you want to make this salad a meal.
Make this salad a day ahead of time by prepping the ingredients, and storing them separately. Then assemble the morning you plan to serve it.

Nutrition Information:
Yield:

6
Serving Size:

1 cup
Amount Per Serving:
Calories:

178
Total Fat:

8g
Saturated Fat:

2g
Trans Fat:

0g
Unsaturated Fat:

5g
Cholesterol:

10mg
Sodium:

110mg
Carbohydrates:

16g
Fiber:

1g
Sugar:

4g
Protein:

5g