Beet Avocado and Feta Cheese Salad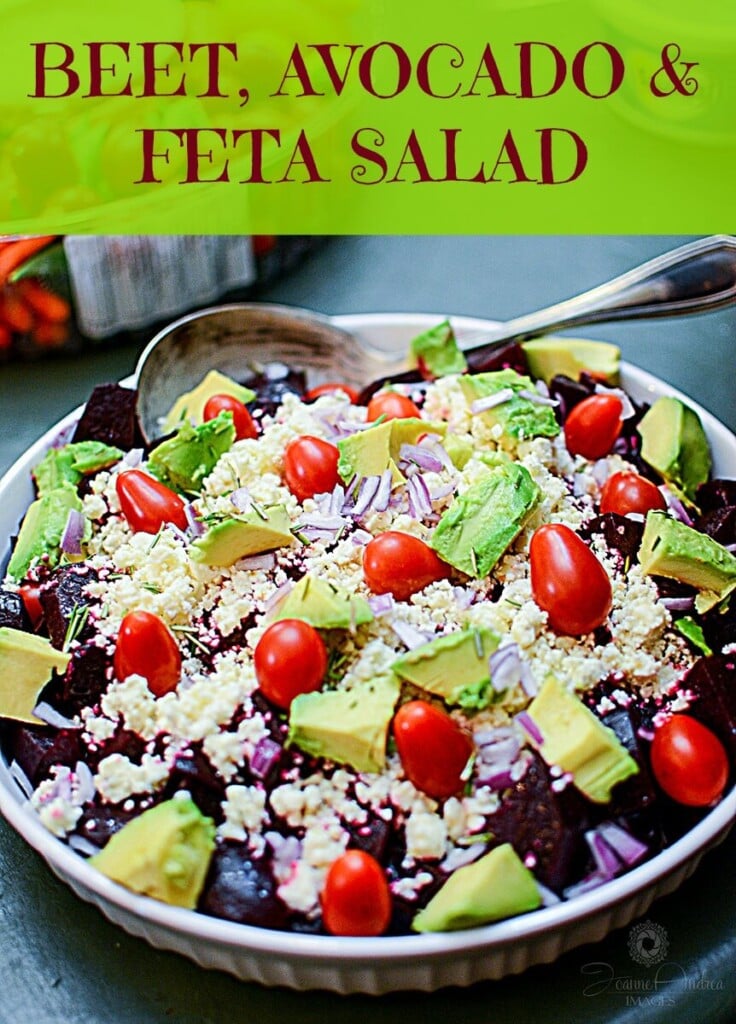 Ohhhh.. the BEET. The humble beet. Powerhouse of nutrients but so underused. Let me tell you a little story about a beet salad. A beet salad that made friends with an Avocado and went to a party with some crazy salty feta cheese. They started a gang… called themselves The Beet Avocado and Feta cheese gang. Well.. not gang…. salad. They called themselves a salad. And they were mighty tasty that night.  Wanna hear the story?
As some of you may know, my heritage is Ukrainian and Dutch. As some of you may also know, Ukrainian Christmas just took place recently. As some of you may NOT know, my great grandmother, Anastasia Kozak had 16 children.  Yes…… 16.
Ouchie.
 Well, as family trees grow, it shouldn't surprise you that our family reunions take place in a HUGE lodge, and they are always a pot luck. Can we just talk the food for a moment??? 
Cabbage Rolls, Nachynka, Lazy Cabbage Rolls, Nalysnyky, Perogies of course, Chicken, Beef, Meatballs, Mashed potatoes, roasted vegetables, and plenty of different salads, cheese trays, veggie trays, dressing, condiments, buns, etc. Let's not even discuss the multi tabled dessert section. When you're feeding a lodge full of around 75  – 100 people, we need to stock up on the grub!  So with a lot of people pitching in and bringing a dish, everyone pretty much feels like an overstuffed cabbage roll leaving the lodge at the end of the evening. It's safe to say that going to my yearly family reunions are why treadmills were invented.
So, my contribution was this amazing Healthy Beet, Avocado and Feta Cheese Salad. It's so pretty, isn't it?  If you want a hero recipe where people come and thank you over and over and over for making the most amazing thing they've ever tasted in their entire lifetime….. it probably won't happen with this recipe. However.. that night, I had people literally seek me out to ask me about this salad because it's just that ridiculously tasty! 
Ok.. a few notes: 
When you purchase the beets, try your best to get the kinds with the tops still attached. You'll usually find them in organic section, but the cost is worth it. The tops can be used for a different recipe that I will show you in the next day or so, so it really stretches your grocery buck.
Scrub the beets and remove the tops, placing them in a sink filled with cold water. While you're cooking the beets, take the tops and trim off any "beety" part and wash off any visible sand/dirt really well. Pat them dry with some paper towel, and roll them up in more paper towel and put them in a large plastic bag and place them in the fridge. They will keep surprisingly well for a few days.
When assembling the salad, make sure to put the beets and the marinade on the bottom and then layer everything on top of that. If you try to mix it all together, you'll have a huge bloody looking (quite literally) mess because the beets are highly pigmented. When you peel them, you might want to use gloves, but if you don't care, get them all red from the beets and freak out the kids or your other half. Should be good for a fun moment…haha!!
I love this salad because it has really nice earthy fresh flavors, and it hits all the right points ( sweet, salty, tangy and creamy). Let me tell you folks, it's worth the effort to make this superb recipe!
Lastly…. in the day or two after you eat this fantastic  salad, don't be alarmed when you're ….. ahem… in the washroom. You're not dying…IT'S RED BECAUSE OF THE BEETS!!! 🙂
Healthy Beet Avocado and Feta Cheese Salad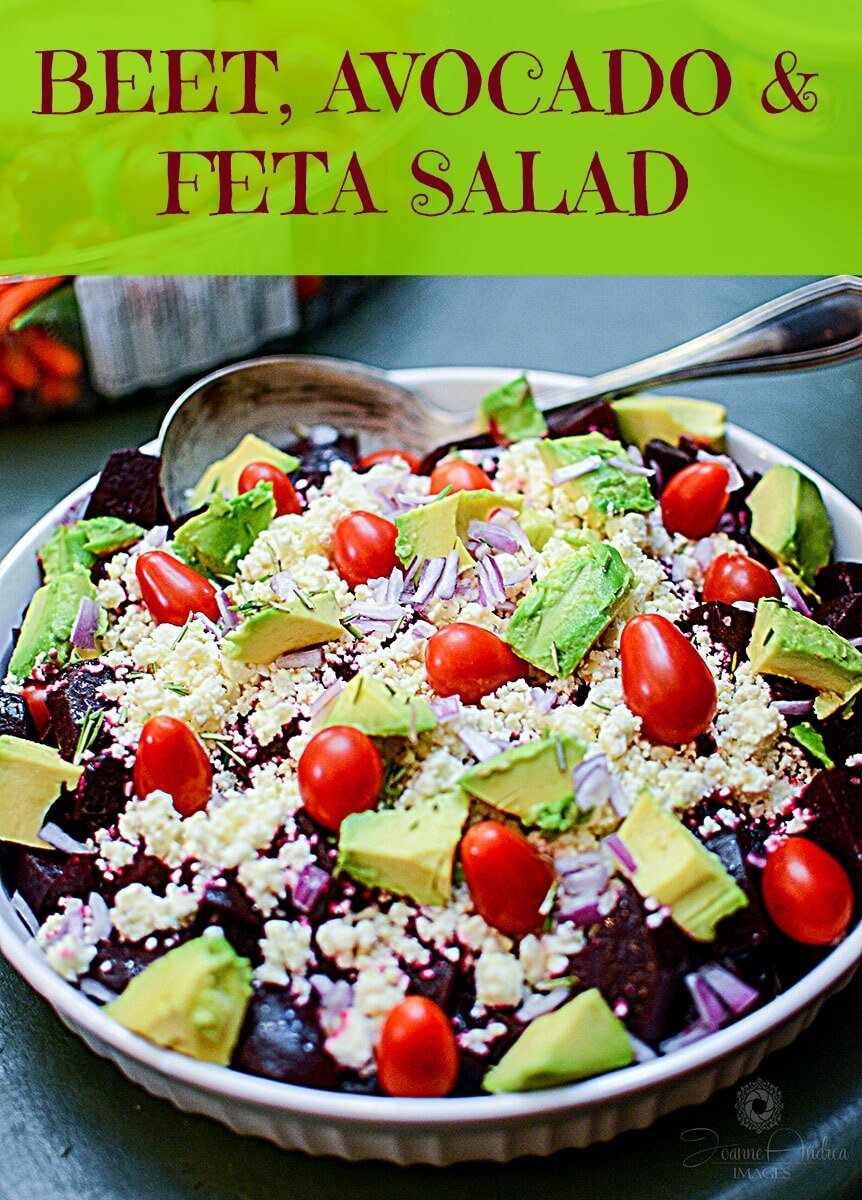 Fresh. Earthy. Sweet. Sour. Salty. Creamy. What more do you need?
Total Time
1 hour
30 minutes
Ingredients
Beets
Feta Cheese
Red Onion, finely chopped
Avocado
Cherry Tomatoes
Olive Oil
Balsamic Glaze
Balsamic Vinegar
Fruit Juice
Instructions
Remove tops/greens from the beets. Scrub them well and cut off the roots.
Place them in a baking dish and bake them covered, for approximately an hour or until a fork spears them easily
Remove from oven and let them cool completely
When cooled, remove the peel (they should slide off, or you can use a paring knife)
Cut them into large bite size pieces and place into a bowl
For the dressing, measure one part each of the balsamic vinegar and glaze, (eg: 2 TB each).
Then, add equal parts of fruit juice (So if balsamic vinegar and glaze equal 4 TB, then add 4 TB of fruit juice)
Then add two times the olive oil to vinegar/juice measurement. Mix well and pour over beets. Let marinate for 30 minutes.
When assembling, lay the beets and dressing first. then top with feta cheese, red onion, cherry tomatoes and avocado chunks.
Enjoy!