Let me tell you, you gorgeous reader, that these chili lime ribs are THE BEST I've ever made. The chili flavor then the zesty, tart lime flavor follows like an adoring sibling to a party at flavor town! Pair all that with a fantastic smokiness from the grill and tenderness from the cooking method makes these ribs an absolute HOME RUN!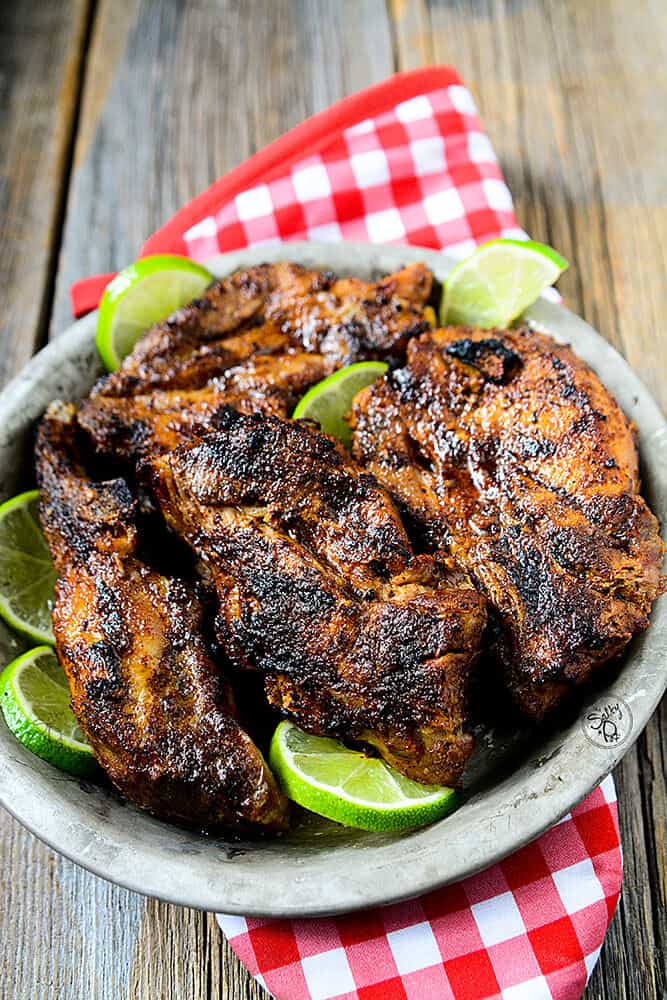 GRILLED CHILI LIME RIBS
First all, I used a country pork rib for this recipe. These cuts of ribs come from the end of the loin that's near the shoulder – and we know what the shoulder is usually used for in cooking – PULLED PORK! So not only are these ribs (usually) boneless, they are EXTREMELY meaty, juicy and tender, which makes for the BEST CHILI LIME RIBS EVER!!
While these ribs aren't as tough as your typical pork rib, they still do need a bit of tender loving care. While most people would boil ribs, and you could do that cooking method here, I am too lazy to stand over the pot to make sure they don't boil over.
What Is The Easiest Way To Cook These Shoulder Ribs?
One of my secrets to the most tender ribs? THE SLOW COOKER! Yes!  Here's what makes the slow cooker the best method to cook these babies!
You are cooking them low and slow. Low and slow spells TENDER!
You don't have to keep watching the pot to make sure they don't boil over
You use very little liquid in the bottom of the crockpot insert, so you're not boiling away a lot of the flavor
Cooking these in the slow cooker means not messing up your stove top and it will keep another burner clear if you need to cook something else
It's just overall just super convenient!
How Do I Prepare These Country Ribs?
When you get your ribs home from the store, rinse quickly under some water, and then pat them dry.

Season them with salt and pepper, and set them aside momentarily.
Line your slow cooker insert with parchment paper, or a bowl liner. This is optional of course, but who doesn't want super easy cleanup??
If you don't have it, no biggie, don't stress it.
Set your ribs in the slow cooker to cook. Add a ¼ – ½ cup of water to the bottom of the bowl, just to create some steam that will help retain those juices from the pork and not dry out.
Cook on low for about 6 – 7 hours or on high for 3 – 4 hours. Now, keep in mind, these times are approximate because all slow cookers cook at different rates and slightly different temps, but use those time suggestions as a guideline and just keep an eye on them near the end of the cooking times.
After cooking, gingerly remove the ribs to a plate to rest.
Heat your bbq to medium high – high.
In a bowl, mix up the chili lime seasoning mix and set aside.
The ribs are fully cooked but you want to add the seasoning to the surface, and as well, finishing them on the BBQ because it only adds that smoky flavor and some nice grilled texture to the ribs.
Really, don't miss this step. You COULD just put the seasoning on them without grilling, but honestly, this last step seriously makes them the best-grilled chili lime ribs EVER!.
So throw them on the grill when the BBQ comes to temperature. Start basting those ribs with your chili lime seasoning.
Leave the ribs to get all smoky and grilled for a few minutes a side – until you start seeing some great color on them. Turn and re-baste.
With this cut of country-style rib, it's not that easy to dry them out, but it IS possible, so be careful you don't overcook them!
When you've grilled each side and they have some nice color to them, remove from the grill and let them rest. That's it!! Easy peasy to make these chili lime ribs right?
What Do I Serve As A Side For These Chili Lime Ribs?
Well, just as an added flavor component, you could serve a few lime wedges to squeeze over the top if anyone wants to add some of that extra zing!
But as a side dish, why not try:
Grilled Corn On The Cob (done 4 ways!!)
Instant Pot (Ninja Foodi)  Spanish Rice
Yummy Stick Of Butter Rice
And if you'd like to try another Chili Lime dish that would compliment the ribs and serve as an appetizer, these Chili Lime Shrimp Appetizers that I made are PHENOMENAL!! I hope you give these chili lime ribs a try! If you enjoy this flavor profile, you WON'T be sorry you made these! Thanks for stopping by The Salty Pot! 🙂 Have a great day!
**DON'T FORGET TO SAVE THIS GRILLED COUNTRY CHILI LIME RIBS RECIPE TO YOUR FAVORITE PINTEREST BOARD TO USE FOR LATER!!**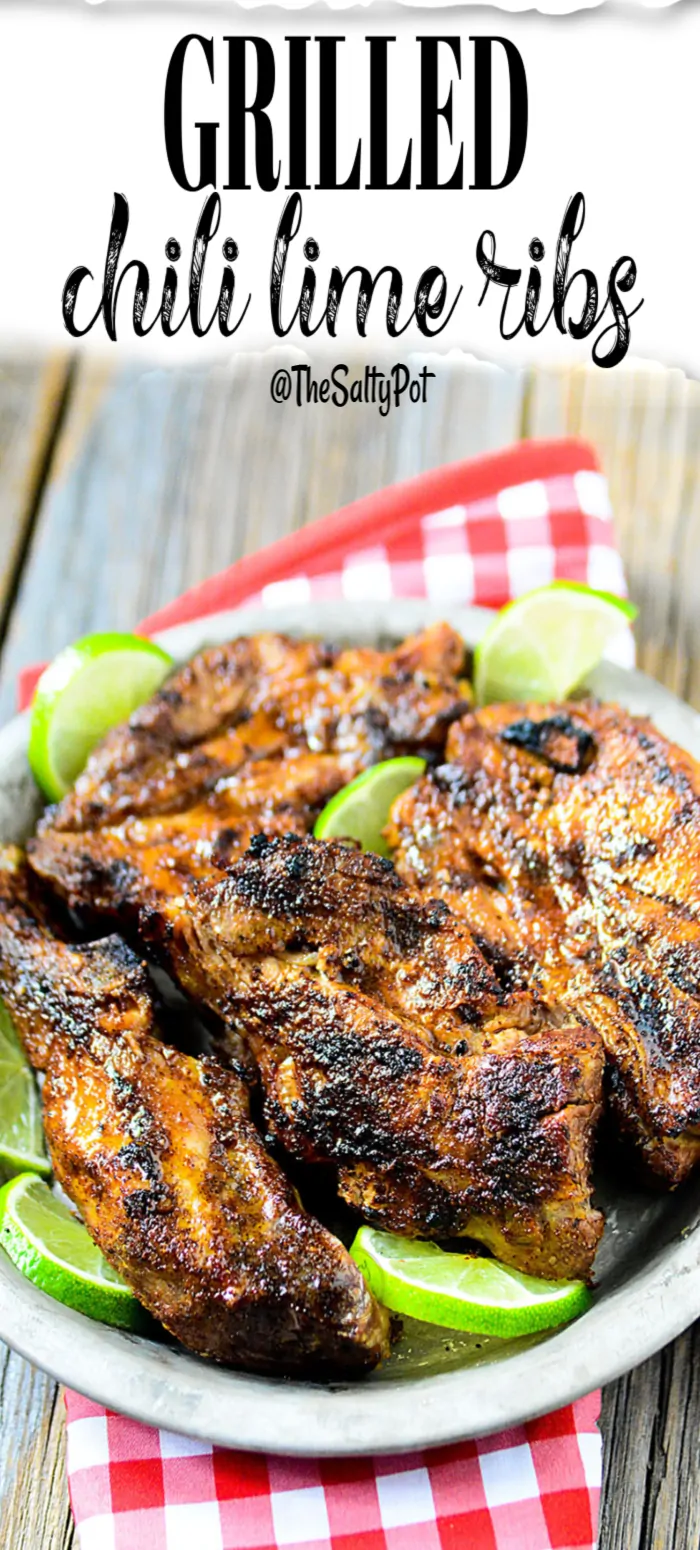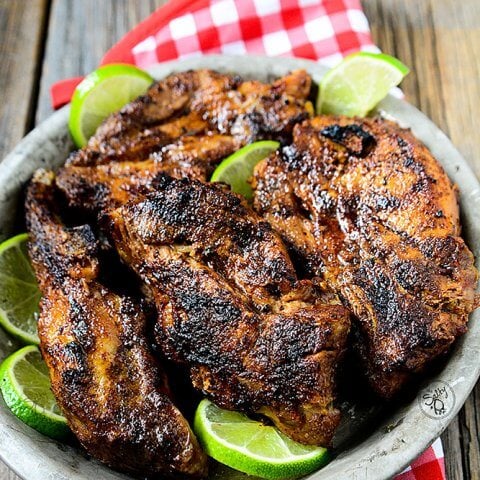 Grilled Country Chili Lime Ribs
Total Time:
7 hours
10 minutes
Smoky, savory, tart, juicy and zesty, these chili lime ribs are simply amazing!
Ingredients
3-4 lbs country style pork ribs, can use pork steaks as well, cut into strips
Chili Lime Seasoning Mix :
3 tablespoon lime juice
2 tablespoon oil
3 tsp. chili powder
1 teaspoon garlic powder
1 teaspoon onion powder
½ teaspoon salt
1 teaspoon lime zest
Extra lime slices for serving
as desired salt and pepper for seasoning meat
Instructions
Wash and pat dry ribs. Season with salt and pepper.
Line the slow cooker bowl with a liner, or parchment paper
Place the ribs in the bowl with ¼ - ½ cup of water (or chicken broth)
Cook on low for 6 -7 hours or high for 4 - 5 hours. (Cook to an internal temperature of at least 145 degrees).
Carefully remove the ribs and let rest a few minutes
Heat the BBQ
In a bowl, combine all the ingredients for the Chili Lime Seasoning Mix.
Place the ribs on the BBQ and begin to baste the seasoning all over. Grill until you see caramelized color on the ribs, and then turn and re-baste, until all sides are grilled.
Serve with extra wedges of lime.
Enjoy!