This incredibly delicious sweet and savory Apricot Mango Sheet Pan Chicken has chicken pieces roasted with spices and topped with sweet apricot mango preserves that make this sheet pan chicken a winner! Easy to get in the oven for those busy weeknights that you're running short on time.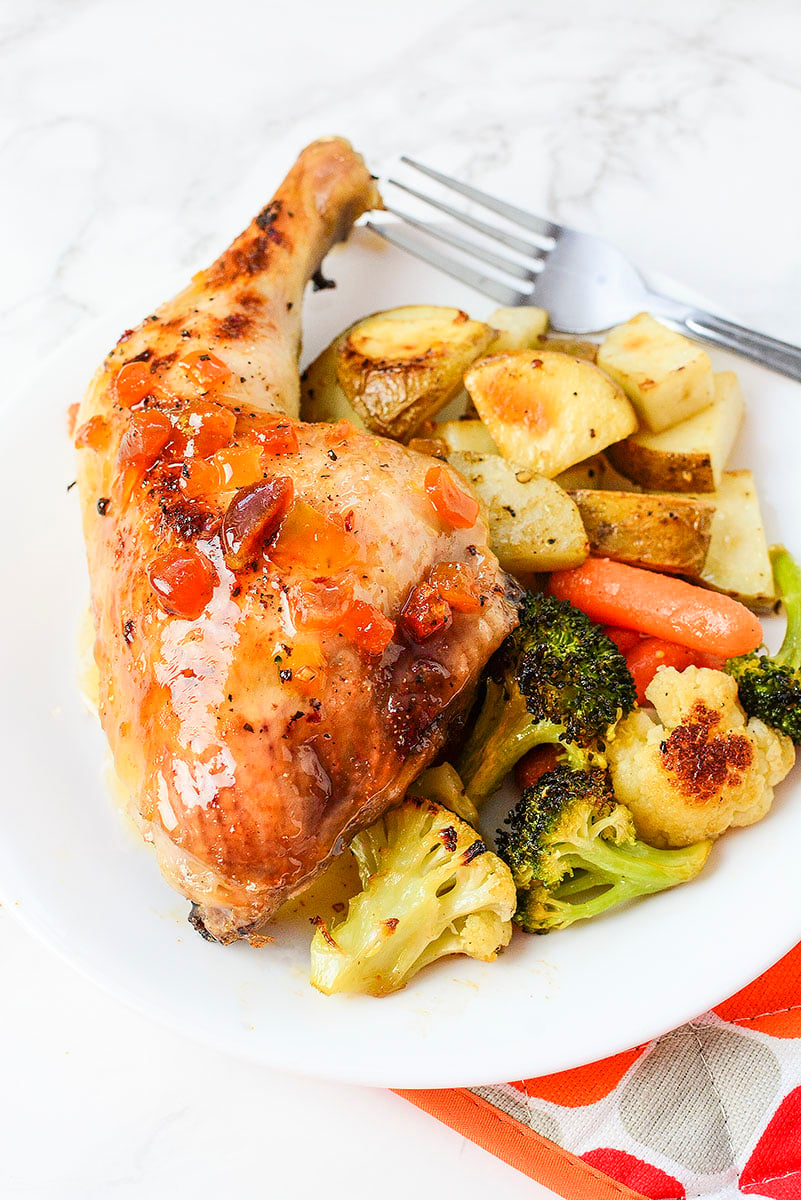 Cooking Chicken with a Sweet Fruit – ALWAYS a winner!
Apricot Mango Sheet Pan Chicken Dinner
Whether you love cooking or just want to make a conscious effort to eat healthy, we all know how it can end up being a tad bit more time consuming than we'd like.
…………….And then came the concept of sheet pan dinners, which changed all of that!!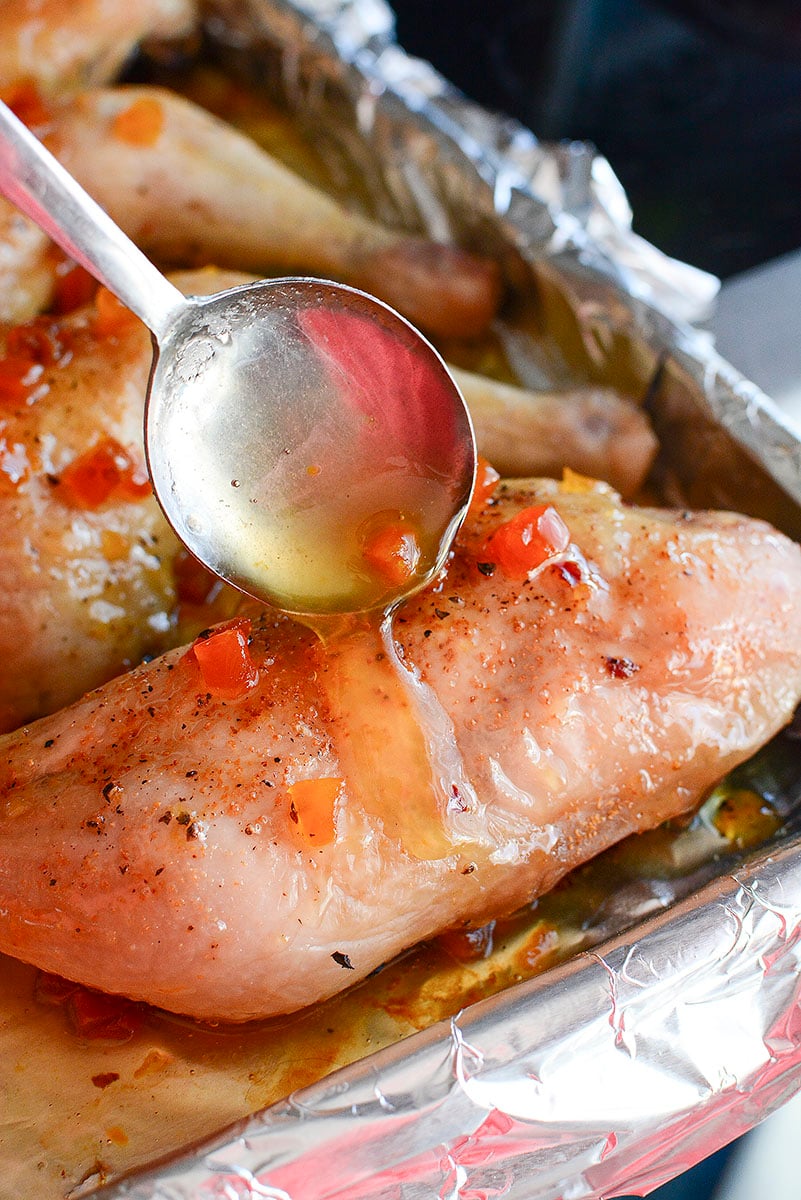 Sheet pan dinners quickly became trending and a fun, quick and easy way to get delicious food on the table in record time. When I made this One Pan Tzatziki Chicken and Potatoes, I was pretty much hooked on the whole sheet pan dinner idea.
Then I made my BBQ Sheet Pan Chicken and Veggies which turned out OUTSTANDING!
And guess what? Your girl recently gave it a shot again and tried whipping up this apricot mango sheet pan chicken, and you won't believe how incredibly delicious it turned out!
Which Cut of Chicken Should I Use?
For this recipe in particular, I used chicken legs with the thighs attached- they're actually a bit cheaper than chicken breasts, and also more flavorful because they are fattier pieces plus they have the bone.
You don't have chicken legs with thighs attached? No worries! Use to what you have on hand because this recipe will work with it. (You just have to adjust your cooking time). The idea is to make the process of making these quick and convenient.
Just remember to wash your hands thoroughly after you've handled the chicken to prevent the spread of any infections, and also remember to cook the chicken perfectly- at a temperature of 165 F.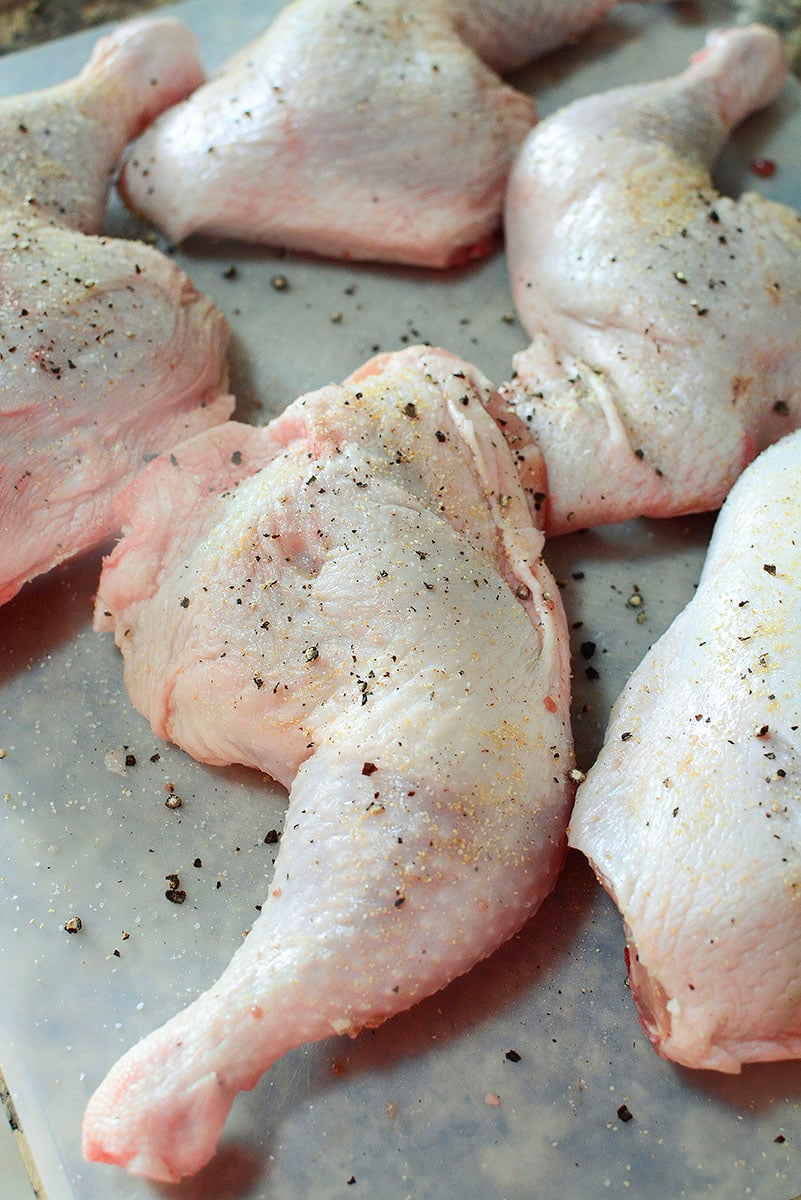 And What About the Veggies?
I used lemon because it tastes great with the potatoes and lends a nice tangy flavor that teams up well with the apricot and mango. Lemon zest adds another zing, and since you've already used up the lemon, why waste the rind?
Since you'll be cooking the potatoes with the chicken, you need to size them correctly to ensure everything cooks perfectly together. Ideally, potatoes should be cut in an 1″ – 1 ½″ cube.
As far as the veggies are concerned, you can use any veggies you like or already have in your refrigerator- broccoli, cauliflower, carrots and bell peppers all taste great! Again, just pair veggies that have close to the same cooking time or you may have to take some of the vegetables off the tray before the rest are cooked.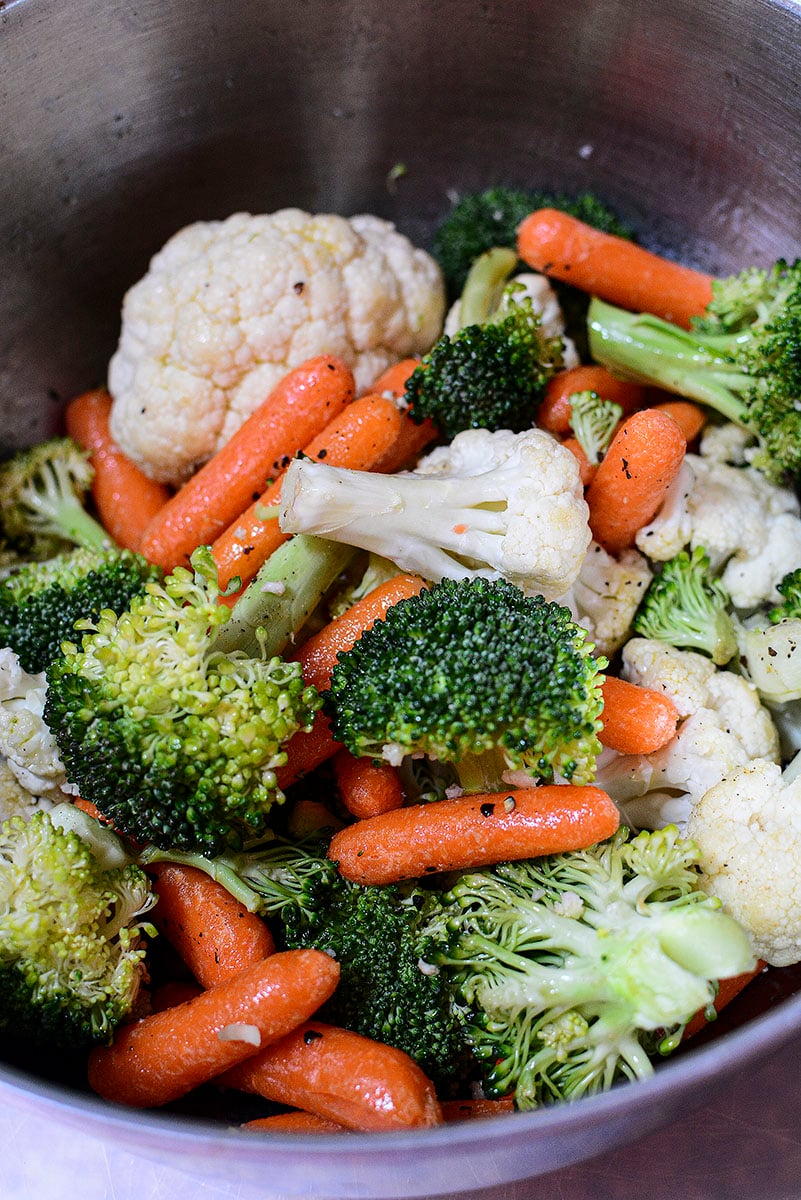 Which Jam Should I Use?
I used apricot mango jam which had the jam filling and pieces of fruit in medium sized chunks, but you can stick to regular apricot mango jam too! In fact, you can use any other jam you prefer- orange, plain apricot, mango, peach are all good flavor choices. Even a marmalade will work beautifully!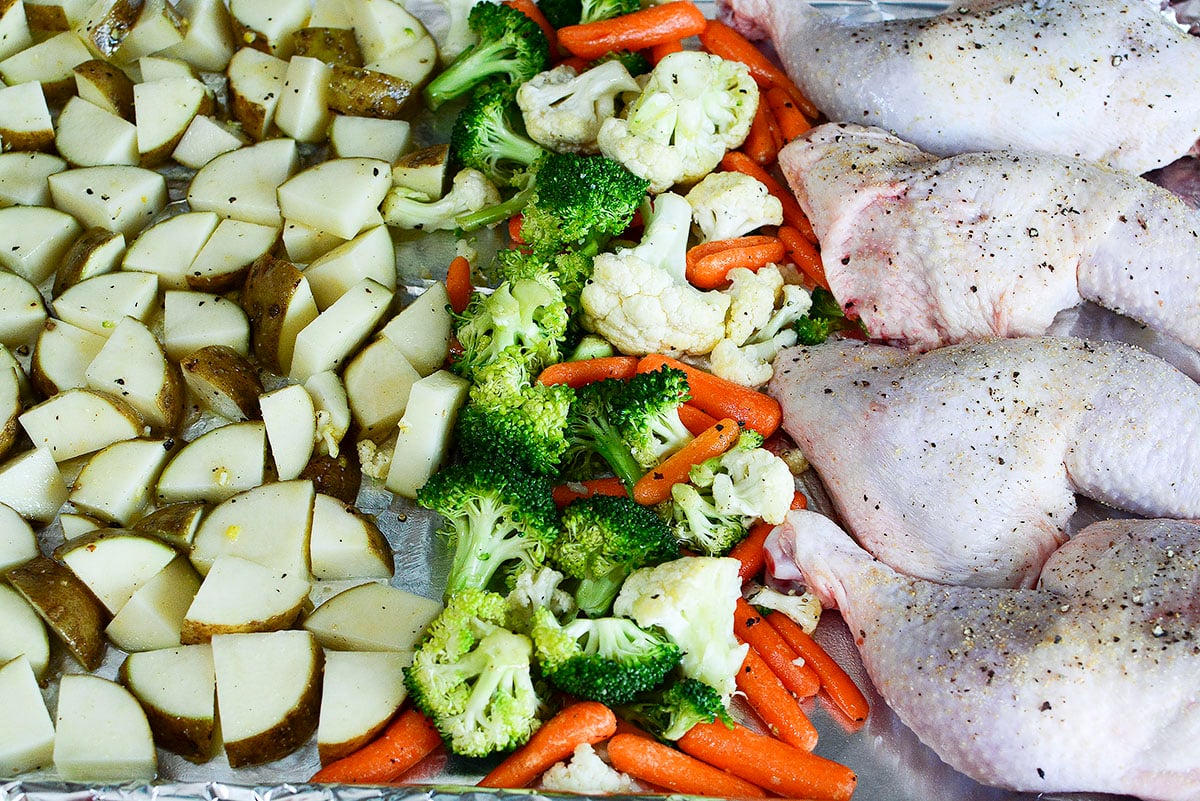 Serving Ideas & Suggestions
This chicken dinner is actually great when you have it as is, but you can also team it up with some rice or pasta if you want to add a bit more bulk to the dinner. Serve it with a green salad like this Easy Green Salad with Lemon Parmesan Dressing from Simply Delicious Food on the side and you're pretty much done.
The beauty of sheet pan dinners is the fact that they're so easy and convenient, and are perfect if you're someone on a time crunch but still want to whip up a delicious and healthy, home cooked meal for yourself.
Roasting everything on a sheet pan literally means less mess in the kitchen, less dishes to do, and everything becomes so easy to clean up. So the next time you find yourself with just a little time to prepare dinner, just give this recipe a try!
And, if you've already made this recipe, did you switch it up? What type of jam did you use? What veggies did you pair with it? Please comment below and give all some different ideas!
The printable recipe for this Apricot Mango Sheet Pan Chicken is below!
APRICOT SHEET PAN CHICKEN
Yield:
1 sheet pan dinner
A deliciously easy way to get your dinner on the table with less hassle, less mess, and less cleanup! Apricot and mango flavors pair so well with the chicken, you'll want to make this a weekly event!
Ingredients
5 chicken thighs (legs attached) (quarter chicken)
4 large potatoes – washed, chopped (bite sizes), skin on *optional
12 oz bag of mixed medley veggies, broccoli, cauliflower and carrots
1 lemon, zested and juiced (juice separated into half)
2 tbsp. oil
as desired, salt, pepper and garlic powder
6 oz. jar of apricot mango fruit preserves of any brand name
Instructions
1. Preheat the oven to 350 and foil line the baking sheet for easy cleanup (see notes)

2. Chicken: Season with salt, pepper, and garlic powder (both sides). Arrange on one side of the baking sheet.

3. Potatoes: In a bowl, combine the chopped potatoes with the lemon zest, 1 tbsp. oil, one half of the lemon juice, salt and pepper. Toss well and arrange on the other side of the sheet pan.

4. Vegetables: In the same bowl the potatoes were in, place all the veggies together. Add 1 tbsp. of the oil, the remaining half of the lemon juice, salt and pepper. Arrange in the middle of the sheet pan between the chicken and the potatoes.

5. Place the sheet pan into the preheated oven and roast for 35-40 minutes. At the 25-30 minute mark, check on the center of the pan vegetables. If they are cooked and caramelized on the
bottom, carefully remove the vegetables and keep them warm by tenting them with foil in a heavy bowl. If not, continue cooking them

6. In the last 10 minutes of cooking, heat your preserves in the microwave so they are easy to spoon and spread onto the chicken. (Usually 15 seconds or so) Be very careful as they will be VERY hot at this point.

7. Divide the apricot mango preserves over the tops of the chicken. Continue to roast.

8. When the chicken has reached 165F degrees and the juices are running clear dinner ready. The potatoes should be fork tender and crispy on the bottom.

9. Remove from the oven and serve immediately. Enjoy!

Notes
You can also use parchment paper to line the baking sheet.
Be very careful when heating up the preserves/jam. The sugar makes it very hot.
When the jam is spooned over the top of the chicken and it's back in the oven, keep an eye on the chicken so it jam doesn't burn the top.
Nutrition Information:
Yield:

5
Serving Size:

1 thigh and leg
Amount Per Serving:
Calories:

610
Total Fat:

24g
Saturated Fat:

6g
Trans Fat:

0g
Unsaturated Fat:

18g
Cholesterol:

166mg
Sodium:

397mg
Carbohydrates:

64g
Fiber:

9g
Sugar:

10g
Protein:

39g