(…… and she kept saying to me, she KNEW I had to be cheating with this dessert! I told her, noooo, it's not cheating, it's just making life easier! So then she said to me…………).   OHHH!  Hi there, I didn't see you there! Welcome! Did all my whispering about this cheater fruit cobbler dessert bring you here? Well, you know what? Whatever it was, I'm glad you're here. I wanted to talk with you about something….
Cheater Fruit Cobbler Dessert
I was just going over a conversation I had with a friend about this fruit cobbler recipe. YES, it uses a box mix. YES, it uses frozen fruit and soda. Does the fact that I didn't make the cobbler part from scratch and go out and pick my own fruit (living in the northern tundra part of the world makes natural growing mangos difficult to find!) and instead, used frozen bagged fruit, make me a cheater? A BAKING CHEATER?? I think NOT my friends!! Listen, our lives are busy enough with everyday sanity survival and sometimes that sanity calls for something sweet..STAT!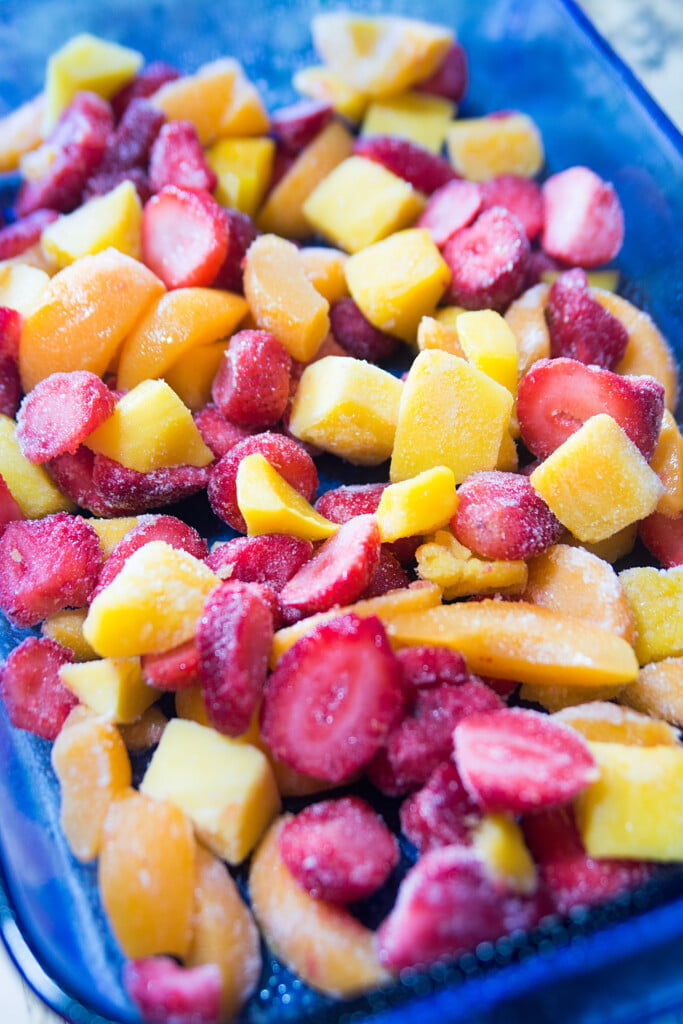 I'm not saying this is the one and only way to make desserts, and yes, of course, I will fully admit that desserts from scratch are often always better. But when your day is filled with forgotten appointments you're trying to reschedule, piled high laundry loads, door knockers looking for money, placing phone calls with no answers, clients that need their photos yesterday, and the dog that's dragging his ass across the lawn because he needs "THAT" done at the vet,….well, it's time for a sweet sanity break.  AND NOW.
This fruit cobbler dessert will fit that bill. It comes together in almost zero time and while it bakes, you can take care of those little odds and ends that GLARED at you as you walked by them in the past, trying to ignore them. No, I'm not talking about kids… I'm talking little tasks that need to be cleaned up and put away. Ok, I'm STILL not talking about kids, but you know what I'm getting at.. haha, j/k.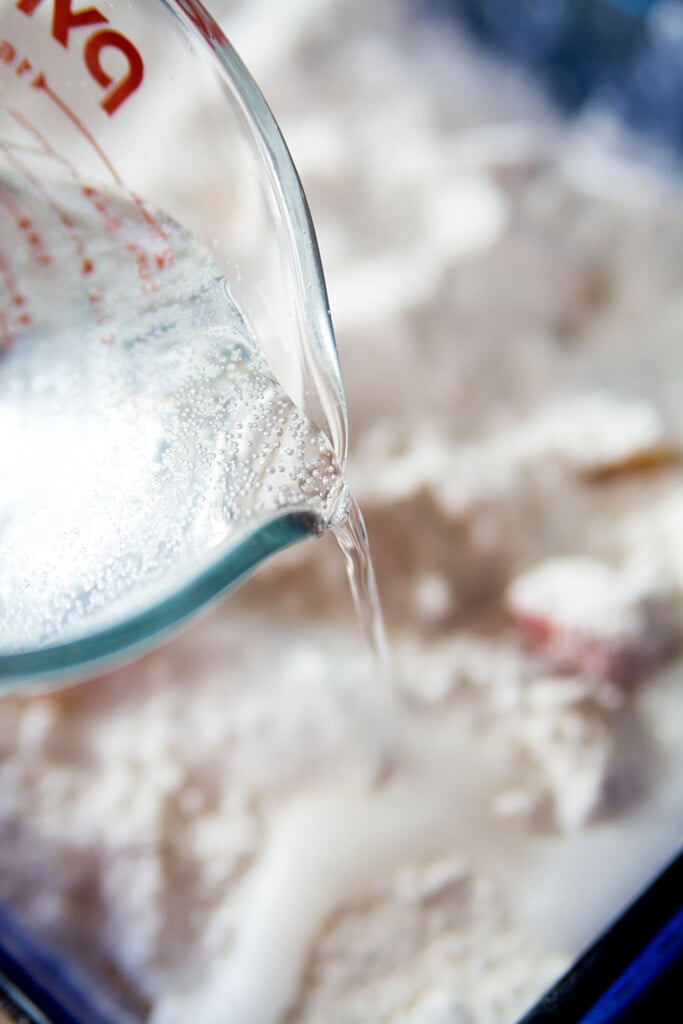 Seriously, an hour or so to bake, and while you're dusting the house and pulling weeds or finishing off the invoicing and booking your next set of clients, or even finishing off your daughter's science presentation for school, your reward is baking in the oven.
Side it with some ice cream, or some whipped topping  – not real whipped cream because with all that you do my beautiful reader, I know in THIS moment, you don't have time now start whipping up real whipped cream. (unless you do that in the hour baking time, in which case, WOOOHOOO – GOOD ON YA!!) However, if that "real" whipped cream happens to come from a can, use that!! Swirl that stuff all over the top of your dessert when it's ready to serve, – who cares!! Sometimes you just gotta NOT stress yourself out and put your nose in the air with an attitude of who gives a doodie?? (my 'nice' word for shit.).
Look, we all try our best to do the right thing by ourselves and our family. We try to eat right, cook right, shop the perimeters of the store instead of the inner isles, pay our bills on time, get lunches made,.. yadda yadda. But sometimes… just SOME TIMES….. bending the rules or giving yourself some slack is ok. Getting it perfect every single time isn't going to happen, right?? Give yourself a well deserved break and have this fruit cobbler dessert in the middle of the day. Eat it while it's nice and warm and comforting. Watch your favourite show on tv while you eat it. Just take that moment FOR YOU. It will take the craziness out of your day, satiate that sweet craving, and give you something to bribe the kids with when it comes to them doing their chores. Haha!  There's no cheating here, just being easy on yourself, which you know you deserve. Enjoy!
cheater fruit cobbler dessert
A super easy, stress free and yummy fruit cobbler dessert!
Total Time
1 hour
5 minutes
Ingredients
1 cake mix, yellow or white will do
1 can lemon lime soda
1 bag frozen fruit, mangoes, peaches, strawberries, what you have on hand
Instructions
Preheat oven to 350
In a 9 x 13 pan, spread out the frozen fruit
Sprinkle the entire box of cake mix onto the top of the fruit
Slowly pour the soda over the top of the cake mix (there will be dry spots, but try your best to cover as much as possible)
Bake for 1 hour or until the cake portions are cooked through and the fruit has softened
Remove from the oven and let cool. Serve with ice cream or whipped topping.