Welcome! I wanted to talk to you about something. See, I have this super easy fruit cobbler dessert to share with you… so easy in fact, it's like CHEATING!
Easy Fruit Cobbler Dessert
I was just going over a conversation I had with a friend about this easy fruit cobbler recipe. We were talking about the differences between cobblers, and crisps and things from scratch, etc. (Incidentally, I finally researched it and wrote this super quick and cute article that explains all the differences between those, plus pandowdy's and buckles!!)
She said my recipe made me a cheater.
YES, it uses a box cake mix. YES, it uses frozen fruit and soda. (The mixture gets all science-y and it's fun to watch!)
Does the fact that I didn't make the cobbler part from scratch and go out and pick my own fruit (living in the northern tundra part of the world makes natural growing mangos difficult to find!) and instead, used frozen bagged fruit, make me a cheater?
Well if being a BAKING CHEATER is wrong, then I don't wanna be right!!!
Listen, our lives are busy enough with everyday sanity survival and sometimes that sanity calls for EASY and something sweet… STAT!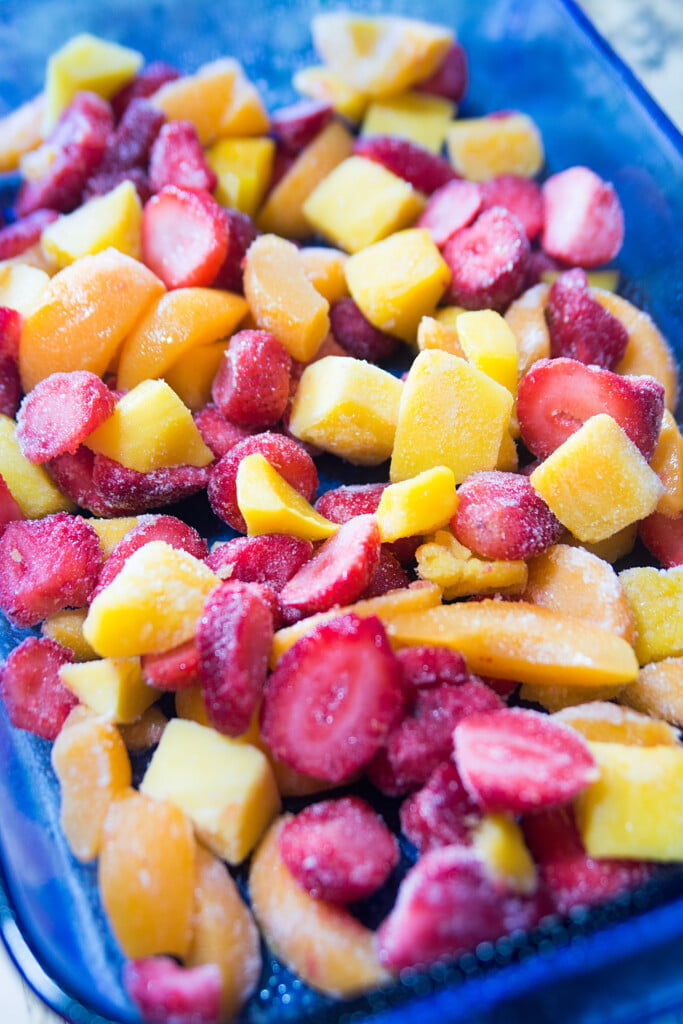 EASY DESSERTS
I'm not saying this is the one and only way to make desserts, and yes, of course, I will fully admit that desserts from scratch are often always better.
But when your day is filled with forgotten appointments you're trying to reschedule, piled high laundry loads, clients that need their photos yesterday, and the dog that's dragging his ass across the lawn because he needs "THAT" done at the vet,….well, it's time for a sweet sanity break.
AND RIGHT NOW!
This super simple, super easy fruit cobbler dessert will fit that bill. It comes together in almost zero time and while it bakes, you can take care of those little loose ends you ignored earlier in the day.
No, I'm not talking about kids… I'm talking little tasks that need to be cleaned up and put away. Ok, I'm STILL not talking about kids, but you know what I'm getting at.. haha, j/k.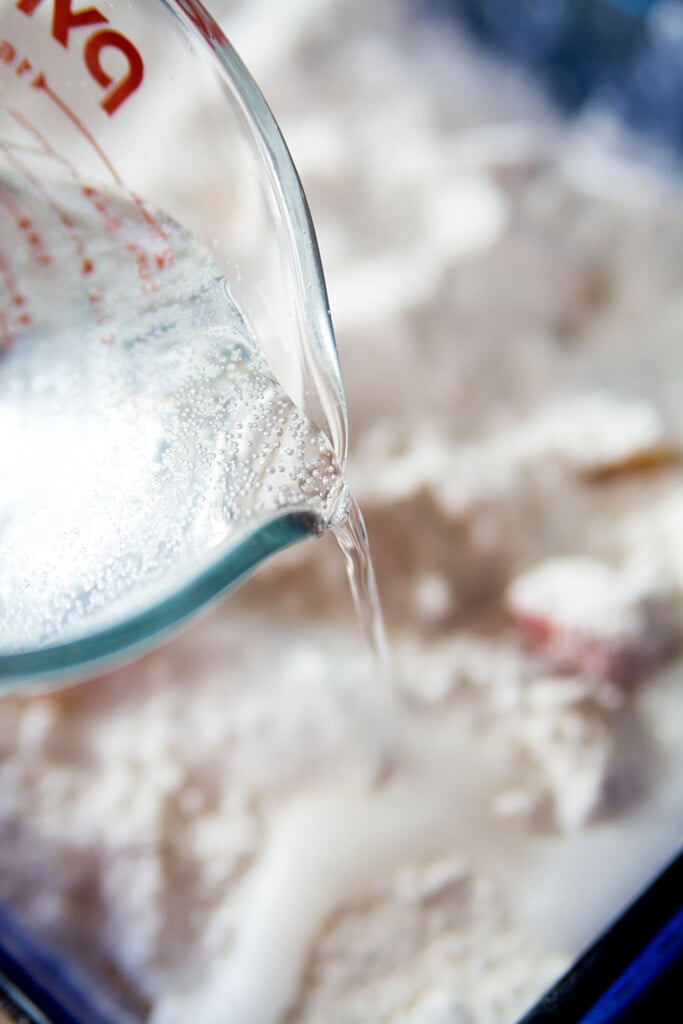 No Fresh Fruit For This Dessert?
Not a problem because this recipe was meant to use frozen fruit!! That's what I used for this dessert because after all.. IT'S AN EASY DESSERT, RIGHT???
Don't have peaches or strawberries? No big deal! Use an all berry blend, or use a tropical mix you have in the freezer for making smoothies!
Doesn't matter what mix it is. If it's frozen fruit, it's A-OK. Plus using frozen fruit isn't a bad thing, and it doesn't mean it tastes any less delicious than using fresh fruit!!
It just means it's way more convenient!!
Serving It Up!!
You can side this awesome and easy fruit cobbler with some ice cream, or some whipped topping – not real whipped cream because with all that you do my beautiful reader, I know at THIS moment, you don't have time now start whipping up real whipped cream.
(unless you do that in the hour baking time, in which case, WOOOHOOO – GOOD ON YA!!)
However, if that "real" whipped cream happens to come from a can, use that!! Swirl that stuff all over the top of your dessert when it's ready to serve!! Sometimes you just gotta NOT stress yourself out and put your nose in the air with an attitude of who gives a doodie??
(my 'nice' word for the other word that means poop.).
Look, we all try our best to do the right thing by ourselves and our family. We try to eat right, cook right, shop the perimeters of the store instead of the inner isles, pay our bills on time, get lunches made,.. yadda yadda.
But sometimes… just SOMETIMES….. bending the rules or giving yourself some slack is ok. Getting it perfect every single time isn't going to happen, right?? Give yourself a well-deserved break and have this fruit cobbler dessert in the middle of the day.
Eat it while it's nice and warm and comforting. Watch your favorite show on tv while you eat it. Just take that moment FOR YOU.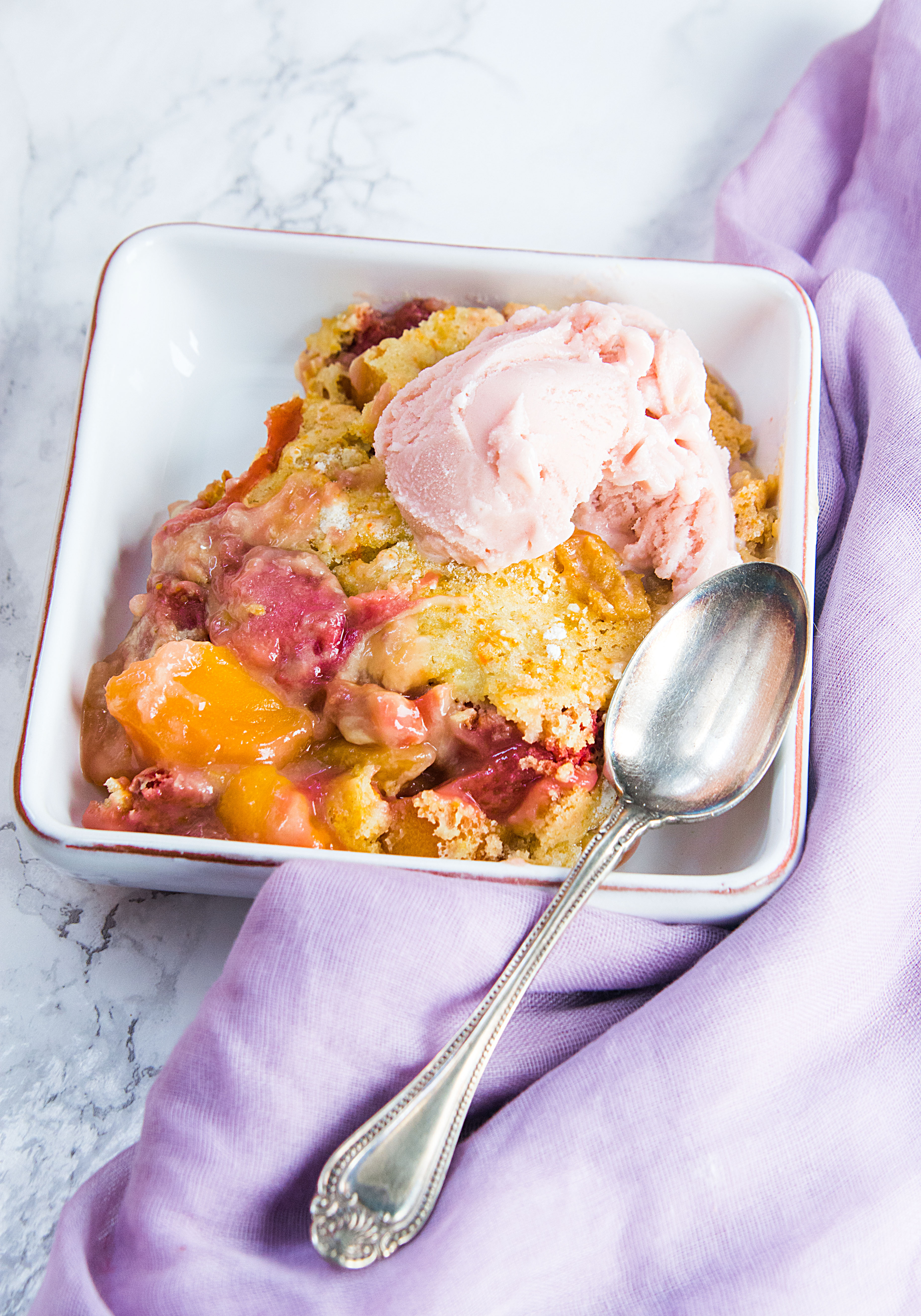 It will take the craziness out of your day, satiate that sweet craving, and give you something to bribe the kids with when it comes to them doing their chores. Haha!
If you're looking for a few other easy desserts to make, check out this incredibly delicious Spiced Caramel Apple Crisp or/and this crazy easy Slow Cooker Cherry Chocolate Cake!!
Honestly, there's no cheating here, it's just being easy on yourself, which you know you deserve. Enjoy!
***DON'T FORGET TO SAVE THIS EASY FRUIT COBBLER PIN TO YOUR FAVORITE PINTEREST BOARD TO USE FOR LATER!!***
EASY FRUIT COBBLER
A super stress-free and yummy easy fruit cobbler dessert!
Total Time
1 hour
5 minutes
Ingredients
1 cake mix, yellow or white will do
1 can lemon-lime soda
1 large bag frozen fruit, mangoes, peaches, strawberries, what you have on hand
Instructions
Preheat oven to 350
In a 9 x 13 pan, spread out the frozen fruit
Sprinkle the entire box of cake mix onto the top of the fruit
Slowly pour the soda over the top of the cake mix (there will be dry spots, but try your best to cover as much as possible)
Bake for 1 hour or until the cake portions are cooked through and the fruit has broken down and gotten saucy
Remove from the oven and let cool. Serve with ice cream or whipped topping.
Notes
1. Any frozen fruit will do. The best are stone fruits and berries, but at the end of the day, it all works.
2. Keep it a white cake, yellow cake, or a french vanilla cake would be incredible as well!
3. Keep an eye on the cake as you don't want the topping to burn. When the topping is baked through, and the fruit is very soft, the cake is done.
4. I recommend that you don't use diet sodas for this dessert. It won't be the same.