These Sour Cherry Chia Seed Tarts are definitely one of the best go-to desserts! You may have tried a lot of similar recipes like my Cherry chia seed parfait , and my Sour Cherry Hand Pies , but believe me when I say that you have to try this type of dessert for a change!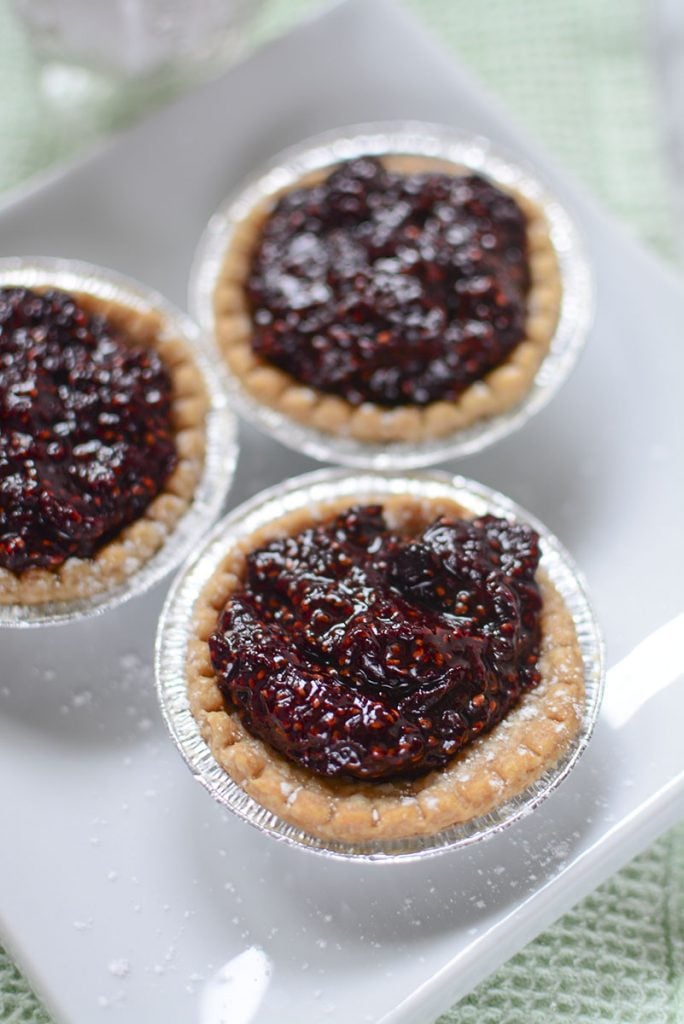 Yummy Cherry Tarts ~ Hello Summer
This post may contain affiliate links. If you make a purchase after clicking a link, I may earn a small commission AT NO COST TO YOU. As an Amazon Affiliate, I earn from qualifying purchases.
SOUR CHERRY CHIA SEED TARTS
These sour cherry tarts are your perfect quick and easy afternoon treat to take advantage of a summer cherry bounty. It's so flavorful and hands down one of the recipes you would keep in your rotation during the summer. (And during the winter too if you freeze your cherries like I did!)
The cherry filling on these tarts is incredibly delicious, and similar to and the Sour cherry pie filling I made last summer. And the mild and nutty flavor of chia that works well with the sour cherry to bring out the flavor of buttery crust, sweet/tart filling.
It all works so well together, kinda like my Summertime Sour Cherry Crisp which is just as good as this recipe.
WHAT YOU'LL NEED
Here are the ingredients I used for this delicious treat:
Tart Shells – I used commercially made tart shells for convenience. But you can make your own tart shells as well. And in case you wanna try it out, here's how to make them.
Cherries – you can use fresh or frozen sour cherries. If frozen sour cherries are what's in the freezer, take them out and start thawing!
Cherry Juice, Orange juice OR Water – This is just to add a little liquid while making the cherry filling. You can use those fruit juices or water is just as good.
Chia Seeds – It's totally ok to use dark or light chia seeds here. (Or a combo of both).
Honey/Sugar/Alternative Sweetener– For sweetness, you can either use sugar or honey. But remember that honey is sometimes sweeter than sugar, and you'll have to make sure you adjust the measurements accordingly.
HOW TO MAKE THESE SOUR CHERRY CHIA SEED TARTS
For the filling, pit the cherries, chop them up a bit and add the juice and cherries to sauce pan. Then add water if needed.
Add the chia seeds after the cherries start to let loose some of the juice.
Add sugar, honey, or any sweetener you'd prefer.
After the chia thickens, let the mix cool.
Prebake the tart shells, let them cool, and put the filling.
Refrigerate until it sets up.
And that's it! You can look at our full directions on the recipe below.
CAN I SWEETEN THE TARTS WITH ALTERNATIVE SWEETENERS?
Yes, absolutely. I've made these using regular sugar, honey and with Monk Fruit Sweetener as well. Monk fruit (I find), is not quite as sweet as regular sugar so if you want to use an alternative sweetener, taste as you go. Start with a fraction of what the recipe calls for, (or the equivalent amount), and go from there.
WHAT'S THE USE OF PUTTING CHIA SEEDS IN THE FILLING?
Chia seeds are an amazing little ingredient. They are literally packed with antioxidants, protein, and are SUPER DUPER high in fiber! Check out these benefits to eating chia seeds while getting to know more about them!
But one of the best things about them is that when mixed with a liquid, they help thicken things up, much like a corn starch slurry.
STORAGE IDEAS
As a basic rule on tarts, you can always use a freezer-friendly sealed container. Since the goal is to keep it as good as possible, you have to make sure the seal is airtight.
This dessert is good in the freezer for up to 3 months and for 7 days in the fridge. Of course, if you see any mold or if they smell funky before that time, just throw them in the bin. They usually don't last that long around here!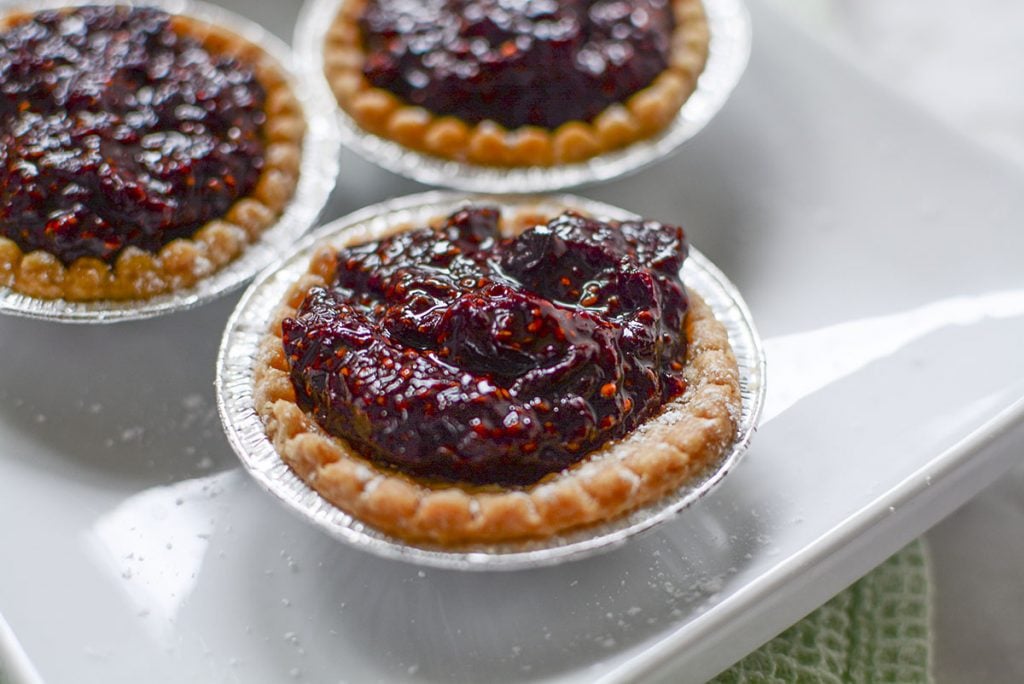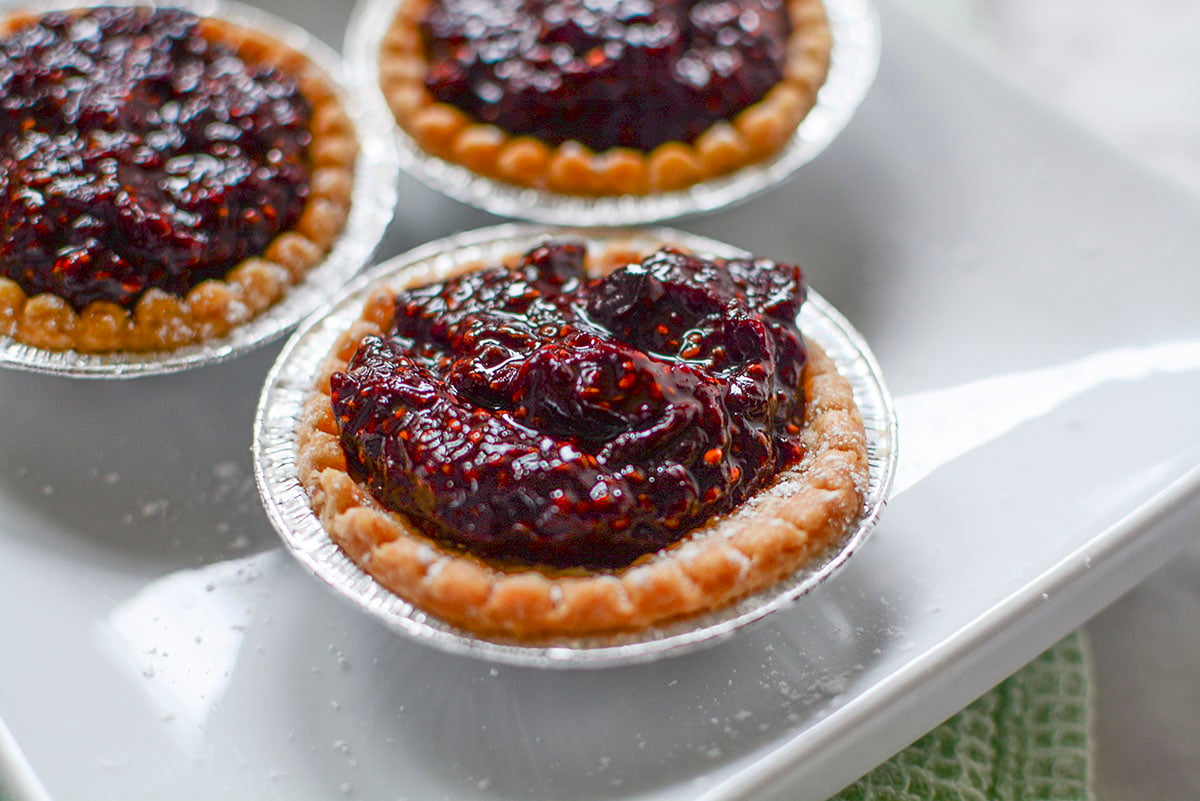 COOKS TIPS AND SERVING IDEAS
For the filled cherry tarts, you can freeze them first on a baking sheet before putting them in a container to stack them separately. I would advise separating each tart with a small piece of parchment paper though, even after freezing individually.
Serve cherry tarts chilled, warmed, or at room temperature.
You can always add a dollop of whipped cream on top, or even placing the tart in a bowl, warming it up slightly, and drizzling a bit of heavy cream over it.
You can also serve the tart broken up, overtop a scoop of vanilla ice cream!
If your cherries are especially sour for the season, add extra sugar to sweeten the mixture to your taste. On that same hand, remember that if you use ripe regular cherries (not sour), you may want to cut back on the sugar/honey so the tarts aren't too sweet. You should taste as you go while making the filling.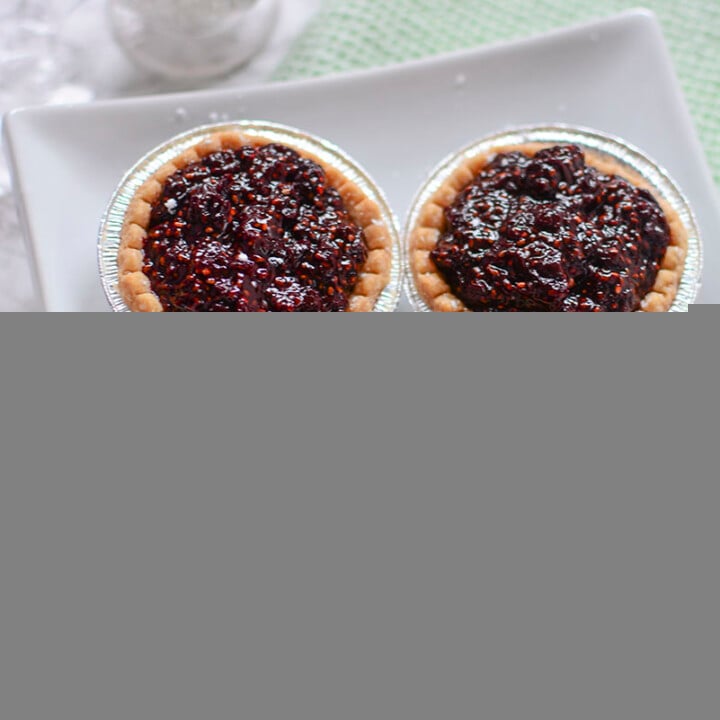 Sour Cherry Chia Seed Tarts
Total Time:
1 hour
30 minutes
Sour cherry chia tarts are the perfect way to celebrate the season's bounty! A little indulgent but still healthy with juicy sour cherries!
Ingredients
2 cups Sour cherries
¼ c cherry juice, orange juice or water.
4 tablespoon Chia seeds
3 tablespoon sugar (see notes)
12 regular tart shells, frozen.
Instructions
Preheat the oven to the temperature that it states on the tart shell box.
Bake the tarts according to the box directions.
Remove and let cool.
While the tarts are baking, place the cherries into a heavy-bottomed saucepan. Add the cherry juice, orange juice, or water.
Heat to a boil, and then turn down to simmer. The cherries should simmer long enough to break down. You can encourage this process by crushing them with a wooden spoon. Be careful, they're very hot and the cherry juice could splash.
Once the cherries are broken down and saucy, add your choice of sweetener and the chia seeds. Stir until the sweetener is incorporated and remove from the heat.
As the filling cools, the chia seeds will thicken the mixture.
Evenly distribute the filling between the baked tart shells.
Cool in the fridge to set up.
Enjoy!
Notes
The amount of sweetener you use in this recipe will depend on the type you have chosen. If you are using something other than white sugar, I recommend incorporating a smaller amount and then tasting the mixture as you go, so that you get the perfect amount of sweetness that you want.
Nutrition Information:
Yield:

12
Serving Size:

1 tart
Amount Per Serving:
Calories:

480
Total Fat:

19g
Saturated Fat:

11g
Trans Fat:

1g
Unsaturated Fat:

6g
Cholesterol:

46mg
Sodium:

144mg
Carbohydrates:

75g
Fiber:

4g
Sugar:

45g
Protein:

5g
All nutritional information is based on third-party calculations and is only an estimate. Each recipe and nutritional value will vary depending on the brands you use, measuring methods, and portion sizes per household.
***Pin this recipe to your FAVORITE Pinterest board to save and use later!!***