Good things often come in small packages- and that stands absolutely true when it comes to chia seeds. Make those chia seeds into a delicious fruit chia seed parfait? Delicious perfection!
Cherry Chia Seed Parfait
Ask any health enthusiast out there and they'll tell you how these little chia seeds pack in so much nutrition for you. What's best is the fact that these seeds are super versatile too- you can include them in your meals in so many different ways.
I recently tried my hands at a chia seed parfait and it turned out absolutely delicious. Made using just a handful of ingredients, it is definitely worth a try, especially if you haven't really experimented with chia seeds a lot.
Read on to know more!
Uncovering the Benefits of Chia Seeds
So a pudding- yeah! But why chia seeds- you may ask. Well, here's why!
These tiny seeds pack in loads of protein, omega 3 fatty acids (yes, you read that right!), calcium, iron, fiber, and antioxidants- all of which are nothing less than fantastic for your health.
What's more, they are incredibly low in calories- perfect if you're watching your weight.
They come either white or black and sometimes a mixture of both together. There is no difference in taste, smell or nutrition factors between white and black chia seeds.
It's purely aesthetic.
When soaked in water, they can also be a wonderful replacement for egg (vegans- are you listening?).
In recent years, several studies have also pointed out how they could help reduce chronic inflammation, reduce blood cholesterol levels, aid digestion and even detoxify the body.
Convinced you enough? Here's the recipe!
Whipping Up the Chia Seed Pudding First!
So you're finally ready to give chia seeds a shot? What I love about them is that they absorb water (or any other liquid for that matter) and turn glutinous. This gives the dessert (or breakfast!) a great texture.
The seed softens up as well so you have a soft bite rather than chewing hard poppy seed like textures. It really reminds me of a super healthy tapioca pudding!!
So here's what I did to make the chia seed pudding!
I soaked the chia seeds in some cashew milk and table cream (or whipping cream if you want epic decadence!) overnight- you need to soak them for a minimum of 4 hours for them to develop that amazing consistency.
To give it that touch of sweetness, I added some maple syrup. If you're a diabetic or just looking to control your sugar intake, you could swap it for some stevia or any natural sweetener.
I also add a teaspoon or so of some homemade vanilla extract. I love comforting vanilla flavors, don't you?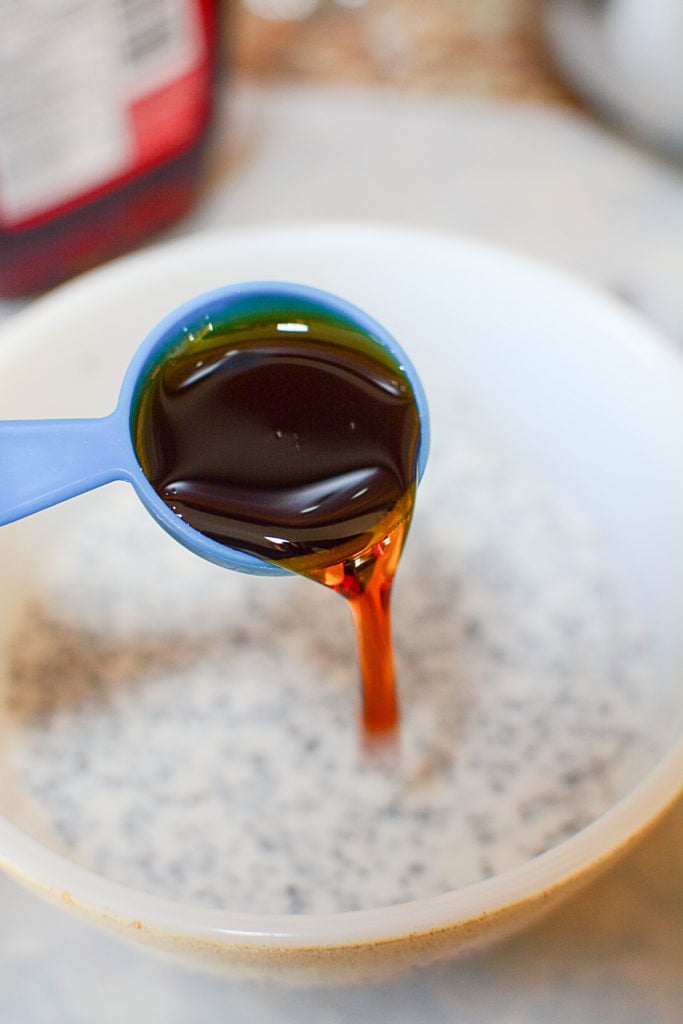 Make sure the pudding has the right consistency. If the chia seeds have soaked up all of the milk, and you find the pudding has is a bit too thick for your liking, you can add a bit of cashew milk again to loosen the mixture.
That's it! Your chia seed pudding is ready to make the chia seed parfait!

Making A Chia Seed Parfait
So really, it's all in the layering. I used a Sour cherry compote that I made from fresh sour cherries in my yard. I stewed down the fruit, sweetened it a bit (I mean come on, they're SOUR cherries! LOL).
When the chia seed pudding was ready, I simply layered the two ingredients in a small jar as shown. Easy peasy!
(and SERIOUSLY so delicious!!)
What Ingredients Can I Use To Make A Chia Seed Parfait?
Use any fruit you wish. Having said that, some fruit is better to use than others. Juicy fruits like berries and cut up stone fruits would be ideal. You could use larger fruits like apple and pears, just remember to dice them up in small pieces.
Mix a layer of your favorite flavored yogurt in between the layers.
You could also use nuts. Crush the nuts into bits and pieces and layer them with the chia seed, or mix the nuts with the fruits as well.
Drizzling a bit of honey, or even Nutella between the chia seed layers would be amazing. Then give it a few stirs so it gets stripey in the parfait!
Layers of banana and shaved chocolate would be divine!
To make things even easier, you could layer in small amounts of your favorite jams or jellies in the parfait!
Tips & Tricks to Make it 'Wow'
And of course, if you'd like to take it up a notch, and experiment a bit with the flavors and textures, here are a couple of ideas to get you started on.
You could transform your chia seed parfait into ANY fruit parfait you wish!! You don't even need to make a compote, simply squish some juicy berries in a bowl and layer with that!
You could add some peanut butter to mix to increase the protein factor even more
Love chocolate? Add in a teaspoon of cocoa powder into the mix and you've got yourself a healthy chocolate pudding ready for dessert.
What I really love about this simple chia seed parfait recipe is that it is so easy to make- it hardly takes a few minutes to prep, and you can have it as a healthy breakfast option or even as a dessert, especially if you're looking to improve your way of eating, yet still wanting to feel like you're 'indulging'!
Speaking of desserts, if you're looking for another indulgent type of dessert, check out this super comforting Instant Pot Creamy Rice Pudding! Yum!
If snacks are what you're after, and you want them to be healthy, check out these TWENTY ideas for healthy snacks!!!
I hope that when you try making this chia seed parfait, you will let me know which fruits or additions you used to make the chia seed parfait uniquely yours! Thanks for stopping by The Salty Pot today, and I hope you have a fantastic day!
***DON'T FORGET TO PIN THIS CHIA SEED PARFAIT RECIPE TO YOUR FAVORITE PINTEREST BOARD TO USE FOR LATER!!***
CHIA SEED PARFAIT WITH CHERRY COMPOTE
Total Time:
4 hours
5 minutes
This Chia Seed Parfait is not only delicious, but it's also good for you!!! Creamy chia seeds mixed with a sweet/tart cherry compote spells HEAVENLY DELICIOUS!
Ingredients
4 tablespoon chia seeds
1 c cherry compote (see notes)
¾ c cashew milk
¼ c heavy whipping cream
1 tablespoon maple syrup
1 teaspoon vanilla extract
Instructions
1. In a bowl, combine the chia seeds, milk and whipping cream. Mix well.
2. Add the maple syrup and vanilla, and stir again.
3. Let the mixture sit for 5 - 10 minutes, and then stir again.
4. Cover and refrigerate for at least 4 hours or overnight. Occasionally give the mixture a stir.
5. To make the compote, take 1 cup of sour cherries and place them in a medium saucepan. Add a ¼c water and 1 tablespoon sugar or alternative sweetener. (see notes)
6. Bring to a boil and let the cherries break down and release their juices. Remove from the heat and let cool.
7. To assemble the parfait, simply spoon a few tablespoons of the chia seed mixture into a dessert dish, and layer with the cherry compote. Add another layer of chia seed pudding mixture and top with a tiny bit of compote.
8. Enjoy!
Notes
COOKS NOTES:
1. You don't have to use sour cherries, any berries or combination of berries will do as well. Use whatever fruit you have on hand.
2. For the sweeteners, feel free to omit them if the fruit is sweet enough. You can also use honey or any other sweetener you prefer.
3. Be sure to stir the chia seed pudding after you add the liquids because it tends to lump as the chia seed begins to absorb the liquid.