These super healthy Mango Orange Gummies are perfect if you've got kids who love their candy; this can be a delicious and healthy alternative, and they won't know the difference!
This post may contain affiliate links. If you make a purchase after clicking a link, I may earn a small commission AT NO COST TO YOU. As an Amazon Affiliate, I earn from qualifying purchases.
Who knew healthy fruity gummies could be delicious!?!?!
Healthy Mango Orange Gummies
Love experimenting in the kitchen? Or maybe you're looking to try out a recipe that's not just delicious but healthy too. I wanted to make a healthy but still yummy gummy, so I messed around with a fruity flavor base.
After adding a few beneficial ingredients, my mind was blown away with how incredibly tangy and delicious they turned out!
What Will I Need?
These yummy gummies are one of those rare healthy snacks that you can enjoy guilt-free, since you know what's going into making them.
Mango juice: I prefer using the organic variety for obvious reasons, but use what you can get your hands on. Just be really conscious of any added sugar. Try your best to find NO ADDED sugar mango juice.
An Orange: We want a fairly large orange here, and of course, again, organic if you can get it. It's not imperative that it be organic, but it would be fantastic if you could use one. Find the largest one you can that's heavy for its size.
Collagen Powder: This is the brand of collagen powder I use. It's beef collagen but it's completely TASTELESS. It has zero flavor, so it blends in easily with whatever you add it to. It dissolves super easily, and I also use it in my morning coffee or tea, or you could even dissolve it in water. Collagen is healthy for your skin, bones, teeth, and hair. It's also super beneficial to your joint health.
Gelatin Powder: This is different than the collagen powder above. Gelatin is also derived from beef bones but again, has no flavor. Gelatin is what gives jello is jiggle, ya know? You can use the kind I highlighted on the gelatin name, or you can also use Knox gelatin powder.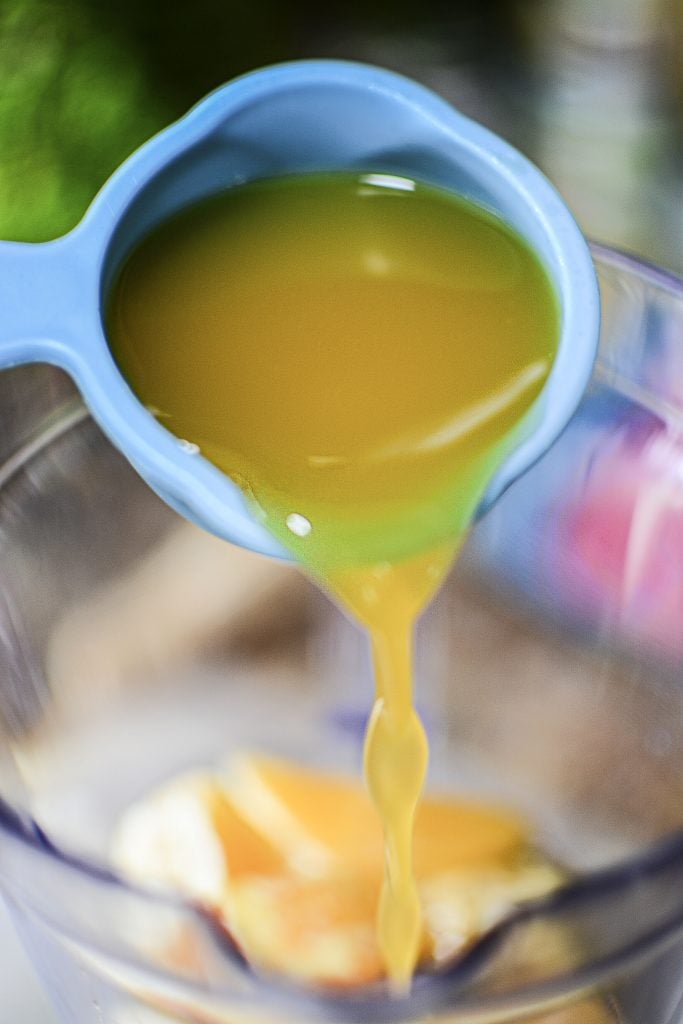 Honey: Honey is another superfood that's super healthy for us. Sweet, absolutely, but has antibacterial, antioxidant, anticancer, antimicrobial, antiinflammatory, etc etc. The long list of studied benefits is amazing!
And of course, you'll need molds for the gummies to set in. The list is very long as to what shapes you can use, but make sure the mold is made of silicone. Silicone molds make for super easy removal of the gummies.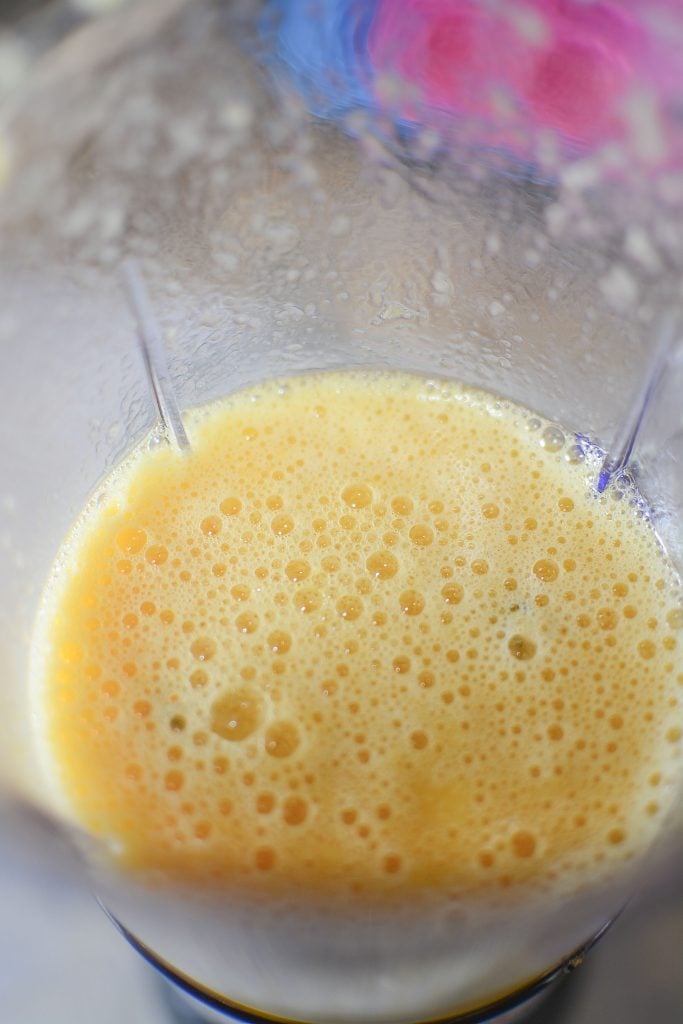 You could use molds like these ones:
These molds are cute and double as a chocolate mold as well.. so how can you go wrong there? lol
These heart shaped ones would be perfect to use as well. Again, the most important thing is that they are flexible, silicone, and easy to manipulate.
I used molds similar to these in shape and size. I like that these ones come in different shapes and they don't seem too pricey as well.
Why Are They Healthy?
These mango orange gummies pack in collagen powder, which is great for improving skin and joint health. It helps shore up the gradual loss of our own collagen in our joints as we get older. It also helps to get a boost of protein in our little's diets when drinking homemade BONE BROTH isn't an option.
Of course, collagen is an optional ingredient, but adding it in is a great way to ensure that you're getting the maximum health benefits out of this super delicious snack.
And of course, you'll also be getting all the vitamin C and antioxidants from the mango and orange juice!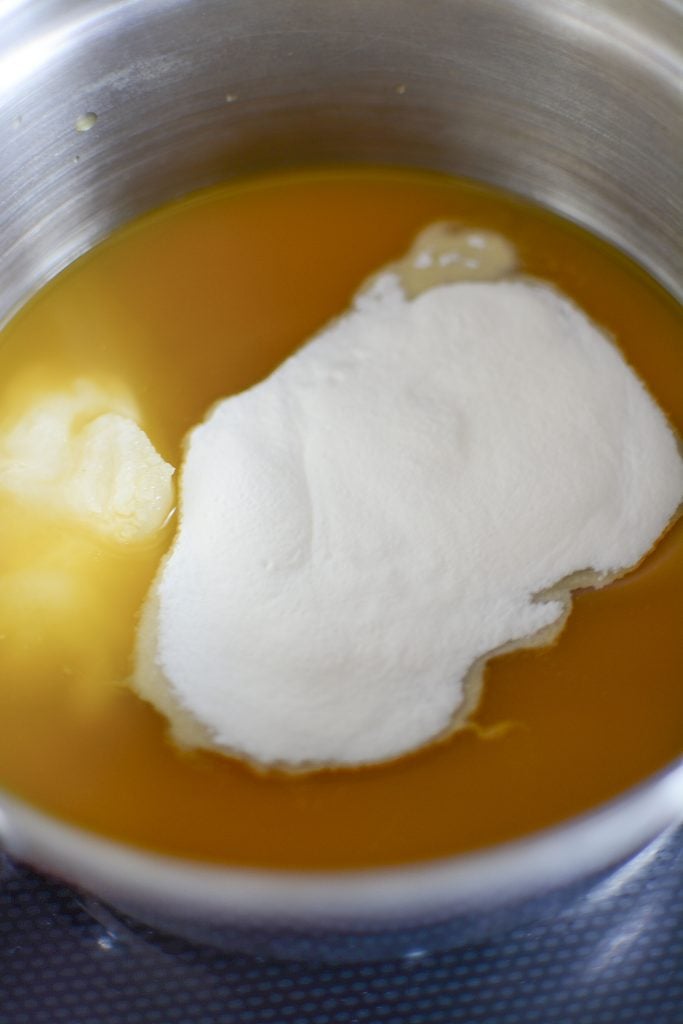 Can I Freeze Them?
Okay so you ended up making a huge batch of healthy gummies, or you're probably thinking of making them over the weekend and storing them for later. Whatever it is, you can actually do that.
These fruity gummies are freezer friendly. Just make sure you first freeze them individually by placing them on a tray and then popping them in a freezer-friendly container after a couple of hours- this ensures that they don't stick to each other when you get them out.
And oh- once you do get them out, remember to allow them to come to room temperature before you have them- unless you fancy breaking a tooth!
You can also make these in a small batch and store them in your refrigerator for up to a week.
Loved making these gummies? I've tried making a couple of other gummies in the past- you can check them out too!
These are also made using natural and healthy ingredients, and are a good way to get the nutritional benefits in a form that's super tempting too.
Healthy Elderberry Syrup Gummies – super delicious and especially good for boosting your immune system when you need that extra protection in cold and virus season!
Tart Cherry Gummies – These gummies were made simply because I had extra juice from my cherry tree and didn't want it to go to waste. And boy, can I tell you confidently, these are DEEELICIOUS!!
Have you ever made gummy treats before? If you have, I'd love to know what kind! Leave a comment below and let me know what flavors!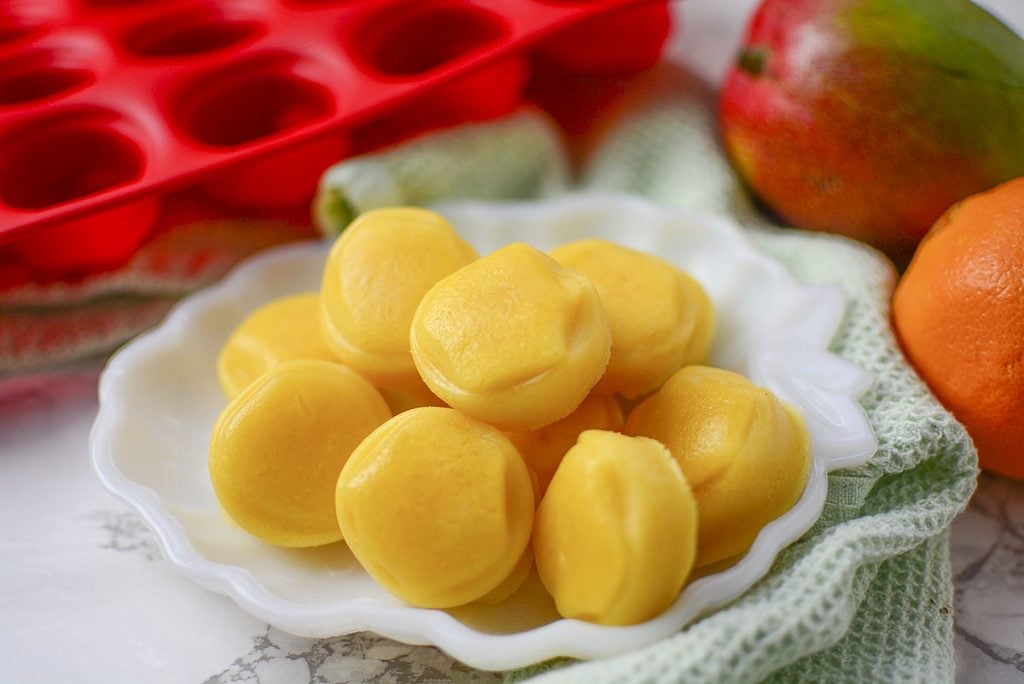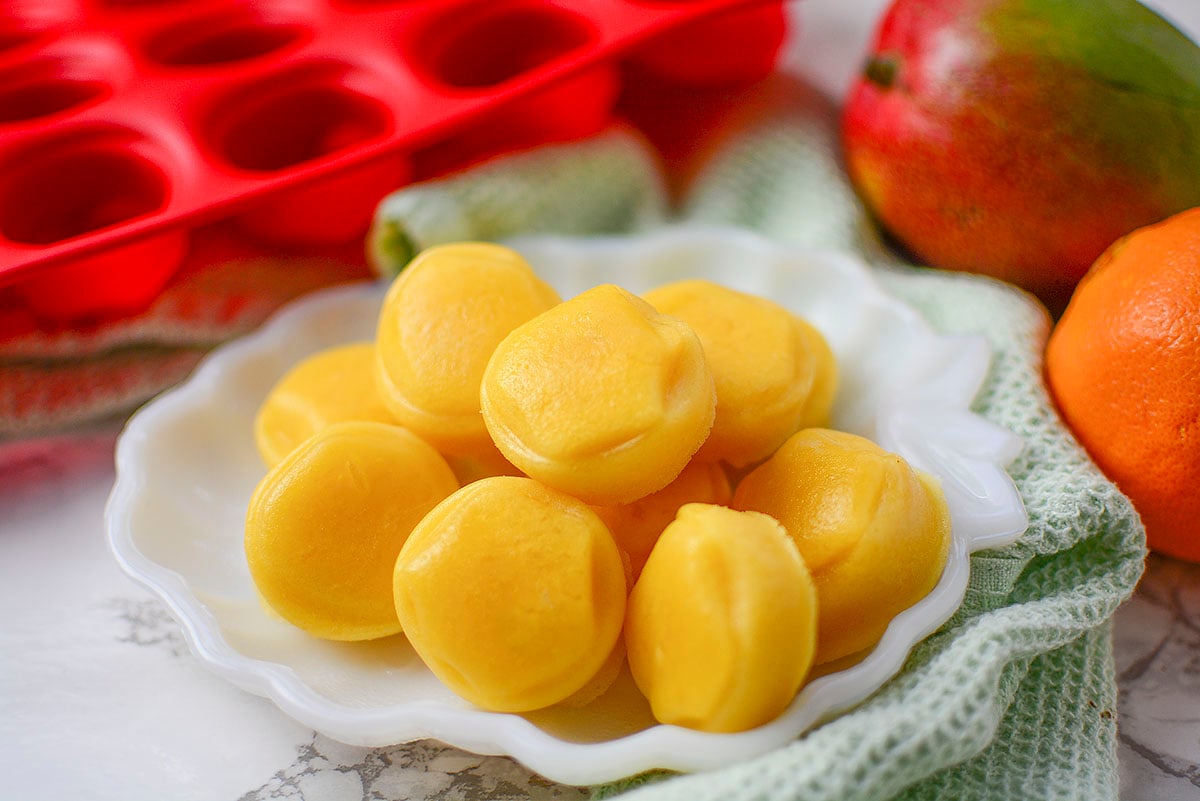 MANGO ORANGE GUMMIES
Total Time:
1 hour
20 minutes
These mango orange gummies are such a delicious treat, you're little ones won't realize they're actually healthy for them! And I dare say, nor will you taste the difference!
Ingredients
1 Orange, large, peeled and chunked
1c Mango juice, unsweetened, organic if possible
1 tablespoon organic honey
¼c collagen powder, unflavored
¼c gelatin powder, unflavored
Instructions
In a good blender, begin by chopping up the orange and placing it in the blender.
Add the mango juice and blend as smooth as you can.
Transfer the mixture to a pot on the stove. Begin heating gently.
Add the honey and collagen powder. Stir until it's completely blended and dissolved.
Add the gelatin powder. Stir until dissolved.
Dive the gummy mixture between 12 mold cups (or depending on how large/small your molds are, you may divide the mixture into more gummies).
Let the mixture completely cool and set up in the fridge.
After setting up, remove the gummies from the molds and keep them in an airtight container, refrigerated.
Notes
I like to spray/grease my molds even though they are made of silicone. I like that extra assurance that they will come out. You can use coconut oil or organic spray oil.

After you dissolve the gelatin into the mixture and remove it from the heat, you'll want to work somewhat quickly as they may begin to set up right away. Be careful though, as the mixture will be hot!

I also find it's super helpful to put the molds on a cookie sheet before I fill them. The molds are pretty flexible and when they are filled it may be very difficult to transport them to the fridge carefully without spilling.
The amount of gummies you get will depend on the size of the molds you use.
Nutrition Information:
Yield:

12
Serving Size:

1
Amount Per Serving:
Calories:

39
Total Fat:

0g
Saturated Fat:

0g
Trans Fat:

0g
Unsaturated Fat:

0g
Cholesterol:

0mg
Sodium:

10mg
Carbohydrates:

6g
Fiber:

0g
Sugar:

5g
Protein:

4g
All nutritional information is based on third party calculations and is only an estimate. Each recipe and nutritional value will vary depending on the brands you use, measuring methods and portion sizes per household