Sour Cherry Crisp is one of the special things about summertime, don't you think? Plump tart cherries with a sweet topping served warm with ice cream or whipped cream.
Summertime dessert perfection in a bowl!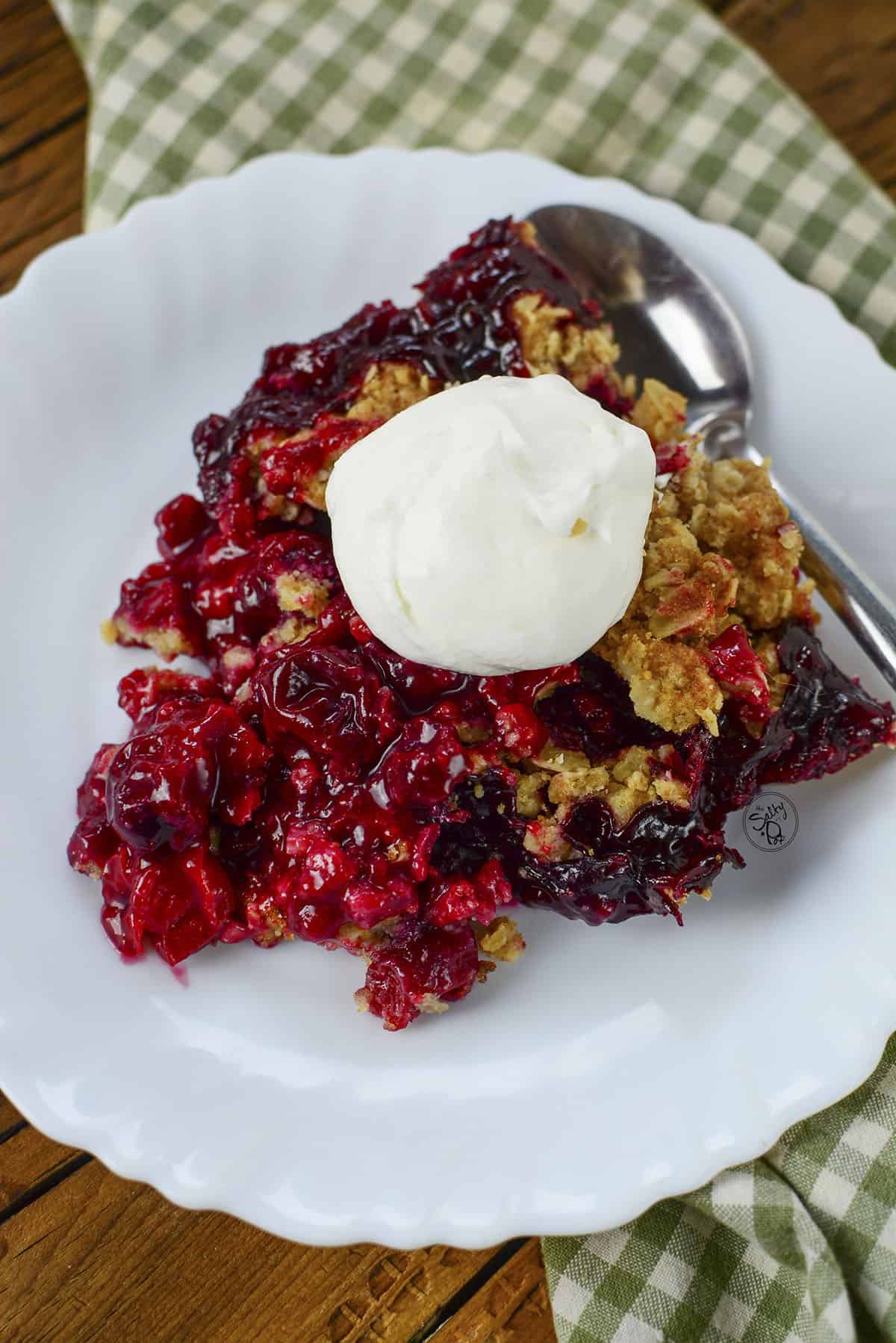 Sour Cherry Crisp
Aaaahh cherries! Aren't they amazing fruit? Sweet cherries or sour cherries, I have to say I love them both.
But they're a little on the finicky side of where they like to grow. Here in central Alberta, we pretty much can only grow a tart or sour cherry. So we do what we can to make these cherries sweet and plump and perfect for desserts like Sour Cherry Hand Pies, Easy Sour Cherry Tarts, Sour Cherry Chia Parfait and even fun and healthy Cherry Gummy Bears!
Ingredients Needed To Make This Cherry Crisp Dessert
The usual suspects go into this fruit crisp dessert. For the crisp topping, you'll need:
Flour – Regular all-purpose flour will do the trick. No need for a special flour of any sort.
Sugar – You'll need both brown and white sugar. No brown sugar on hand? Easy! You can easily make your own!
Oats – Old-fashioned oats or quick-cook oats can be used.
Butter – I use salted butter so that I don't need to add extra salt to enhance the flavor. If you prefer, use unsalted and then add a pinch when you're mixing the topping up.

The fruit, of course, is essential and almost any fruit can be used in a crisp dessert, like my Peach and Blueberry Crisp (which is DIVINE!), but for this tart cherry dessert you'll want to use
Sour Cherries – Fresh is best, but I've seen where you can buy them canned. If I had access to canned sour cherries, I might give the recipe a go and see how it turns out. Just be sure the cherries, both fresh or canned, are pitted.
How To Pit Cherries
The whole fruit can have its pit removed in a few ways.

Using a Cherry Pitter:
I have a handy dandy vintage cherry pitter that belonged to my Grandmother. It works super well and I've used it for a few years now. There are many online that would work great like this single cherry pitter. A bit more expensive option is this pitter that pits 5 cherries at a time.
Chopstick/Straw Method:
Another option is to remove the pit by putting the cherry on a soda bottle top and using a chopstick or straw, pierce through the skin to the pit of the fruit and push it out the other side, as seen in this video tutorial.
Knife:
By using a knife, you can simply cut them in half, and remove the pits. You don't need to worry about the aesthetics of the cherry, they can be cut in half.
How To Make This Sour Cherry Crisp Recipe
Have your cherries washed, pitted, and ready to go. Add flour and sugar to the cherries and set aside.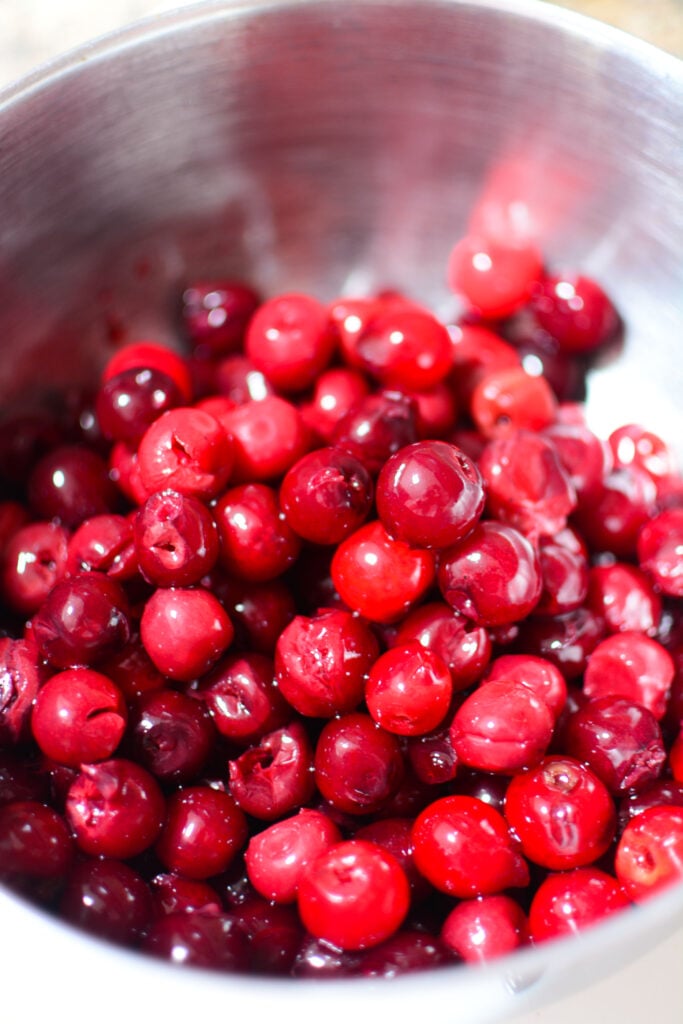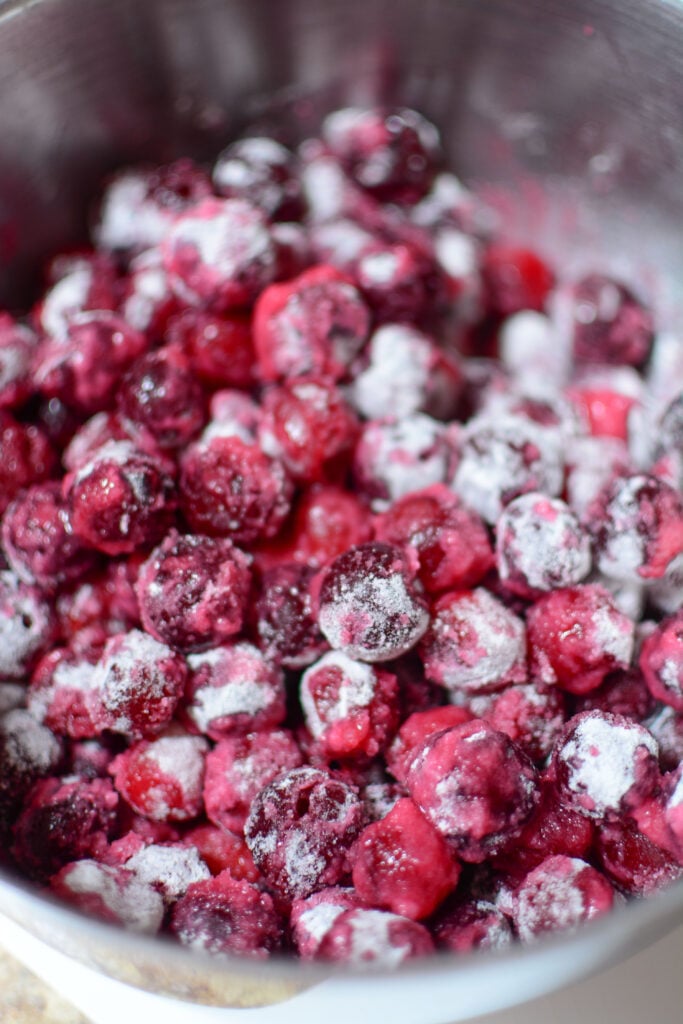 2. Make the topping. Add the cherries into the baking pan and sprinkle the oat topping over top.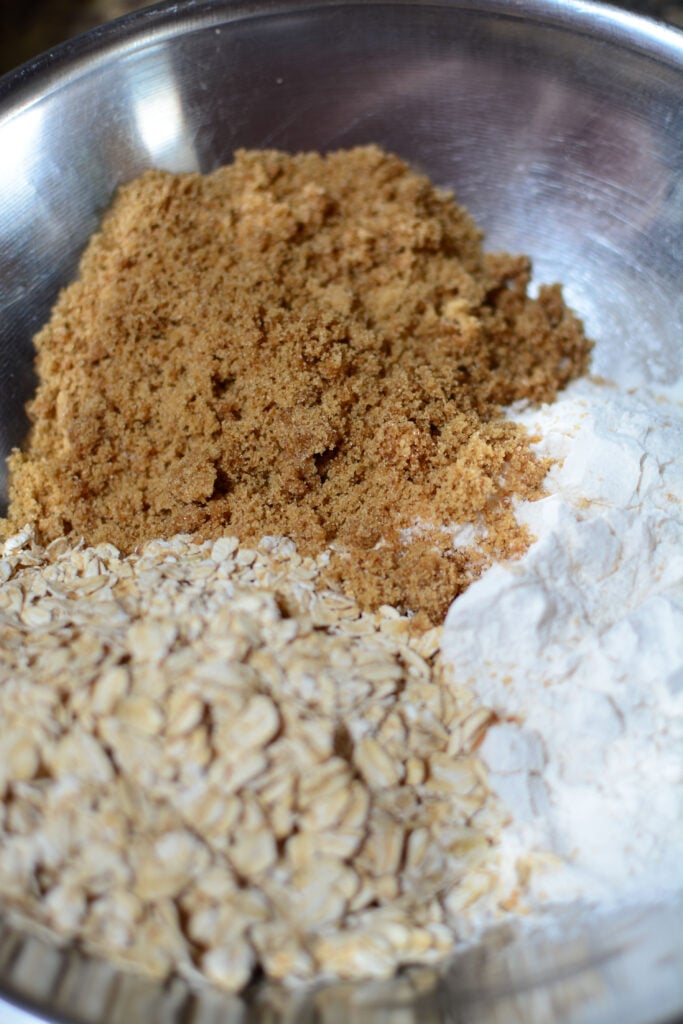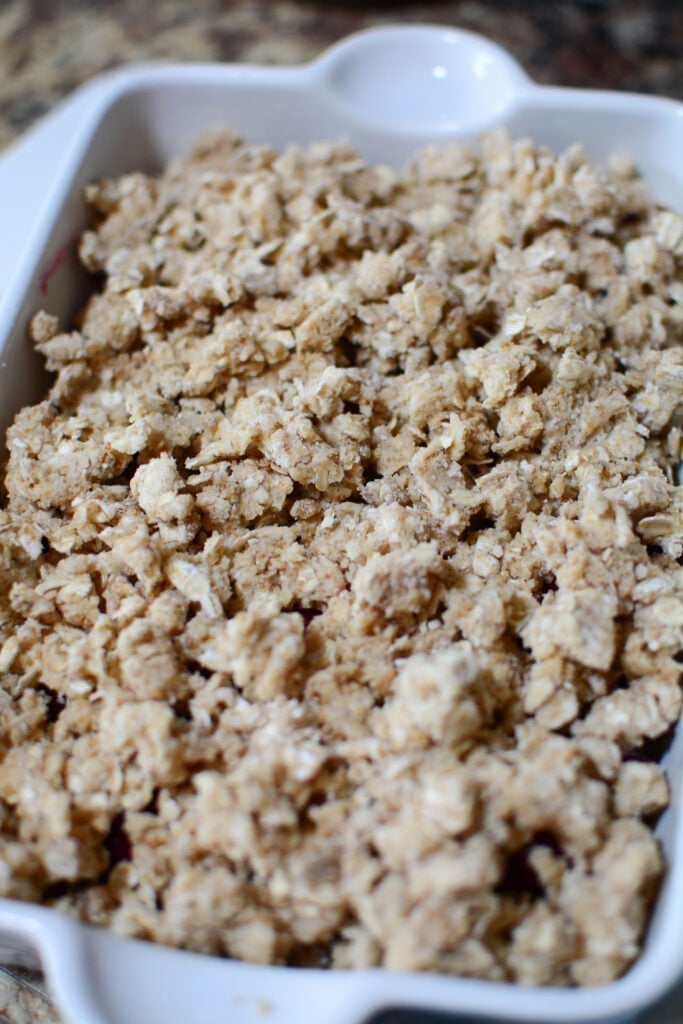 3. Bake!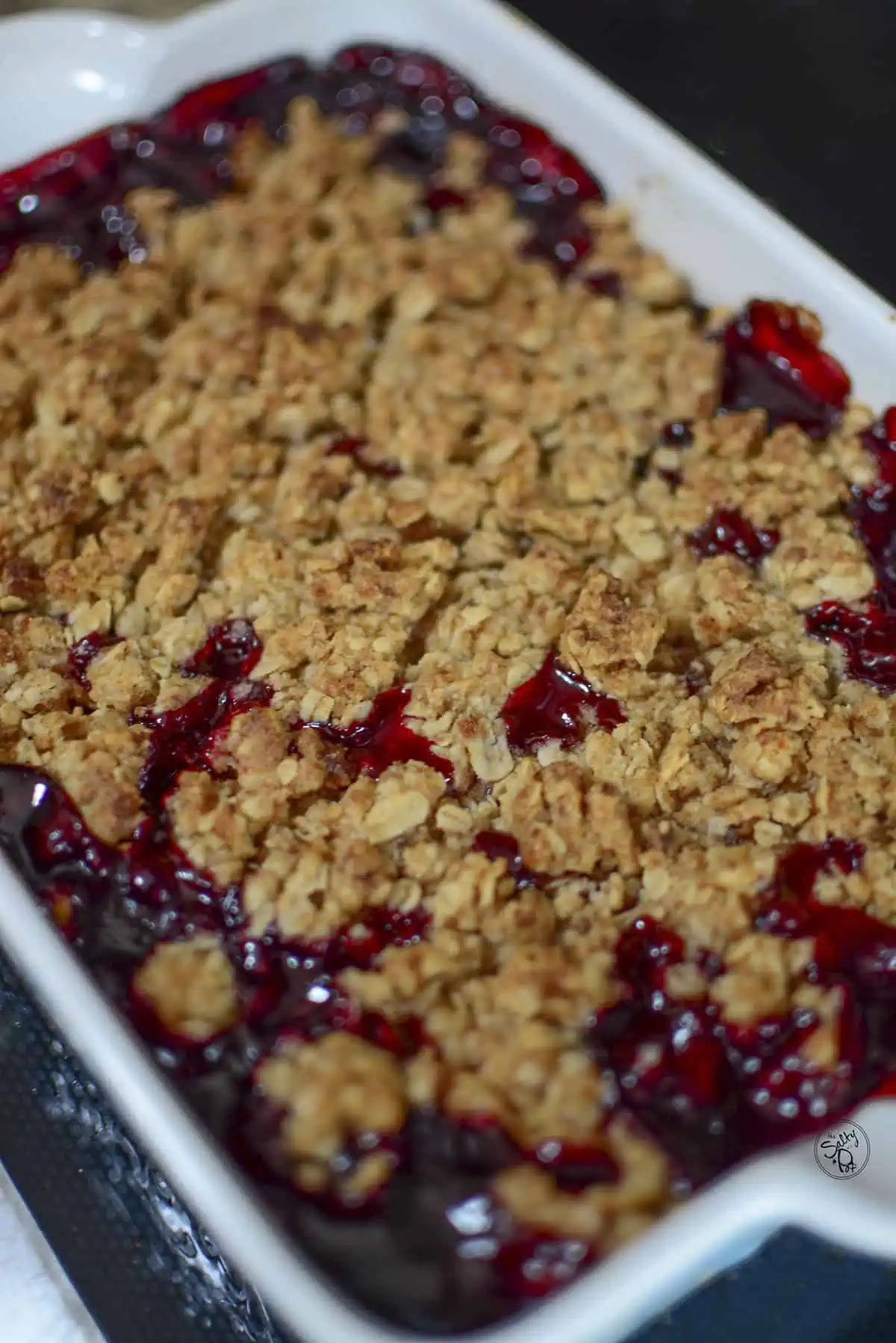 Sweet Cherries VS Sour Cherries
Sour cherries, (also known as tart cherries or pie cherries) have fruit that is generally smaller than a sweet cherry and bright red in color. They're sour to taste and hence are usually sold processed as frozen, dried, or canned cherries.
Sweet cherries are easily recognizable without having to taste first as they are larger, have more firm flesh, and are usually heart-shaped. They come in a variety of colors which range from Dark red to purple-black.
Sour cherries aren't as popular because they are not as pleasant to eat raw when compared to sweet cherries. The sour taste is believed to be connected to the high antioxidant levels. They can, however, be utilized in delicious desserts by baking which is the interesting part.
Cherries are generally high in fiber, carbohydrates, and important minerals and vitamins such as potassium, iron, vitamin C, and vitamin A, which means they are good for one's health, bitter or sweet.
I have two beautiful varieties of sour cherries in my yard and they produced AMAZINGLY well this year. I discovered the longer you keep the cherries on the tree will result in a sweeter cherry that I actually enjoyed eating right off the stem.
As did MANY of the birds in my neighborhood…. GRRRRR!!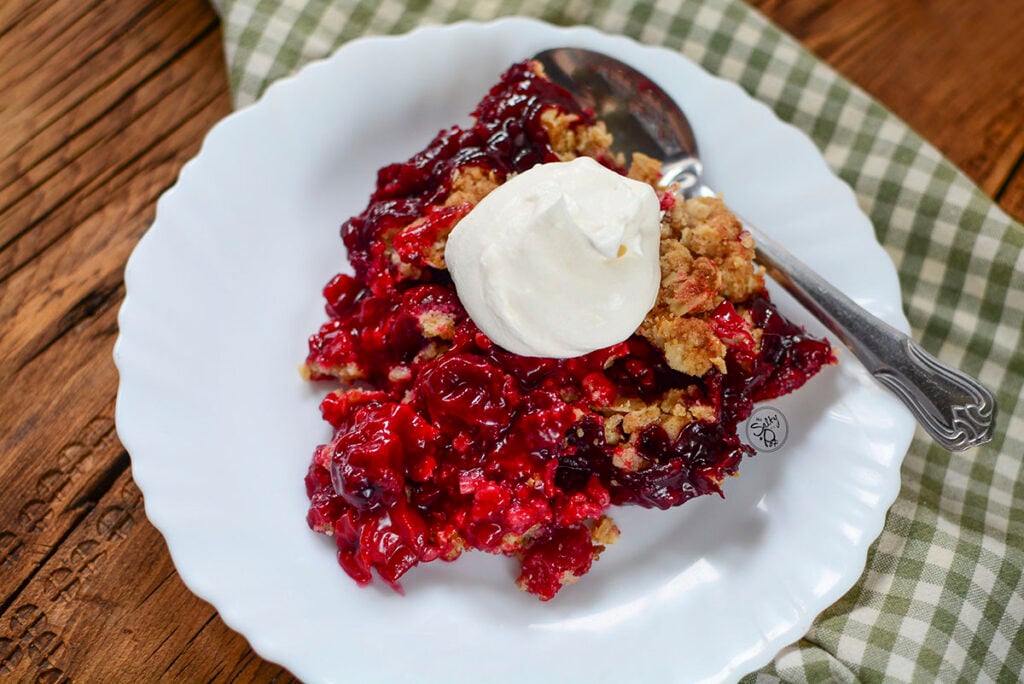 What Do I Serve With This Cherry Dessert?
You can serve it warm with scooped cherry or vanilla ice cream. (Ooooh, chocolate ice cream would be good too!!)
A dollop of freshly made whipped cream would be delicious (or even frozen whipped topping would be yummy as well)
I have served it a few times with just a drizzle of some heavy cream which is excellent!
But you know, serving it as is, is amazing. And by the way, serving it at room temperature is also an option.
Questions You Might Have
Can I use freshly picked sweet cherries for this recipe?
Absolutely and it would be just as delicious! However, I recommend cutting out the sugar used to coat the fruit because the combination of sweet cherries and a sweet topping might make the entire dessert too sweet overall.
Can I Use Canned Cherry Pie Filling?
Sure. The only change I would make is to again, cut back on the amount of sugar. I would leave out all sugar for the fruit and cut back the sugar used in the topping.  
Can You Freeze Fresh Cherries? 
Yes, it's not a problem at all. I would, however, freeze them with the pits taken out because then it will be no hassle to use them when they're thawed. 
I would line a baking sheet with parchment paper or tin foil and lay the pitted cherries out on the sheet, in a single layer. Freeze them right on the sheet and when they are frozen solid, collect them and store them in a freezer-safe container. 
If you freeze them all together while they're fresh, they may freeze in a huge clump and not be as nice to use when thawed.
By the way, if you are looking for a super duper easy recipe that uses canned cherries and your crockpot, check out this recipe for Slow Cooker Chocolate Cherry Cake, or this recipe for a Cherry Chocolate Cake Hack!
If you were wondering about using dried cherries in this recipe, I would say yes, you could, however, I wouldn't use them as the main fruit source. I would certainly add a handful (ones that have been soaked in some water or even fruity alcohol or something like that) to compliment another fruit you might use.
Well, I hope that when you try this recipe, you'll let me know what you think of it! Did you switch it up? Did you add different fruits? I'd love to hear about it!!
Thanks so much for stopping by The Salty Pot today, and I hope you have a fantastic day!
Summertime Sour Cherry Crisp
Sweet and tart, this sour cherry crisp is the perfect cherry dessert. It's easy to make and the topping gives it this delicious, buttery flavor that compliments the sour cherries perfectly! A perfect summertime dessert served hot or cold!
Ingredients
4 cups sour cherries, fresh and pitted.
1 Tablespoon Flour, all purpose.
⅓ cup white sugar
¾ cup Flour, all purpose
½ cup Rolled Oats
½ cup Brown Sugar
¾ cup Butter
Instructions
Preheat the oven to 375
Combine the cherries, sugar, and flour in a bowl. Mix well.
Transfer the berries to a 7x9 or 8x8 baking dish
In another bowl, combine the flour, oats, and brown sugar. Mix well.
Add the butter and with two knives or your fingers, cut in the butter into the oat mixture so that it resembles small marbles.
Sprinkle this topping over the cherries and bake for 30 - 40 minutes, or until the sides are bubbly and the topping is golden brown.
Notes
1 - when you remove the dessert from the oven, allow it to cool for 15 min before serving, as it will be VERY HOT.
2.- if you use sweet cherries for this recipe, cut back on the sugar for the topping, and I would omit adding sugar directly to the cherries as they will be sweet enough of their own.
Nutrition Information:
Yield:

8
Serving Size:

¾ cup
Amount Per Serving:
Calories:

430
Total Fat:

18g
Saturated Fat:

11g
Trans Fat:

1g
Unsaturated Fat:

6g
Cholesterol:

46mg
Sodium:

141mg
Carbohydrates:

67g
Fiber:

5g
Sugar:

47g
Protein:

4g
***Don't Forget To Pin This Sour Cherry Crisp Dessert Recipe To Your Favorite Pinterest Board To Use For Later!!***