There's nothing like a quick run out to your garden, the local farm stand, or the grocery store to see ripe, seasonal autumn fruits and vegetables for amazing recipe inspiration!
And whether you're a pro in the kitchen who comes up with your own recipes for these seasonal fruits and veggies, sometimes some additional new ideas in your recipe repertoire is a great thing to have! Here are a few ideas to get you building up your library of recipes for autumn to make them a part of your meal planning efforts.
Autumn Fruits
Autumn fruits aren't just great for desserts- you can incorporate them in savory dishes, too. Of course, they're always great for snacks and some can be eaten as is with no prep required. Here are just a few of the most popular fresh fruits that you'll find this season.
Apples
You'll find tons of varieties of this one available- Apples are undoubtedly one of the most popular fruits around.
While available year-round, late summer and fall is their harvest season. Remember that freshly harvested apples are juicier and sweeter, so take advantage of picking (or purchasing) them during the fall season. Other than desserts, you could also try incorporating them in your smoothies or even adding them to salads for a touch of sweetness and an element of crunch.
Instant Pot Spiced Apple Butter
This Instant Pot Spiced Apple Butter recipe SCREAMS autumn fruits! When you spread it on toast on a snowy February morning, you can transport yourself right back to warm spicy fall evenings!
Want more recipes for Fall Apples? Why not try these below:
Sheet Pan Rosemary Chicken, Apples And Brussels Sprouts by Well Plated
Autumn Kale Salad With Honey Crisp Apples and Goat Cheese by Cookie And Kate
Cranberries
Those beautiful deep red berries are ready to go in the fall and this is the perfect time to enjoy their tart taste. Some studies also suggest that cranberries offer digestive and cardiovascular health benefits.
While traditionally, you'll find these berries served in sauce form, you can use cranberries in several other ways- right from sweet desserts to salads, relish, and even stuffing in meats.
Pumpkin Cranberry Fall Granola Bars
Want more recipes for Cranberries? Why not try these below:
Instant Pot Eggnog and Cranberry Rice Pudding
Cranberry Crumble Pie Bars by Sally's Baking Addiction
Cranberry Orange Relish by Zesty Olive
Sweet Potato And Cranberry Stuffing by Diet hood
FIGS
Containing a lot of different vitamin B's, C's and K, this little sweet fiber powerhouse is low in calories and makes FANTASTIC desserts, appetizers and mains!
Date Fig and Cranberry Pinwheel Cookies
Looking for a few more recipes using Figs?? Check these ones out!
Fig Dutch Baby Pancake by Chocolates and Chai
Fig Pizza with Prosciutto by Chisel and Fork
Pears
Pears are so wonderful! Little fruity packages loaded with vitamins B, K and C, they also contain loads of minerals your body needs every day. Not to mention, they're easy to grab and go for a snack, anytime!
Easy Pear and Goat Cheese Tart
Wanting a few more recipes using up some delicious pears? Look below!
Pear Tarte Tatin (French Pear Pie) by Sweet and Savory by Shinee
Fresh Pear Bread by Blackberry Babe
Autumn Vegetables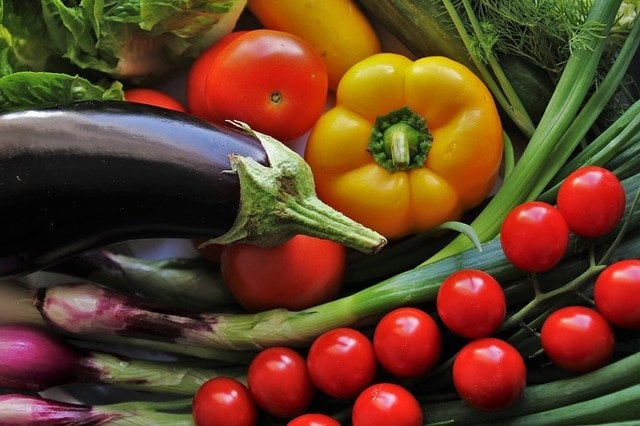 From different kinds of squash and pumpkin to crisp, green and red vegetables, they are all in abundance in the garden and local markets during the fall season. If there are a few you haven't tried but have been curious, here are just a few that are delicious and equally healthy.
Here are a few new ways to add them to your meals and serve them to your friends and family.
Butternut Squash
One of the most popular vegetables that you'll find stocked up on shelves during fall is butternut squash. This versatile veggie has a creamy texture and mild flavor that makes it perfect for a variety of dishes and recipes.
This large squash is also high in fiber as well as potassium and vitamin A. It has a hard outer peel which allows it to be stored for longer periods of time before you put it to use. You can roast it, puree it, add it to salads or even make pasta with it! Cool right?
BBQ Sheet Pan Chicken with Butternut Squash
Want more recipes for butternut squash? Check these out!:
Butternut Squash Soup by Love And Lemon
Spiralized Butternut Pasta by Detoxinista
Stuffed Butternut Squash by Little Spice Jar
Brussels Sprouts
Brussels sprouts resemble tiny cabbages and have the same flavor profile. They are packed with immunity-boosting vitamin C, vitamin K, and vitamin B6 and are considered a superfood!
In fact, you might often see Brussels sprouts sold on stalks during the fall season, because that's how they naturally grow. You can steam them, roast them, use them in salads, and enjoy this healthy fall vegetable and reap its health benefits.
Cheesy Garlic Roasted Brussels Sprouts by Cafe Delites
Roasted Brussels Sprouts With Pomegranate Balsamic Glaze by Simply Recipes
Autumn Kale & Shaved Brussel Sprouts Salad by Joyful Healthy Eats
PUMPKIN
Not just for jack-o-lanterns, pumpkins are chock full of valuable vitamins, fiber and other nutrients to keep the body in tip-top shape! Pumpkins are iconic for pie, but there are so many other recipes to use them in!
Looking for more pumpkin recipes? Here are a few more for you to try!
Vegan Pumpkin Pie Oatmeal by Classcaycooking
Soft Pumpkin Chocolate Chip Cookies by We Dish It Up
Maple Walnut Spiced Pumpkin Buns by Celebration Generation

BEETS
These root vegetables come in ruby red, golden, and other colors (varieties) like a candy cane! They're earthy and delicious, can be shredded in salads, made into a sweet and sour side dish, or fried with butter, and even pickled!
PACKED with B & C vitamins, beetroots also contain tons of valuable vitamins as well as loads of fiber. That's why they are so valuable in smoothies too!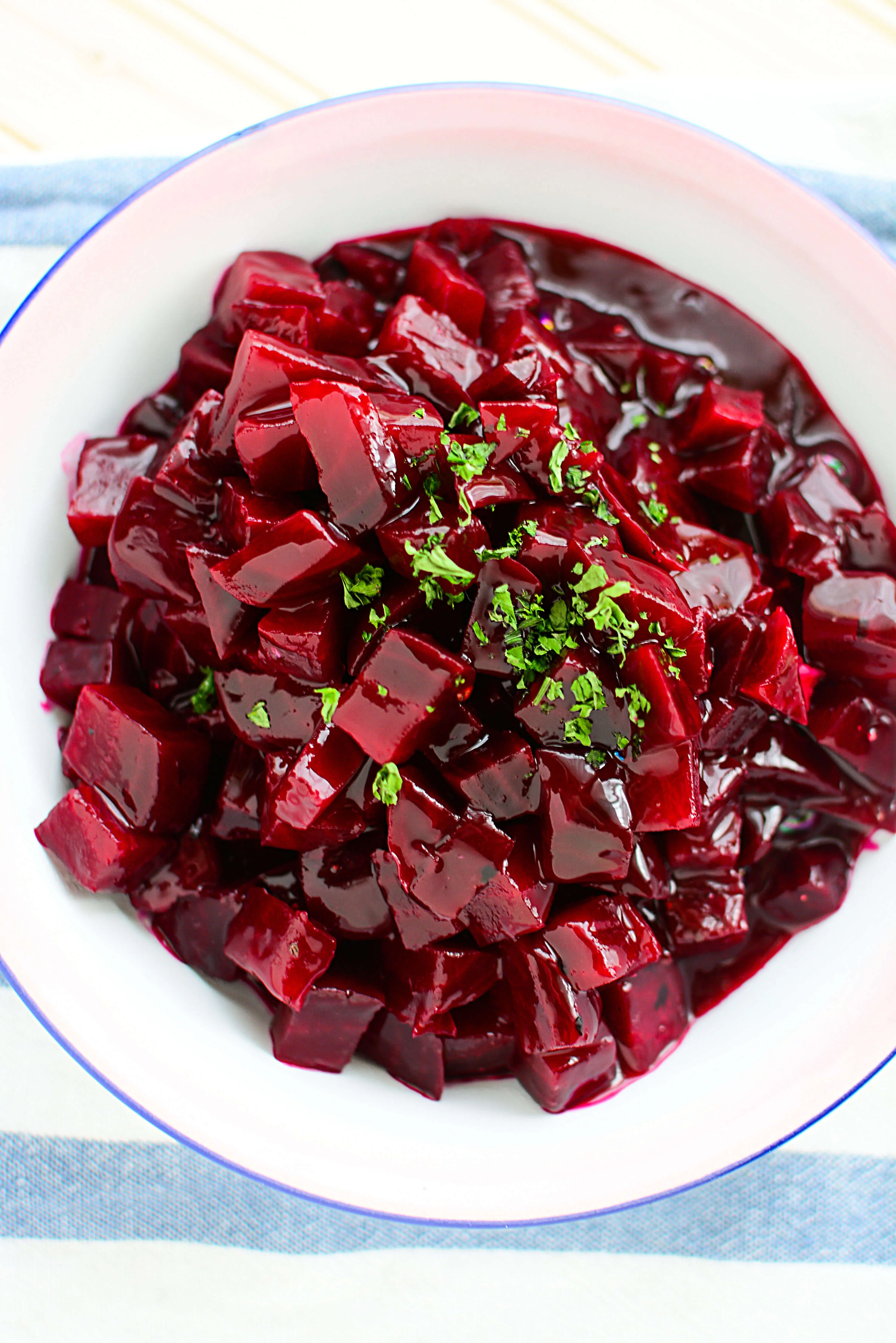 Looking for a few more recipes using beets? Look no further!
Crockpot Candycane Beets with Cranberries
Beet Salad With Avocado and Feta Cheese
Easy Refrigerated Pickled Beets
Other fall vegetables include turnip, zucchini, eggplant and sweet potatoes!
I hope that this post has given you some great recipe inspiration! Try a new way to prepare an autumn fruit or veggie, or even experiment and try a new fruit or vegetable!
What's your FAVORITE autumn fruit or fall vegetable? What's one of your most favorite ways to prepare it? Please leave your comment below, I'd love to hear them!!