When the cold winds blow and the nights get chilly, there's nothing quite as satisfying as a warm bowl of hearty soup. Introducing the Cowboy Soup—a rustic and inexpensive soup that promises to warm your bones and fill your stomach without emptying your wallet.
One of the best things about this soup besides its flavor and versatility, is that it's ready for the bowl in approximately 30 minutes or less. (Slow cooker/Crock Pot directions included in the recipe card below).
Cowboy Soup – Brimming with Goodness!
Ingredients For This Rustic Soup
Bacon – for that smoky richness. A little goes a long way. If you have no bacon on hand, but you save bacon grease, use that instead and you'll have the same smoky flavor profile.
Ground beef – the backbone of this hearty soup. Use lean, medium, regular, whatever you have on hand. This hearty stew is not fussy.
Smoked sausage – helps to add more protein to the meal while adding a lot of flavor. The spices in the sausage will go throughout the dish.
Onion – for a touch of savoryness and aroma.
Carrots – for a hint of sweet earthiness, color, and nutrition.
Seasonings – to taste (salt, pepper, garlic powder, smoked paprika, etc.)
Diced tomatoes – adds tang and texture.
Pinto beans and black beans – the protein-packed stars of the dish.
Corn – for sweetness and bite.
Potatoes – to thicken and provide body, volume, and satiation.
Broth – beef broth add more flavor but if you only have chicken or vegetable on hand, use it.
Note on Beans: Not a fan of pinto or black beans? Feel free to substitute with red kidney beans, cannellini beans, or even chickpeas. The idea is to add protein and body, so any hearty bean will do the trick!
How to Make Cowboy Soup
For The Stovetop Method:
Cook the bacon and beef.
Add the veggies, sausage, (saute) then the seasonings, and remaining vegetables.
Add the broth and cook.
Crumble the bacon and stir into the soup before serving. (or you can choose to cook the bacon in the soup the entire time).
*** The printable recipe card below gives the exact ingredient amounts and cooking directions for both a stovetop method as well as a slow cooker/crock pot method of cooking this Cowboy soup.
Tips and Variations for this Cowboy Stew
Not a fan of pinto or black beans? Not a problem! They're easily switched out with other beans you might enjoy more.
Kidney Beans
Canelli Beans
Butter Beans
or Chickpeas (Garbanzo Beans)
The point here is to add even more protein in the soup by utilizing beans. They build volume for the soup and really increase the nutrition.
Feel free to add more or cut back any of the vegetables. If you prefer corn more than carrots, add a lot more corn!
Try adding (if your pot is big enough!) a can of crushed tomatoes. This will change the flavor profile a little, and you'll want to increase the amount of seasonings you use. Try adding more garlic, salt, and pepper, and add a few dashes of Italian seasoning.
Rumor has it that cowboys like their food on the spicy side, so if you're into that, try adding some dried chili peppers, or fresh jalapenos to the mix.
Don't be afraid to use your crock pot for this hearty soup recipe. Much like my recipe for Smoked Pork Hock Soup, the crock pot does a lot of the heavy lifting and helps develop those flavors over a longer period of time and you can go about your day!
Cowboy Soup's Second Act
Got leftovers? Lucky you! Here are three innovative ways to give this soup a second round on the dinner table:
Cowboy Pasta: Reduce leftover soup in a pot until thickened. Toss with cooked pasta, sprinkle with cheese, and bake until bubbly.
Rustic Shepherd's Pie: Lay the thickened Cowboy Soup (use a cornstarch slurry) as a base in a baking dish. Top with mashed potatoes and bake until golden.
Hot Sandwiches: Reduce the soup until it's thick (or thicken it using a cornstarch slurry). Spoon over buttered and toasted bread or buns for a hearty hot sandwich or "sloppy joe" vibe.
Dealing with Storage and Freezing
The Cowboy Soup stores beautifully!
Allow the soup to cool completely, then transfer it to airtight containers. It will keep in the fridge for up to 5 days.
For longer storage, you can freeze the soup. Simply portion it into zip-lock bags or containers, and it will be good for up to 3 months. When you're ready to eat, thaw overnight in the fridge and reheat on the stove or microwave.
Serving this Cowboy Meal
Buttered Fresh Bread: What's soup without bread? Serve with thick, crusty buttered bread on the side to ensure every drop of this delicious concoction is savored. Try making this No Knead Country Bread the day before (or the morning of), and enjoy it with the soup.
Heartiness Amplified: For an extra hearty meal, serve the Cowboy Soup over a bed of creamy mashed potatoes. This not only enhances the flavors but also stretches the soup, making it serve more hungry mouths.
Sides: Begin the meal with a fresh salad to balance the richness of the soup.
Questions You Might Have
I added too much broth I think. How can I thicken this cowboy soup?
The potatoes will help thicken the soup some, but if you find it's still too thin, try adding a cornstarch slurry. Mix 1 tablespoon of cornstarch with 2 tablespoons of water and add it to the soup. Stir while simmering and it should thicken.
Can I double this soup to feed more people?
Absolutely! This soup doubles well. Simply add twice the amounts of ingredients called for although I would be sure to taste for seasoning adjustments before you serve.
This rustic soup is so delicious, that every spoonful promises comfort and contentment. Whether you're feeding a large family or just looking for multiple meals out of one pot, this soup won't disappoint.
So, put on your cowboy hat, gather around the table, and dig in!
Did you try this Cowboy Soup Recipe? Let me know in the comments, I'd love to hear from you! Thanks so much for stopping by The Salty Pot and I hope you have a fantastic day!
~Joanne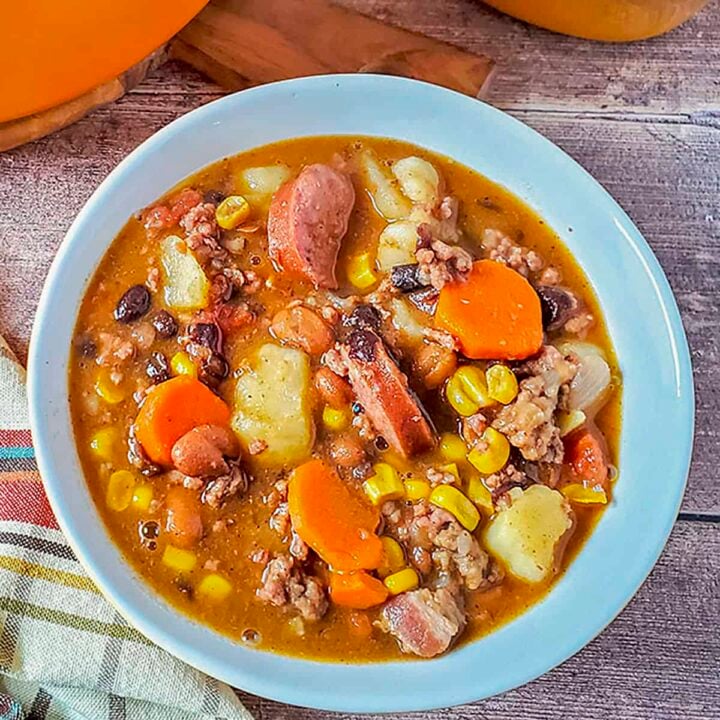 Cowboy Soup
Dive into the Cowboy Soup recipe that's a robust blend of bacon, ground beef, smoked sausage, and a hearty mix of beans and veggies. It really is a big warm hug in a bowl.
Ingredients
● 5 slices bacon, cut into ½ inch pieces
● 1 lb ground beef
● 14 oz package smoked sausage, sliced into ½ inch pieces
● 1 medium yellow onion, chopped
● 2 carrots, medium, peeled and chopped (can also use a large handful of baby carrots.
● 1 tablespoon minced garlic
● 2 teaspoons chili powder
● 1 teaspoon ground cumin
● 1 teaspoon paprika
● 1 (14.5 ounce) can diced tomatoes
● 1 (15-ounce) can pinto beans, drained and rinsed
● 1 (15-ounce) can black beans, drained and rinsed
● 1 (15 ounce) can sweet corn, drained
● 3 cups beef broth, chicken broth or vegetable broth
● 3 medium russet potatoes peeled and diced
● Salt and pepper, to taste
Instructions
Stove Top Method:
1. Add the bacon to the pot and begin sauteing to render out the fat and cook the bacon through.
2. After the bacon is cooked through, remove it from the pot.
3. Add the ground beef and cook it until it's brown, breaking up the larger clumps.
3. When the beef is around halfway cooked, add the onions, chopped carrots, and sliced sausage. Continue cooking this mixture until the beef is thoroughly cooked.
4. Add the garlic, chili powder, cumin, paprika, salt and pepper.
5. Add the tomatoes, all the beans, corn, potatoes and broth.
6. Bring the soup to a boil over high heat, and then reduce it to a simmer. Simmer the soup for approximately 30 - 40 minutes or until the potatoes are tender.
7. When the potatoes are soft (not falling apart), taste the soup to adjust for seasonings. Return the bacon to the pot.
8. Pour into bowls and serve with buttered crusty bread or crackers. Enjoy!
Slow Cooker Method:
1. Cook bacon in a pan, then remove and set aside.
2. Brown the ground beef and smoked sausage in the bacon fat.
3. Transfer the meats into a slow cooker and add onions, carrots, seasonings, tomatoes, beans, corn, potatoes, and broth.
4. Cook on low for 6-8 hours or high for 3-4 hours.
5. Crumble bacon and stir into the soup just before serving.


Notes
1. The smaller you dice the potatoes, the quicker the soup will cook. Don't go below a ½ inch dice or they may get too soft and fall apart.
2. If you have no canned soup on hand, boullion powder works excellent here. In a pinch, you can use water, but there won't be the depth of flavor if you use broth instead.
3. Make this soup ahead of time and reheat individual portions. The longer the soup gets a chance to meld the flavors, the better it tastes.
4. If you have no bacon on hand, leave it out OR if you save bacon grease, use a tablespoon or so to give that smoky flavor to the soup.
5. This cowboy soup can easily be doubled in a bigger pot to feed many more people.
6. You can add the bacon to the pot while it cooks to add more smoky flavor (which I do depending on the flavors I want), or just leave it to the end to sprinkle on top. The smokiness of the soup will still be carried by the bacon fat while it cooks.
Nutrition Information:
Yield:

6
Serving Size:

2 cups
Amount Per Serving:
Calories:

679
Total Fat:

37g
Saturated Fat:

12g
Trans Fat:

1g
Unsaturated Fat:

19g
Cholesterol:

120mg
Sodium:

1583mg
Carbohydrates:

45g
Fiber:

7g
Sugar:

6g
Protein:

42g
All nutritional information is based on third-party calculations and is only an estimate. Each recipe and nutritional value will vary depending on the brands you use, measuring methods, and portion sizes per household.