Rhubarb Oatmeal Cookies are a unique cookie recipe that is sure to please. This twist on classic oatmeal cookies gives a tangy flavor from the rhubarb, yet still has a sweetness factor that is not overly done. And along with all that, you have he wholesomeness of oatmeal.
They're crispy on the outside and soft and chewy on the inside, it's an awesome springtime rhubarb cookie recipe.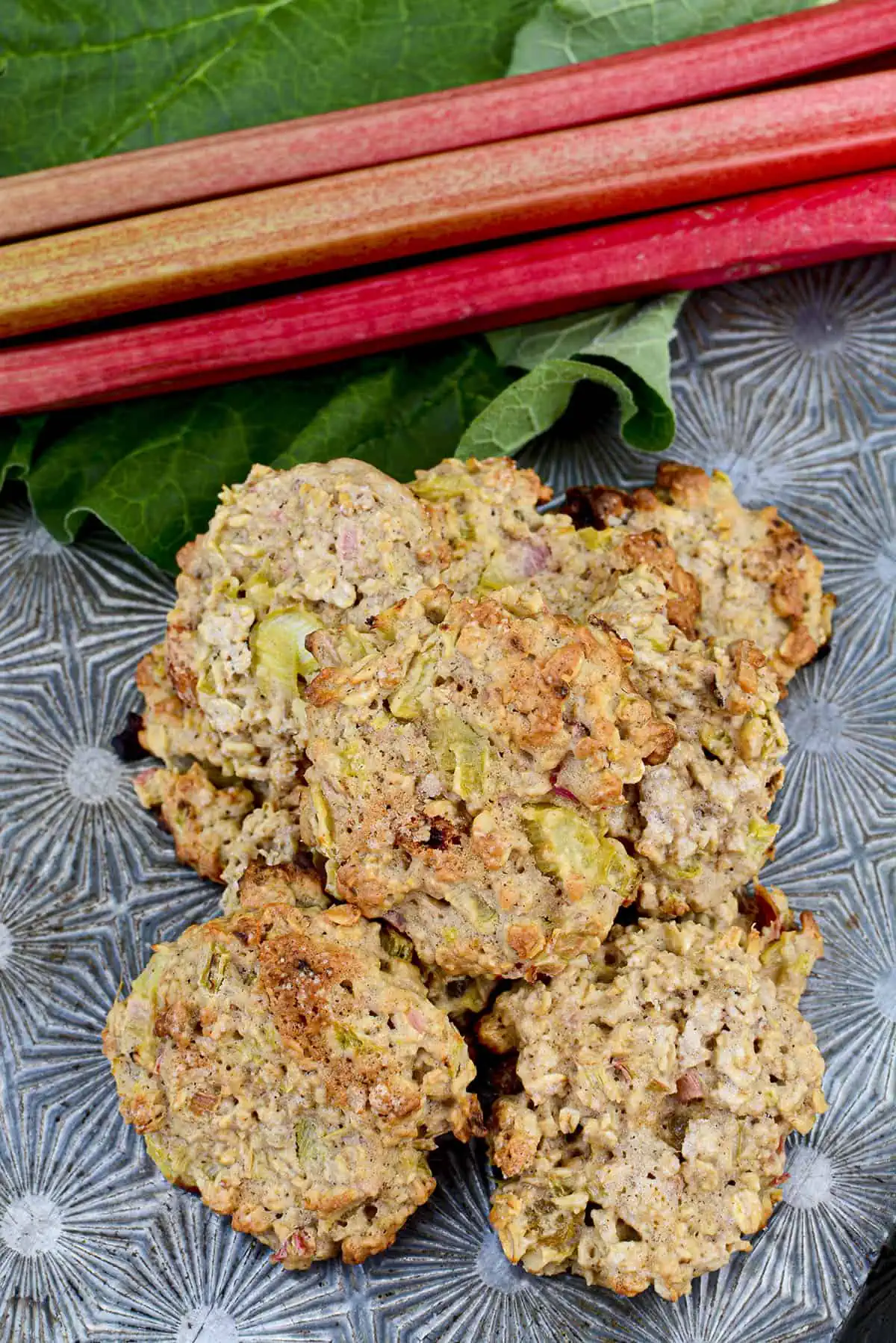 Why You'll Love These Rhubarb Oatmeal Cookies
This cookie will stand out from the rest and makes a great way to use up fresh rhubarb or the rhubarb found in your freezer that you processed for later use. When rhubarb comes up fresh in the spring, I like to harvest as much as I can to make these cookies, along with this Rhubarb Crumb Bar recipe, Rhubarb and Pear Crumble, and my famous Strawberry Rhubarb Sauce that goes on EVERYTHING!
The added raisins help with the sweetness as does the cinnamon. There are 2 cups of sugar in the batter, but it doesn't translate to an overly sweet cookie but instead a soft delectable cookie.
This rhubarb cookie recipe is insanely easy to make. My mom has been making them for many many years and it is definitely something we look forward to in the spring when we use fresh rhubarb!
What you need
Rhubarb – Fresh or frozen rhubarb, either will do. I have a variety that's mainly green, and my mom has a variety that's mainly red. Again, either color will do because they taste the same.
Eggs – Bring them to room temperature before you start the recipe.
Sugar – I used both brown and white sugar in this recipe but you can use what you have on hand.
Butter – I have used salted and unsalted butter for this recipe. Either works. If you use salted, just remember to cut back a bit in adding the additional salt in the recipe, later. And if you feel inspired, try making your own butter. It's simple as pie!
Vanilla
Flour
Baking soda
Salt
Raisins
Here's How to Make Rhubarb Oatmeal Cookies
Preheat your oven to 350 degrees.
Dice your chunks up fairly small to about the size of raisins for the best results.
Cream together the butter and sugar before adding your eggs and vanilla and mixing.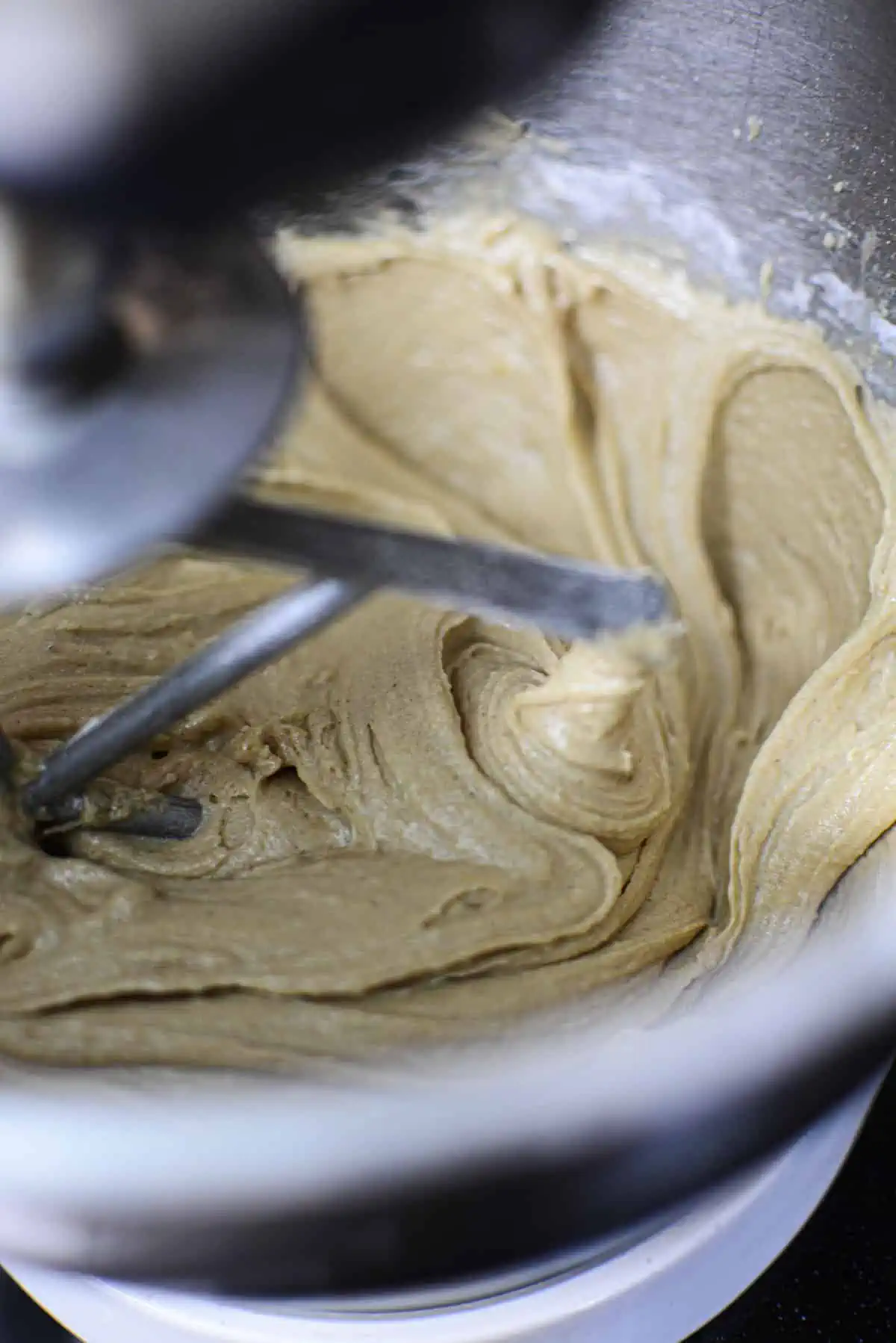 Mix in your flour, oats, salt, baking soda, and cinnamon.
Fold in your rhubarb, raisins, and nuts.
Form into small balls – this recipe can make about 60 cookies. Then press them down slightly to flatten them. These cookies don't change in shape a lot, so I like to flatten them down so they're more in a cookie shape.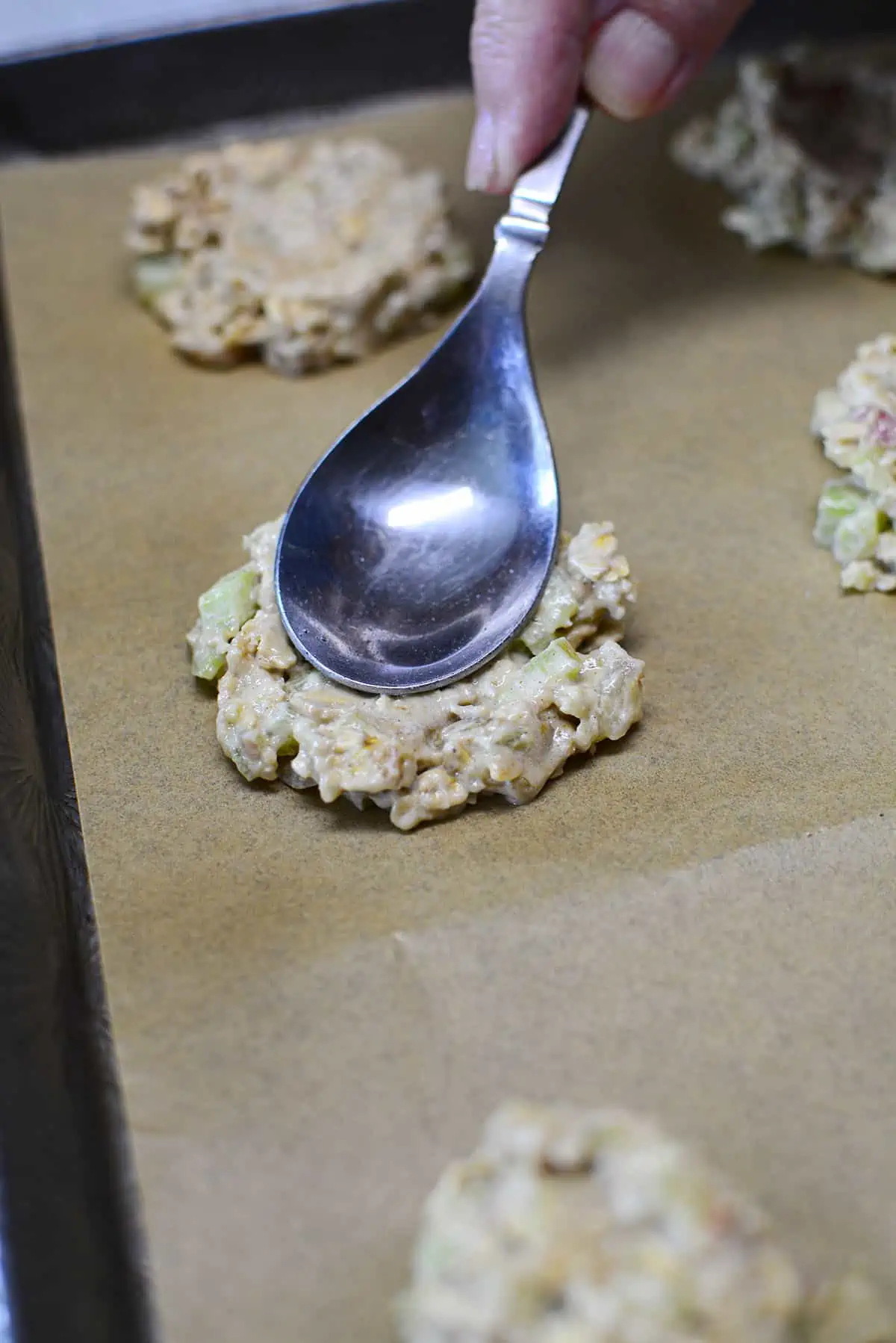 Pull your cookies out of the oven in about 8 to 10 minutes after the edges have turned a soft golden color.
After baking, leave them on the pan for 5 minutes before taking them off so they can set up better.
Handy Hint: When making these delicious cookies, be sure to "de-string" the rhubarb by removing all of the long stringy bits from the rhubarb stalks so that there are no strings in the batter.
Suggestions for Putting a Twist on It
The walnuts are excellent in this recipe but if you have none on hand, pecans work well.
If you're wanting to add even more tartness in place of the sweet raisins you can add dried cranberries instead.
Want it sweeter? Try adding white chocolate or dark chocolate chips.
What can I serve these cookies with?
These cookies made a great addition to your next cookie exchange. They can be served warm with vanilla ice cream for a fun treat or served with a glass of milk for a classic after-school snack your kids will love. These cookies are best served fresh or after thawing. You can warm them up just a tad in the microwave for 30 seconds or less to serve them warm as if they were fresh.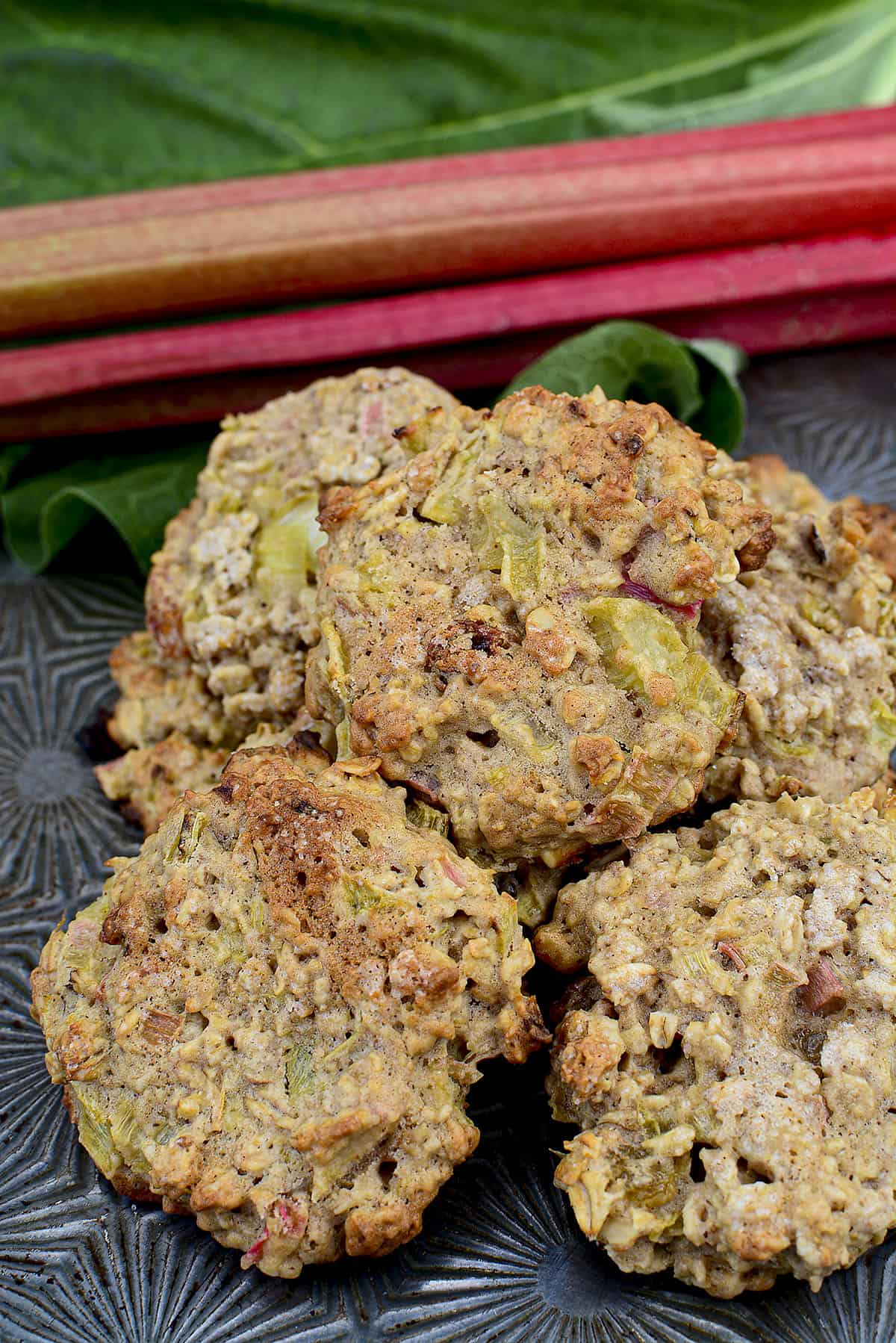 Storing Leftovers
These cookies freeze incredibly well and will maintain the wonderful texture you love when thawed. However, when stored at room temp, you may want to leave the lid ajar because if it's airtight, the moisture in the rhubarb could make the cookies softer.
Because of the moisture, these cookies last only a few days at room temperature. I encourage you to keep them in the fridge or in the freezer and thaw as you need them.
Questions You Might Have
My rhubarb isn't the red variety (or, it's all green variety, not red), can I still make this recipe?
Absolutely you can! The color will make no difference in the flavor of these cookies.
Can I use a sugar alternative for the sweetness in these cookies?
Sure! Try substituting some (or all) of the sugar for maple syrup. I have used Date Paste as well which turns out beautifully sweet (not cloyingly). As for artificial sugars, I haven't tried using them personally, but I know there are plenty of artificial sugars out there specifically formulated for baking, so they should turn out fine.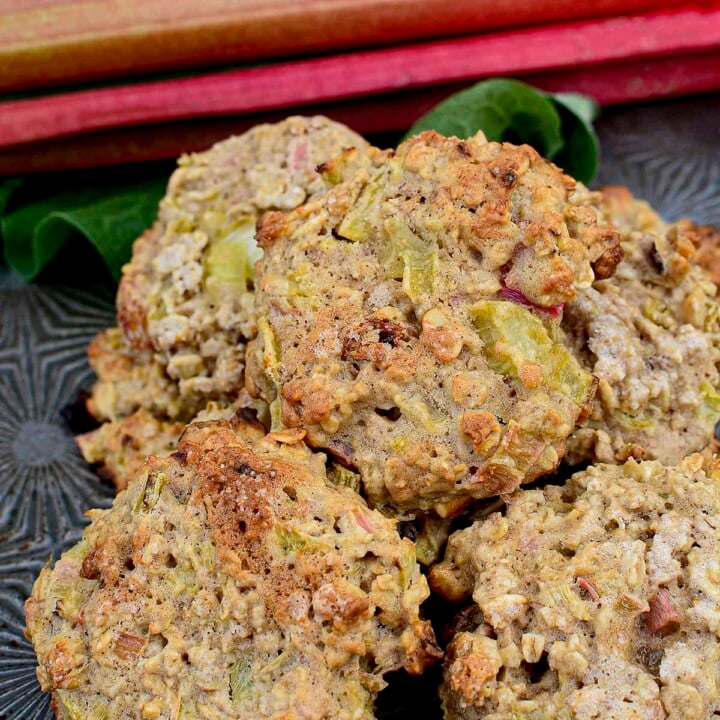 Mom's Rhubarb Cookies
Sweet yet tart, these wholesome rhubarb cookies become a staple in the house in the spring. They're not too sweet, but just sweet enough, and AMAZING with a big glass of milk.
Ingredients
½ cup butter
¾ brown sugar, firm pack
½ c granulated sugar
3 eggs, small or 2 eggs large
1 teaspoon vanilla
1 ¾c flour
1 teaspoon baking soda
1 teaspoon cinnamon
3 cups oats
3 c rhubarb, finely chopped
1 cup walnuts, chopped
½ cup raisins (or more if you prefer).
½ teaspoon salt
Instructions
Preheat the oven to 375
In a mixer, cream the butter and sugars together.
Add the eggs and vanilla. Mix to incorporate.
In a bowl, sift the flour, and add the oats, baking soda, cinnamon and salt.
Add the wet ingredients to the dry and mix well.
Fold in the rhubarb, nuts, and raisins.
Spoon out onto a greased cookie pan, then with the back of a spoon, flatten the cookies out so they don't stay in a mound. (They don't spread very much).
Bake for 9 - 12 minutes or until they're golden brown and crispy on the edges.
Notes
These cookies freeze really well in an air tight container.
They will last about 5-6 days at room temperature because of the moisture in the cookies. The best practice is to keep them in the refrigerator.
Nutrition Information:
Yield:

60
Serving Size:

1
Amount Per Serving:
Calories:

65
Total Fat:

3g
Saturated Fat:

1g
Trans Fat:

0g
Unsaturated Fat:

2g
Cholesterol:

18mg
Sodium:

39mg
Carbohydrates:

7g
Fiber:

1g
Sugar:

3g
Protein:

2g
All nutritional information is based on third-party calculations and is only an estimate. Each recipe and nutritional value will vary depending on the brands you use, measuring methods, and portion sizes per household.