You guys, I can't wait to tell you about this peach blueberry crisp! Peach and blueberry crisp is amazing because the fruit is perfectly sweet, the texture is awesome, and the flavor is mindblowing good!
I know that peaches and blueberries aren't two fruits that you hear of in the same recipe very often. But, seriously, if I'm wrong, I don't wanna be right. lol
If you haven't tried anything with peaches and blueberries together, then there is no more waiting! This is a must-try recipe because it is seriously so amazing. Aaaaand speaking of amazing desserts, I'd also rank my recipe for Rhubarb Pear Crumble right up there as a must-try as well.
Also, have you ever wondered what a PANDOWDY is? Ever wondered the difference between a 'crisp' to a 'crumble' to a 'betty'? I did too, so I researched it, and found out what each one of them is! Take a peek at what the differences are between these baked goods!
How To Make Peach Blueberry Crisp
Incidentally, if you are using fresh peaches and you want to peel the peach fuzz off the peach before you use them, I have a super easy tutorial on how to do just that!
First Step: Preheat to 350.
Second Step: In a medium bowl combine fruit, lemon juice, sugar (optional), and sprinkle the flour over top. Mix well and put in 9 x 13 baking pan.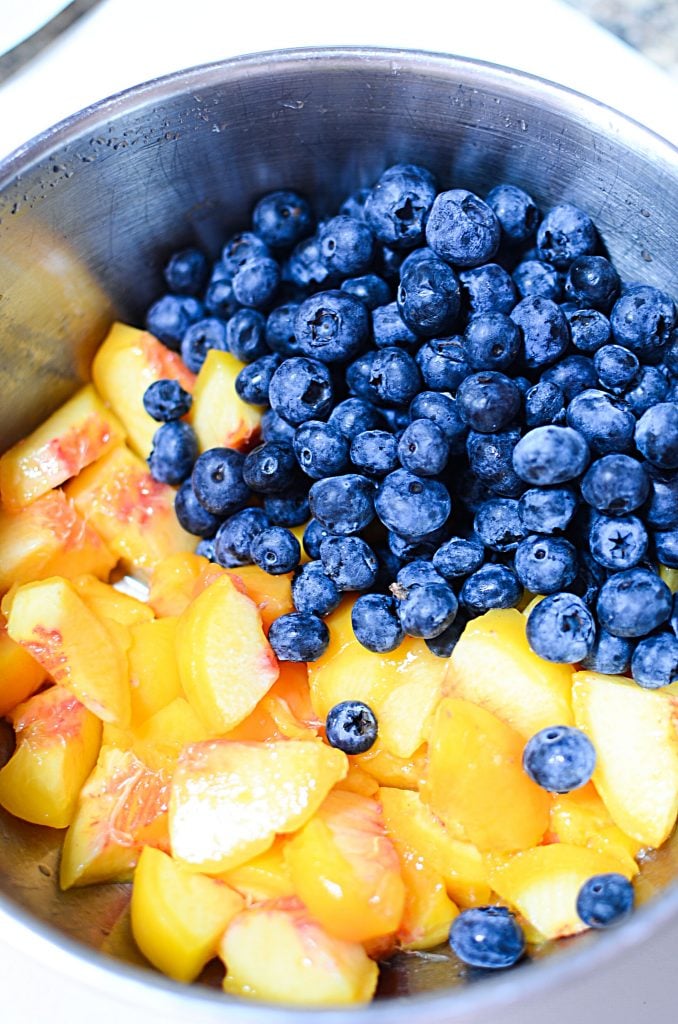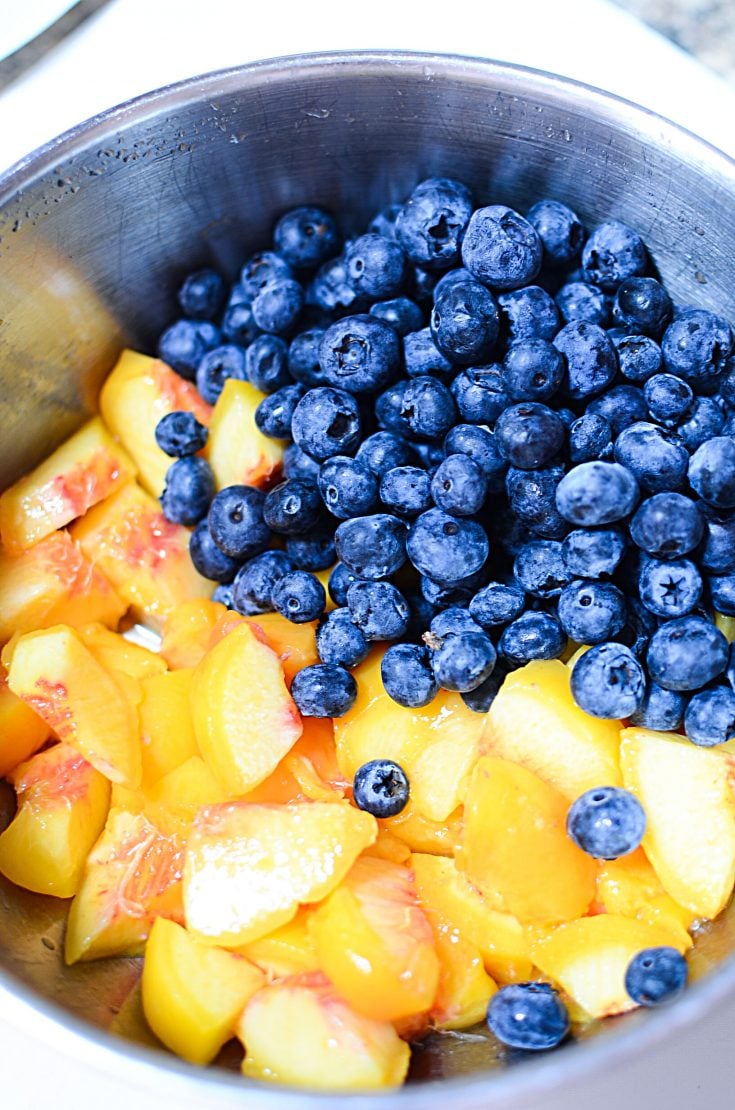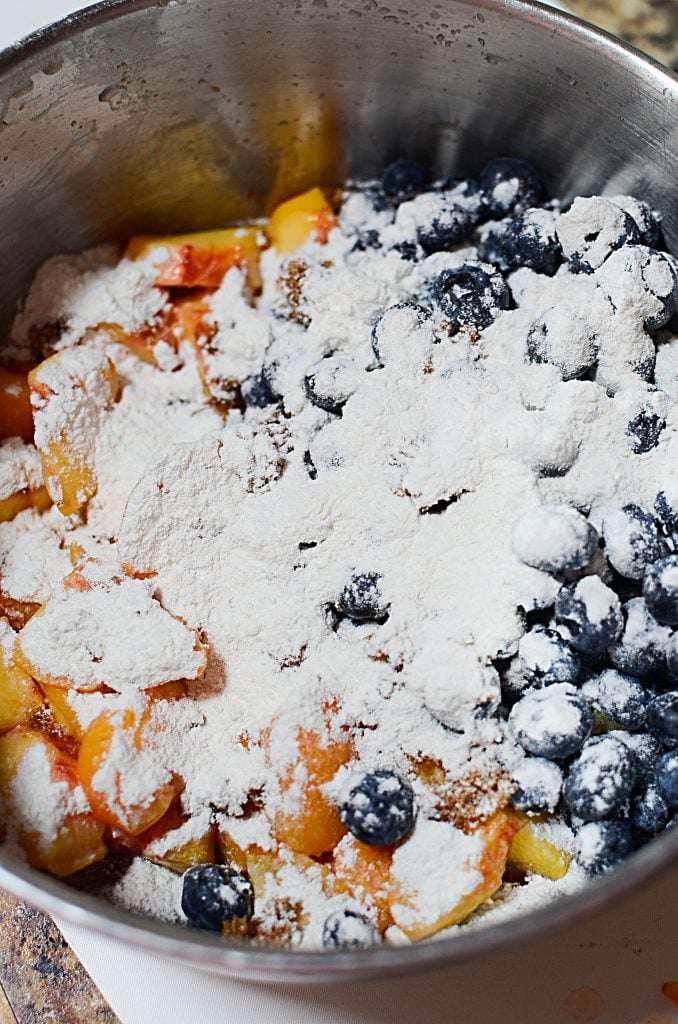 Third Step: In a separate bowl, mix together the oats, brown sugar, flour, cinnamon. Mix ingredients well.
Fourth Step: Cut the butter into small pieces and with your hands, two knives or a pastry cutter, cut the butter into the oat mixture so that it resembles small peas. Add this mixture on top of the fruit.
Fifth Step: Bake for 25-30 minutes. The top will be golden brown when it's done.
Sixth Step: Let the peach and blueberry oatmeal crisp allow to cool for a few minutes before serving.
Peach And Blueberry Crisp Variations:
Don't be afraid to try out different flavor combinations with this peach crisp. It's already packed with flavor, but it's nice to twist things up here and there. Here are some of my favorite ideas to try:
Candied Pecans – Add some candied pecans to the top of the blueberry crisp. Once it hits your tongue you are going to fall head over heels in love.
Candied Ginger – Throw a few pieces of candied ginger to the fruit mixture and your taste buds will thank you! Yum!
Nectarines – No peaches? No problem! Trade the peaches for nectarines. They are a fantastic flavor and texture. (Just be sure to peel your peaches before you use them in the crisp!)
White Sugar – You can replace the brown sugar with white sugar in the topping if you want. Or you can even cut the sugar in half if you are looking for it to be less sweet. Brown gives the crisp a depth of flavor, but white is also great too.
Apples – Blueberries and apples also go well together, so if you find yourself with an abundance of apples, trade the peaches out and enjoy!
Cinnamon – I love cinnamon and it's terrific when you add it to the crisp. It takes it to a spicy level that is perfect for fall.
Topping Ideas For Peach Crisp Recipe
I have tried this peach and blueberry crisp with several different types of toppings. Here are some of my favorites:
Ice Cream – Use plain vanilla, or go wild and pick something with more flavor like strawberry!
Whipped Cream – Add a dollop (or two if you don't care.. lol ) to the top of the crisp. So darn good!
Heavy Whipping Cream – Not to be confused with whipped cream, drizzle some heavy whipping cream on top of the hot crisp. Lipsmacking good.
How Do You Store Peach And Blueberry Crisp?
Tightly wrap the crisp in plastic wrap (in the pan or on a plate) and place it in the refrigerator for up to 5 days. You can also leave it on the counter for 2-3 days as well, and I would still wrap it, but not quite as tightly. You don't want it to dry out, but you also don't want too much moisture building up.
Where I store it just depends on where I have room, so don't feel like you have to place it in the fridge. It tastes great either way.
Can I Freeze Peach And Blueberry Crisp?
Yes, you can freeze this peach and blueberry crisp. Tightly cover it with tin foil, then store it in a freezer-safe airtight container. To serve, thaw it in the fridge overnight until it's defrosted. Eat hot or cold, because it tastes great either way!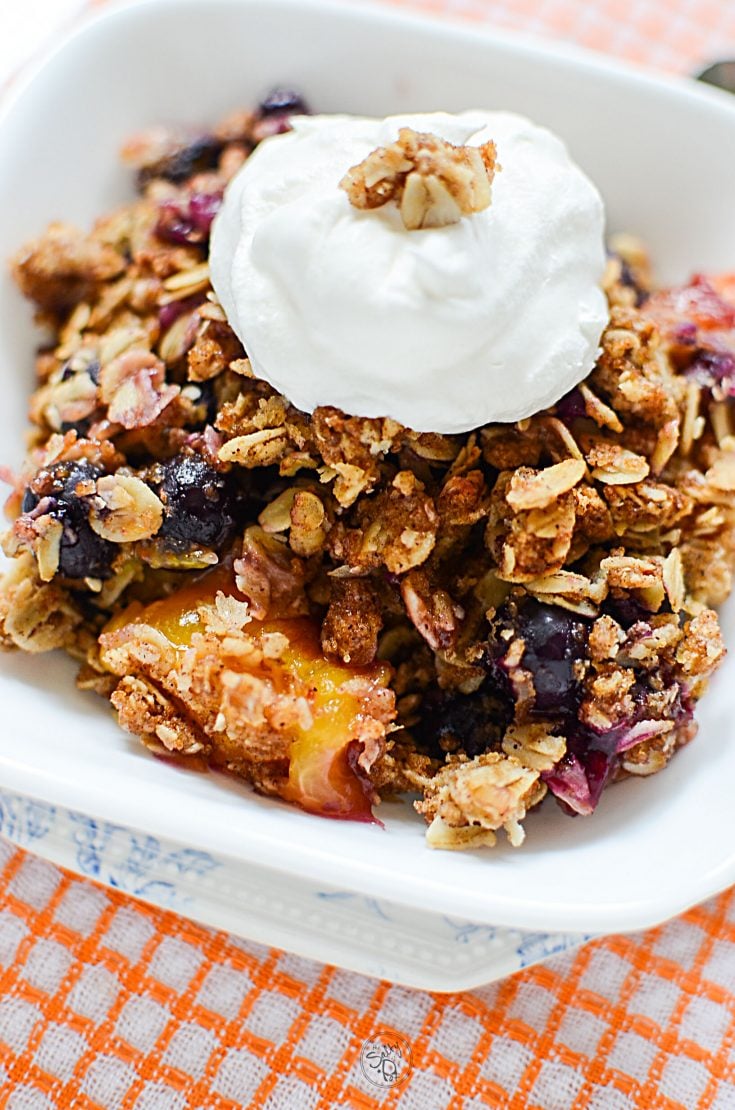 How To Reheat Blueberry Crisp
It's pretty simple to reheat the blueberry and peach crisp. Just turn the oven to 350 degrees F. and heat for 20-25 minutes in an oven-safe pan until it's warm and bubbly. Or you could also toss it in the microwave because it would heat up faster. Either way, it tastes as good as it did the first night. You can also eat it cold if you would rather.
I hope you can see how incredibly awesome this fruit crisp dessert really is. It's so incredibly versatile, lending itself to different flavor combos, but this original combo is scrumpdillyicious! (There's a reason it's been a family favorite for so long!!)
One more thing, do you have more peach or blueberries you want to use up? Take a peek at this Blueberry Strudel Pie, or this recipe for Coconut Peach Slow Cooker Oatmeal! I also have a recipe for Sugar-Free Peach Freezer Jam as well!
By the way, if you've ever wondered what the differences are in different baked fruit desserts like crisps, crumbles, cobblers, buckles, and pandowdy's, then take a quick peek at this easy article that explains it all!!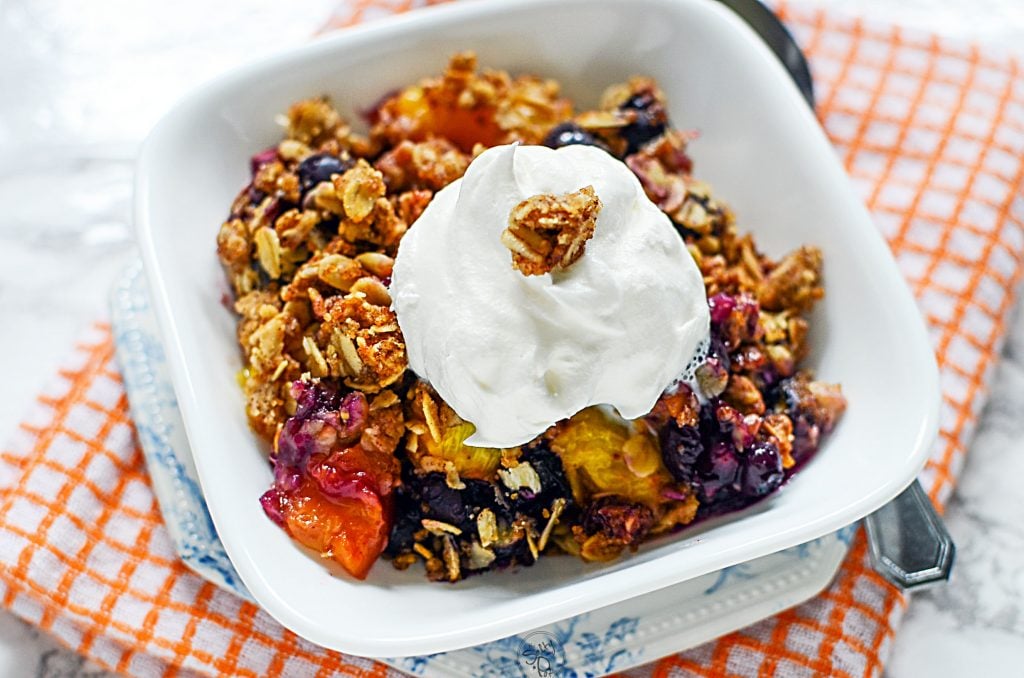 When you try this incredible fruit crisp, I'd LOVE to hear how you switched it up (if you did), and even better, see some photos of YOUR incredible masterpiece!! Thanks so much for stopping by The Salty Pot today, and I hope you have a wonderful day!
Peach Blueberry Crisp
A wonderful summertime dessert! This Peach Blueberry Crisp is juicy and sweet from the filling with a crispy texture from the topping. Perfect served hot or cold, with whipped cream or ice cream, or simply on it's own! This dessert screams summer harvest goodness!
Ingredients
20 oz (2-3c) peaches (peeled and sliced)
1 cup blueberries (fresh)
1 tsp lemon juice
1 tbsp sugar (optional)
2 tbsp flour
½ c oats
⅓ c brown sugar
¼ c flour
1 tsp cinnamon
⅓ cup butter
Instructions
preheat to 350
In one bowl – fruit, lemon juice, sugar (optional), and sprinkle the flour over top.
Mix it well. Transfer to a 7 x 11 or 9x9 baking pan
In another bowl, mix together the oats, brown sugar, flour, cinnamon.
Mix well
Cut the butter into small pieces and with your hands, two knives, or a pastry cutter, cut the butter into the oat mixture so that it resembles small peas.
Sprinkle this mixture on top of the fruit
Bake for 25 – 30 minutes or until the top is browned
Remove from oven and let cool slightly before serving. This dessert can also be served at room temperature
Serve with whipped cream or ice cream and enjoy!
Notes
1. Feel free to cut back the sugar in the topping. My mom's original recipe called for ½ c of sugar, but I cut it back. I felt it's a nice level of sweetness.
2. The sugar can be replaced with granulated stevia or monkfruit. Depending on the brand you use will depend on how much you use. Be sure to see the brand's conversion guide on the container.
3. Fresh fruit is ideal for this recipe but frozen or canned can be used. Do not use pie filling.
Nutrition Information:
Yield:

4
Serving Size:

1 cup
Amount Per Serving:
Calories:

306
Total Fat:

16g
Saturated Fat:

10g
Trans Fat:

1g
Unsaturated Fat:

5g
Cholesterol:

40mg
Sodium:

126mg
Carbohydrates:

39g
Fiber:

3g
Sugar:

21g
Protein:

3g
All nutritional information is based on third-party calculations and is only an estimate. Each recipe and nutritional value will vary depending on the brands you use, measuring methods, and portion sizes per household.
**DON'T FORGET TO PIN THIS PEACH BLUEBERRY CRISP RECIPE TO YOUR FAVORITE PINTEREST BOARD TO SAVE FOR LATER!!!**