Overnight Eggnog Bread Pudding with Cranberries is tasty, it's easy, it has all the ingredients a breakfast normally might have, and most of all, it's done the night before so you simply pop it in the oven and you're off to watch the ripping and tearing of wrapping paper!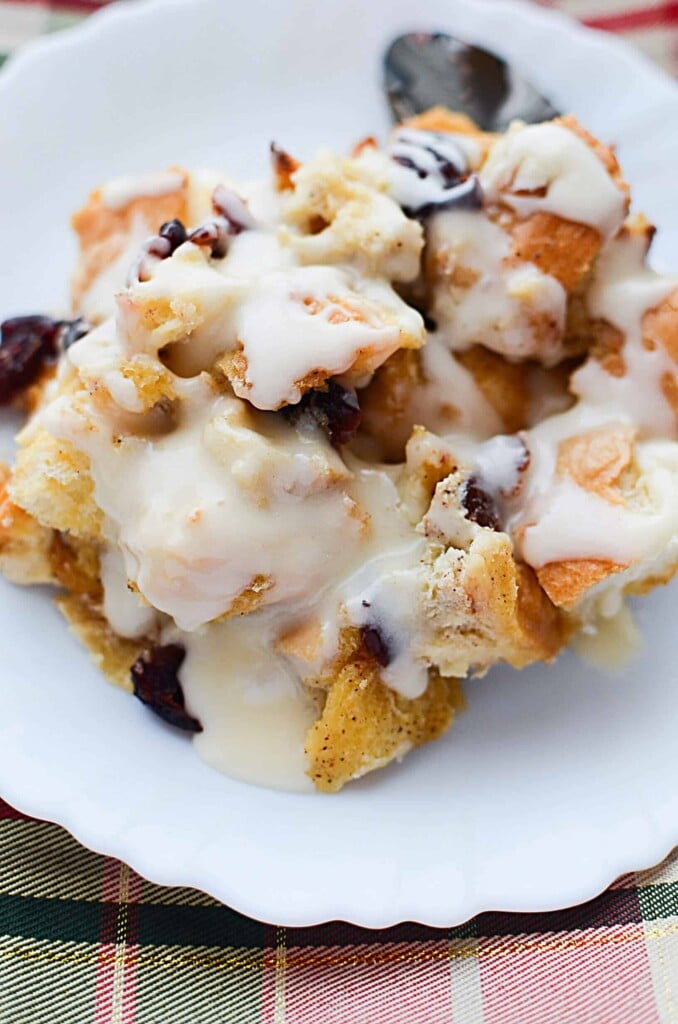 OVERNIGHT EGGNOG BREAD PUDDING WITH CRANBERRIES
This breakfast bread pudding couldn't be easier, honestly. It's especially great if you have stale bread to use, but if you don't, simply take the bread that you're going to use and pop it in a low oven (250) for 15 minutes to kinda toast and dry it out a bit.
If you don't want to do that, no worries, it's optional. I like to do it if I don't have any stale bread because I like how the egg and eggnog get soaked up using dry bread.
So make this the night before, and your Christmas morning can be filled with squeals of delight and hugs and kisses and coffee with baileys (I have a recipe for a DIY Bailey's type of coffee cream too) while the eggnog bread pudding bakes in the oven and gives the house all the smells of a festive Christmas.
MAKING EGGNOG BREAD PUDDING
So you'll want to start by boiling a cup or so of water. When boiled, add to the dry sweetened cranberries for about a good 30 minutes or so,  so they plump up a bit.
Then, get started with cubing up the bread. Do it by hand or by knife, it matters not, as long as it's cubed in bite-sized pieces.
Put them in a greased baking pan. Drain the berries and sprinkle them throughout the bread cubes in the pan.
In a bowl, combine the eggs, eggnog and other ingredients. Whisk really well.
Pour over the bread, trying to get an even distribution of "custard" (the egg mixture) over all the bread. If you need to, use a spoon to mix it up some. Cover with plastic wrap, and let your future eggnog bread pudding do it's thing overnight in the fridge.
In the morning, preheat the oven to 350. Take the plastic wrap off and place the bread pudding in the oven. At this point, there should be very little liquid left as it should be all absorbed by the bread.
Bake for 25 – 30 minutes or until it's browned on top. Remove from the oven to let cool slightly while you make the drizzle. YEAAAHH drizzle!! Don't skip this part friends because the drizzle makes the bread pudding go from a bread pudding breakfast to an EGGNOG BREAD PUDDING WITH CRANBERRIES PARTY!!! 🙂
In a small bowl, combine the icing sugar and the eggnog, add the spices and whisk well.  Drizzle the desired amount on top of each piece and ENJOY!! It's such a festive bread pudding dish, and the cranberries add that extra bit of sweetness to the eggnog bread pudding that makes it just a spectacular Christmas morning breakfast!
Bread pudding is such a classic Christmas morning breakfast but it can also make a great dessert to add to your table alongside other eggnog treats like this eggnog rice pudding or this decadent eggnog fudge.
If you're looking for other breakfasts besides this eggnog bread pudding to serve Christmas morning, check out these 20 Christmas Morning Breakfast Ideas !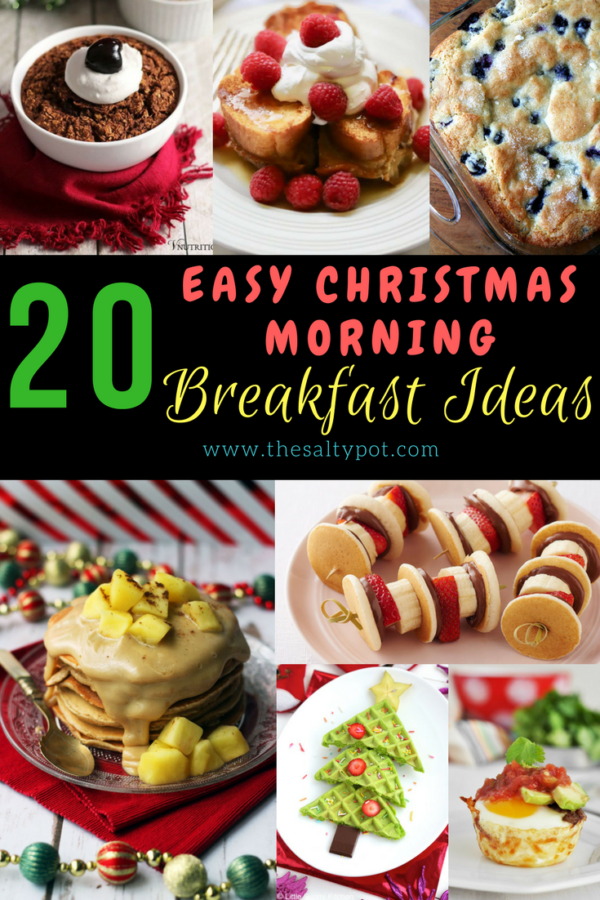 Thanks so much for stopping by The Salty Pot today, and if you make this bread pudding or any other of the breakfast ideas I listed, I'd LOVE to hear from you!
Overnight Eggnog Bread Pudding with Cranberries
Warm, sweet and comforting, this Eggnog Bread Pudding with Cranberries makes an excellent Christmas morning breakfast! The best part of all, is that you make it the night before! That way, you pop it in the oven and let it bake while the gift giving starts!!
Ingredients
6-8 cups cubed bread (dry bread works the best), (I used a french loaf)
4 eggs
1 cup dried, sweetened cranberries
1 cup boiling water
2 cups eggnog
1 ½ teaspoon cinnamon
1 teaspoon nutmeg
2 cups icing sugar
¼ cup brown sugar, (optional)
2-3 tablespoon eggnog (for the drizzle)
Instructions
Add the boiling water to the cranberries and let sit for 30 minutes.
Break the bread into bites size cubes and place in a greased baking dish.
Drain the cranberries from the water and sprinkle amongst the bread cubes.
In a bowl, combine the eggs, 2 cups of eggnog, 1 teaspoon cinnamon and ½ teaspoon of nutmeg. Add the optional brown sugar now if you are using it. Mix well to incorporate.
Pour slowly over the bread cubes. Mix with a spoon to distribute the egg mixture if you prefer. Cover with plastic wrap and refrigerate overnight.
In the morning, remove the plastic wrap and preheat the oven to 350.
Bake for 25 - 30 minutes or until the bread has color and is cooked through.
While baking, in a bowl, combine the icing sugar, remaining spices and slowly add the eggnog, in small amounts, until you reach the consistency you desire with the drizzle.
On serving, drizzle the eggnog glaze over the top of each piece. Enjoy!
*****DON'T FORGET TO PIN THIS EGGNOG BREAD PUDDING WITH CRANBERRIES PIN TO YOUR FAVORITE PINTEREST BOARD FOR SAFE KEEPING!!! *****