This sweet and tangy BBQ sauce will go great with your favorite dishes giving you a unique twist no one will be expecting.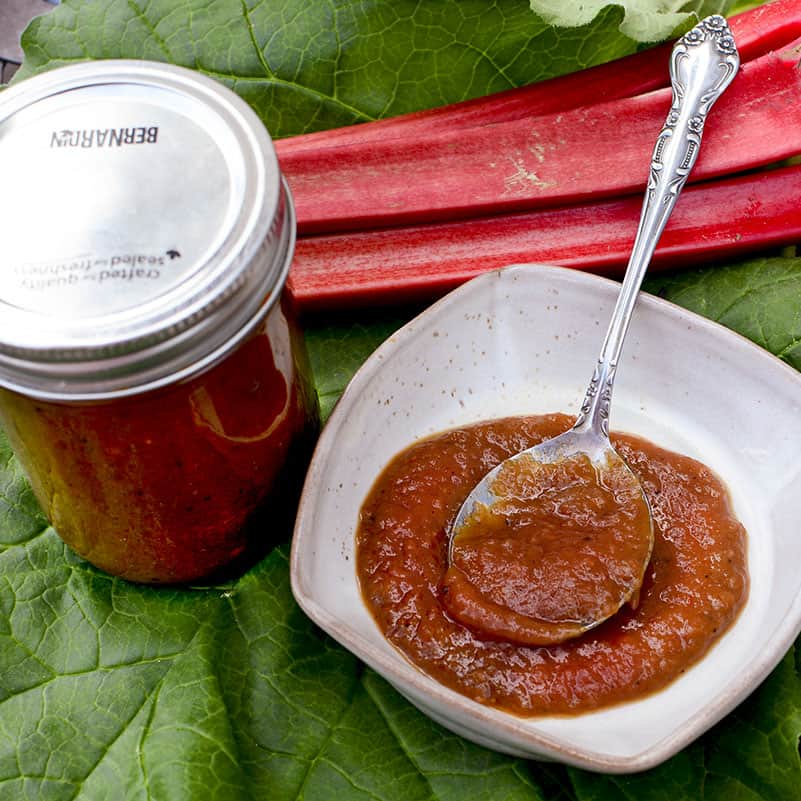 Why you will love this Zesty Rhubarb BBQ sauce
This Zesty Rhubarb BBQ Sauce is packed with flavor and cooks up like a dream – making it perfect for adding to your game day grilling menu. Try this to sauce up your grilled meat recipes or serve on the side for dipping appetizers.
This is easy to make and goes well with so many things.
What you need to make this Rhubarb BBQ sauce
Rhubarb – Using deep red, pink, or green rhubarb will work with this recipe. They all taste the same so whatever you have on hand is perfect.
Garlic – Fresh is best, but if you don't have it, powder or granulated will work.
Water – For the consistency you want.
Red onion – Red onion has a nice subtle onion flavor and bite.
Balsamic vinegar – I recommend using your favorite kind for this recipe. It will make a difference in the final sauce.
Brown sugar – Light or dark brown sugar is totally fine. No brown sugar? Here's how to easily make your own!
Ketchup
Smoked paprika – I like to use smoked paprika in most recipes that will involve grilling. The smoked flavor really adds to the grilled taste in most dishes.
Chili powder
Ground cloves – this is just a dash here. Clove flavors go a long way so you just want to use a small amount.
How to make your own rhubarb BBQ sauce
Preheat your oven to 400 degrees.
Chop up your rhubarb and onion, then place them on a parchment paper-lined baking sheet.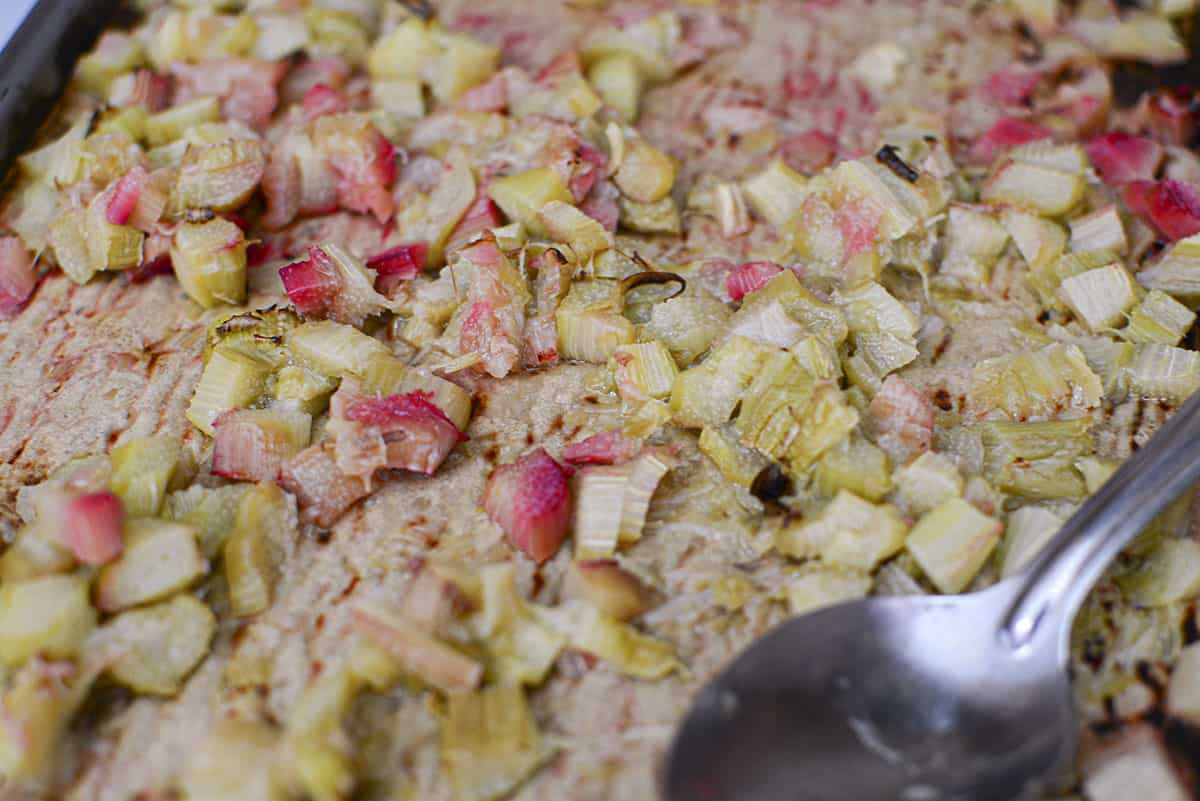 Roast it in the oven to not only soften your rhubarb but to give the rhubarb a deeper, roasted flavor and to sweeten the onions. Cool it completely after removing it from the oven.
Place your cooled rhubarb and the rest of your ingredients into your food processor and blend until you have the smooth or minced consistency you are looking for.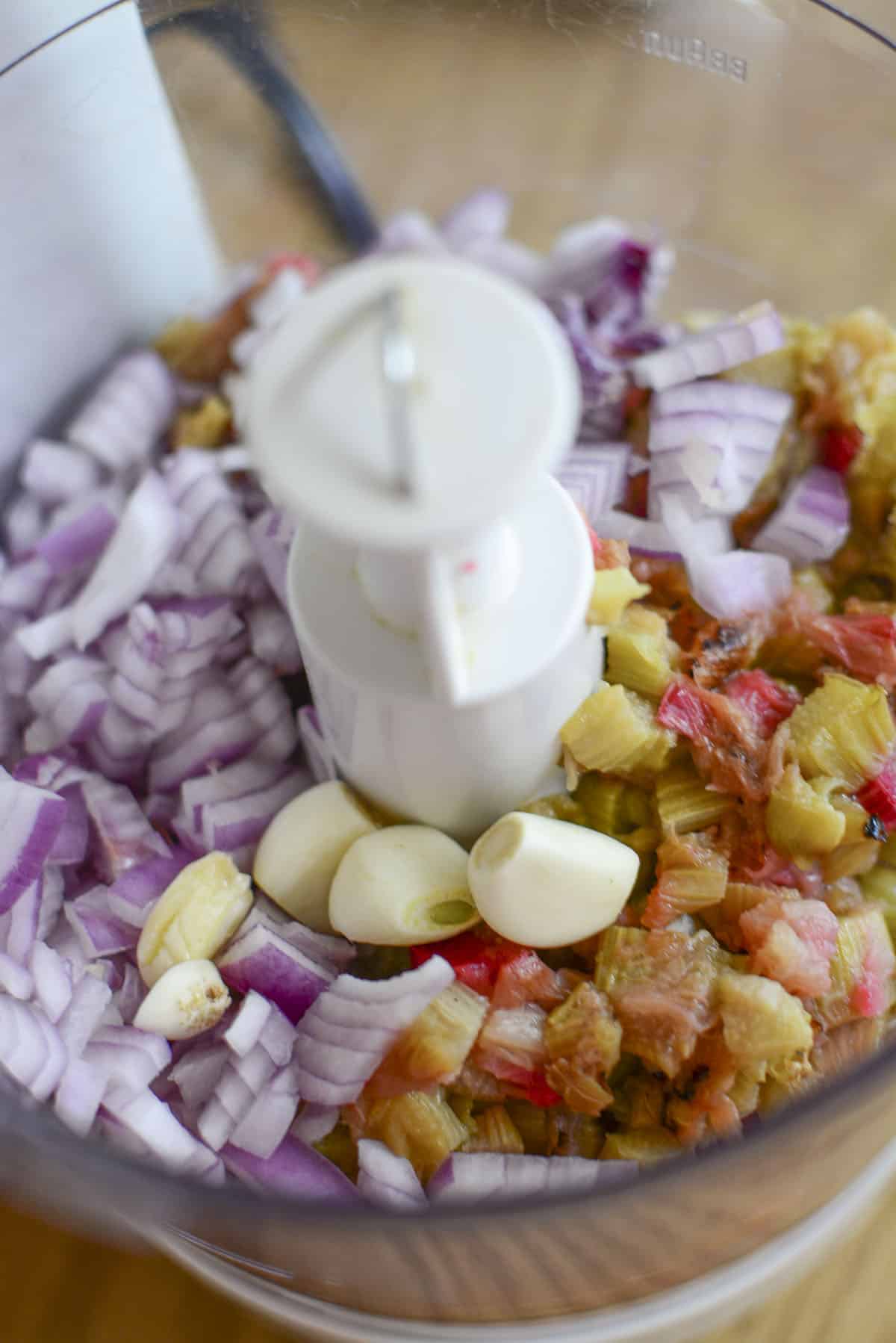 Transfer the contents to a saucepan and bring to a low simmer for about half an hour or more. Be careful to not turn the heat up too much and cause the sugar in the sauce to burn, so stir occasionally to prevent the BBQ sauce from sticking to the bottom.
Taste and season as you see fit. Add hot chili flakes if you want more of a heated zip, but I find the zestiness is just perfect for adding a dash of flavor to your favorite dishes.
***The complete ingredient amounts with directions and notes are in the printable recipe card at the bottom of this post.
Making This BBQ Sauce Your Own
This homemade BBQ sauce is great for making yourself and can easily be made your own with a few quick adjustments.
Try adding some crushed red pepper flakes to take the spice up a notch.
This barbeque sauce would go great with a dash of Jack Daniels or another favorite whisky. Or, another great option is to add some of your favorite craft beer. Keep in mind that the alcohol will cook out (evaporate), so even if you add it to this BBQ sauce, it will be safe for kids.
If you wanted to lean more into a sweeter sauce, try adding a few spoons of maple syrup, or, adding hot honey would not only add sweetness, but a very gentle bite from the heat.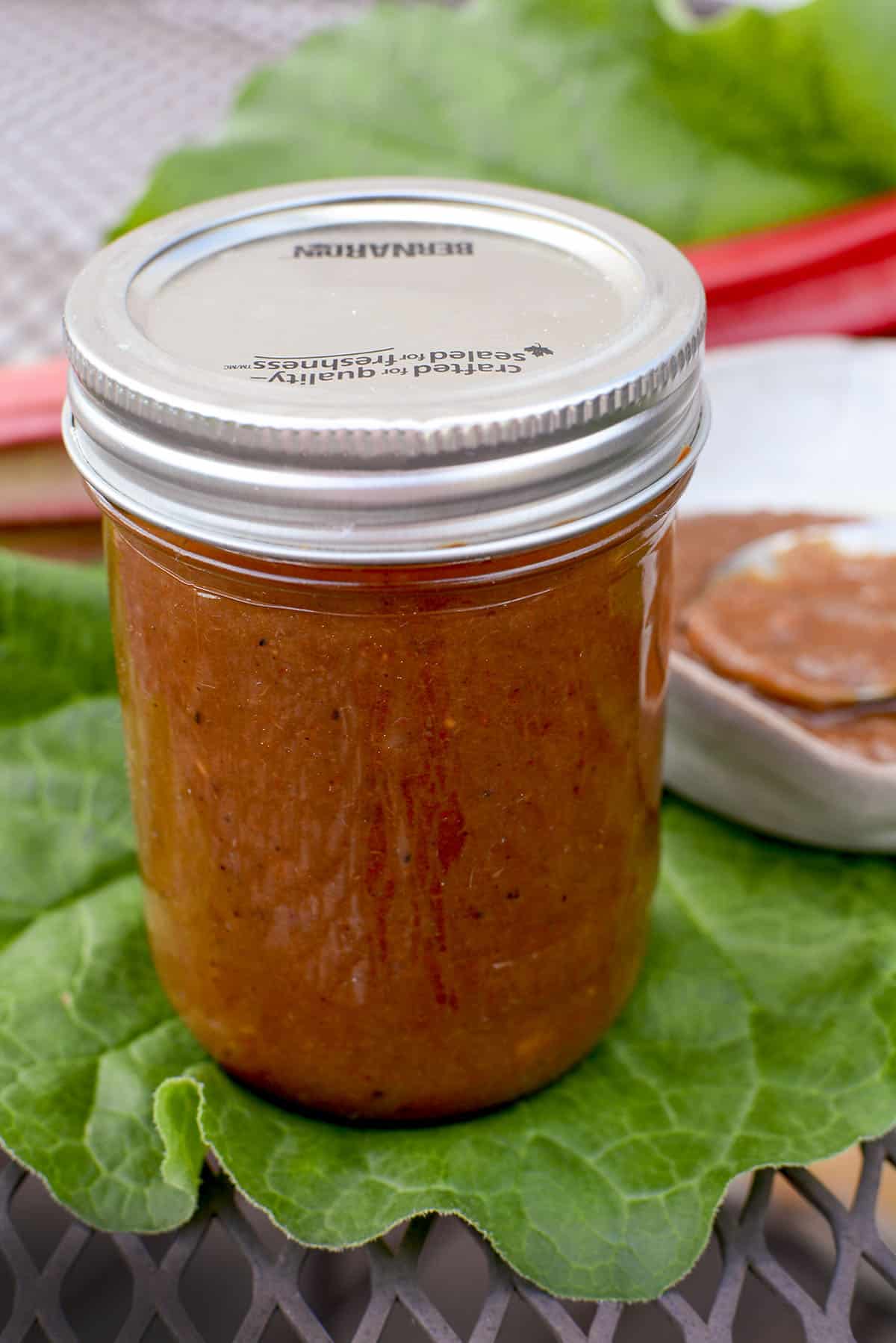 Storing Leftover Rhubarb Sauce
This barbeque sauce will last in the refrigerator for up to 2 weeks without any issues. Keep it in an air-tight container. (This is a great use for upcycling glass jars and condiment bottles!).
If you would like to store it longer than this you can opt to freeze your barbeque sauce. After thawing you will need to whisk it together again to fix any separation.
How to serve this BBQ sauce
This homemade barbeque sauce is a great option for serving with your favorite foods including making pulled pork, topping burgers, and flavoring chicken wings. You can even use this rhubarb sauce to help add flavor to neutral-tasting vegetables like grilled zucchini.
If using this BBQ sauce on your grill you will want to be careful because it can burn easily if the heat is too high because of how much sugar is in this recipe.
Can I use frozen Rhubarb for this recipe?
Sure can! Fresh is always the nicest to use, but making use of frozen rhubarb you have in the freezer is totally fine. You'll want to thaw the rhubarb first (skip the oven roasting directions), and reserve the water that drains from the rhubarb. This will be perfect to replace the water that's called for in the recipe for added flavor.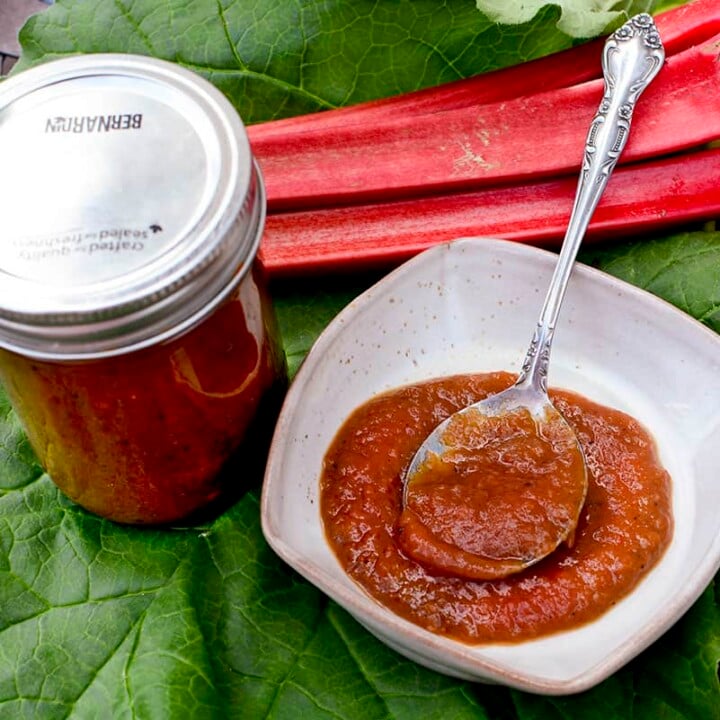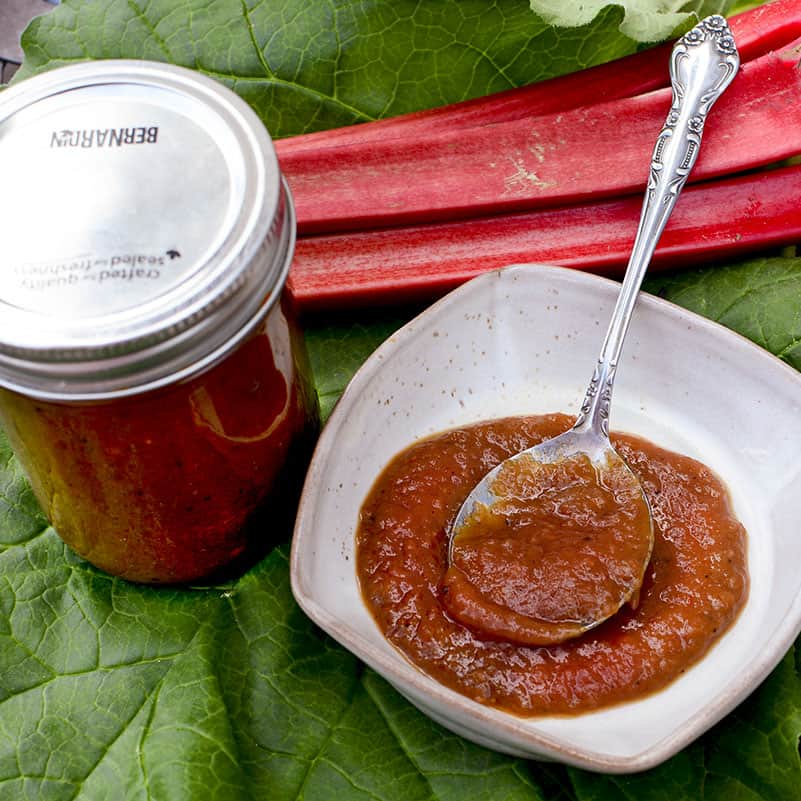 Rhubarb BBQ Sauce
Sweet, tangy and zesty, this homemade Rhubarb BBQ Sauce is best friends with so many grilled meats. It screams summer grilling!
Ingredients
4 cups Rhubarb, chopped fine
4 cloves Garlic, peeled
⅓ cup Red Onions, diced
1.5 cups water
4 Tablespoons Balsamic Vinegar
½ cup Brown Sugar, tightly packed
¼ cup Ketchup
1 Tablespoon Worchestershire sauce
1 ½ Tablespoons Chili Powder
2 teaspoons Smoked Paprika
⅛ Cloves, ground
1 teaspoon dried Chili Flakes (or more if you like more heat)
Salt and pepper
Instructions
OPTIONAL STEP (see notes) - Preheat the oven to 400. Spread out rhubarb on a parchment-lined baking dish and roast for 20 - 25 minutes or until the rhubarb is soft. Let cool to just warm before continuing.
Add all the ingredients, except water, into a food processor. Blend until smooth.
Transfer the food processor ingredients to a saucepan. Begin heating the sauce, and add water in small increments, until you've reached the consistency you prefer for BBQ sauce.
Simmer the sauce for 20 minutes. Do a final taste of the sauce to adjust to your spice preferences.
Put it into a container with a tight-fitting lid after it cools to use the next time you barbeque!
Notes
Roasting the rhubarb helps cut down the simmering time on the stovetop. Also, roasting imparts a deeper flavor profile to the sauce!
Nutrition Information:
Yield:

24
Serving Size:

1 tablespoon
Amount Per Serving:
Calories:

27
Total Fat:

0g
Saturated Fat:

0g
Trans Fat:

0g
Unsaturated Fat:

0g
Cholesterol:

0mg
Sodium:

56mg
Carbohydrates:

6g
Fiber:

1g
Sugar:

5g
Protein:

0g
All nutritional information is based on third-party calculations and is only an estimate. Each recipe and nutritional value will vary depending on the brands you use, measuring methods, and portion sizes per household.