Strawberry Rhubarb Sauce is a sweet and tart classic combination of fruit and vegetables that are the best of friends. Both beautifully blushing with red hues, when combined, they balance each other out to make the most scrumptious sauce that elevates anything, both dessert or main dish!
Fruit Sauces go well with so many dishes, both sweet and savory!
This recipe is super easy to make, that even a beginner cook can master it. It's great because it's one of those all-purpose sauces that easily be paired with so many great dishes and it' elevates things to a new level.
It doesn't take much time to make, it's easy to store or freeze and it preserves the flavors of summer which is divine to have in winter if you're thawing and using frozen sauce you made!
I have lots of rhubarb in my yard (one 20+-year-old plant and one new volunteer plant!) so I am always coming up with new recipes as well as making family classics, trying to use it up.
You can look at my Rhubarb and Pear Crumble or try out my Mom's Rhubarb Crumb Bars for some other ideas to use up rhubarb you might have on hand as well.
Rhubarb and Strawberries
Strawberries are perfect in their harvest season which is around May for early harvest, to June as their peak season. I just use store-bought ones but if you have strawberries in your backyard, that's the best!
If you're thinking of planting your own rhubarb plant, I wrote an article about everything you need to know about growing rhubarb plants and it's actually not that tricky. So, if you have the time, you can check it out.
You can also look for other berries to mesh with this recipe like blueberries and raspberries if strawberries are not available.
As for rhubarb varieties, I only have the green/red type and not the jewel red type but it still tastes the same so I recommend using what's available.
Ingredients Needed to Make The Sauce:
Rhubarb: Pick small to medium-sized stalks. Be careful not to eat any of the leaves as they are poisonous. You can also use frozen rhubarb for this recipe as well.
Strawberries: Fresh is always the best with these types of recipes, but of course you can use frozen strawberries as well.
Brown Sugar
Water
Salt
Making the Fruit Sauce Right
Making this recipe is super easy.
First: Combine strawberries and rhubarb into a saucepan.
Second: Add the sweetener and a little bit of liquid. Bring it to a boil, and then reduce heat to simmer.
Third: Simmer till the content breaks down and gets saucy. Sprinkle the salt at the end.
Fourth: Set to cool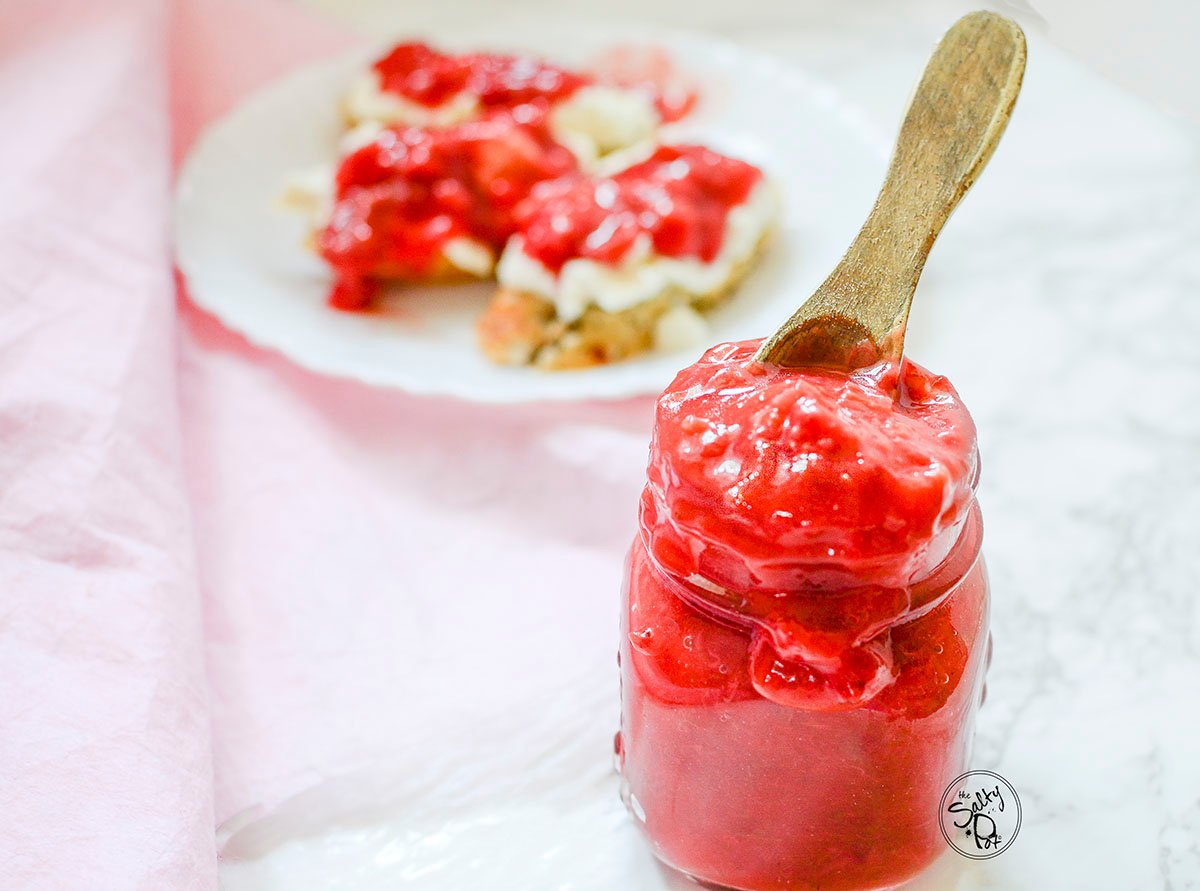 Serving Tips
This sauce can be used on so many things. Just like my Pomegranate Honey Sauce, this rhubarb sauce can be served over both sweet and savory items.
You can use it over pound cake with whipped cream, or some mini-pies and hand pies for picnics or easy school lunch desserts.
You can also pour over ice cream a cooling dessert treat, or if you want to use it in a savory way, you can serve it over chicken or roasted pork, like this Oven Roasted Pork Loin recipe from Self Proclaimed Foodie.
I hope you can see how amazing and versatile this fruit sauce is. When a sauce is versatile like this, it's so easy to add it to extra things you normally wouldn't think of.
And speaking of extra, why not take a peek at other sauce recipes that could get you on track for more delicious snacks and meals?
Here are a couple more of my favorites:
Storage Tips
Strawberry Rhubarb Sauce can stay good in the fridge for up to a week. Just make sure you use a freezer-friendly sealed container and that the seal is airtight.
This sauce can also be stored in the freezer for up to 3 months in freezer-friendly containers. Just keep in mind leaving headspace for the sauce to expand slightly as it freezes.
STRAWBERRY RHUBARB SAUCE
A deliciously sweet and tart, fruity sauce that can be paired with practically any dish you choose. It's simple to make, keeps well, and freezes even better!
Ingredients
1 c Strawberries, green tops removed and quartered
¾ c Rhubarb, chopped
½ c Brown sugar
½ c Water
⅛ teaspoon salt
Instructions
In a heavy-bottomed pot, add the strawberries, rhubarb, brown sugar, and water.
Bring to a boil, and then turn down the heat to a medium simmer. Simmer for about 15 minutes or until all the contents have softened, particularly the rhubarb. (see notes)
Remove from the heat and sprinkle in the salt. Stir.
Taste and adjust for sweetness.
Let cool and transfer to an air-tight container to store in the fridge or freezer.
Notes
Depending on how large the rhubarb and strawberry pieces are, will depend on how long it takes the fruit to break down to make a sauce. The most important part is the rhubarb and it may take longer than the strawberries.
You can also choose to take it off the heat earlier so that the contents aren't completely broken down and the sauce still has some texture.
I recommend using the sugar amounts as a starting point. Some rhubarb can be more tart than others, or strawberries can be sweeter at different times of the season, so it's best to adjust the sauce with additional sugar (or not) to suit your preferences.
Nutrition Information:
Yield:

16
Serving Size:

2 tablespoons
Amount Per Serving:
Calories:

24
Total Fat:

0g
Saturated Fat:

0g
Trans Fat:

0g
Unsaturated Fat:

0g
Cholesterol:

0mg
Sodium:

20mg
Carbohydrates:

6g
Fiber:

0g
Sugar:

6g
Protein:

0g
All nutritional information is based on third-party calculations and is only an estimate. Each recipe and nutritional value will vary depending on the brands you use, measuring methods, and portion sizes per household.