These Roasted Hot Honey Carrots are packed with sweet and savory flavors. Buttery and tender, these carrots are unique and really level up your regular roasted carrots.
Plus, the drizzle of hot honey makes this carrot side dish totally unique and a new family favorite. 
This post may contain affiliate links. If you make a purchase after clicking a link, I may earn a small commission AT NO COST TO YOU. As an Amazon Affiliate, I earn from qualifying purchases.
Why You'll Love This Hot Carrots Recipe
If you love a sweet and spicy combination these hot honey roasted carrots make a great way to bring some flare to your next meal and even encourage non-veggie eaters to give cooked carrots a try. These are packed with flavor, easy to make, and perfect for using up what you have in the fridge or fresh from that garden. Try those at your next dinner party, Easter dinner, or even weekday dinner with how easy they are to make. 
Groceries Needed for this Carrot Side Dish
Carrots – Fresh is always best but if you only have frozen on hand, that will be perfect as well. Use any type of carrot you wish- whole, baby, or cut into rounds. I like to use whole because they look interesting, and you can get some great caramelization on them.
Oil – For roasting the carrots.
Hot honey – Use your favorite brand, or if you're so inclined, see how easy it is to make your own hot honey!
Butter – I love using butter in all my cooking, but if you prefer margarine, that's totally fine.
Dried Thyme – You can use fresh thyme as well, but you might want to add a bit more than what's called for in the recipe because fresh thyme is not as potent as dried thyme.
How to Make them Perfectly
Start by preparing your carrots. I use medium-small peeled carrots that I bought at Costco. Sometimes if I get a chance, I like to get my carrots (multi-colored!) from my local farmers' market.
I like the whole carrots with the tops still attached. They're flavorful and I like the tiny bit of the green stem to add some flare to how the dish looks but this is strictly for presentation. You can completely cut your carrot tops after washing if that is what you prefer. You can even opt to use smaller or larger carrots to fit your needs. Baby carrots work well for this in a hurry.
Roast your carrots in a little oil. I used my cast iron skillet for this because cast iron holds the heat, cooks evening, and is great for giving caramelization to the carrots. Also, it can easily go from the oven to the table for serving while still looking great to even serve for your next dinner party.
While the carrots are roasting, get your hot honey butter sauce going so it's ready to drizzle on top of the roasted carrots when they're out of the oven.
Cook's Tip: If you are looking for great, fresh carrots, don't forget to support your local farmer's markets if you can. They will be fresher than any grocery store carrot and you're helping out your farmers!
Suggestions for Putting a Twist on It
These are great for putting a dash of flavor into your meals but you can change them up as well. Try adding red pepper flakes for more heat or a dash of cinnamon to bring out the sweetness a touch.
I used this homemade hot honey but you can use any hot honey you want or even try a hot honey mustard to drizzle on your roasted carrots.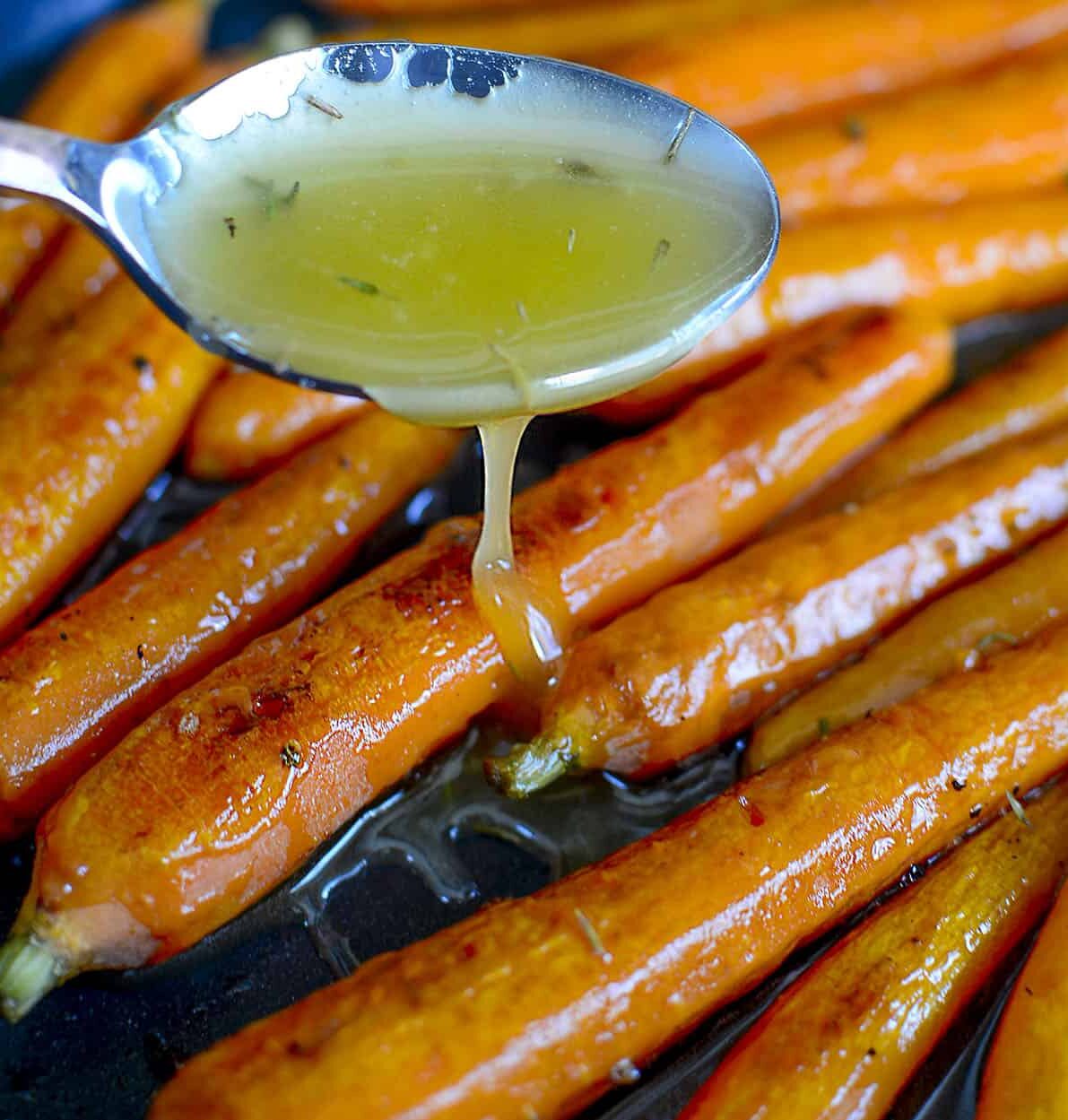 What should I serve these with?
This is a great dish for serving with everything from ham to chicken. The hot honey really brings in some exciting flavors which can be a great way to add flare, or match, the flavors of a main dish. Try using this side dish for ham at your Easter dinner for any weeknight family favorite. 
The heat and sweet carrot flavors go great with savory dishes like my 3 packet roast beef or some roasted chicken for an easy weekday meal. The contrast between savory and sweet helps to balance the meal while adding new and interesting flavors for a truly satisfying combination.
These pair well with roasted potatoes, mashed potatoes, or a simple rice side dish as well.
Storing Leftovers
These leftovers will get a bit soggier when you heat them up but they will store well in an air-tight container in the refrigerator for 3 to 4 days. Your hot honey carrots can be frozen though as with storing in the refrigerator they will become softer when you reheat them.
Have you made this recipe yet? If you have, please leave a star rating in the recipe card and a comment below letting me know what you thought of it! Email me if you have any questions or concerns about this Hot honey carrot side dish recipe at joanne@thesaltypot.com. Have a fantastic day!
~Joanne
Roasted Hot Honey Carrots
Sweet, slightly spicy, and buttery, these Roasted Hot Honey Carrots are a unique twist on your regular boiled carrots. A great combination of sweet and heat, these hot honey-glazed carrots will become your new secret side dish recipe!
Ingredients
1.5 pounds of baby carrots with the tops still attached for pretty presentation
2-3 Tablespoons of cooking oil
¼ cup Hot Honey
¼ cup Butter
½ teaspoon Thyme, dried
Instructions
Preheat the oven to 425
Place the carrots in the skillet (or baking dish) and drizzle the oil over top. Be sure they're all nicely covered in the oil.
Season with salt and pepper if you desire.
Roast them in the oven for 18 - 25 minutes (see notes below).
While the carrots are roasting, in a saucepan, melt the butter, hot honey and thyme together.
When the carrots are fork tender, remove from the oven and drizzle the hot honey butter sauce over top the carrots. Be sure to drizzle the sauce over all the carrots so they're all bathed in that delicious sauce!
Serve Immediately, and enjoy 🙂
Notes
The carrots you use can be your preference. If you wanted to use the smaller, fatter baby carrots that you can buy, that's not a problem, the recipe will be the same. If you have larger carrots, try splitting them in half lengthwise so the cooking time is not as long. Alternatively, you can cut the carrots into coins as well.
Use an oil with a high smoke point such as vegetable oil, coconut oil, or my favorite, avocado oil.
The roasting time will depend on the thickness and shape of the carrot you used. Coins will cook faster than larger carrots with a thicker diameter. Just test them with a fork for tenderness.
If you prefer the carrots with even more of a zip, sprinkle some extra dried chili flakes over the carrots.
Nutrition Information:
Yield:

4
Serving Size:

1
Amount Per Serving:
Calories:

217
Total Fat:

11g
Saturated Fat:

1g
Trans Fat:

0g
Unsaturated Fat:

9g
Cholesterol:

0mg
Sodium:

134mg
Carbohydrates:

31g
Fiber:

5g
Sugar:

26g
Protein:

1g
All nutritional information is based on third-party calculations and is only an estimate. Each recipe and nutritional value will vary depending on the brands you use, measuring methods, and portion sizes per household.