Wait, what?? GRILLED flatbread pizza? Yes. Just yes.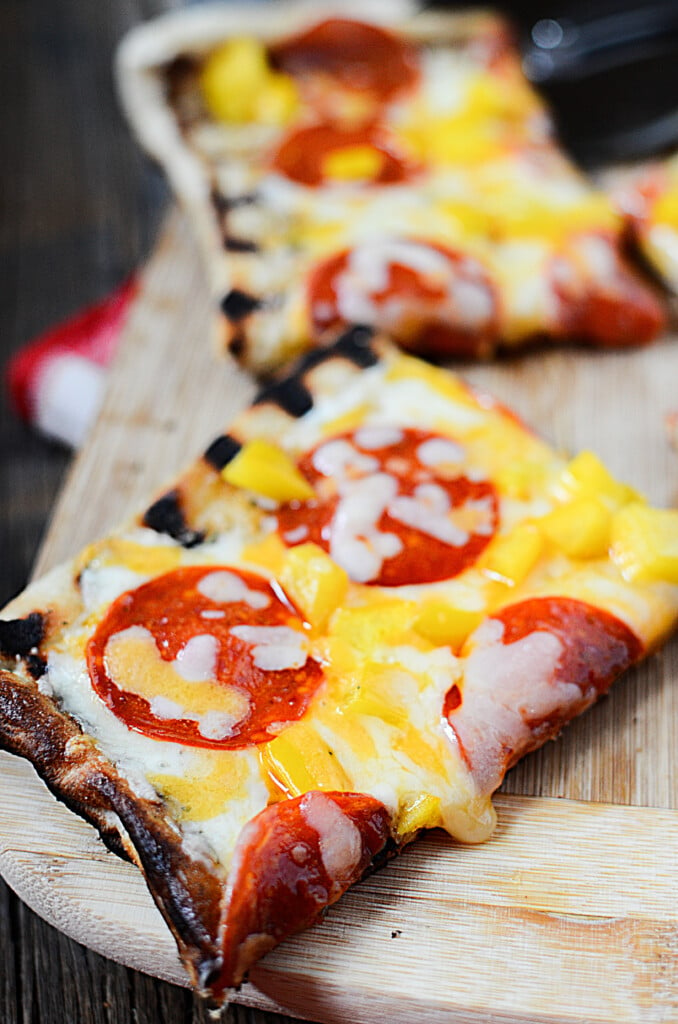 First, let me say, wholy moley, do I love pizza!! I think it's almost one of the most favourite meals on the planet. Do you agree? How about pepperoni pizza? Classic right? Thick crust? Thin crust? I crave a nice thick crispy crust sometimes. Crispy on the bottom, soft and chewy on the inside, but you know, a crispy, flatbread pizza is amazing as well. And the pepperoni HAS to be cooked on the very top so that it gets crispy. Yaaaassss!!
So because I'm cheap (most times), and ordering out gets stupidly expensive, I decided to make my own. HOWEVER, it was boiling degrees outside and I didn't want to turn on the oven, so…? My next best idea was THE GRILL. Welcome to Grilled Pepperoni and Cheese Flatbread Pizza! Hey Bobby Flay, look out! (Well not really. He's way better with all things grilled that I'll ever hope to be. But hey, I'll talk smack anyway. heehee!)
Pizza on the grill though?
It's super simple folks. You could make your pizza dough if you want, which would be even cheaper than buying the ready-made stuff and honestly, I'd have probably done that if I had the energy of a 6-year-old that day, but I didn't, and I happened to have ready-made Pillsbury pizza dough all ready in the fridge, and so it just made my life so much easier in the moment.
Take out the dough from the tube (scary jack in the box type moment!), and roll it out.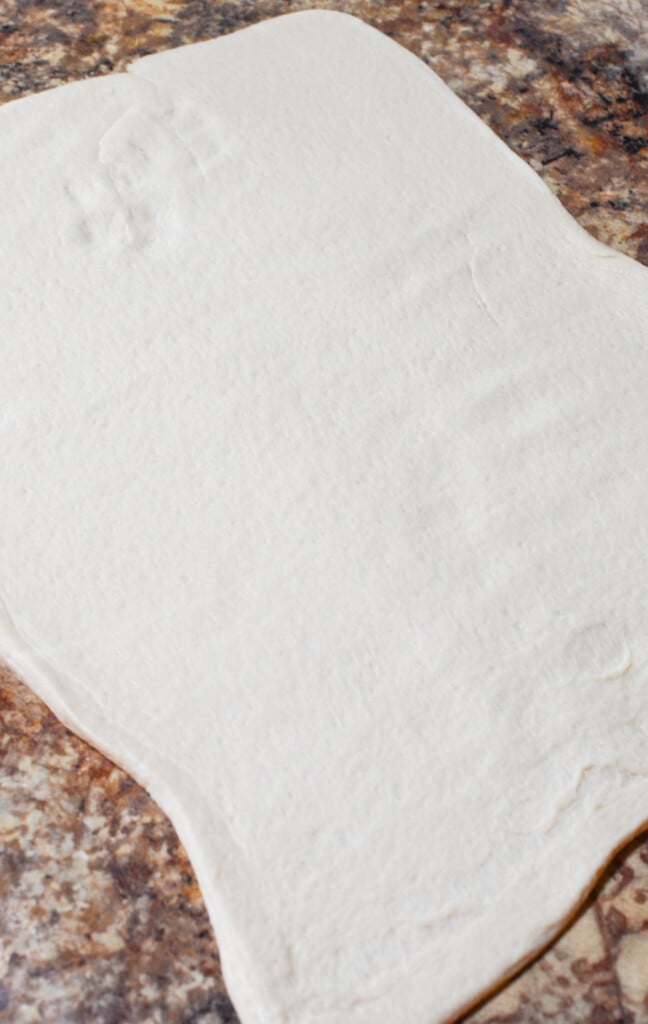 Mix up the seasoning that I put together to brush on the pizza
Throw it on the grill seasoned side down. You'll want it preheated to about medium, or 350. Place it right on the racks, and don't try to move it till it's ready. When you see the grill marks underneath (with a spatula) then simply flip it over and start topping!
I used pepperoni and cheese.. but honestly, top to your heart's delight! Use what you have in the fridge! Cooked beef and onion? sure! Veggie? Sure! Sardines and ketchup?…. Ok,.. sure! The point is that this is really versatile, and let's be honest here… you could sprinkle crushed leaves and road gravel on it and put tons of melted ooey-gooey cheese on it and it'll taste like a million bucks.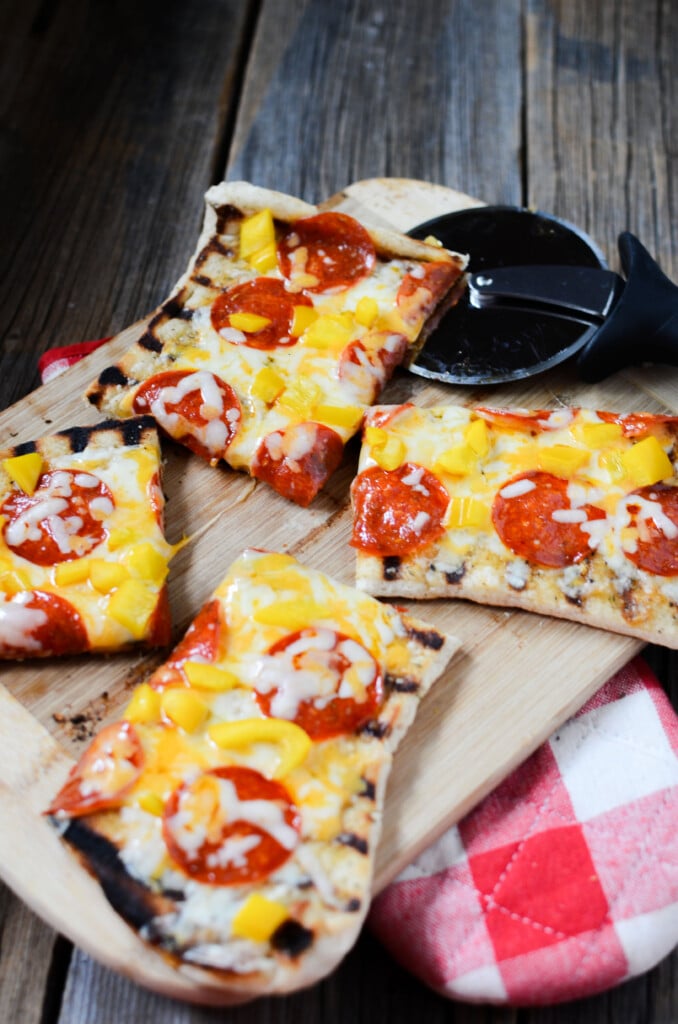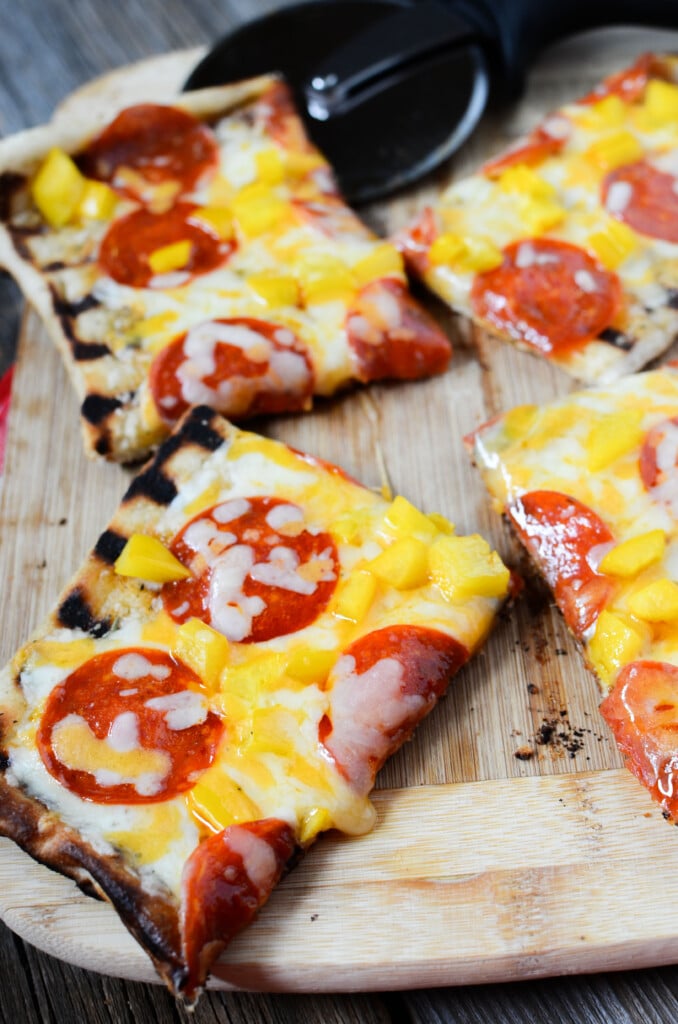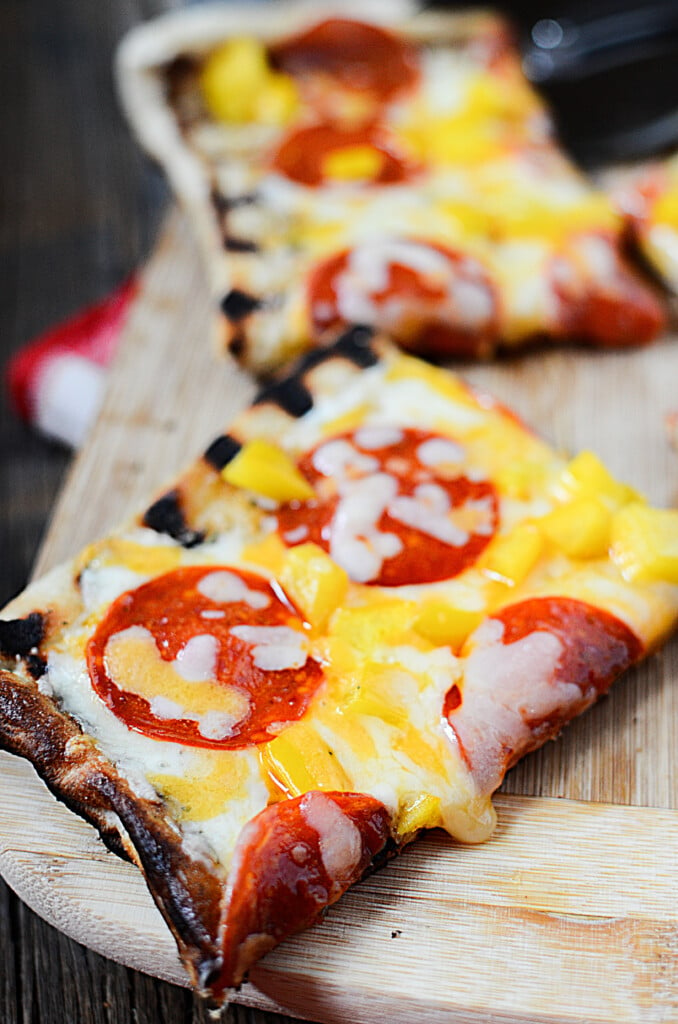 I like how this is thin and crispy. It reminds me of a flatbread, hence the grilled pepperoni and cheese flatbread pizza name. As I said, sometimes, a thicker crust is the name of the game in the right moment, but wow.. this flatbread pizza rocks the taste buds when you want something quick and super easy. The flavor of the grill comes through plus, there's less carby carb to distract from the toppings. (Not that I would EVER say anything bad about the taste of carbs…lol)
So give this grilled pizza a try. I'd LOVE to hear what you put on it!! .. and if you take any photos, PLEASE send them! I'd be thrilled to see your creations!!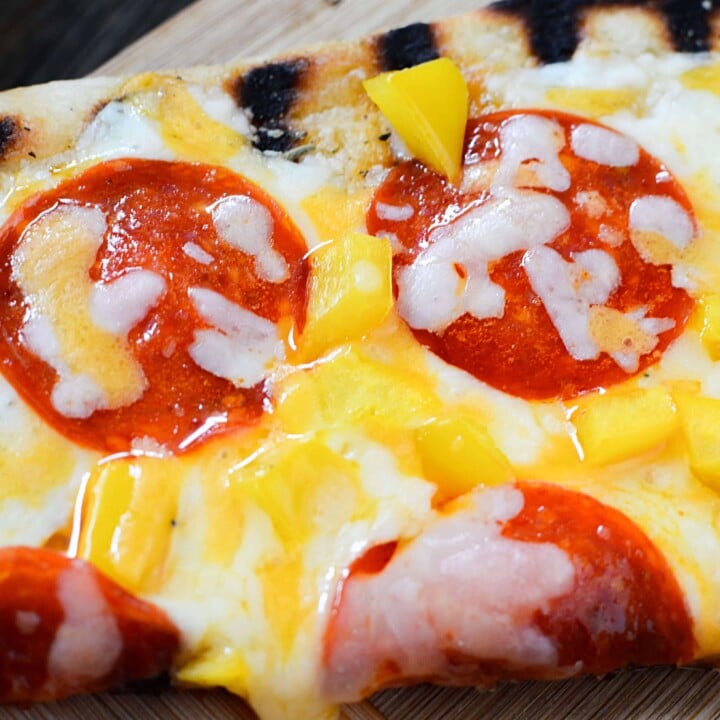 Easy Grilled Pepperoni and Cheese Flatbread Pizza
This easy grilled pepperoni and cheese flatbread pizza has fantastic flavor from being cooked on the grill, and the recipe is so versatile, you could have a different flatbread pizza every night!
Ingredients
1 pillsbury dough
2 tablespoon oil
½ tablespoon italian seasoning
as desired pepperoni
as desired cheese
¼ yellow sweet pepper, de seeded and chopped
Instructions
Preheat grill
roll out the pizza dough to about ½' thick
mix together the oil and italian seasoning
brush onto the dough
put the dough directly onto the grill, seasoned side down
flip to the other side when you see grill marks on the bottom
put your toppings on
close the lid to melt the cheese and cook the pepperoni
remove the pizza from the grill when everything is melted and cooked through
Enjoy!
Nutrition Information:
Yield:

4
Serving Size:

1
Amount Per Serving:
Calories:

352
Total Fat:

24g
Saturated Fat:

7g
Trans Fat:

0g
Unsaturated Fat:

15g
Cholesterol:

7mg
Sodium:

288mg
Carbohydrates:

31g
Fiber:

1g
Sugar:

0g
Protein:

4g
All nutritional information is based on third-party calculations and is only an estimate. Each recipe and nutritional value will vary depending on the brands you use, measuring methods, and portion sizes per household.