If you're looking for crowd-pleaser desserts for picnics or any other get-togethers, Rhubarb and Pear Crumble is a perfect choice. It's sweet, tart, and crunchy and loaded with nutritious vitamins and antioxidants. The best part? It's also super quick and simple. A perfect way to celebrate rhubarb season!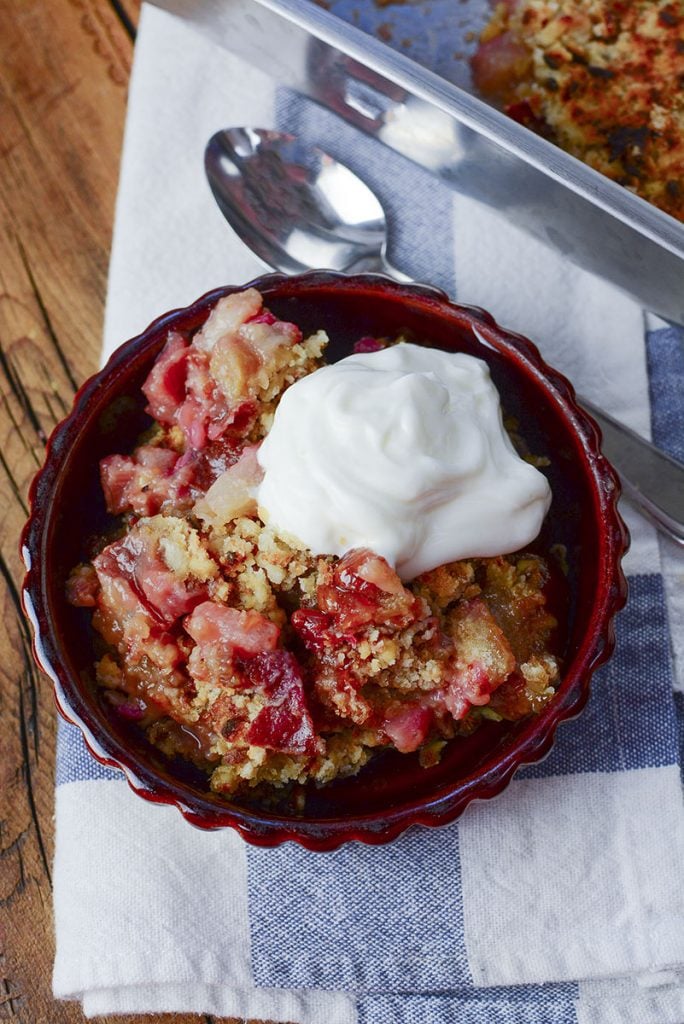 FRUIT CRUMBLE DESSERTS = Good Ingredients and Easy To Make!
RHUBARB AND PEAR CRUMBLE
This rhubarb and pear dessert is as simple as it is delicious. The pears and rhubarb mesh perfectly with the nut crumble topping. It's also super rich in antioxidants and fiber.
Here's a super fun fact! Did you know that rhubarb dried roots were mainly used for medicine for thousands of years? It was later on when the edible stalks were prepared as food like how we folks use it today. It is a very good source of vitamin K1 and moderately high in vitamin C.
But be careful, the leaves are poisionus to humans and pets!
Pears are also filled with fiber and protein. And with other nutritious ingredients in this crumble, what's better than a delightful combo of delicious and healthy!
Also, if you've ever wondered (like me, before I looked into it!), what the differences were between a fruit crumble, fruit crisp, fruit betty, etc, I wrote a cool article on what the differences were between all these delicious desserts. I mean, what is a pandowdy?? Read the article to find out!
WHAT YOU'LL NEED
Here are the ingredients I used for this delicious rhubarb crumble:
Rhubarb & Pears: Fresh rhubarb is preferred for this recipe, but you can certainly use frozen rhubarb with good results. Also, the pears you use should be very ripe.
Brown Sugar: You need a sweetener for this recipe, so I used brown sugar. However, you can also use white sugar or a granulated alternative sweetener if you prefer. Just be sure to make adjustments to the measurements accordingly.
Walnuts: If walnuts are not available, you can also use pecans instead.
Flour
Butter: If you use salted butter, you can omit the salt in the recipe.
Salt
HOW TO MAKE THIS FRUIT DESSERT
First, dice up rhubarb and pears. Then add brown sugar and mix.
In a different bowl, mix together flour, butter, sugar, and salt to make the crumble.
Add walnuts.
After, you can now place the fruit into the baking dish, top it with the crumble mixture and bake!
Super easy! You can look at our full directions on the printable recipe card below.
STORAGE IDEAS
Generally, you can put this rhubarb and pear crumble in the fridge for up to 4 days, but you can also keep it frozen after cooking and it can last up until 3 months! Just like my Summertime Sour Cherry Crisp, place it well in a freezer-friendly container, then thaw before serving.
You can also freeze this pear crumble in portioned sizes which makes it perfect for individual eating.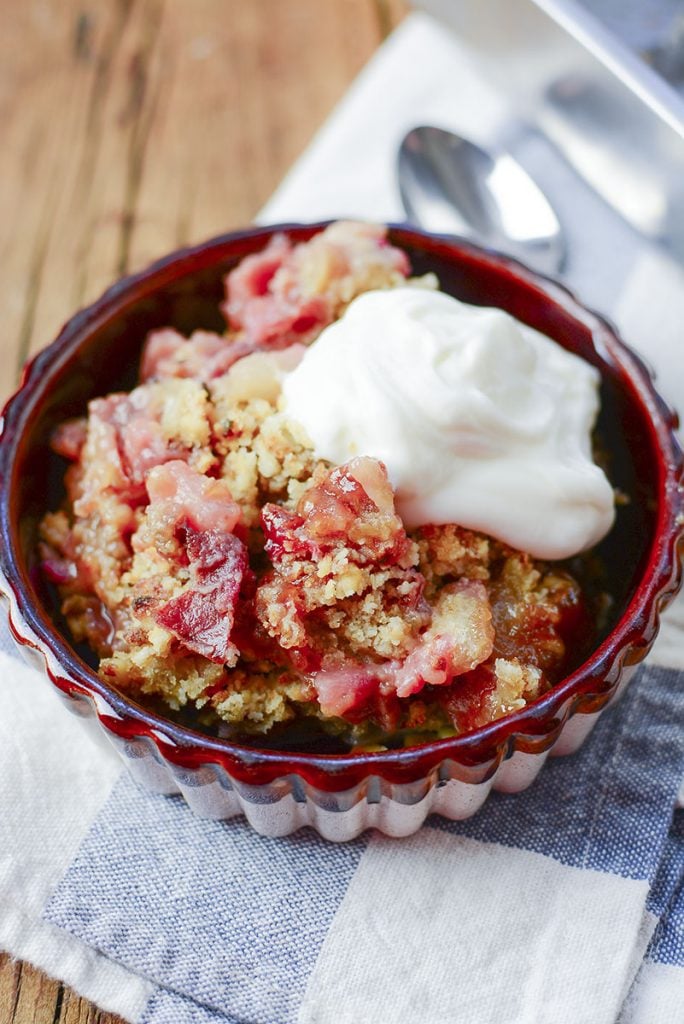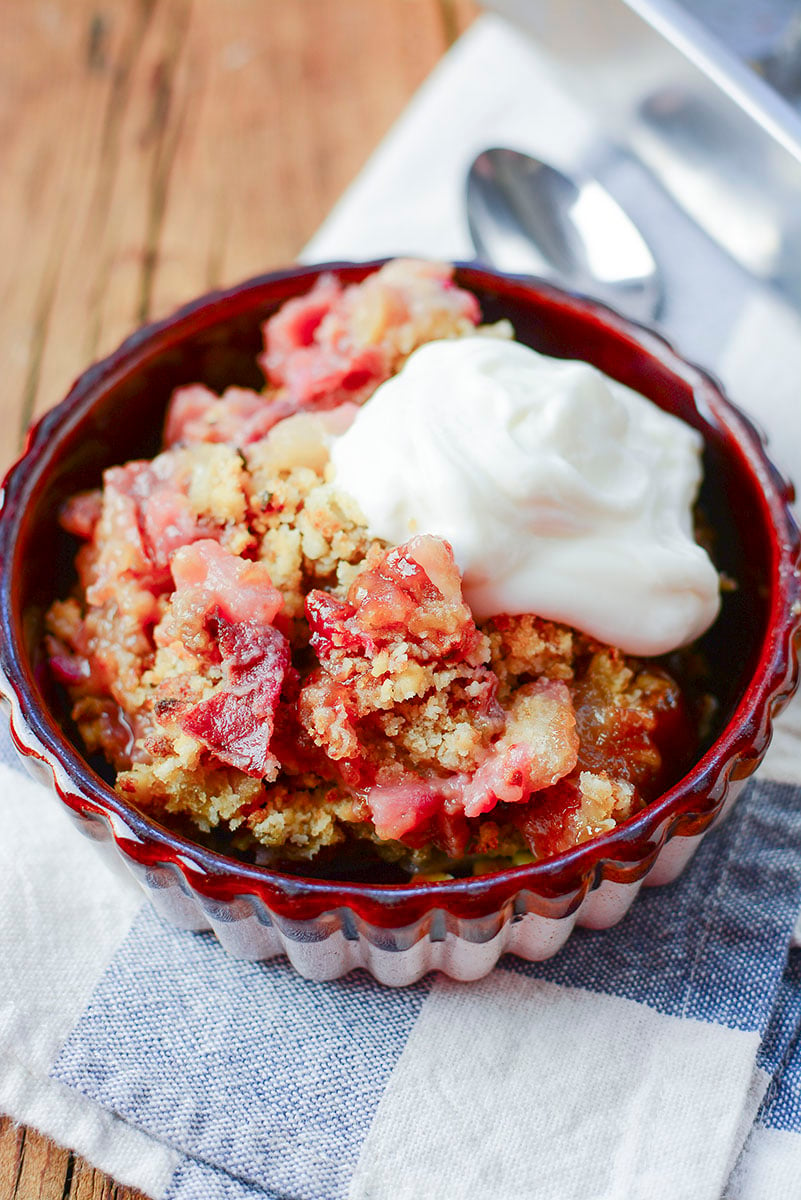 Can I freeze this uncooked?
Yes! Just like my Peach and Blueberry Crisp, you want to be sure to use a freezer-to-oven-friendly baking dish and cover it well. With this, you can make ahead and freeze for up to 3 months.
After, you can take it out of the freezer and bake for an extra 30 minutes and serve.
COOKING TIPS
Here are some handy cooking tips:
For nuts, you can use pecans instead of walnuts.
If you want the dessert a bit more tart, you can add more rhubarb by ¼ cup and/or cut back the sugar.
Adding finely diced candied ginger would lend yummy new flavors to the dessert.
Rhubarb and Pear Crumble
Sweet and tart, this rhubarb and pear crumble makes a perfect easy to make summertime dessert.
Ingredients
FILLING:
1 c Rhubarb, diced
3c Pears, ripe, cores and stems removed, diced
½c brown sugar
1 teaspoon vanilla
TOPPING:
1c Flour
¼c Brown sugar
⅓c Butter, cold, cubed into ½" cubes
¼c Walnut pieces (small pieces about the size of peppercorns)
dash salt (¼ tsp)
Instructions
Preheat the oven to 350
In a bowl, combine the rhubarb, pears, brown sugar, and vanilla. Set aside.
In another bowl, combine the flour, brown sugar, and salt.
Add the butter. Cut in the butter with a pastry cutter, two knives, or just use your fingers as I did. The mixture should look rustic with the butter in pieces about the size of a pea (or smaller).
Add in the walnut pieces and combine.
Grease an 8x8 pan or line it with parchment paper for easy cleanup.
Transfer the pear mixture into the pan as evenly as possible.
Spoon over the flour mixture to ensure an even distribution of the topping.
Bake in the oven for 35-40 minutes or until the topping is golden and the fruit is bubbly.
Enjoy!
Notes
I left the peel on the pears because I like the extra nutrition. Just be sure to wash the pears before you use them or buy organic.
You can use pecans instead of walnuts. I had walnuts on hand, and pears and walnuts are best friends.
You can also use an 8x8 or 9x9 square pan for this recipe. I wouldn't go much bigger than that.
Nutrition Information:
Yield:

4
Serving Size:

1 cup
Amount Per Serving:
Calories:

490
Total Fat:

20g
Saturated Fat:

10g
Trans Fat:

1g
Unsaturated Fat:

9g
Cholesterol:

40mg
Sodium:

172mg
Carbohydrates:

76g
Fiber:

5g
Sugar:

44g
Protein:

5g
All nutritional information is based on third-party calculations and is only an estimate. Each recipe and nutritional value will vary depending on the brands you use, measuring methods, and portion sizes per household.